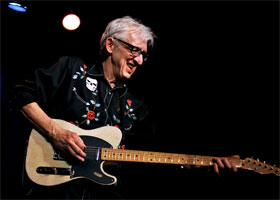 Guitariste et chanteur Country US né le 29 Janvier 1948 à Ann Arbor (Michigan).

Bill Kirchen is best known for his work in the '70s with the rebel band Commander Cody & His Lost Planet Airmen. Leading the way, this gang of rock & roll honky tonkers cut a wide path through country and rock, creating an intersection where both could meet and meld together their many guises effortlessly.
Bill Kirchen was a dominating force behind the success of the Airmen. Meeting up with George Frayne, later known as Commander Cody, in his hometown of Ann Arbor, Michigan, set the wheels of Kirchen's musical career into motion.
Born and raised in Ann Arbor, the future guitar god first learned to play the trombone. While in high school he met folksinger David Siglin and proceeded to place himself in the middle of the local folk scene. This was a training ground for Kirchen's prospective endeavors. He learned to play banjo and guitar. His fascination with folk eventually segued into an interest in the blues and string bands. While still in college, Kirchen started his own band, an outfit best described as "psycho folk-rock." It was around this same time that Detroit-based Frayne and future airman John Tichy decided to put a country band together. Having gone to the University of Michigan, Ann Arbor, Kirchen, Frayne, and some of the other Airmen knew each other, thus Commander Cody & His Lost Planet Airmen were born.
By 1969 Kirchen knew something had to be done or the band would idle away in obscurity. Aware of the music coming out of San Francisco, he convinced the rest of the band to move to the West Coast, where they took off and became legendary outlaws, lauded by Waylon Jennings and Willie Nelson as well as the Allman Brothers and the Grateful Dead. Kirchen's power as a vocalist, player, performer, and songwriter began to solidify. Known for his Vocals treatment and hot guitar licks on "Mama Hated Diesels" and the ever popular "Down to Seeds and Stems Again Blues" from two of their preeminent releases, Hot Licks, Cold Steel & Truckers' Favorites and Lost in the Ozone, respectively. As a performer Kirchen came into his own while on-stage in Austin for the live recording of the critically acclaimed Live From Deep in the Heart of Texas, recorded in November of 1973 at the Armadillo World Headquarters. Kirchen's work during this phase in the all-too-short career of Commander Cody & His Lost Planet Airmen is still remembered with awe.
The 1976 breakup of the band lead Kirchen to form the Moonlighters, a swing orchestra. British star Nick Lowe, who'd become interested in Kirchen's work while he was still with the Airmen, sought him out. The two formed a bond that remained intact years later. As the producer of the first Moonlighters album, Lowe found a soul mate in the talented American. Kirchen toured internationally with his friend and even joined him in the studio. While in England, Kirchen's style was a hot property as is evidenced by his participation on recording projects for Elvis Costello, rockabilly king Gene Vincent, and Link Wray.
By 1986 Kirchen had moved to the Washington, D.C., area, establishing himself as a leader on the music scene. Prior to his signing on with Black Top Records in 1994, Kirchen recorded Tombstone Every Mile. This high-powered project was initially released on Costello's label, Demon Records, in England. Available in the States on Black Top, this was just the beginning of Kirchen's personal recording renaissance.
1996 was the year Kirchen saw the release of Have Love, Will Travel. Critically acclaimed, it is an eclectic disc that displays the various aspects of Kirchen's artistry and talent. Praised as one of the pioneers who marked territory for a new radio format, Americana, this still-wild guitar slinger is also noted as a forefather of the twangcore movement that encompasses everyone from the king of California, Dave Alvin, to rockabilly bands and roots rock outfits like Big Sandy & His Fly-Rite Boys and Wilco. It is also believed that fellow madman Junior Brown was given a career boost thanks to Kirchen's dominating spirit, which has served to stand as a point of light for rebels of every stripe and color over these many years. In 1999, Kirchen followed with Raise a Ruckus on Hightone Records.
A proud father married for over 25 years to the same woman, Kirchen has been instrumental in keeping the work of many musical pioneers as more than just memory. Using his 1950s Telecaster and his chameleon-like voice, he has told the tale of Bakersfield's top bard, Red Simpson, and maverick songwriter Blackie Farrell. Ernest Tubb's former man of pedal steel, Buddy Charleton, whose infallible twang and moan can be heard throughout Have Love, Will Travel, is a featured player in Kirchen's world. Always ahead of his time, Kirchen remains a man of distinction who looks at music not as something to be categorized, but as an art form that has no boundaries. Continuing to work with Hightone Records, Kirchen released Tied to the Wheel in 2001, followed by King of Dieselbilly in 2005 and Hammer of the Honkey-Tonk Gods in 2006. In 2010, he released the guest-star-studded Word to the Wise, which featured appearances by Nick Lowe, Elvis Costello, Maria Muldaur, and Paul Carrack; it reached six on the Billboard Top Blues Albums chart. Three years later, he came back with Seeds and Stems, which found him revisiting many old favorites from throughout the years, including "Hot Rod Lincoln" and the title track.
https://en.wikipedia.org/wiki/Bill_Kirchen
Talents : Vocals, Guitar
Style musical : Country Rock, Contemporary Country, Americana

https://www.youtube.com/watch?v=gsLdufJePz0
Years in activity :
| | | | | | | | | | | | |
| --- | --- | --- | --- | --- | --- | --- | --- | --- | --- | --- | --- |
| 1910 | 20 | 30 | 40 | 50 | 60 | 70 | 80 | 90 | 2000 | 10 | 20 |
DISCOGRAPHY
Albums
07/1994
CD BLACK TOP 1109 (US)
TOMBSTONE EVERY MILE - Bottle Baby Boogie / Tombstone Every Mile / Rockabilly Funeral / Fool On A Stool / One Woman Man / Lovin' Cajun Style / Think It Over / Lover's Rock / Cool Lovin' Baby / Secrets Of Love / Tell Me The Reason / Without Love / All Tore Up
03/1996
CD BLACK TOP 1130 (US)
HAVE LOVE, WILL TRAVEL - Womb To The Tomb / Which Came First / Don't Be True / Have Love Will Travel / High Snakes In Deep Water / Swingin' Teardrops / Who's That Who / Red Cajun Girl / I Heard The Highway / Nitro Express / The Heart Is A Muscle / What's The Matter With The Mill / Swing Fever / I Don't Like To Work
09/1997
CD HIGHTONE 8085 (US)
HOT ROD LINCOLN LIVE ! - Big Mack's Off The Blocks / Looking At The World Through A Windshield / Too Much Fun / Hot Rod Lincon / Secrets Of Love / Cold Country Blues / Sometimes I Think / Swing Fever / Womb To The Tomb / Tell Me The Reason / Rockin' Over China / The Finger
04/1999
CD HIGHTONE 8100 (US)
RAISE A RUCKUS - Girlfriend / Fly On Your Jacket / Raise A Ruckus / Man In The Bottom Of The Well / Little Bitty Record / Big Hat - No Cattle / Flip Flop / Dreamworld / Let The Fire Burn Out / She's A Yum Yum / My Heart Has A Mind Of Its Own / Livin' Dangerously / True Love's The Treasure / Interstate
08/2001
CD HIGHTONE 8138 (US)
TIED TO THE WHEEL - Truck Stop At The End Of The World / Quit Feelin' Sorry For You / Roll Truck Roll / Dim Lights, Thick Smoke / One More Hour Of Blues / Tryin' To Turn Her Memory Off / Hillbilly Truck Driving Man / Tied To The Wheel / Prison Band / Poultry In Motion / How Mountain Girls Can Love / Just Like Tom Thumb's Blues
10/2005
CD HIGHTONE 8136 (US)
KING OF DIESELBILLY - Hot Rod Lincoln Truck Stop At The End Of The World / Looking At The World Throuh A Windshield / Rocket In My Pocket (with The TWANGBANGERS) / Dim Lights, Thick Smoke / Just Like Tom Thumb's Blues / Rockabilly Funeral (with The TWANGBANGERS) / Little Bitty Record / Womb To The Tomb / Hot Rod Lincoln (with The TWANGBANGERS)
09/2006
CD PROPER AMERICAN 005 (US)
HAMMER OF THE HONKY-TONK GODS - Hammer Of The Honky-Tonk Gods / Rocks Into Sand / Get A Little Goner / Skid Row In My Mind / Working Man / Soul Cruisin' / Truth Be Told / Devil With The Blue Dress / One More Day / Heart Of Gold / If It's Really Got To Be This Way
05/2010
CD PROPER AMERICAN 011 (US)

Word to the Wise - Bump Wood / Shelly's Winter Love (Bill KIRCHEN feat: Paul CARRACK / Nick LOWE) / Man In The Bottom Of The Well (Bill KIRCHEN feat: Elvis COSTELLO) / I Don't Work That Cheap / Time Will Tell The Story / Husbands And Wives (Bill KIRCHEN feat: Chris O'CONNELL) / Open Range (Bill KIRCHEN feat: Kevin Blackie FARRELL) / Arkansas Diamond / Word To The Wise (Bill Kirchen feat: Dan HICKS) / Ain't Got Time For The Blues (Bill KIRCHEN feat: Maria MULDAUR) / Valley Of The Moon

10/2012
2 CD Floating World FLOATM 6167 (UK)
Tied to the Wheel / King of Dieselbilly :

CD 1 : Truck Stop At The End Of The World / Quit Feelin' Sorry For You / Roll Truck Roll / Dim Lights, Thick Smoke / One More Hour Of Blues / Tryin' To Turn Her Memory Off / Hillbilly Truck Driving Man / Tied To The Wheel / Prison Band / Poultry In Motion / How Mountain Girls Can Love / Just Like Tom Thumb's Blues
CD 2 : Looking At The World Throuh A Windshield / Rocket In My Pocket (with The TWANGBANGERS) / Dim Lights, Thick Smoke / Just Like Tom Thumb's Blues / Rockabilly Funeral (with The TWANGBANGERS) / Little Bitty Record / Womb To The Tomb / Hot Rod Lincoln (with The TWANGBANGERS)

06/2013
CD Proper PRPCD 112 (US)

Seeds and Stems -

Too Much Fun / Tell Me The Reason / Down To Seeds And Stems Again / Semi-Truck / Rockabilly Funeral / Womb To The Tomb / Flip Flop / Swing Fever / It Takes A Lot to Laugh, It Takes A Train To Cry / Truck Stop At The End Of The World / Mama Hated Diesels / Hot Rod Lincoln / Talkin' About Chicken
© Rocky Productions 7/09/2013