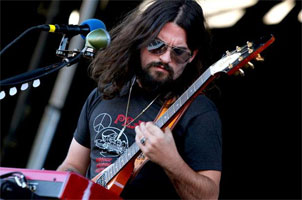 Chanteur Country US né Waylon Albright Jennings, le 19 Mai 1979 à Nashville (Tennessee). Shooter Jennings est le fils de Waylon Jennings et de Jessi Colter.

The only son of country legends Waylon Jennings and Jessi Colter, Shooter Jennings literally spent his childhood on a tour bus. Born Waylon Albright Jennings, Shooter was playing drums by the time he was five years old and had already begun taking piano lessons, only to break them off and follow his own path to an understanding of the instrument. He discovered guitar at 14 and rock & roll (particularly Southern rock and the loose-limbed hard rock of Guns N' Roses) at 16. Soon he moved from Nashville to L.A., where he assembled a rock band called Stargunn. Stargunn earned a strong local reputation for its live shows, and enjoyed a six- or seven-year run on the L.A. circuit before Jennings rediscovered his outlaw country roots and dissolved the band.
After a short stay in New York, where Jennings assembled material for a country project, he returned to L.A. and put together a second band -- this time with solid country roots -- which he named the .357s. Jennings and the band holed up in the studio, eventually emerging with a rambunctious country album called Put the O Back in Country, which was released in 2005 on Universal South Records. Following in his father's footsteps, but with his own feisty, scrappy sense of country, Jennings placed himself in a fine position to both explore that legacy and carve out his own. A second album, Electric Rodeo (which was actually recorded before Put the O Back in Country), appeared in 2006, followed by a live set, Live at Irving Plaza, later in the year. Jennings' third solo effort, The Wolf, was released in October 2007, featuring a cover of Dire Straits' "Walk of Life" (whose composer, Mark Knopfler, had been a longtime family friend). A month later, Jennings became a father. His girlfriend, actress Drea De Matteo, gave birth to Alabama Gypsy Rose in November. He proposed to De Matteo in 2009 on-stage in Utica, New York. He renamed his backing band Hierophant for his fourth studio album, Black Ribbons, a concept record produced by Dave Cobb. It appeared early in 2010. Later in the year, the album was re-released in a special edition entitled Black Ribbons: The Living Album. The second version was sold on a USB flash drive in the shape of a tarot card. It featured the studio record and live performances by Hierophant. In early 2011, Jennings and blogger Adam Sheets came up with the idea of creating XXX, a new radio format that would focus on insurgent country, rock, and hybrids of both, from new and established artists, that fell far outside the narrow conceits of mainstream radio and were thus ignored. It gained traction and a channel on Sirius/XM where both men served as program hosts. Jennings also moved to New York City with De Matteo. He and pianist Erik Deutsch formed a new band called the Triple Crown, and he became a father for the second time in April, to Waylon Albert "Blackjack" Jennings.
In urgent fashion, Jennings and the Triple Crown began recording; they released the video/download-only single "Outlaw You," his screed against the country music establishment. It reached the top spot on CMT's daily audience request competition and stayed there until a dispute with his former label dictated it be removed. The first official single from the forthcoming album, "The Deed and the Dollar," again reached the top spot in the daily CMT request competition. Jennings' fifth album, Family Man, followed soon after in March of 2012 -- minus "Outlaw You."
His next album, The Other Life, was released a year later on his own Black Country Rock label; it featured guest appearances from Patty Griffin, Scott H. Biram, and Jim Dandy of Black Oak Arkansas. The Other Live, Jennings' second live album, recorded during his 2013 tour and featuring many of the songs from The Other Life, appeared early in 2014, again from Black Country Rock. In 2013, BCR also released an EP in which Jennings performed a dark and atmospheric reworking of "You Are My Sunshine" with Jamey Johnson and former Marilyn Manson guitarist Twiggy Ramirez that was originally recorded for the television series Sons of Anarchy. 2014 saw the release of an EP, Don't Wait Up (For George), a tribute to his longtime friend George Jones.
In early January 2016, Jennings announced a February release for Countach, a collection of songs written and/or inspired by legendary producer Giorgio Moroder. The nine-song set featured guest appearances from Marilyn Manson, Brandi Carlile, Steve Young, and video game pioneer Richard Garriott de Cayeux. 2016 also saw Jenningscollaborating with Billy Don Burns on the EP A Night in Room 8, while he also reissued Black Ribbons in recognition of that year's presidential race.
http://www.shooterjennings.com/
https://en.wikipedia.org/wiki/Shooter_Jennings
Talents : Vocals, Guitar
Style musical : Alternative Country, Contemporary Country, Southern Rock, Outlaw Country, Country Rock
Years in activity :
| | | | | | | | | | | | |
| --- | --- | --- | --- | --- | --- | --- | --- | --- | --- | --- | --- |
| 1910 | 20 | 30 | 40 | 50 | 60 | 70 | 80 | 90 | 2000 | 10 | 20 |
DISCOGRAPHY
EP
2006
CD / DVD UNIVERSAL SOUTH 02745 (US)
Intro/Gone To Carolina/Outro / Intro/Gone To Carolina/Outro / Intro/Gone To Carolina/Outro / Gone To Carolina

[DVD]

2014
CD Black Country Rock BCR 020 (US)

Don't Wait Up (For George) -

Don't Wait Up (I'm Playin' Possum) / Living In A Minor Key / She Thinks I Still Care / If Drinkin' Don't Kill Me (Shooter

Jennings

feat: Katy

Cole

) / The Door
Albums
03/2005
CD UNIVERSAL SOUTH 000381602 (US)
PUT THE "O" BACK IN COUNTRY - Put The "O" Back In Country / 4th Of July / Lonesome Blues / Solid Country Gold / Busted In Baylor County / Sweet Savannah / Steady At The Wheel / Manifesto No.1 / The Letter / Southern Comfort / Daddy's Farm
04/2006
CD UNIVERSAL SOUTH 005499 (US)
ELECTRIC RODEO - Electric Rodeo / Gone To Carolina / Some Rowdy Women / The Song Is Still Slipping Away / Hair Of The Dog / Little White Lines / Alligator Chomp (The Ballad Of Martin Luther Frog Jr.) / Manifesto No.2 / Aviators / Bad Magick / (The) Living Proof
10/2006
CD UNIVERSAL SOUTH 0007538 (US)
LIVE AT IRVING PLAZA 4.18.06 - Intro by Little STECEN - Steven VAN ZANDT / Electric Rodeo / Gone To Carolina / Busted In Baylor County / Lonesome Blues / Manifesto, No. 2 / Manifesto, No. 1 / Steady At The Wheel / Southern Comfort / It Ain't Easy / Daddy's Farm
10/2006
CD UNIVERSAL SOUTH 000888702 (US)
THE WOLF - This Ol Wheel (with Doug KERSHAW) / Tangled Up Roses / Walk Of Life / Old Friend / Slow Train (with The OAK RIDGE BOYS) / Time Management 101 / Concrete Cowboys / Higher / Blood From A Stone / Last Time I Let You Down / She Lives In Color / The Wolf / A Matter Of Time
03/2009
CD UNIVERSAL SOUTH 001264402 (US)

BAD MAGICK - THE BEST OF SHOOTER JENNINGS AND THE 357'S -

4th Of July (with George JONES) / Gone To Carolina / Southern Comfort / The Wolf / Manifesto No. 1 / Walk Of Life / It Ain't Easy / This Ol Wheel / Busted In Baylor County / Slow Train (with the OAK RIDGE BOYS) / Bad Magick / Steady At The Wheel / Daddy's Farm

[live]

/ Lonesome Blues

[live]

/ Living Proof
03/2012
CD EONE EOM-CD-2409 (US)
FAMILY MAN - The Real Me / The Long Road Ahead / The Deed & The Dollar / Manifesto No. 4 / Summer Dreams (Al's Song) / Southern Family Anthem / Daddy's Hands / The Black Dog / The Family Tree / Born
03/2013
CD EONE EOM-CD-2460 (US)
THE OTHER LIFE - Flying Saucer Song / A Hard Lesson To Learn / The White Trash Song (Shooter JENNINGS feat. Scott H. BIRAM) / Wild & Lonesome (Shooter JENNINGS feat. Patty GRIFFIN) / Outlaw You / The Other Life / The Low Road / Mama, It's Just My Medicine / The Outsider / 15 Million Light Years Away (Shooter JENNINGS feat. Jim DANDY)
03/2014
CD Black Country Rock BCR 011 (US)

The Other Live -

A Hard Lesson To Learn / Isis / The Low Road / Mama, It's Just My Medicine / Old Friend / Outlaw You / Solid Country Gold - The Outsider / The White Trash Song / Something In The Way / All Of This Could Have Been Yours / The Gunslinger
04/2014
LP 12" Black Country Rock ‎BCR0015 (US)

Fenixon -

Waylon

Jennings

- Shooter

Jennings -

Sludgehammer / I Found The Body / Dream / Waymore's Blues / Passive Destruction / Lonesome On'ry & Mean / White Room / Jack Of Diamonds / I Think I'm Gonna Kill Myself / Knockin' On Heaven's Door / Superstar / Outlaw Shit
03/2016
CD BCR BCRM 3011 (US)

Countach - Loading / Countach / From Here To Eternity / I'm Left, You're Right, She's Gone / Born To Die / Chase / Love Kills / The Neverending Story / Cat People

11/2017
CD Smith Music 5076 (US)

Live at Billy Bob's Texas - Electric Rodeo / Don't Feed The Animals / The Real Me / Love Kills / Manifesto No. 1 / All Of This Could Have Been Yours / The Gunslinger / Good Time Charlie

08/2018
CD Elektra / Low Country Sound 571593 (US)

SHOOTER - Bound Ta Git Down / Do You Love Texas? / Living In A Minor Key / D.R.U.N.K. / Shades & Hues / I'm Wild & My Woman Is Crazy / Fast Horses & Good Hideouts / Rhinestone Eyes / Denim & Diamonds
© Rocky Productions 11/08/2018