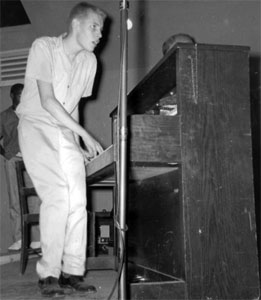 Chanteur Rock 'n' Roll US né George Rodrick Jackson, le 9 Avril 1942 à Freno (Californie), avant que sa famille ne parte s'installer à Merced. Son père était un guitariste/chanteur professionnel qui pouvait jouer dans tous les styles, y compris du flamenco, et qui tourna avec The Sons of The Pioneers. A L'age de 6 ans, Roddy commença à prendre des leçons de piano tout en écoutant les artistes favoris de son père : Big Bill Broonzy, Charlie Christian ou Django Reinhart.
En 1954, âgé de 12 ans, il forma son premier groupe, The Dreamers, et commença à se produire sur les ondes de la KYOS situé à Merced. Roddy jouait alors de la batterie mais voulait absolument se mettre au sax ténor comme Earl Bostic et Clifford Scott (Bill Dogget Band), deux de ses artistes favoris. Il commença par prendre alors des cours de clarinette puis se mis au sax alto avant de passer au sax ténor. Il apprit aussi à maîtriser la trompette et le trombone.
En 1956, Fats Domino devint le nouveau héros de Roddy qui se mit au piano pour jouer du R'n'B. Accompagné par un nouveau groupe de musiciens noirs nommé The Blue Notes, il devint rapidement populaire autour de Merced et parti en tournée à Modesto et Stockton. Maintenant fortement influencé par Little Richard, il rêvait de rejoindre le label de son idole Specialty records. Lors d'une audition pour le label le jeune Sonny Bono réussi à convaincre Art Rupe, le boss, de signer Roddy mais pas son groupe. Des enregistrements effectués lors de cette audition, seul subsiste une version débridée de « Whole Lotta Shakin' Goin' On » présente sur le CD ACE. « Miss Ann », « Lucille » et « Long Tall Sally », trois morceaux de Little Richard, restent pour leur part inédits.
Le 12 décembre 1957, Roddy s'absenta pour une journée de l'école et fit son troisième voyage à Hollywood pour sa première session. Accompagné par Rene Hall (gtr), Red Callender (bs) et Earl Palmer (dms), il enregistra « I've got my sights on someone new », une composition de Sonny Bono, qui sera couplé avec « Love at First Sight » sur son premier single (Specialty 623) sorti en janvier 58. « I've got My Sight » est un superbe morceau up-tempo et « Love at First Sight », a ballade avec un fort feeling R'n'B. "Love at First Sight" entra dans les charts a Salt Lake City et Baltimore et "Decca" lui proposa de racheter son contrat à "Specialty" ce qu'il refusa. Un passage à l'American Bandstand de Dick Clark ne se matérialisa pas, Art Rupe refusant toute «payola ».
Le 8 septembre 1958, de retour en studio, Roddy enregistra avec la complicité de Sonny Bono, les deux classiques « Hiccups » et « There's A Moose on the Loose » qui formeront son second single. Deux classiques de pure wild et funny Rock'n'Roll ! Le disque sombrera sans laisser de trace comme le suivant mais deviendra un classique dans toutes les rockin' hops des années 70.
Une troisième session le 25 mars 1959 donnera naissance à « Gloria » et « Any Old Town » qui formeront son dernier single pour le label (Specialty 666). Deux très bonnes faces enregistrées avec le soutien de Rene Hall, Lee Allen et Earl Palmer. En 1960, Roddy parti pour Modesto où il travailla quelques temps dans le groupe de Chester Smith avant de rejoindre l' US Army et de se retrouver en Allemagne.
Tout cela laissera dans les archives du label « Specialty » d'excellent morceaux comme « Lend Me Your Comb », les superbes « I Love Her just the Same », « Juke Box Baby » ou « Until the End of Time » (une superbe ballade).
(Merci à Dominique « Imperial » Anglares)
Roddy Jackson est décédé le 7 Décembre 2022.

With his gravel-filled Vocals and piano-pounding antics, Roddy Jackson was sort of a West Coast version of Jerry Lee Lewis in the late '50s, and although his career never really took off into the stratosphere, his legacy is a solid one, and he is one of the last true rockabilly pioneers still out on the circuit. Born as George Roderick Jackson in California around 1940, Jackson fronted the multi-racial Blue Notes out of Merced, CA, beginning in 1956, but once signed to Art Rupe's Specialty Records imprint, Jackson became essentially a solo act and none of the Blue Notes (the band, without Jackson, has a single album out on CD as the Merced Blue Notes) ever played on any of his records, a situation Jackson was never really happy about. Specialty released three Jackson singles in 1958 and 1959, all produced by Sonny Bono, "I've Got My Sights on Someone New"/"Love at First Sight," the double-sided classic "Hiccups"/"Moose on the Loose," and "Any Old Town"/"Gloria." Jackson was the real deal, an exciting performer who shouted out his material with explosive force, pummeling the piano like it was a personal threat to his well-being, and occasionally showing off his considerable saxophone skills as well. Unfortunately, Jackson, although he was certainly deserving, never broke through to mass success with the public, and he remains a somewhat mysterious and revered figure to serious fans of true rockabilly. Ace Records finally released what amounts to Jackson's collected recorded work on CD as Central Valley Fireball in 2007, which includes both sides of all three of his singles as well as previously unissued period tracks, audition tapes, and home recordings. Jackson still lives in California, doing occasional local shows and also the oldies and festival circuits, where his powerful, eccentric, and electrifying stage presence has lost none of its explosive energy over the last five decades.
Roddy Jackson died on December 7, 2022.
https://www.facebook.com/RoddyJacksonsFanpage/
https://en.wikipedia.org/wiki/Roddy_Jackson
Talents : Vocals, Piano, Saxophone
Style musical : Rock 'n' Roll, Rockabilly, Rhythm 'n' Blues

https://youtu.be/RIC2rwszWRo
| | |
| --- | --- |
| I've Got My Sights On Someone New (1958) | |
Years in activity :
| | | | | | | | | | | | |
| --- | --- | --- | --- | --- | --- | --- | --- | --- | --- | --- | --- |
| 1910 | 20 | 30 | 40 | 50 | 60 | 70 | 80 | 90 | 2000 | 10 | 20 |
DISCOGRAPHY
Singles
01/1958
SP SPECIALTY 623 (US)
.
I've Got My Sights On Someone New / Love At First Sight
10/1958
SP SPECIALTY 649 (US)
.
Roddy JACKSON & His BAND - Hiccups / Moose On The Loose
05/1959
SP SPECIALTY 666 (US)
.
Any Old Town / Gloria
1988
SP ROGUE RR-713 (US)
.
RODDY & RONSON - (Roddy

Jackson

, Diana

Ronson

) - Michael, Machael / I Wanna Ride Your Motorcycle / I've Talked 'Til I'm Blue In The Face Blues
2021
SP SPECIALTY RJ001 (bootleg) (limited edition 300 ex.) (?)

I Love Her Just The Same / I Found A New Girl
Albums
07/2007
CD ACE CDCHD 1161 (UK)
CENTRAL VALLEY FIREBALL - I Love Her Just The Same / Hiccups / I've Got My Sights On Someone New / Any Old Town / Juke Box Baby / Love At First Sight / Until The End Of Time / There's A Moose On The Loose / Gloria / I Found A New Girl / Cherry Pie / Whole Lotta Shakin' Goin' On / Lend Me Your Comb / I've Got My Sights On Someone New

[alternate take]

/ She Said Yeah

[demo version]

/ Johnny's Last Ride

[demo version]

2019
CD VLV CDVLV9626 (US)
CONSIDER -

Original 50's Croons & Rockin' Tunes -

Don't You Do Me This Way / I'll Find A New Love / Consider / I Love Her Just The Same / Please Say You Care For Me / Let's Go Rock And Roll / No One Else Will Do / Give A Little Love / Unconditional Surrender / Johnny's Last Ride / Until The End Of Time / Jukebox Baby
© Rocky Productions 9/12/2022