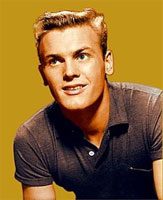 Chanteur et acteur US né Arthur Andrew Kelm, le 11 Juillet 1931 à New York. Tab Hunter est mort le 8 Juillet 2018 à son domicile de Sanra Barbara (Californie).

Born Arthur Gelien, 11 July 1931, New York City, New York, USA. This blond-haired, blue-eyed pop vocalist/actor was spotted in 1948, working at a stable, by talent scout Dick Clayton. He introduced him to Rock Hudson's Hollywood agent Harry Wilson, who said 'We've got to tab you something', then named him Tab Hunter. He made his screen debut in the 1950 movieThe Lawless and two years later co-starred with Linda Darnell in the British feature Saturday Island (US title: Island Of Desire). In late 1956 he received a phone call from Randy Wood, president of Dot Records, asking him to record a song recently cut by US country star Sonny James, the lilting ballad 'Young Love'. Both versions made the US charts, Hunter reaching number 1 and James peaking at number 2. Hunter also topped the UK chart, but James lagged behind at number 11. He continued recording for Dot and hit with the slightly up-tempo '99 Ways', which narrowly missed the US Top 10 but made the UK Top 5 (1957). In the following year he appeared in the film version of the Broadway show Damn Yankees, with Gwen Verdon and Ray Walston. As Warner Brothers had him under contract to make films, they resented him recording for Dot and established their own record label in 1958. He signed, with moderate success, and in 1960 starred in his own NBC US television series. Hunter continued his acting and appeared opposite Fabian in the 1964 'beach party' featureRide The Wild Surf. He was still acting in the 80s, notably with Divine in John Waters' Polyester andLust In The Dust, and also in the Grease sequel, Grease 2. In the late 80s Hunter moved to Mexico to write, and set up a film production company, one of the fruits of which was the 1992 'family' picture Dark Horse.
Tab Hunter died on July 8, 2018 at his home in Sanra Barbara, California.
http://www.tsimon.com/thunter.htm
https://en.wikipedia.org/wiki/Tab_Hunter
Talents : Vocals, Actor
Style musical : Pop, Rock 'n' Roll

https://youtu.be/gCC5CeiL3-U
| | |
| --- | --- |
| Red Sails In The Sunset (1956) | |
Years in activity :
| | | | | | | | | | | | |
| --- | --- | --- | --- | --- | --- | --- | --- | --- | --- | --- | --- |
| 1910 | 20 | 30 | 40 | 50 | 60 | 70 | 80 | 90 | 2000 | 10 | 20 |
DISCOGRAPHY
Singles & EP
12/1956
SP DOT 45-15533 (US)
.
03/1957
SP DOT 45-15548 (US)
.

Ninety-Nine Ways / Don't Get Around Much Anymore

1957
SP DOT D 45-115 (DK)
Ninety-Nine Ways / Don´t Get Around Much Anymore
10/1957
SP DOT 45-15657 (US)
.

Don't Let It Get Around / I'm Alone Because I Love You

1957
SP DOT DOT 1012 (JAP)

Ninety-Nine Ways (Tab Hunter) / Come Go With Me (Dell-Vikings)

1957
EP VERSAILLES 90 S 161 (F)
06/1958
SP DOT 45-15767 (US)
.

It's All Over Town / I'm A Runaway

09/1958
SP WARNER BROS. 5008 (US)

Jealous Heart / Lonesome Road

11/1958
SP WARNER BROS. 5021 (US)
.

My Baby Just Cares For Me / Candy

11/1958
EP WARNER BROS. EA 1221 (US)

Candy / My Baby Just Cares For Me / Jealous Heart / I Love You, Yes I Do

11/1958
EP WARNER BROS. EA 1221 (US)
.

Stereo Jukebox EP -

I Love You, Yes I Do / I Ain't Got Nobody / My Baby Just Cares For Me / Candy
11/1958
EP LONDON RED 1134 (UK)
Young Love / Ninety-Nine Ways / Don't Let It Get Around / I'm Alone Because I Love You
1958
EP VERSAILLES 90 M 214 (F)
I'm Alone Because I Love You / I'm A Runaway / It's All Over Town / Don't Let It Get Around
1958
EP DOT DEP 516 (DK)
Young Love / Red Sails In The Sunset / Ninety-Nine Ways / Don´t Get Around Much Anymore
1958
EP DOT DEP 544 (SWE)
I'm A Runaway / It's All Over Town / Don't Let It Get Around / I'm Alone Because I Love You
01/1959
SP WARNER BROS. 5032 (US)
.

(I'll Be With You In) Apple Blossom Time / ((What Can I Give) My Only Love

01/1959
SP WARNER BROS. S 5032 (US) (special edition)
.
(I'll Be With You In) Apple Blossom Time / ((What Can I Give) My Only Love
04/1959
SP WARNER BROS. 5051 (US)

I'll Never Smile Again / There's No Fool Like A Young Fool

04/1959
SP WARNER BROS. S 5051 (US) (special edition)
.
I'll Never Smile Again / There's No Fool Like A Young Fool
08/1959
SP WARNER BROS. 5093 (US)

Waitin' For Fall / Our Love

10/1959
SP WARNER BROS. 5107 (US)
.

Midnight Baby / Tell Me Why

12/1959
SP WARNER BROS. 5123 (US)
.

Moonlight Bay / You're Gonna Change

12/1959
SP DOT 45-16036 (US)
.
02/1960
SP WARNER BROS. 5142 (US)
.

Black Coat / I Gotta Have My Baby Back

06/1960
SP WARNER BROS. 5160 (US)

Again / Love Is Just Around The Corner

1960
EP WARNER BROS. WEP 6023 (UK)

It Makes No Difference Now / Hey, Good Lookin' / Anytime / Invitation To The Blues

1960
EP WARNER BROS. EA 1221 (GER)
Candy / My Baby Just Cares For Me / I Love You, Yes I Do / After You've Gone
01/1961
SP DOT 45-16187 (US)
.

My Devotion / You Cheated

03/1961
SP DOT 45-16205 (US)
.

My Devotion / Wild Side Of Life

08/1961
SP DOT 45-16264 (US)
.

Way You Look Tonight / You Cheated

04/1962
SP DOT 45-16355 (US)
.

Born To Lose / I Can't Stop Loving You

09/1962
EP LONDON RE 10124 (F)
I Can't Stop Loving You / Born To Lose / My Devotion / Wild Side Of Life
1968
SP DOT 45-121 (US)
.
Young Love / Ninety-Nine Ways
1988
SP MCA 257 904-7 (GER)
Young Love / Red Sails In The Sunset
Albums
1958
LP 12" Warner Brothers W-1221 (US)

Tab Hunter - I Love You, Yes I Do / My Baby Just Cares For Me / I Want To Be With You Always / I'll Never Be Free / Time After Time / Candy / I Ain't Got Nobody / Let's Pretend There's A Moon / After You've Gone / All Alone / But Beautiful / Funny

1960
LP 12" Warner Brothers W-1292 (mono) / WS-1292 (stereo) (US)

When I Fall In Love - You Must Have Been A Beautiful Baby / Nevertheless / I Wish I Didn't Love You So / Long Ago / I'll Never Smile Again / Sometimes I'm Happy / When I Fall In Love / Why Does It Get So Late So Early / Maybe You'll Be There / Bye Bye Baby / I Hadn't Anyone Till You / And So To Sleep Again

1960
LP 12" Warner Brothers W-1367 (mono) / WS-1367 (stereo) (US)

R.F.D. Tab Hunter - It Makes No Difference Now / Invitation To The Blues / I Gotta Have My Baby Back / Black Coat / Bummin' Around / Hey Good Lookin' / Oh Lonesome Me / Headin' Down The Wrong Highway / I'm So Lonesome I Could Cry / I've Got A New Heartache / It's The Bottle Talking / Anytime

1961
LP 12" DOT DLP-3370 (mono) / DLP-25370 (stereo) (US)
YOUNG LOVE -

Young Love / Ninety-Nine Ways / Red Sails In The Sunset/ Oh, Happy Day / Kiss Her One Time For Me / My Devotion / You Cheated / The Way You Look Tonight / Bye Bye Love / She's Not That Kind / Wild Side Of Life / But I Do

1994
CD Teenage Sounds TSR 64636 (US)

Young Love - Young Love / I Ain't Got Nobody / Funny / I Want To Be With You Always / My Baby Just Cares For Me / I Love You Yes I Do / After You've Gone / I'll Never Be Free / Let's Pretend There's A Moon / There's No Fool Like A Young Fool / She's Not That Kind / Bye Bye Love / But I Do / You Cheated / Way You Look Tonight / Ninety-Nine Ways / Red Sails In The Sunset / Oh Happy Day / My Devotion / Kiss Her One Time For Me / Wild Side Of Life / Don't Get Around Much Anymore / Waiting For Fall / Don't Let It Get Around / I'm Alone Because I Love You / Jealous Heart / Apple Blossom Time / Moonlight Bay / Black Coat / You're Gonna Change / It's The Bottle Talking / Hey Good Lookin' / Ninety-Nine Ways / Red Sails In The Sunset / Young Love

08/2005
CD Eric 11526 (US)

Youg Love - The Best Of Tab Hunter / Young Love / Red Sails In The Sunset / Ninety-Nine Ways / Don't Get Around Much Anymore / Jealous Heart / (I'll Be with You In) Apple Blossom Time / There's No Fool Like A Young Fool / Moonlight Bay / I Ain't Got Nobody / Time After Time / I'll Never Smile Again / Again / My Baby Just Cares For Me / Candy / When I Fall In Love / I'm So Lonesome I Could Cry / Hey Good Lookin'

11/2008
CD Sepia 1121 (UK)

Hans Brinker of The Silver Skates -The NBC Hallmark Hall of Fame Production -

STARRING Tab HUNTER - Peggy KING - JARMILA - NOVOTNA - Ice / I'm A Very Lucky Boy / I Happen To Love You / Silver Skates / Trinka Brinker / Clop, Clop, Clop / The More The Merrier / Hello Springtime / Ice (reprise) / Young Love (song) / Red Sails In The Sunset (song) / Ninety-Nine Ways (song) / I'm A Runaway (song) (for the film "Gunman's Walk") / The Gentleman In The Next Apartment (song) / Make Yourself Comfortable (song) / Any Questions (song) (for the television series Dragnet) / You Never Gave It A Try (song) / You Did, You Did (song) / Please Wait for Me (song) / The Test of Time (song) / Tall Boy (song) / He Never Looks My Way (song) (from the television show "Jack and the Beanstalk") / Love Sick (song) / Miracle Man (song) / In My Own Little Corner (song) (from "Cinderella") / C'Mon Over (song) / If You Don't Love Me (song) / Zero Hour (song) (for the film Zero Hour) / No Sleep till Dawn (song)
© Rocky Productions 15/09/2014