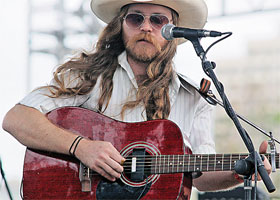 Chanteur Country US né le 13 Novembre 1946 à Soper (Oklahoma).

A leading figure of the progressive country movement of the 1970s, singer/songwriter Ray Wylie Hubbard remains best known for authoring the perennial anthem "Up Against the Wall, Redneck Mother." Born November 13, 1946, in Soper, Oklahoma, Hubbard and his family relocated to Dallas during the mid-'50s; there he learned to play guitar, eventually forming a folk group with fellow aspiring musician Michael Martin Murphey. Befriended by the likes of Jerry Jeff Walker and Ramblin' Jack Elliott, Hubbard later formed a trio named Three Faces West, which regularly performed at the Outpost lub in Red River, New Mexico, a musical hotbed also trafficked by artists including Steve lb and Bill & Bonnie Hearne. Upon the breakup of Three Faces West, Hubbard toured the southwestern coffeehouse circuit as a solo act before forming another group, Texas Fever; they too proved short-lived, and he returned to New Mexico to again take up residence at the Outpost.
While in Red River, Hubbard rekindled his friendship with Walker, who in 1973 recorded Hubbard's most famous (if least representative) composition, "Up Against the Wall, Redneck Mother," on his acclaimed Viva Terlingua LP. The success of the album guaranteed Hubbard instant cult status within progressive country circles, and at the same time, he set about organizing a new backing band, dubbed the Cowboy Twinkies. Considered by many the first cowpunk group -- their regular set lists included everything from Merle Haggard songs to a show-stopping cover of Led Zeppelin's "Communication Breakdown" -- the Cowboy Twinkies' music met considerable resistance in both country and rock quarters; frustrated, Hubbard funded a demo tape that won the group a contract with Atlantic. However, the label left the band in limbo, and they finally jumped ship to Warner Bros., which shipped them off to Nashville to record their debut LP, Ray Wylie Hubbard & the Cowboy Twinkies.
Released in 1975, the album suffered from label-imposed over-production and fared poorly; Hubbard did not resurface prior to 1978, when he signed to Willie Nelson's short-lived Lone Star imprint to record Off the Wall, which contained his own version of "Redneck Mother." The following year Hubbard acquired a new backing unit in the form of the Lost Gozo Band, previously Walker's supporting group; comprised of guitarist John Inmon, bassist Bob Livingston, and drummer Paul Pearcy, they recorded the live LP Caught in the Act. By 1984, Hubbard was backed by the Bugs Henderson Trio, which featured guitarist Henderson, bassist Bobby Chitwood, and drummer Ron Thompson; with them he cut another live effort, Something About the Night.
Hubbard didn't record for another eight years, instead building a small but loyal following through constant touring. Finally, he issued Lost Train of Thought on his own Misery Loves Co. label in 1992, followed in 1995 by the Dejadisc release Loco Gringos Lament. Dangerous Spirits appeared two years later, and in 1999 Hubbard returned with Crusades of the Restless Nights. Eternal & Lowdown, which was issued in summer 2001, captured the haunting poetics of religion, philosophy, and salvation. It was followed in 2003 by the raw and gripping Growl, the laid-back Delirium Tremolos in 2005, and Snake Farm in 2006. Hubbard's near constant touring schedule and curating his own Grit 'N' Groove Festival in 2009 and 2010 kept him busy. He eventually emerged with A. Enlightenment B. Endarkenment (Hint: There Is No C) in 2011, and followed it up with The Grifter's Hymnal in 2012.
In April 2015 Hubbard released another self-produced set, The Ruffian's Misfortune, which like his previous two albums was released through his own Bordello Records imprint. Also that year, Hubbard published his long-awaited autobiography, A Life...Well, Lived. In August 2017 he returned with the studio album Tell the Devil I'm Getting There as Fast as I Can, which featured guest appearances by Lucinda Williams, Eric Church, Patty Griffin, and Bright Light Social Hour.
Talents : Vocals, Guitar, Songwriter
Style musical : Progressive Country, Americana, Country-Folk, Outlaw Country, Country-Rock

https://www.youtube.com/watch?v=89VR_lZehw4
Years in activity :
| | | | | | | | | | | | |
| --- | --- | --- | --- | --- | --- | --- | --- | --- | --- | --- | --- |
| 1910 | 20 | 30 | 40 | 50 | 60 | 70 | 80 | 90 | 2000 | 10 | 20 |
DISCOGRAPHY
Singles
| | | | |
| --- | --- | --- | --- |
| 03/1976 | SP Reprise RPS 1348 (US) | . | West Texas Country Western Cowboy Twink / Bordertown Girl |
| 1978 | SP LONE STAR 705 (US) | . | Redneck Mother / What A Way To Go |
| 1979 | SP RENEGADE EP 001 (US) | . | Low Life Companions / Texas Is A State Of Mine |
| 1986 | SP LUV LUV 120 (US) | | Texas Style / Texas Style (instr.) |
Albums
09/1975
LP 12" Reprise MS-2231 (US)

Ray Wylie Hubbard and The Cowboy Twinkies - West Texas Country Western Dance Band / Portales / $60 Ford / Bordertown Girl / The Lovin' Of The Game / Compromise / Blackeyed Peas / Jazzbo Dancer / He's The One (Who Made Me No. 2) / Belly Of Texas

1979
LP 12" Lone Star L-4603 (US)

Off The Wall -

Redneck Mother / What A Way To Go / Bittersweet Funky Tuesday / Prairie Madness / Saturday Night / Gypsies Got The Right To Steal / Hearts Are Absent Tonight / Radio Song / Mexico Bar / Freeway Church Of Christ
1979
LP 12" RENEGADE EP 001 (US)

Something About The Night -

Texas Is A State Of Mind / Hoodlums Of Love / Dallas After Midnight / Hello Early Morning / Something About The Night / Low Life Companions / The Nights Never Get Lonely / Volcano Love / (The Last Recording Of) Redneck (Ever)
1984
LP 12" Misery Loves Company RHE 218 (US)

Caught In The Act -

Runnin' On The Wild Side / Still Can't Believe You're Gone / Hard Livin' / Stand By Me / Blackeyed Peas / Dallas After Midnight / Jenny Lynn / Back To Louisiana / Rockabilly Rock / Shifting Sands
1992
CD Misery Loves Company

0001 CD

(US)

Lost Train Of Thought -

Here Comes The Night / Sweet Lips Goodbye / Basic Of Love / These Eyes / When She Sang Amazing Grace / Runaway Freight Train / Portales / Rockabilly Rock / Love In Vain / Twist Of Fate / Wanna Rock And Roll
10/1994
CD Misery Loves Company

0002 CD

(US)

Loco Gringo's Lament - Dust Of The Chase / Just To Hold You / Love Never Dies / Little Angel Comes A Walkin' / After The Fall / Wanna Rock And Roll / I've Seen That Old Highway / Didn't Have A Prayer / Bless The Hearts Of The Lonely / Loco Gringo's Lament / Real Trick / Messenger

08/1997
CD Philo CD-PH-1206 (US)

Dangerous Spirits - Dangerous Spirits / If Heaven Is Not A Place To Go / Without Love (We're Just Wastin' Time) / Hey That's All Right / Last Train To Amsterdam / Last Younger Son / Resurrection / Crimson Dragon Tattoo / Sun Also Rises / Ballad Of The Crimson Kings

07/1999
CD Philo 11671-1218-2 (US)

Crusades Of The Restless Knights - Crows / There Are Some Days / The Lovers In Your Dreams / Conversation With The Devil / Red Dress / The River Bed / This River Runs Red / After The Harvest / Airplane Fell Down In Dixie / The Messenger

11/1999
CD Misery Loves Company

0003 CD

(US)

Live At Cibolo Creek - Loco Gringo's Lament / Without Love / Ballad Of The Crimson Kings / When She Sang Amazing Grace / Last Train To Amsterdam / There Are Some Days / The River Bed / Last Younger Son / Wanna Rock And Roll / Redneck Mother

07/2001
CD Philo 11671-1222-2 (US)

Eternal And Lowdown - Three Days Straight / Sleep Of The Just / Mississippi Flush / Sugar Cane / Nighttime / Black Dog / Joyride / Weevils / Don't Bother Asking Me / Didn't Have A Prayer / After All These Years

04/2003
CD Philo 11671-1237-2 (US)

Growl - The Knives Of Spain / No Lie / Name Droppin' / Purgatory Road / Bones / Preacher / Rooster / Rock-n-Roll Is A Vicious Game / Stolen Horses / Little Mama / Screw You, We're From Texas

01/2005
CD Philo 11671-1244-2 (US)

Delirium Tremolos - The Beauty Way / Rock And Roll Gypsies / Dallas After Midnight / Torn In Two / Drivin' Wheel / This Mornin' I Am Born Again / Dust Of The Chase / Roll And I Tumble / Cooler-n-Hell / Choctaw Bingo

06/2006
CD Bordello BOR 09-001 (US)

Snake Farm - Snake Farm / Kilowatts / Heartaches And Grease / The Way Of The Fallen / Mother Hubbard's Blues / Rabbit / Pole Cat / Old Guitar / Wild Gods Of Mexico / Live And Die Rock And Roll / Resurrection

01/2010
CD Bordello 10-002 (US)

A. Elightenment B. Endarkenment (Hint: There Is No C) - A. Enlightenment B. Endarkenment (Hint: There is No C) / Drunken Poet's Dream / Down Homne Country Blues / Wasp's Nest / Pots And Pans / Tornado Ripe / Whoop And Hollar / Black Wings / Loose / Every Day Is The Day Of The Dead / Opium / The Four Horsemen Of The Apocalypse

03/2012
CD Bordello 12-003 (US)

The Grifter's Hymnal - RAY WYLIE HUBBARD & George Reiff - Coricidin Bottle / South Of The River / Lazarus / New Year's Eve At The Gates Of Hell / Moss And Flowers (with Charlie Shafter) / Red Badge Of Courage / Train Yard (with Liz Foster) / Coochy Coochy (with Ringo Starr) / Mother Blues / Henhouse (with Matt King) / Count My Blessings / Ask God

04/2015
CD Bordello 15-004 (US)

The Ruffian's Misfortune -

All Loose Things / Hey Mama My Time Ain't Long / TooYoung Ripe, Too Young Rotten / Chick Singer Badass Rockin' / Bad On Fords / Mr. Musselwhite's Blues / Down By The River / Jessie Mae / Barefoot In Heaven / Stone Blind Horses
08/2017
CD Bordello / Thirty Tigers / Wylieworld Music BOR 17005 (US)

Tell the Devil I'm Gettin' There as Fast as I Can - God Looked Around / Dead Thumb King / Spider, Snaker And Little Sun / Lucifer And The Fallen Angels / Open G / House Of The White Rose Boquet / Tell The Devil I'm Gettin' There As Fast As I Can / The Rebellious Sons / Old Wolf / Prayer / In The Times Of Cold

07/2020
CD BIG MACHINE 100 (US)
CO-STARRING - Bad Trick (feat. Ringo

Starr

, Don

Was

, Joe

Walsh

, Chris

Robinson

) / Rock Gods (feat. Aaron Lee T

asjan

) / Fast Left Hand (feat. The

Cadillac Three

) / Mississippi John Hurt (feat. Pam

Tillis

) / Drink Till I See Double (feat. Paula

Nelson

, Elizabeth

Cook

) / R.O.C.K. (feat. Tyler

Bryant

& The

Shakedown

) / Outlaw Blood (feat. Ashley McB

ryde

) / Rattlesnake Shakin' Woman (feat. Larkin P

oe

) / Hummingbird (feat. Peter

Rowan

) / The Messenger (feat. Ronnie D

unn

& Pam

Tillis

)
© Rocky Productions 11/07/2020