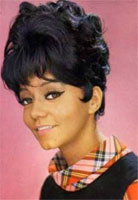 Chanteuse Rock 'n' Roll, Jazz et Pop US née Nancy Brown, le 11 Décembre 1932 à Cleveland (Ohio) et installé en France. Elle est décédée le 28 Août 2019.

America's loss is France's gain. Nancy Holloway migrated to France primarily because of a sour, premature marriage and has remained a resident for more than 40 years, enjoying success as a recording artist and actress. Holloway's fame hasn't extended far past French borders, where she continues to record, sing, and appear in plush jazz nightspots. Though born and raised in America, she's virtually unknown in the United States.
Born Nancy Brown December 11, 1932, and raised in Cleveland, OH, she was the only sister among three brothers: Walter, a retired Cleveland police officer; Joe, a retired career military man; and the youngest, Charles (aka Chuckie), who worked for a railroad in California. Holloway's half sister, Mary Holt, was Cleveland's first African-American female radio personality, popular in the '50s and '60s. The Browns lived at 7300 Wagner Avenue; Holloway attended Rawlings Junior High and East Technical High. She married a man with the surname of Holloway, who was controlling and abusive, after high school; Nancy Holloway left Cleveland to get away, first to New York, then Paris.
In France she became popular recording French versions of pop and soul hits in the '60s; an album from this period, Surprise Partie, depicts a young, beautiful Holloway on the cover. She acted in movies, including The Killing Game, and appeared on television, but it's her recordings and scintillating nightclub act that have made Nancy Holloway a must-see for visitors to France. One of her classic performances, "It Wasn't Paris, It Was You," sums up why Holloway took to Paris like a duck to water.
Nancy Holloway died on August 28, 2019.
http://nancyholloway.retrojeunesse60.com/
Talents : Vocals
Style musical : Rock & Twist, Jazz, Pop

https://youtu.be/xU4IP6vll-A
En Avant L'Amour (1961)

Le Lion Est Mort Ce Soir (1961)

DERNIER BAISER (1963)

T'EN VAS PAS COMME CA (1963)
Years in activity :
| | | | | | | | | | |
| --- | --- | --- | --- | --- | --- | --- | --- | --- | --- |
| 1910 | 20 | 30 | 40 | 50 | 60 | 70 | 80 | 90 | 2000 |
DISCOGRAPHY
78 t., Singles & EP
| | | | |
| --- | --- | --- | --- |
| 1953 | 78 t. & SP MELODISC 1275 (UK) | . | Hip Shakin' Mama / Watermelon |
| 1961 | EP PBM EP 5 (F) | | Les Barbouses / Croque, Croque La Pomme / En Avant L'Amour / Be Bop A Lula |
| 1961 | EP PBM EP 7 (F) | | Dum Dum / Si Le Coeur T'En Dit / Viens Danser Le Twist / Good Good Lovin' |
| 1961 | EP PBM EP 17 (F) | | Le Boogie Du Bébé / Elle A Des Yeux D'Ange / Les Barbouses / Croque, Croque La Pomme |
| 1961 | EP PBM EP 20 (F) | | Viens Danser Le Twist / Dum Dum / Be Bop A Lula / Good Good Lovin' |
| 1961 | EP PBM EP 21 (F) | | Fich' Le Camp Jack / Tu Ne Sais Pas / Cordoba / Guitare Tango |
| 1961 | EP PBM EP 24 (F) | | Douce Violence / La Leçon De Twist / Le Chemin De La Joie / Good Morning Twist |
| 1961 | EP PBM EP 30 (F) | | Hey Pony / Rock The Bop / Le Boogie Du Bébé / Elle A Des Yeux D'Ange |
| 1961 | EP PBM EP 34 (F) | | Fich' Le Camp Jack / Tu Ne Sais Pas / Last Night / The Twist |
| 1961 | EP PBM EP 36 (F) | | Le Chemin De La Joie / Le Lion Est Mort Ce Soir / Douce Violence / La Leçon De Twist |
| 1963 | EP RICORDI 45 S 248 (F) | | Dernier Baiser / Déjà Le Jour Se Lève / Ça Fait Un Drôle D'Effet / Je Suis Bien |
| 1963 | EP DECCA 460776 (F) | | Dis-Lui Que Je Ne Suis Pas Là / Chante / Quand Un Garçon Me Plaît / L'Océan Et La Plage |
| 1963 | SP DECCA 70903 (F) | | Quand Un Garçon Me Plaît / Dis-Lui Que Je Ne Suis Pas Là |
| 1963 | EP DECCA 460778 (F) | | Dernier Baiser / Je Suis Bien / Déjà Le Jour Se Lève / Ça Fait Un Drôle D'Effet |
| 1963 | EP DECCA 460787 (F) | | T'En Vas Pas Comme Ca / Oui C'Est Moi / Te Parler D'Amour / Tu N'Es Pas Venu |
| 1963 | SP DECCA 70917 (F) | | T'En Vas Pas Comme Ca / Tu N'Es Pas Venu |
| 1963 | EP DECCA 460806 (F) | | Désappointée / Prends Tes Clés / A Quoi Ca Sert Les Pleurs / Qui Va Te Remplacer |
| 1963 | SP DECCA 70923 (F) | | Désappointée / A Quoi Ca Sert Les Pleurs |
| 1963 | SP DECCA 70931 (F) | | Qui Va Te Remplacer / Prends Tes Clés |
| 1964 | EP DECCA 460830 (F) | | Dix Bonnes Raisons / Est-Ce Que Tu M'Aimes / Elle T'Aime / Je Veux Prendre Ta Main |
| 1964 | SP DECCA 70944 (F) | | Prends Garde A Toi / Déjà Le Jour Se Lève |
| 1964 | SP DECCA 70963 (F) | | Wrap Your Troubles In Dreams / He Needs Me |
| 1964 | EP DECCA 460838 (F) | | Bye Bye / Je Ne Veux Que Lui / C'Est Bon D'Être En Eté / J'Accuse |
| 1964 | SP DECCA 70973 (F) | | J'Accuse / Cha Ba Da Ba Da |
| 1964 | SP DECCA 70975 (F) | | C'Est Bon D'Être En Eté / Tu Me Plais |
| 1964 | EP DECCA 460885 (F) | | Au Cinéma / J'Ai Découvert Paris / C'Est Pas Comme Ca / Emmène-Moi |
| 1964 | SP DECCA 70991 (F) | | Where Is The Love I Knew / Your Turn's Gonna Come |
| 1964 | SP DECCA 71004 (F) | | Emmène-Moi / C'Est Pas Comme Ca |
| 1965 | EP DECCA 460911 (F) | | Le Gentleman De Cocody / Ne Touchez Pas A Charlie / Les Grands Magasins / C'Est Avec Moi Qu'Il A Rendez-Vous |
| 1965 | SP DECCA 71027 (F) | | Le Gentleman De Cocody / Ne Toucher Pas A Charlie |
| 1965 | SP DECCA 71028 (F) | | Les Grands Magasins / C'Est Avec Moi Qu'Il A Rendez-Vous |
| 1965 | EP DECCA 450190 (F) | | Ciao Ciao Ciao Baby So Long / Tel Qu'Il Est, Il Me Plait / C'Est Encore Vous Mademoiselle / Rêver |
| 1966 | EP DECCA 460955 (F) | | Personne Ne M'Attend / Reviens-Moi / A Travers Une Larmes / Ne Mariez Pas Cet Homme |
| 1966 | SP DECCA 71092 (F) | | A Travers Une Larmes / Reviens-Moi |
| 1967 | EP DECCA 461112 (F) | | A Woman Called Sorrow / Let Me Know / You'll Be All Right / Little Miss Mary |
| 1967 | SP DECCA 79501 (F) | | Nous Et Ces Mots Là / La Chanson Du Bonheur |
| 1968 | EP DECCA 461138 (F) | | J'Ai Du Perdre Mon Chemin / Je Préfère / Aie, Je Veux Vivre / Je L'Imagine |
| 1974 | SP VOGUE VB 367 (F) | | Madame La Nuit / Toi Qu'On Appelle |
| 1974 | SP KEY 2C 008 B5972 (F) | | Laisse-Moi Vivre / Panne De Coeur |
| 1977 | SP BARCLAY 620375 (F) | | Strange Love / The Magic Lovers |
| 197? | SP BARCLAY 61580 (F) | | Un Amour Aussi Grand / ? |
| 1981 | MAXI TIAMA 7148 (F) | | Give A Girl Chance / Never Never Felt This Way |
| 1982 | SP ACCORD ACX 135079 (F) | | T'En Va Pas Comme Ca / Bye bye |
| 1988 | SP EUROPEEN SOUND 190546 (B) | | You Are My Yesterday (version française) |
Albums
1963
LP 12" RICORDI 30 RS 061 (F)
NANCY HOLLOWAY - Hey Pony / Rock The Bop / Dum Dum / Viens Danser Le Twist / Ça Fait Un Drôle D'Effet / Le Lion Est Mort Ce Soir / Be Bop A Lula / The Twist / Good Good Lovin' / Douce Violence / Je Suis Bien / Tu Ne Sais Pas
1964
LP 12" DECCA 154073 (F)
NANCY HOLLOWAY - Bye Bye / L'Air Qui Me Plaît / J'Accuse / Tu Me Plais / Where Is The Love I Knew / De Quel, Droit Peux-Tu Décider / Wrap Your Troubles In Dreams / C'Est Bon D'Etre En Eté / Je Suis Yéyé / Je Ne Veux Que Lui / He Needs Me / Cha Ba Da Bada / Your Turn's Gonna Come / Le Plus Bel Amour
1969
LP 12" GUILDE INT. DU DISQUE SVS 2690 (F)
HELLO DOLLY - Hello Dolly / Why Do Springtime / Mame / As Long As He Needs Me / Big Spender / Light My Fire / Raindrops Keep Falling On My Head / I Loves You Porgy / You're No Good / People / Mack The Knife / Hurt So Bad
1976
LP 12" LES TRETEAUX INTERNATIONAL 6346 (F)
NANCY HOLLOWAY - Swearing To God / Je Reviens De Loin / Going Back Home / Kiss And Tell / Donovan (Un Seul Dimanche Sur Deux) - Je Suis Seule Ce Soir / Stop Ecoute / Half A Loves / Candy Canes / What A Good Thing It Is / Running Off To Haoiness / L'Idiote
1982
LP 10" POLYDOR 827649-1 (F)
GREATEST HITS - Prends Tes Clés / Rêver / Tu N'Es Pas Venu / C'Est Avec Moi Qu'Il A Rendez-Vous / À Travers Une Larme / T'En Vas Pas Comme Ca / S.O.S / Fever / Personnality / Qu'Est Ce Que C'Est Ce Que Tu Me Fais.
1988
CD EUROPEEN SOUND DICD 127893 (B)
YOU ARE MY YESTERDAY - Tu Es Mes Souvenirs / Un Solitaire / En Ecoutant Mon Coeur Chanter / J'Ai Pleuré / Un Amour Fou / Danse Aujourd'Hui / Un Beau Livre D'Images / Les Grandes Vacances / J'Ai Pleuré / (Your Are My Yesterday (medley en anglais)) : You Are My Destiny - Lonely Boy - All Of A Sudden - Time to Cry - Crazy Love - Dance Little Girl - Put Your Head On My Shoulder - Puppy Love - Time To Cry
1992
CD BMG / ARIOLA 290931 (F)
SES TUBES DES ANNEES 60 - T'En Vas Pas Comme Ca / S.O.S (I'm Sending An S.O.S) - Rock'n Roll Forever (v.f) / Fever / Personality / Qu'Est-Ce Que C'Est Ce Que Tu M'Fais / Il A Des Yeux D'Ange (Poetry In Motion) / Tu N'Es Pas Venu / Prends Tes Clés / Rêver / C'Est Avec Moi Qu'Il A Rendez-Vous / À Travers Une Larme / Qu'Est-Ce Que C'Est Ce Que Tu M'Fais (remix 92) / Stop Ne Marriez Pas Cet Homme
1992
CD BMG / ARIOLA 290931 (B)
LES MEILLEURS "OLDIES" DE NANCY HOLLOWAY - T'En Vas Pas Comme Ca / S.O.S (I'm Sending An S.O.S) - Rock'n Roll Forever (v.f) / Fever / Personality / Qu'Est-Ce Que C'Est Ce Que Tu M'Fais / Il A Des Yeux D'Ange (Poetry In Motion) / Tu N'Es Pas Venu / Prends Tes Clés / Rêver / C'Est Avec Moi Qu'Il A Rendez-Vous / À Travers Une Larme / Qu'Est-Ce Que C'Est Ce Que Tu M'Fais (remix 92) / Stop Ne Marriez Pas Cet Homme
1994
CD MARGINAL CDMA 013 (F)
SIXTIES OLDIES - Tu N'Es Pas Venu (Whirlpool) / Je Ne Veux Que Lui (His Lips Get In The Way) / Bye Bye (My Guy) / C'Est Bon D'Etre En Eté (That's How Heartaches Are Made) / T'En Vas Pas Comme Ca (Don't Make Me Over) / À Travers Une Larmes (The World Trough A Tear) / Au Cinéma (Tell Me Mama) / Dis-Lui Que Je Ne Suis Pas Là (Tell Him I'm Not Home) - Quand Un Garçon Me Plaît (Big Noise From Winnetka) / Dix Bonnes Raisons (Ten Good Reasons) / Les Grands Magasins / Désappointée (Disappointed) / Qui Va Te Remplacer / À Quoi Ca Sert Les Pleurs (You Have A Lot To Learn) / Rêver (Dream On Little Dreamer) - C'Est Avec Moi Qu'Il A Rendez-Vous (He Doesn't Want You) / Dernier Baiser (Sealed With A Kiss) / Tu Me Plais (I Smiled Yesterday) / Prends Tes Clés / Il A Des Yeux D'Ange (Poetry In Motion) / J'Accuse / Oui C'Est Moi (Here I Come) / Reviens-Moi / J'Ai Découvert Paris (It Might As Well Be Me)
07/1996
CD MUSIDISC 107642 (F)
SURPRISE PARTIE - T'En Vas Pas Comme Ça (Don't Make Me Over) / Bye Bye (My Guy) / C'Est Bon D'Etre En Ete (That's How Heartaches Are Made) / Quand Un Garcon Me Plait (Big Noise From Winnetka) / He Needs Me / Elle T'Aime (She Loves You) / Plus Bel Amour / Je Ne Veux Que Lui (His Lips Get In The Way) / C'Est Pas Comme Ca / Cinema (Tell Me Mama) / Tu Me Plais (I Smiled Yesterday) / Desappointee (Disappointed) / Prend Tes Cles / Est Ce Que Tu M'Aimes (Do You Love Me) / Rever (Dream On Little Dreamer) / Je Veux Prendre Ta Main (I Want to Hold Your Hand) / Ca Fait Un Drole D'Effet (What Kind Of Love Is This?) / Gentleman De Cocody (Theme du Film) / Quand Vient la Fin de l'Ete (Sealed With A Kiss)
1996
2 CD MAGIC 525002 (F)
LA COLLECTION SIXTIES DES EP'S FRANCAIS :

CD 1 : Dernier Baiser / Je Suis Bien / Déjà Le Jours Se Lève / Ça Fait Un Drôle D'Effet / Dis-Lui Que Je Ne Suis Pas Là / Chante / Quand Un Garçon Me Plaît / L'Océan Et La Plage / T'En Va Pas Comme Ca / Oui, C'Est Moi / Te Parler D'Amour / Tu N'Es Pas Venu / Désapointée / Prends Tes Clés / À Quoi Ca Sert Les Pleurs / Qui Va Te Remplacer
CD 2 : Bye Bye / Je Ne Veux Que Lui / C'Est Bon D'Etre En Eté / J'Accuse / Au Cinéma / J'Ai Découvert Paris / C'Est Pas Comme Ca / Emmène-Moi / Ne Touchez Pas A Charlie / Le Gentleman De Cocody / Les Grands Magasins / C'Est Avec Moi Qu'Il A Rendez-Vous / À Travers Une Larme / Ne Mariez Pas Cet Homme / Personne Ne M'Attend / Reviens-Moi / Ciao Ciao Ciao Baby So Long - Prends Garde A Toi

05/1999
CD MAGIC 187672 (F)
NANCY HOLLOWAY - Bye Bye / L'Air Qui Me Plait / J'Accuse / Tu Me Plais / Where Is The Love I Knew / De Quel Droit Peux Tu Decider / Wrap Your Troubles In Dreams / C'Est Bon D'Etre En Ete / Je Suis Yeye / Je Ne Veux Que Lui / He Needs Me / Cha Ba Da Ba Da / Your Turn's Gonna Come / Le Plus Bel Amour / Dernier Baiser / T'En Va Pas Comme Ca / Desappointee / Dix Bonnes Raisons / Est-Ce-Que Tu M'Aimes / Elle T'aime / Je Veux Prendre Ta Main / Prends Garde A Toi
05/2004
CD UNIVERSAL 0665962 (US)
TENDRES ANNEES 60 - Dernier Baiser / T'En Vas Pas Comme Ca / Quand Un Garçon Me Plait / Désappointée / Prends Tes Clefs / Ca Fait Un Drôle D'Effet / Bye Bye / C'Est Bon D'Etre En Eté / Elle T'Aime / Le Plus Bel Amour / Je Ne Veux Que Lui / C'Est Pas Comme ça / Au Cinéma / Tu Me Plais / Est-Ce Que Tu M'Aimes? / Rêver / Le Gentleman De Cocody
06/2008
CD MAGIC 3930657 (F)

Portrait 1961/1974 -

Ne viens pas me dire Good bye / Un amour aussi grand / Be bop A lula / Prends garde à toi / Ciao ciao baby so long / Le gentleman de Cocody / C'est bon d'être en été / Bye bye / Je veux prendre ta main / Elle t'aime / Est ce que tu m'aimes / Désappointée / T'en vas pas comme ça / Quand un garçon me plaît / Dernier baiser / Le lion est mort ce soir / Tu ne sais pas / Fich' le camp Jack / Le chemin de la joie / La leçon de twist / Douce violence / Rock the Bop / Venez les copains / Dum dum / Viens danser le twist / Les Barbouzes / Croque croque la pomme / Be bop A lula

2008
CD ULYSSE 18024 (F)
LA PERLE NOIRE DES SIXTIES - Rock 'n' Roll Forever / Fich' Le Camp, Jack / Be Bop A Lula / En Avant L'Amour / Croque, Croque la Pomme / The Twist / Le Boogie Du Bébé / Les Barbouses / Dum, Dum / Good, Good Lovin' / Viens Danser Le Twist / Tu Ne Sais Pas / Venez Les Copains / Le Lion Est Mort Ce Soir / Douce Violence / La Leçon De Twist / Les Chemins

de la

Joie / Interview de Nancy Pour "le Journal de Paris" en 1959 / Rock The Bop / Hey Pony / T'En Vas Pas Comme ça
© Rocky Productions 27/07/2014