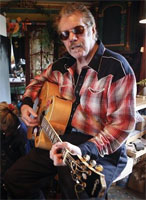 Chanteur Country US né le 9 Décembre 1941 à Little Rock (Arkansas). Dan Hicks est décédé le 6 Février 2016.

Throughout his decades-long career, Dan Hicks stood as one of contemporary music's true eccentrics. While steeped in folk, his acoustic sound knew few musical boundaries, drawing on country, call-and-response Vocalss, jazz phrasing, and no small amount of humor to create a distinctive, albeit sporadic, body of work which earned him a devoted cult following.
Hicks was born December 9, 1941, to a military family then living in Arkansas, and grew up in California, where he was a drummer in a number of high-school bands. He attended college in San Francisco, where he switched to guitar and began playing folk music. He returned to the drums, however, when he joined the Charlatans, one of the Bay City's first psychedelic bands. Although the Charlatans were short-lived — they issued only one single during their existence — they proved influential throughout the San Francisco musical community and were one of the first acts to play the legendary Family Dog.
Hicks had formed the acoustic group Dan Hicks & His Hot Licks in 1968 as an opener for the Charlatans, but soon the new band became his primary project. After adding a pair of female backing Vocalsists — "the Lickettes" — the group issued its debut LP, Original Recordings, in 1969. After a pair of 1971 records, Where's the Money? and Striking It Rich, they issued 1973's Last Train to Hicksville, which proved to be the Hot Licks' most successful album yet. At the peak of the group's popularity, however, Hicks dissolved the band and did not resurface until 1978, releasing the solo LP It Happened One Bite, the soundtrack to an uncompleted feature by animator Ralph Bakshi. He then phased in and out of the music industry for more than a decade and did not issue another major recording until 1994's Shootin' Straight, a live recording cut with a new band, the Acoustic Warriors. In 2000, over two decades after the group's dissolution, Hicks re-formed the Hot Licks and issued Beatin' the Heat. Alive and Lickin' arrived a year later, then after another hiatus, this time for eight years, in March of 2009 he resurfaced with Tangled Tales. In 2010 Hicks brought his jazzy, hip sense of humor to bear on the holiday season with Crazy for Christmas, released by Surfdog Records.
Dan Hicks passed away on February 6, 2016, after a two-year battle with cancer.
https://en.wikipedia.org/wiki/Dan_Hicks_(singer)
Talents : Singer, Guitar, Songwriter
Style musical : Western Swing, Rock 'n' Roll, Progressive Country, Country Rock

http://youtu.be/dWZ8wjQE_bY
Years in activity :
| | | | | | | | | | | |
| --- | --- | --- | --- | --- | --- | --- | --- | --- | --- | --- |
| 1910 | 20 | 30 | 40 | 50 | 60 | 70 | 80 | 90 | 2000 | 10 |
DISCOGRAPHY
Albums
1969
LP 12" EPIC BN-26464 (US)
ORIGINAL RECORDINGS - Dan HICKS & His HOT LICKS - Canned Music / How Can I Miss You When You Won't Go Away? / I Scare Myself / Shorty Takes A Dive / Evenin' Breeze / Waiting For The 103 / Shorty Falls In Love / Milk Shakin' Mama / Slow Movin' / It's Bad Grammar, Baby / Jukies' Ball
1971
LP 12" BLUE THUMB BTS-29 (US)
WHERE'S THE MONEY? - Dan HICKS & His HOT LICKS - I Feel Like Singing / Coast To Coast / News From Up The Street / Where's The Money? / Caught In The Rain / Shorty Falls In Love / By Hook Or By Crook / Reelin' Down / The Buzzard Was Their Friend / Traffic Jam / Is This My Happy Home? / Dig A Little Deeper
1972
LP 12" BLUE THUMB BTS-36 (US)
STRIKING IT RICH - Dan HICKS & His HOT LICKS - You Gotta Believe / Walkin' One And Only / O'Reilly At The Bar / Moody Richard (The Innocent Bystander) / Flight Of The Fly / I Scare Myself / Philly Rag / The Laughing Song / Canned Music / I'm An Old Cowhand (From The Rio Grande) / Woe, The Luck / Presently In The Past / Skippy's Farewell / Fujiyama
1973
LP 12" BLUE THUMB 51 (US)
LAST TRAIN TO HICKSVILLE - Dan HICKS & His HOT LICKS - Cowboy's Dream No. 19 / Lonely Madman / My Old Timey Baby / Vivando / Success / Cheaters Don't Win / Payday Blues / I Asked My Doctor / Sure Beats Me / The Euphonious Whale / Sweetheart (Waitress In A Donut Shop) / 'Long Come A Viper / It's Not My Time To Go
1978
LP 12" WARNER BROS. BSK-3158 (US)

IT HAPPENED ONE BITE -

Cruizin' / Crazy 'Cause He Is / Garden In The Rain / Boogaloo Jones / Cloud My Sunny Mood / Dizzy Dogs / Vinne's Lookin' Good / Lovers For Life / Collared Blues / Waitin' / Reveille Revisited / Mama, I'm An Outlaw / Boogaloo Plays Guitar / You Belong To Me / Mama, I'm An Outlaw

[slow version]

/ Vinnie's Lookin' Good

[slow version]

/ Gone With The Wind / Walkin' My Baby Back Home / It's Only A Paper Moon / Honeysuckle Rose / Lulu's Back In Town / Hummin' To Myself
1994
CD PRIVATE MUSIC 82118 (UK)

SHOOTIN' STRAIGHT -

Intro / Up! Up! Up! / Shootin' Straight / Hell I'd Go / Bottoms Up! / Texas Kinda Attitude / Willie / Savin' My Lovin' / 13-D / Barstool Boogie / Magician / Who Are You? / Level With Me Laurie / Rounder / $100,000
06/1997
CD HIP-O 40053 (US)

RETURN TO HICKSVILLE : THE BEST OF DAN HICKS & HIS HOT LICKS - THE BLUE THUMB YEARS 1971-1973 -

(Dan HICKS & His HOT LICKS) -

I Feel Like Singing / News From Up The Street / Where's The Money? / The Buzzard Was Their Friend / Reelin' Down / Dig A Little Deeper / Canned Music / Walkin' One And Only / The Innocent Bystander / I Scare Myself / Presently In The Past / You Gotta Believe / I'm An Old Cowhand (From The Rio Grande) / My Old Timey Baby / Sweetheart (Waitress In A Donut Shop) / 'Long Come A Viper
11/1998
CD BIG BEAT 183 (UK)

EARLY MUSES -

Intro : Home On The Range / Waiting For The 103

/

How Can I Miss You When You Won't Go Away? / Slow Movin'

/

Shorty Goes South / The Innocent Bystander

/

The Jukies' Ball / Euphonious Whale

/

He Don't Care / The Gypsy's Secret

/

O'Reilly At The Bar / My Old Timey Baby / Shall I Ask An Elf? / Living With A Lie

/

I've Got A Capo On My Brain

/

Canned Music / Love Bug Blues / All Day Sucker / The Laughing Song / Fallin' Apart
08/2000
CD HOLLYWOOD 167113 (US)
BEATIN' THE HEAT - Dan HICKS & The HOT LICKS - My Cello / I Don't Want Love / I Scare Myself / Strike It While It's Hot / He Don't Care / Meet Me On The Corner / I'll Tell You Why That Is / Hummin' To Myself / Doin' It! / The Piano Has Been Drinkin' / Chattanoogie Shoe Shine Boy / Driftin' / Hell I'd Go / Don't Stop The Meter, Mack / I've Got A Capo On My Brain
05/2001
CD EPIC 65481 (US)
THE MOST OF DAN HICKS & HIS HOT LICKS - Dan HICKS & His HOT LICKS - How Can I Miss You When You Won't Go Away? / Waiting For The 103 / I Scare Myself / Evenin' Breeze / Canned Music / Milk Shakin' Mama / Slow Movin' / Shorty Takes A Dive / The Jukies' Ball / Payday Blues / You Gotta Believe / My Old Timey Baby / Living With A Lie / He Don't Care / By Hook Or By Crook

/

News From Up The Street
08/2001
CD HOLLYWOOD 167123 (US)
ALIVE & LICKIN' - Dan HICKS & The HOT LICKS - Intro - Alive And Lickin' / Where's The Money? / I Got Mine / Shootin' Straight / How Can I Miss You When You Won't Go Away? / The Piano Has Been Drinking (Not Me) / My Cello / Wild About My Lovin' / I Feel Like Singin' / Comes Love / Payday Blues / Caravan - Four Brothers / Four Or Five Times / The Buzzard Was Their Friend
10/2004
CD SURFDOG 44039 (US)
SELECTED SHORTS - Dan HICKS & The HOT LICKS - Mama's Boy Blues / That's Where I Am / Hey Bartender / Willie / One More Cowboy (with Willie NELSON) / Barstool Boogie (with Jimmy BUFFETT) / C'mon-A-My House / First I Lost My Marbles / That Ain't Right / Cue The Violins / I'll See You In My Dreams / Texas Kinda Attitude / That's The Smoke They're Blowin' / That Ain't Right

[Gibby Phones It In Mix]

06/2005
CD ACROBAT 4048 (US)
LIVE - How Can I Miss You When You Won't Go Away / I Scare Myself / Reelin' Down / The Euphonius Whale / 'Long Come A Viper / Traffic Jam / Sweet Lorraine / We're Not On The Same Trip / I Got Mine / He Don't Care (He's Stoned) / Fallin' Apart / When I Was A Cowboy / News From Up The Street
2007
CD SURFDOG ? (US)

DUETS - Dan Hicks & His Hot Licks -

I Don't Want Love / I Scare Myself / Strike It While It's Hot / Meet Me On The Corner / I'll Tell You Why That Is / Driftin' / Barstool Boogie / One More Cowboy / That Ain't Right / That's Where I Am
03/2009
CD SURFDOG 2517618 (US)
TANGLED TALES - Dan HICKS & The HOT LICKS - Who Are You? / The Diplomat / Savin' My Lovin' / The Blues My Naughty Baby Gave To Me / Song For My Father / The Rounder / 13-D / Ragtime Cowboy Joe / A Magician / Subterranean Homesick Blues / Tangled Tales / Let It Simmer!
10/2010
CD SURFDOG 525580 (US)

Crazy for Christmas -

Dan HICKS & The HOT LICKS - Christmas Mornin' / Santa Gotta Choo Choo / Somebody Stole My Santa Claus Suit / Carol Of The Bells / Run Run Rudolph / Santa's Workshop / Old Fashioned Christmas / Cool Yule / I've Got Christmas By The Tail / I Saw Mommy Kissin' Santa Claus / Here Comes Santa Claus / Under The Mistletoe
05/2013
CD SURFDOG SFR 51101 (US)

Live at Davies -

Dan HICKS & The HOT LICKS - Overture Medley: News From Up The Street - The Innocent Bystander - How Can I Miss You When You Won't Go Away? - Pay Day Blues / By Hook Or By Crook / Dan's Welcome / Hummin' To Myself / Driftin' / Evenin' Breeze / He Don't Care / Song For My Father / Take The 'A' Train / Beedle Um Bum / I Feel Like Singin' - Yardbird Suite / I Scare Myself / [untitled] / [untitled]
© Rocky Productions 4/07/2013