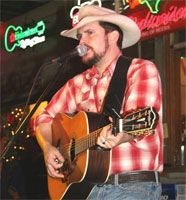 Chanteur Country US né le 26 Février 1980 à Pleasanton (Texas).

US Country singer born 26 February 1980 in Pleasanton (Texas). Playing guitar and singing, Rodney Hayden made an early impression with his penchant for the sound of traditional country music, even if the material was often newly written. Artists for whom he has expressed admiration include George Jones and especially Hank Williams. Among those with whom he has worked are Robert Earl Keen and Willie Nelson, and he has opened shows for Merle Haggard.
Hayden spent some two years in Nashville, Tennessee, working as a songwriter, but then returned to Texas to pursue his career as a performer. His 2002 debut The Real Thing included the Chip Taylor penned title track and strong original material including 'Tryin' To Find Myself', 'Back In Your Arms' and 'Heartaches And Highways'. The 2003 follow-up Living The Good Life featured another mixture of cover versions and original material, with standouts including 'Goodbye To My Hometown' and 'Son Of A Rolling Stone'. A third collection was released in 2007 on the Palomino label. Among Hayden's songwriting collaborators are Byron Hill, Keen, Trent Summar and Bill Whitbeck.
Talents : Singer, Guitar
Style musical : Traditional Country, Contemporary Country

http://youtu.be/-uXZK0D38EQ
Years in activity :
| | | | | | | | | | | |
| --- | --- | --- | --- | --- | --- | --- | --- | --- | --- | --- |
| 1910 | 20 | 30 | 40 | 50 | 60 | 70 | 80 | 90 | 2000 | 10 |
DISCOGRAPHY
Albums
| | | | |
| --- | --- | --- | --- |
| 01/2002 | CD ROSETTA 2004 (US) | | THE REAL THING - The Real Thing / Black Rose / Tryin' To Find Myself / Heartaches And Highways / Mightly Lonesome Sound / You Don't Talk I Don't Listen / I Hope That I Don't Fall In L / I'll Give You Love / Tears Only Run One Way / December Rose / Back In Your Arms |
| 09/2003 | CD AUDIUM / KOCH 8185 (US) | | LIVING THE GOOD LIFE - Living The Good Life / Broke Down / Goodbye To My Hometown / Living Everyday Like It's Sat / Get On Your Mule And Ride / The First Day / Mr. Mockingbird / Della's Long Brown Hair / Trying To Get A Little Love / Can't Wait To Get Back Home / Son Of A Rolling Stone |
| 05/2007 | CD PALOMINO 13244 (US) | | DOWN THE ROAD - Down The Road / It Goes By Too Fast / Whoever Wrote This Song / Nuevo Laredo / Lonely Day / I'll Ride Again / Midnight In Memphis / After The Sun Goes Down / Silverado Boys / These Arms / It's Been A While |
| 11/2008 | CD SMITH MUSIC GROUP 7111 (US) | | 12 OUNCE WORLD - 12 Ounce World / Something Stronger Than Me / Huntsville / Waltz With Me / Darling I'm Falling For You / Lonesome, Heartbroke And Blue / Pour A Drink / Last Plane Out Of Tulsa / I'm The One For You / That's How Long (My Love Will Last) / Song For Momma |
| 2010 | CD MWR 2236 (US) | | Tavern Of Poets - Too many Highs / Cold Goodnight / Last Train To Rome / Goodnight New York / Waiting On The Pain / More Wishes Than Dimes / It's Just The Rain / Tending Bar By The Tracks At Minight In Tupelo, MS / Take Me Back Wife / C'Est La Vie |
| 07/2011 | CD Palomino ? (US) | | Rodney Hayden - The Habit / The Brazos / The Ballad Of Jesse James / Sonora's Death Row / Gypsy Davey / Red River Valley / Chopo / The Cowboy Song / I Ride An Old Paint |
| 10/2012 | CD Palomino ? (US) | | Atascosa Sand - Vegas / One Good Year / Goodbye To My Hometown / Song Of Sunset / Good Horses Are Hard To Come By / I Drink To Remember / Cowboy From Kicaster Creek / Buckaroo Man / It's Good To Be Back Home / Atascosa Sand |
© Rocky Productions 15/06/2014