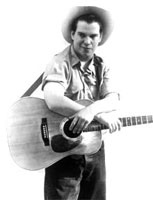 Chanteur Country US né le 1er Mai 1965 à Rockne (Texas). Il est surnommé "The Train".

Alternative country favorite Wayne Hancock is that rare breed of traditionalist, one who imbues his retro obsessions with such high energy and passion that his songs never feel like museum pieces he's trying desperately to preserve. Hancock is most often compared to Hank Williams, and he can indeed be a hardcore honky tonker, but there's more to him than that: he also displays a genuine affinity for stomping rockabilly, Western swing, blues, and old-timey country à la Jimmie Rodgers. Plus, he also throws in the occasional pop standard in the manner of Willie Nelson's classic Stardust album. Hancock's devotion to classic country sounds, coupled with his strong aversion to the Nashville hit-making machine, earned him an ardent following among alternative country fans (from both the country and rock sides of the movement), as well as a fair amount of critical acclaim.
Wayne "The Train" Hancock was born May 1, 1965, and began writing songs around age 12. His family moved around a lot during his childhood, and often sang to entertain themselves. Hancock started playing juke joints around Texas as a teenager, and at age 18 won a prestigious talent competition, the Wrangler Country Showdown; however, he was unable to reap the benefits, having just enlisted in the Marines. After six years in the military, Hancock returned to Texas and began playing around the state wherever he could, working odd jobs on the side to help make ends meet. Eventually tiring of his itinerant existence, Hancock moved to West Dallas in 1993, and shortly thereafter settled in the music mecca of Austin. In 1994, he got a part in the musical theater production Chippy, where he performed alongside progressive country legends Joe Ely, Butch Hancock (no relation), Robert Earl Keen, and Terry Allen. He also made his recorded debut on the soundtrack album Songs From Chippy.
Thanks to that bit of exposure, Hancock was able to score a deal with the small Texas indie label Deja Disc. His debut album, Thunderstorms and Neon Signs, was produced by steel guitar legend Lloyd Maines and released in 1995. Critics fawned over the album, particularly the Hank Williams-ish title track, and despite being on a tiny label with limited distribution, it sold over 20,000 copies, mostly through word of mouth. Its success attracted the attention of the somewhat larger indie Ark 21, which signed Hancock for his second album, That's What Daddy Wants. Issued in 1997, the record found Hancock employing elaborate, horn-driven arrangements and delving more deeply into rockabilly and Western swing, which earned some comparisons to the Brian Setzer Orchestra. Reviews were again highly positive, and Ark 21 accordingly reissued Hancock's debut. His third album, Wild, Free & Reckless, had more traditional country instrumentation, full of fiddles and steel guitars, and accordingly was more reminiscent of pre-rock & roll country boogie.
Hancock subsequently switched to the alt-country hub Bloodshot Records, debuting in 2001 with A-Town Blues, which continued the more stripped-down approach of his most recent music. That same year he released the limited-edition EP South Austin Sessions. Hancock dug even deeper into his honky tonk roots with his next album, 2003's Swing Time, recorded live during a two-night stand at the Continental Club in Austin. In 2006, Hancock turned in Tulsa, his third full-length recording for Bloodshot, with Lloyd Maines remaining in the producer's chair. A fourth album for the label, Viper of Melody, appeared in 2009. His next, Ride, showed up early in 2013, again from Bloodshot. In April 2014, Hancock was involved in a serious motorcycle accident, which left him with a fractured elbow and a collapsed lung. He was forced to cancel several months' worth of tour dates due to the wreck, but by the end of the year he was fully recovered and back on the road. In 2016, Hancock returned to the studio with producer Lloyd Maines to cut his eighth studio album Slingin' Rhythm.
http://www.rockabilly.net/articles/wayne.shtml

https://en.wikipedia.org/wiki/Wayne_Hancock
Talents : Vocals, Guitar, Songwriter
Style musical : Traditional Country, Rockabilly, Americana, Alternative Country, Western Swing
Years in activity :
| | | | | | | | | | | | |
| --- | --- | --- | --- | --- | --- | --- | --- | --- | --- | --- | --- |
| 1910 | 20 | 30 | 40 | 50 | 60 | 70 | 80 | 90 | 2000 | 10 | 20 |
DISCOGRAPHY
Albums
10/1995
CD DEJADISC 3221 (US)
THUNDERSTORMS AND NEON SIGNS - Juke Joint Jumping / Poor Boy Blues / Thunderstorms And Neon Signs / She's My Baby / Big City Good Time Gal / Ain't Nobody's Blues But My Own / Double A Daddy / Why Don't You Leave Me Alone? / Tag Along / Cold Lonesome Wind / Locomotive Joe / No Loving Tonight / Friday And Saturday Night / Summertime
08/1997
CD ARK 21 10016B (US)
THAT'S WHAT DADDY WANTS - That's What Daddy Wants / 87 Southbound / Johnson City / Misery / Little Lisa / Knocked Out Rhythm / Highway 54 / Johnny Law / Freight Line Blues / Lea Ann / Life On The Road / Louisiana Blues / Brand New Cadillac
07/1999
CD ARK 21 81043 (US)
WILD, FREE & RECKLESS - Kansas City Blues / Lookin' For Better Days / Flat Land Boogie / Smell That Bread / Blue Suede Shoes / Tonight The Rain Is Coming Down / Drive On / Going Back To Texas / Wild, Free & Reckless / That's Why I Ride / It's Saturday Night / Gone Gone Gone / Gonna Be Some Trouble Tonite / Mornin' Noon & Night / You Don't Have To Cry
09/2001
CD BLOODSHOT 80 (US)
A-TOWN BLUES - A-Town Blues / Man Of The Road / Sands Of Time / Miller, Jack & Mad Dog / Track 49 / Life's Lonesome Road / Cow Cow Boogie / Route 23 / Happy Birthday Julie / California Blues / Every Time / Viper / We Three / Railroad Blues
2001
CD BLOODSHOT 083 (US)
THE SOUTH AUSTIN SESSIONS - Hoy Hoy Hoy / Stormy Weather / Old Man Winter's Gonna Rock & Roll Tonight / Draggin' Me Down / Hillbilly Hill Country Gal / Wine Spodiodie
2002
CD EL TORO

ETCD-3040 (S)

A-TOWN BLUES - A-Town Blues / Man Of The Road / Sands Of Mine / Miller,Jack And Mad Dog / Track 49 / Life´s Lonesome Road / Cow Cow Boogie / Route 23 / Happy Birthday Julie / California Blues / Every Time / Viper / We Three / Railroad Blues / Hoy Hoy Hoy / Stormy Weather / Old Man Winter´s Gonna Rock And Roll Tonight / Draggin´Me Down / Hillbilly Hill Country Gal / Wine Spodiodie
08/2003
CD BLOODSHOT 97 (US)
SWING TIME - Lose Your Mind / Louisiana Blues / Big City Good Time Gal / Juke Joint Jumpin' / Thunderstorms And Neon Signs / Johnny Law / Tag Along / Route 66 / Highway 54 / We Three / Hoy Hoy Hoy / Walkin' The Dog / Flatland Boogie / Bonus Track 1
04/2005
CD ARK 21 093 (US)
BEST OF WAYNE HANCOCK - That's What Daddy Wants / Juke Joint Jumping / Brand New Cadillac / Flat Land Boogie / Thunderstorms And Neon Signs / Kansas City Blues / Double A Daddy / Knocked Out Rhythm / Wild Free And Reckless / Why Don't You Leave Me Alone? / Gonna Be Some Trouble Tonight / You Don't Have To Cry / Life On The Road / Johnson City
10/2006
CD BLOODSHOT 134 (US)
TULSA - Tulsa / Drinkin' Blues / Highway Bound / I Don't Care Anymore / This Lonely Night / Goin' Home Blues / Shootin' Star From Texas / Ain't Gonna Worry No More / 9. Gonna Be Flyin' Tonight / No Sleep Blues / Lord Take My Pain / Back Home / Brother Music, Sister Rhythm / Goin' to Texas When I'm Through
04/2009
CD BLOODSHOT 20163 (US)
VIPER OF MELODY - Jump The Blues / Driving My Young Life Away / Viper Of Melody / Throwin' Away My Money / Your Love And His Blood / Working At Working / Moving On No. 3 / Tropical Blues / Dog House Blues / High Rolling Train / Midnight Stars And You / Freight Train Boogie / Lonesome Highway
02/2013
CD BLOODSHOT BS 202 (US)
RIDE -

Ride / Low Down Blues / Best To Be Alone / Lone Road Home / Get The Blues Low Down / Deal Gone Down / Fair Weather Blues / Home With My Baby / Gal From Kitchen's Field /

Cappuccino Boogie / Any Old Time
10/2016
CD BLOODSHOT BS 249 (US)

Slingin' Rhythm -

Slingin' Rhythm / Dirty House Blues / Killed Them Both / Wear Out Your Welcome / Two String Boogie / Over Easy / Small Bouquet Of Roses / Divorce Me C.O.D. / Dog Day Blues / Love You Always / Thy Burdens Are Greater Than Mine / Slingin' Rhythm (intro)
© Rocky Productions 29/10/2016