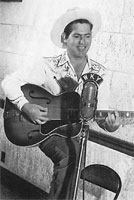 Chanteur Country US né Albert C. Griffin, le 23 Février 1923 à Corsicana (Texas). Buck Griffin perd son père à l'âge de 7 ans, puis sa famille part en Oklahoma où il travaille à la ferme. Il apprend la guitare à 12 ans et forme un groupe Country à 14. Un an plus tard, il part à Kansas City où il creuse des fossés pour les pipelines le jour, jouant dans les Honky Tonk le soir pour faire bouillir la marmite, s'étant marié en 1943.En 1950 il a une émission sur WKY d'Oklahoma City, sous le nom de Chuck Wyman et enregistre sa première session pour Joe Leonard à Dallas au studio WFAA début 1954. Après un intermède dans une émission télé NBC au Kansas au début des sixties, il part à Erick (Oklahoma), où il était encore dans le milieu des années quatre-vingt-dix. Buck Griffin est décédé le 14 Février 2009.

Buck Griffin has never made it as a star in country music, but not for lack of ability or talent. Described in his prime as a cross between Hank Williams and Red Foley, he was a charismatic performer and a prodigious songwriter who has simply failed to get the right breaks or the right contract at the right time.
Albert C. Griffin was born on February 23, 1923, in Corsicana, TX, and raised in Oklahoma and Missouri; he inherited the nickname Buck from his father. He took up the guitar around age 12 and formed his first band with three other boys a couple of years later, with Griffin singing most of the lead parts at dances and school assemblies. Music had to take second place to earning a living, and Griffin made his digging pipeline ditches in Kansas. Eventually he made his way to the oil fields and became a driller, and it was life in the oil fields and time spent at the surrounding honky tonks that pulled Griffin back into music. He began playing nightly and eventually got a program of his own (as Chuck Wyman, a name owned by the station) on WKY.
The early '50s looked like a promising period for a new generation of country singers -- what's more, the death of Hank Williams on New Year's Day 1953 had left a huge gap in country music that was waiting to be filled. Griffin looked like the man to fill it. He came out of the honky tonks much as Williams had, and his songs had a direct simplicity of expression and a complexity in their execution that recalled Williams at his best. He had a strong voice and a charismatic persona, wrote songs, was building a serious local following, and seemed to be haunted by none of the personal demons that had blighted Williams' later life.
Griffin came to the attention of Joe Leonard, the owner of a radio station in Gainesville, TX, who had acquired the Lin Records label and saw an opportunity to make the singer/songwriter a star and both of them some money. He signed Griffin and recorded him at Dallas radio station WFAA in early 1954. His earliest sides, "It Don't Make No Nevermind" and "Meadowlark Boogie," were both hybrids of hillbilly and Western swing that failed to click. A series of follow-up sessions in September of that year yielded some more advanced sides and sounds that fell, similarly, on deaf ears as far as radio stations were concerned. On stage, by contrast, he was as popular as ever and appeared on the same bills with the likes of Red Foley and Marty Robbins.
There were some great records, too. "Bawlin' and Squallin'" mixed the best elements of honky tonk and Western swing effortlessly (members of Bob Wills' band played on this side and the rest of that session), with a breezy delivery that rural rock & roll fans, at least, should have loved. And "Let's Elope Baby" should have been a mainstream country classic.
What success Griffin found during this period was as a songwriter. His records may not have been getting played, but the songs on them, most notably "Goin' Home All Alone" and "Let's Elope Baby," got covered by Wade Ray and Janis Martin ("The Female Elvis") respectively; she turned "Let's Elope Baby" into a harder-rocking side, which was more commercial than Griffin's decidedly backwoods approach. Meanwhile, in early 1956, Griffin was signed to the Big D Jamboree in Dallas, a major showcase for country talent, and MGM Records picked up the distribution of his Lin Records sides.
MGM was looking to get in on the rock & roll boom and apparently saw Griffin as a potential rockabilly crossover star, in the manner of his Lin Records stablemate Andy Starr or future MGM rock & roller/country star Conway Twitty. Some of Griffin's songs did, indeed, have a hard, almost rockabilly-type edge. But he was too Southern in his sound and the sensibilities of his lyrics to find much appeal outside of the rural South, and many of the songs he was doing during this period were too serious for the kids he was supposed to be aiming at.
The MGM deal ended in the early '60s, after which Griffin cut songs for the Holiday Inn label, none of which sold. He was almost out of the music business by 1963, making ends meet by selling Bibles. He continued to write and publish songs into the late '60s, and recorded occasionally. The onset of chronic asthma sidelined him as a performer, and since the 1970s, he's been content to sit of the sidelines, savoring his early success as a songwriter and hoping for more interest in his newer numbers.
https://en.wikipedia.org/wiki/Buck_Griffin
Talents : Vocals, Guitar
Style musical : Traditional Country, Rockabilly, Rock 'n' Roll
Years in activity :
| | | | | | | | | | | | |
| --- | --- | --- | --- | --- | --- | --- | --- | --- | --- | --- | --- |
| 1910 | 20 | 30 | 40 | 50 | 60 | 70 | 80 | 90 | 2000 | 10 | 20 |
DISCOGRAPHY
Singles & EP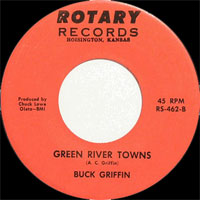 Unissued Track
| | | |
| --- | --- | --- |
| 195? | MGM unissued - (Bear Family CD 15811 (#6)) | Broken Heart With Alimony |
Albums
| | | | |
| --- | --- | --- | --- |
| 1961 | LP 12" LONDON EB 13 (CAN) | | Buck Griffin Sings - Little Dan / Neither Do I / Cochise / Bawlin' And Squallin' / Let's Elope Baby / It Don't Make No Never Mind / Meadowlark Boogie / Rollin' Tears / One Day After Payday / Next To Mine / Lord Give Me Strength |
| 1990 | CD DOMINO DLP-1007 (US) | | The Party - The Party / Watchin' The 7:10 Roll By / Every Night / Bow My Back / Let's Elope, Baby / Bawlin' And Squallin' (Over You) / I Can't Keep My Wheels On The Ground / First Man To Stand On The Moon / Pretty Lou / Stutterin' Papa / Old Bee Tree / Little Dan / 26 Steps / You'll Never Come Back / Jessie Lee / Meadowlark Boogie / It Don't Make No Never Mind |
| 1995 | CD BEAR FAMILY BCD 15811 (GER) | | LET'S ELOPE BABY - Pretty Lou / Girl In 1209 / You'll Never Come Back / Stutterin' Papa / Watchin' The 7:10 Roll By / Broket Heart With Alimony / Jessie Lee / Bow My Back / Old Bee Tree / Every Night / The Party / Little Dan / Neither Do I / Cochise / Go-Stop-Go / Bawlin' And Squallin' / Let's Elope Baby / It Don't Make No Never Mind / Meadowlark Boogie / Rollin' Tears / One Day After Payday / Going Home All Alone / Lookin' For The Green / Next To Mine / Lord Give Me Strength / Sorry I Never Knew / First Man To Stand On The Moon / Twenty Six Steps |
© Rocky Productions 15/02/2020