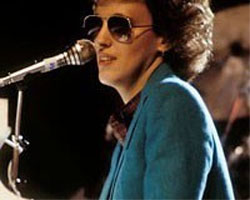 Chanteuse Country US née Teresa Fay Gibbs, le 15 Juin 1954 à Miami (Floride).

Country-pop singer/songwriter/keyboardist Terri Gibbs enjoyed some success in the early '80s before returning to the gospel music she grew up with. Gibbs was born in Miami in 1954 and raised from age one in Augusta, GA; blind from birth, she turned to music at an early age, first playing the piano at only three years old. In addition to gospel music, she listened to early rock & roll, pop, and soul (particularly Ray Charles), and loved the Grand Ole Opry radio show. She sang in choirs and talent contests while growing up, and met Chet Atkins backstage at one show. At his request, she sent him a demo tape, and at 18 followed his advice to try her luck in Nashville. She didn't have much luck attracting record companies, and instead moved to Miami, where she played keyboards in a band called Sound Dimension. In 1973, she quit the band to attend college, but dropped out after a year to focus on songwriting. She returned to Augusta, formed her own band in 1975, and played locally for the next several years. Her demo tape found its way into the hands of producer/songwriter Ed Penney, who signed her to MCA in 1980.
The title cut of Gibbs' Top Ten debut album, Somebody's Knockin', was a major crossover hit in 1981; not only did it reach the country Top Ten, it also just missed similar territory on the pop side, and climbed into the Top Five on the adult contemporary charts. The follow-up, "Rich Man," was a Top 20 country hit, and Gibbs was named the ACM's Best New Female vocalist, also winning the CMA's inaugural Horizon Award (for artists rising to new levels of prominence). However, while Gibbs charted with two more albums (1981's I'm a Lady and 1983's Over Easy), neither matched the success of her debut. Likewise, she managed two more Top 20 country hits in 1982's "Ashes to Ashes" and 1983's "Anybody Else's Heart but Mine," but nothing on the level of "Somebody's Knockin'." Still, she embarked on a high-profile tour with George Jones over 1981-1982, often duetting on-stage with him. Gibbs spent several years off-record, then switched to the kind of country gospel music she'd started out singing. She returned in 1987 with the Grammy-nominated Turn Around; "Unconditional Love," "Comfort the People," and "Promised Land" were all successful on the CCM charts. After 1990's Great Day, on the small Morning Gate label, Gibbs left music to concentrate on her family.
https://en.wikipedia.org/wiki/Terri_Gibbs
Talents : Vocals, Songwriter, Piano, Keyboards
Style musical : Contemporary Country, Country Gospel, Country-Pop
Years in activity :
| | | | | | | | | | | | |
| --- | --- | --- | --- | --- | --- | --- | --- | --- | --- | --- | --- |
| 1910 | 20 | 30 | 40 | 50 | 60 | 70 | 80 | 90 | 2000 | 10 | 20 |
Singles
1975
SP TEM

T-

1010

(US)

.

Same Old Mop / Letter From An Old Friend

1975
SP TEM

T-

1011

(US)

.

We're Living A Lie / ?

08/1980
SP MCA

MCA-41309 (US)

.

Somebody's Knockin' / Some Days It Rains All Night Long

1981
SP MCA 102 946

(GER)

Somebody's Knockin' / Some Days It Rains All Night Long

05/1981
SP MCA

MCA-51119 (US)

.

I Won't Cry In Dallas Anymore / Rich Man

08/1981
SP MCA

MCA-51180 (US)

.

Rocky Top / I Wanna Be Around

11/1981
SP MCA

MCA-51225 (US)

.

Mis'ry River / Too Long

03/1982
SP MCA

MCA-52040 (US)

.

Ashes To Ashes / Plans

07/1982
SP MCA

MCA-52088 (US)

.

All I Wanna Do In Life / Some Days It Rains All Night Long

10/1982
SP MCA

MCA-52134 (US)

.

Baby I'm Gone / Boys Can Cry

07/1983
SP MCA

MCA-52252 (US)

.

Anybody Else's Heart But Mine / What A Night

11/1983
SP MCA

MCA-52308 (US)

.

Bells / Tell Mama

08/1984
SP MCA

MCA-52440 (US)

.

Rocky Top / I Wanna Be Around

03/1985
SP WARNER BROS.

7-29056 (US)

.

A Few Good Men / Ain't Nobody

06/1985
SP WARNER BROS. 7-

28993 (US)

.

Rockin' In A Brand New Cradle / You Can't Run Away From Your Heart

10/1985
SP WARNER BROS.

7-28895 (US)

.

Someone Must Be Missing You Tonight / Here I Go Again

09/1987
SP A & M - HORIZON

2963-S (US)

.

Turn Around / ?

1987
SP New Canaan

CAS-357 (US)

.

Gettin' Ready / Drivin' Nails

1988
SP New Canaan

693020-DJ

(US)

.

Unconditional Love / Unconditional Love

1988
SP New Canaan

693057-DJ

(US)

.

Comfort The People / Comfort The People /
| | |
| --- | --- |
| | |
Albums
01/1981
LP 12" MCA

MCA-5173 (US)

SOMEBODY'S KNOCKIN' -

Somebody's Knockin' / Some Days It Rains All Night Long / Plans / Wishing Well / Rich Man / It's True / Wasted Love / Tell Me That You Love Me / I Won't Cry In Dallas Anymore / Magic Time
09/1981
LP 12" MCA

MCA-5255 (US)

I'M A LADY -

I Wanna Be Around / Papa's No Fool / Too Far Gone / Every Now And Then / That's What Friends Are For / I'm A Lady / Another Place, Another Time / Mis'ry River / Too Long / Georgia On My Mind
04/1982
LP 12" MCA

MCA-5315 (US)

SOME DAYS IT RAINS ALL NIGHT LONG -

I Don't Need You (But I Want You) / You Don't Have To Say You Love Me / Oh Rain / Some Days It Rains All Night Long / Baby I'm Gone / I've Got A Song In My Heart / Ashes To Ashes / I Wanna Love You Tonight / Go Somewhere And Hide / All I Wanna Do In Life
1982
LP 12" TEM

T-AL-101

(US)

Totally Terry -

Living A Lie / Dreamin' / Letter From An Old Friend / Free And Easy / Now I Lay Me Down To Sleep / Same Old Mop / Hide Love In My Heart / Low Dog Blues / Fade Away (Old Lovin' Feelin') / Don't Let Me Lose My Heart
08/1983
LP 12" MCA

MCA-5443 (US)

OVER EASY -

Anybody Else's Heart But Mine / Steal Away / I Can't Resist / Tell Mama / Bells / Over Easy / I Just Don't Love You, That's All / Every Home Should Have One / You're Going Out Of My Mind / What A Night
1984
LP 12" Sagittarius / Out of Town OTD-8630

(US)

THE LADY - Please Forgive Me / Reckless Lovin' / Right Or Wrong / She Don't Know / Someone / Talk To Me / Same Old Mop / Thank God For Your Lovin' Hand / The Lady I Used To Be / There's Never Been A Woman
03/1985
LP 12" MCA

MCA-1575

(US)

THE BEST OF TERRI GIBBS -

Somebody's Knockin' / Rich Man / I Wanna Be Around / Rocky Top / Misr'y River / Ashes To Ashes / Some Days It Rains All Night Long / Baby I'm Gone / Anybody Else's Heart But Mine / Tell Mama
03/1985
LP 12" WARNER BROS.

1-25209 (US)

OLD FRIENDS -

A

Few Good Men / Someone Must Be Missing You Tonight / I Know The Feeling By Heart / Rockin' In A Brand New Cradle / Ain't Nobody / Here I Go Again / An Old Friend / You Can't Run Away From Your Heart / Not Tonight, I've Got A Heartache / Break It To Me Any Way You Want It
10/1988
LP 12" New Canaan 701-9969-63-1

(US)

COMFORT THE PEOPLE -

Take Me Back / All For You / Holy Fire Burning / The Shepherd Cried / Promised Land / Comfort The People / Sold Out / Unconditional Love / Seek First The Kingdom / My Last Song
1991
CD Morning Gate 751-170-0683

(US)

WHAT A GREAT DAY -

Everybody Is Somebody / Dance While You Can / One To Grow On / The First Thing I'll See / See You On The Other Side / What A Great Day / The Cover / Rise To The Occasion / David's Song / In My Heart
10/1196
CD VARESE VSD-5615 (US)
THE BEST OF TERRI GIBBS - Somebody's Knockin' / Rich Man / I Wanna Be Around / Go Somewhere And Hide / Misr'y River / Ashes To Ashes / Som Days It Rains All Night Long / Baby I'm Gone / Anybody Else's Heart But Mine / Tell Mama
2002
CD Terri Gibbs 005-CD (US)

No Doubt About It - No Doubt About It / Can't Ask Too Much Of My God / He Is Here / Hole In The Ground / Hallelujah Square / Sweeter As The Day Goes By / Now I Have Everything / Beulah Land / He Didn't Throw The Clay Away / Shout To The Lord

12/2010
CD Terri Gibbs 006-CD (US)

Your Grace Still Amazes Me - He's Watching Me It / Mercy Walked In / Long Black Train / I Can Only Imagine / Long Arm Of Love / The Darkest Hour / Sky Full Of Angels / Your Grace Still Amazes Me /. I've Got A Love / People Need The Lord
© Rocky Productions 9/01/2014