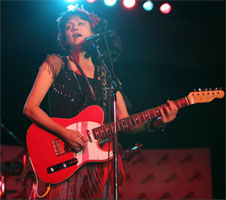 Chanteuse Country et Rockabilly US née le 10 Septembre 1950 à San Antonio (Texas).

Alternative country meets the rockabilly revival meets California guitar virtuosity in the music of Rosie Flores. Since the late '70s, guitarist, singer, and songwriter Rosie Flores has been an important figure on the alternative country scene in both Austin, TX, and Los Angeles. She's a hard-working, independently minded artist who's well-respected for her gritty, energetic Vocals and fiery guitar solos.
A native of San Antonio, Flores moved to San Diego with her family when she was 12. Her family encouraged her singing and guitar playing, and as a girl she soaked up the sounds of southern California -- surf guitar, country and country-rock, blues, and rockabilly-flavored garage rock. By the time she was in her teens, Flores was playing in a band called Penelope's Children. During the first explosion of punk rock in the late '70s Flores formed Rosie & the Screamers, an otherwise all-male band that played hard country and rockabilly material, much of it written by Flores herself. She worked as a solo acoustic artist for a time but then formed an all-female punk band, the Screaming Sirens, who recorded the album Fiesta in 1984.
In 1987 Flores recorded her first solo album, Rosie Flores, produced by Pete Anderson (Dwight Yoakam's producer and guitarist) and released by Warner Bros.. The album gained critical acclaim, and among music-industry folk a Flores concert remains a strong draw to this day. But it was only modestly successful commercially, and Flores was dropped by Warner Bros.. She signed with the California independent label Hightone and in 1992 she released her second solo album, After the Farm, followed by Once More with Feeling a year later. These albums featured original songs by Flores, her own sharp guitar leads, and crackerjack session work from a variety of Los Angeles veterans. Flores then spent the better part of 1994 playing lead guitar in Butch Hancock's band.
In 1995 Flores recorded Rockabilly Filly, a spirited tribute to the music she grew up with. The album featured duets with her longtime idols Wanda Jackson and Janis Martin, both of whom Flores brought out of retirement for the project. The album led to a cross-country tour with Jackson, who hadn't played in nightclubs in over 20 years. In 1997, Rounder re-released her Warner Bros. debut along with six new bonus tracks under the title Honky Tonk Reprise, helping to sustain the momentum of her career. That same year, the Austin label Watermelon released her duet project with Ray Campi, entitled A Little Bit of Heartache. In the late '90s, Flores moved to the folk-oriented Massachusetts label Rounder, pushing the stylistic mix of her music slightly in the direction of rockabilly but not really changing course. The 1999 live album Dance Hall Dreams was recorded at a San Antonio country club and featured several of the top session players Flores has always been able to attract, among them Texas steel guitar stalwart Cyndi Cashdollar. Flores released Speed of Sound on the Eminent label two years later, offering yet more original songs as well as a scorching cover of Buck Owens' rockabilly classic "Hot Dog." Flores offered her fans an intimate perspective on her music with the solo acoustic live set Single Rose in 2004, and an album of country- and rockabilly-styled holiday favorites, Christmasville, followed in 2005.
After a short hiatus, in 2009, Flores celebrated over two decades of recording with Girl of the Century, an album recorded with the Mekons' Jon Langford and the Pine Valley Cosmonauts for Bloodshot Records. Her raucous 11th album, Working Girl's Guitar, which appeared in 2012, was the first in which she handled all the production and guitar leads herself. With 2019's Simple Case of the Blues, Flores put the focus on her love of blues and vintage R&B, covering classic tunes by Wilson Pickett and Roy Brown along with a fresh batch of originals steeped in the classic styles. When not on the road, Flores gigs regularly in Austin, Texas with the Blue Moon Jazz Quartet as well as her more roots-oriented project the Rhythm Rockers.
https://en.wikipedia.org/wiki/Rosie_Flores
Talents : Vocals, Guitar
Style musical : Traditional Country, Rockabilly, Rock 'n' Roll

http://www.youtube.com/watch?v=wigPL1Q6Kws
Years in activity :
| | | | | | | | | | | | |
| --- | --- | --- | --- | --- | --- | --- | --- | --- | --- | --- | --- |
| 1910 | 20 | 30 | 40 | 50 | 60 | 70 | 80 | 90 | 2000 | 10 | 20 |
DISCOGRAPHY
Singles
| | | |
| --- | --- | --- |
| 07/1986 | SP REPRISE 7-28645 (US) | I'm Walkin' / End Of The World |
| 08/1987 | SP REPRISE 7-28250 (US) | Crying Over You / Midnight To Moonlight |
| 12/1987 | SP REPRISE 7-28134 (US) | Somebody Loses Somebody Wins / Heart Beats To A Different Drum |
| 05/1988 | SP REPRISE 7-27980 (US) | He Cares / One Track Memory |
Albums
10/1987
LP 12" WARNER BROS. 1-25626 (US)
ROSIE FLORES - Crying Over You / Midnight To Moonlight / Lovin' In Vain / God May Forgive You (But I Won't) / Heart Beats To A Different Drum / Blue Side Of Town / Somebody Lies Somebody Wins / Heartbreak Train / Turn Around / I Gotta Know
1991
CD Red Moon RM-CD-1003 (US)

After The Farm

- More To Offer / Price You Pay / Blue Highway / This Loneliness / Sold On You / That's Me / Goin' Through The Motions / Oh Heartache / Dream Dream Blue / Dent In My Heart / West Texas Plains
1992
CD HIGHTONE 8033 (US)
AFTER THE FARM - More To Offer / Price You Pay / Blue Highway / This Loneliness / Sold On You / That's Me / Goin' Through The Motions / Oh Heartache / Dream Dream Blue / Dent In My Heart / West Texas Plains
08/1993
CD HIGHTONE 8047 (US)
ONCE MORE WITH FEELING - Someday / My Blue Angel / Love And Danger / Try Me / Ruin This Romance / Bandera Highway / It's Over /. Honky Tonk Moon / Girl Haggard / Real Man / Rosebud Blues / Tumblin' Down
10/1995
CD HIGHTONE 8067 (US)
ROCKABILLY FILLY - Crazy Mixed Emotions / Blues Keep Callin' / His Rockin' Little Angel / Wrong Side Of His Heart / Boxcars / Poor Girl's Town / Hard Times / Stranger / Walking Dream / You Tear Me Up / Bop Street / Rock Your Baby / Don't Let Our Love Die / Untitled
06/1996
CD ROUNDER 3136 (US)
HONKY TONK REPRISE - Crying Over You / Midnight To Moonlight / Lovin' In Vain / God May Forgive You (But I Won't) / Heart Beats To A Different Drum / Blue Side Of Town / Somebody Loses Somebody Wins / Somebody Wins / Heartbreak Train / Turn Around / I Gotta Know / End Of The World / Truck Driver's Blues / One Track Memory / He Cares / Woman Walk Out The Door / I'm Walking
01/1997
CD WATERMELON 1059 (US)
A LITTLE BIT OF HEARTACHE - Rosie FLORES & Ray CAMPI - This Song Is Just For You / Separate Ways / Where Honky Tonk Angels Spread Their Wings / Train Kept A Rollin' / All I Have To Do Is Dream / I'm Gonna Wear The Pants / Bandera Highway / There Ain't A Cow In Texas / Little Bit Of Heartache / Eighteen Wheels / If Teardrops Were Pennies / Joe And Ole Merle / My Baby's A Doin' Alright / Living On Love / Crazy / Let's Say Goodbye Like We Said Hello
03/1999
CD ROUNDER 613150 (US)
DANCE HALL DREAMS - Little Bit More / We'll Survive / Tremolo / Who's Gonna Fix It Now / Funnel Of Love / From Where I Stand / Bring It On / Man Downstairs / '59 Tweedle Dee / This Ol' Honky Tonk / It Came From Memphis / Dance Hall Dreams
05/2001
CD EMINENT 25090 (US)
SPEED OF SOUND - Rock-A-Bye Boogie / Don't Know If I'm Comin' Or Goin' / Hot Dog / Devil Love / Don't Take It Away / Speed Of Sound / Somebody's Someone / Somewhere Down The Line / I Push Right Over / Country Boy
03/2004
CD HIGHTONE 8168 (US)
BANDERA HIGHWAY - More To Offer / Blue Highway / West Texas Plains / Love And Danger / Bandera Highway / Honky Tonk Moon / Blues Keep Callin' / His Rockin' Little Angel / Boxcars / Poor Girl's Town / You Tear Me Up / Don't Let Our Love Die
05/2004
CD DURANGO ROSE 729463 (US)
SINGLE ROSE - Palamino Days / Mornin' Light / Aromatherapy Cowgirl / Single Rose / It's Over / Daddy's Lullaby / Heartbreak Train / West Texas Plains / Boxcars / '59 Tweedle Dee / Midnight To Moonlight / Bandera Highway / Little Bit More / Country Boy / Outro
10/2005
CD EMERGENT 16702 (US)
CHRISTMASVILLE - Little Saint Nick / Christmas Everyday / Blue Christmas / Christmas On West Mistletoe / Dance Of The Sugar Plums / Christmasville / Secret Santa / My Christmas Tree Is Hung With Tears / Run Rudolph Run / Watcha Waitin' For Christmas? / Happy Christmas (War Is Over)
10/2009
CD BLOODSHOT 162 (US)
GIRL OF THE CENTURY - Chauffeur / This Little Girls Gone Rockin' / Halfway Home / I Ain't Got You / Dark Enough At Midnight / Little Bells / Get Rhythm / Last Song / You're The One / This Cat's In The Doghouse / Whose Gonna Take Your Garbage Out? / Girl Of The Century
10/2012
CD BLOODSHOT BLD-CD-194 (US)

WORKING GIRL'S GUITAR - Working Girls Guitar / Little But I'm Loud / Yeah, Yeah / Surf Demon #5 / Drug Store Rock and Roll / Love Must Have Passed Me By / Too Much / If (I Could Be With You) / While My Guitar Gently Weeps

12/2012
2 CD Floating World FLOATM 6176 (UK)

After The Farm / Once More With Feeling :

CD 1 : More To Offer / Price You Pay / Blue Highway / This Loneliness / Sold On You / That's Me / Going Through The Motions / Oh Heartache / Dream Dream Blue / Dent In My Heart / West Texas Planes
CD 2 : Someday / My Blue Angel / Love and Danger / Try Me / Ruin This Romance / Bandera Highway / It's Over / Honky Tonk Moon / Girl Haggard / Real Man / Rosebud Blues / Tumblin' Down

02/2019
CD The Last Music Company LMCD 206 (US)

Simple Case of the Blues - Love Don't Love Nobody / Mercy Fell Like Rain / I Want To Do More / Simple Case Of The Blues / Drive Drive Drive / Till The Well Runs Dry / If There Was A Way / That's What You Gotta Do / Enemy Hands / Teenage Rampage / If You Need Me
© Rocky Productions 28/03/2019