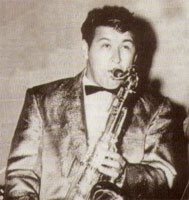 Chanteur et saxophoniste Rock 'n' Roll US né Daniel Flores le 11 Juillet 1929 à Santa Paula (Californie). Danny Flores ou Chuck Rio a enregistré chez RPM et Challenge Records. Sous le nom de Chuck Rio, il fut le saxophoniste des Champs. Il est décédé le 19 Septembre 2006 à Huntington Beach (Californie).

An interesting minor figure in the development of West Coast rock'n'roll and a pioneer in the entry of Chicanos into rock music, Chuck Rio was the man behind the raunchy sax breaks on the Champs' #1 instrumental in 1958, "Tequila." Born Danny Flores, Rio was a versatile sax player with a honking tone who made his first record in 1953. Rio/Flores bounced around for a few years and made some unsuccessful recordings before ending up in the Champs. "Tequila," based on a riff by Rio, was originally a throwaway B-side; as would sometimes happen in those days, it became the plug side when it started picking up radio play. With its Latin-flavored rhythms, wailing sax breaks, and occasional utterances (by Rio) of the title, it topped the charts, but Rio didn't stay in the group too long, although he did play on some "Tequila" soundalikes such as "El Rancho Rock" and "El Rancho Rock."
Rio continued to record in the late 1950s and 1960s, usually sticking to generic sax-dominated rock instrumentals with a Latin feel, and never remotely coming close to the success of "Tequila." In 1963 he teamed up with the Persuaders to make an album, Surfer's Nightmare, which linked his instrumental music with the surf craze without changing it much except to make guitars more prominent. A compilation of Rio and Rio-related sides, including solo material, Champs cuts, and the Persuaders album, was issued by Ace in 1998.
https://en.wikipedia.org/wiki/Danny_Flores
Talents : Vocals, Saxophone, Songwriter
Style musical : Rock 'n' Roll, Surf, Latin, Classical, Instrumental Rock
Years in activity :
| | | | | | | | | | | | |
| --- | --- | --- | --- | --- | --- | --- | --- | --- | --- | --- | --- |
| 1910 | 20 | 30 | 40 | 50 | 60 | 70 | 80 | 90 | 2000 | 10 | 20 |
DISCOGRAPHY
Singles & EP
1957
SP RPM 45x491 (US)
.
Danny FLORES - Trying To Forget / No Matter What You Do
1957
SP MOONGLOW 5043 x 45 (B)
.

Jambalaya (Jimmy BEASLEY) /

No Matter What You Do

(Danny FLORES)

1958
SP KENT 45x303 (US)
.
Chuck "Tequila" RIO - Tequila / Bye Bye Baby
1958
SP KENT 45x308 (US)
Chuck "Tequila" RIO - Bye Bye Baby / No Matter What You Do
09/1958
SP CHALLENGE 59019 (US)
.
Chuck "Tequila" RIO - Denise / Bad Boy
02/1959
SP JACKPOT 48016 (US)
.

Chuck Rio & The Originals - C'Est La Vie / Margarita

1959
SP CHALLENGE CL 06001 (I)
Chuck "Tequila" RIO - Margarita / C'Est La Vie
1959
SP CHALLENGE / BLUEBELL CL 06002 (I)
Chuck "Tequila" RIO - Bad Boy / Denise
04/1960
SP CHALLENGE 59073 (US)
.
Chuck RIO - Akiko (instr.) / Ramblin' Thru Dixie (instr.)
09/1961
SP TEQUILA T-100 (US)
.
Chuck "Tequila" RIO - Caravan / El Bracero
1962
SP TEQUILA 103 (US)

Chuck Rio & The Individuals - Cell Block #9 / If You Were The Only Girl In The World

1962
SP TOPPA 45-1076 (US)
.

Chuck Rio & Delaney - Doin' The Bossa Nova / I'm Older Than You Think

04/1962
SP FLAIR 103 (US)
.

Mister Tequila - Big Boy / You Don't Have To Be A Baby To Cry

1963
SP SATURN SAT-402 (US)
.
Chuck (Tequila)

Rio

- Rock-A-Nova / Kreshendo Stomp
1963
SP SATURN SAT-404 (US)
.

Persuaders with Chuck (Tequila) Rio - Hanging Ten / Surfer Strip

1963
SP SATURN SAT-405 (US)
.

Persuaders

with Chuck (Tequila)

Rio

- Gremmie Bread / Caught In The Soup
1966
SP TOPPA 45-1111 (US)
.

Danny Flores & The Fans - Lazy Donkey / Bruce

1966
SP ACONDOR 45 508 (GER)
Chuck

Rio

& The

Originals

- The Whip / Margarita
19??
SP HOLLYWOOD INTERNATIONAL 106 (US)
.
Almost (Les TASHER) / Little Miss One (Danny FLORES)
19??
SP HOLLYWOOD INTERNATIONAL HO-107 (US)
.

Les TASHER with Chuck (Mr. Tequila) RIO - While Winters Here / Malaguena

19??
SP HOLLYWOOD INTERNATIONAL HO 108 (US)
.
Les TASHER with Chuck RIO - Almost / 7 1/2 Minutes Intermission
19??
EP Munsell DF 31375 (US)
Danny & Sharee

Flores

- Tequila / Jambalaya / Who's Sorry Now / Paper Roses
Albums
| | | | |
| --- | --- | --- | --- |
| 1963 | LP 12" SATURN SAT 5000 (US) | | Surfer's Nightmare - The Persuaders with Chuck (Tequila) Rio - Let's Go Surfin' / Taking Off On A Wall / Hanging Ten / Surfer Strip / Surfer's Lullabye / Gremmie Bread / Surfin' Blues / Toes On The Nose / Kahuna Stomp / Caught In The Soup / Surfer's Nightmare / The Raid |
| 1998 | CD ACE 688 (UK) | | THE TEQUILA MAN - Margarita / Midnighter (CHAMPS) / Surfin' Blues (PERSUADERS) / Denise / Tequila (CHAMPS) / El Rancho Rock (CHAMPS) / Bruce (Danny FLORES & The FANS) / Antonillo / C'Est La Vie (ORIGINALS) / The Whip (ORIGINALS) / TNT (CHAMPS) / Mama Inez / Wildman (CONTENDERS) / Persuasion (Let's Go Surfin') (PERSUADERS) / Taking Off On A Wall (PERSUADERS) / Hanging Ten (CRESHENDOES & PERSUADERS) / Surfer Strip (CRESHENDOES & PERSUADERS) / Surfer's Lullaby (PERSUADERS) / Gremmie Bread (PERSUADERS) / Kreshendo Stomp (Kahuna Stomp) (CRESHENDOES & PERSUADERS) / Toes On The Nose (PERSUADERS) / Caught In The Soup (PERSUADERS) / Surfer's Nightmare (PERSUADERS) / The Raid (PERSUADERS) / Don't Go Baby (Danny RAY) / Crazy Street (Danny FLORES) / You Are My Sunshine (Danny FLORES) / Bad Boy / Call Me Baby / Worried, Restless And Sad (Danny FLORES) |
© Rocky Productions 23/05/2023