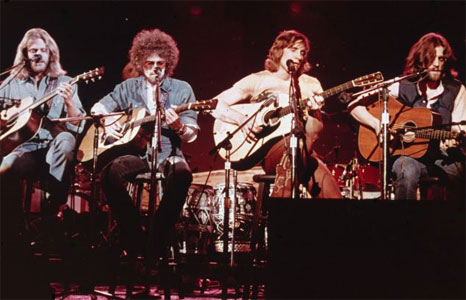 Groupe Country Rock US originaire de Los Angeles. Eagles a été formé en Août 1971 et est devenu représentatif du Country-Rock pur. Il comprenait : Glenn Frey (né le 6 Novembre 1948 à Detroit (Michigan), mort le 18 Janvier 2016 à New York), Don Henley (né le 22 Juillet 1947 à Gilmer (Texas)), Bernie Leadon (né le 19 Juillet 1947 à Minneapolis (Minnesota)) (jusqu'en 1975), Randy Meisner (né le 8 Mars 1947 à Scottsbluff (Nebraska), décédé le 26 Juillet 2023 à Los Angeles (Californie)) (jusqu'en 1977), Don Felder (né le 22 Septembre 1947 à Gainesville (Floride)) (arrivé en 1975), Joe Walsh (né le 20 Novembre 1947 à Cleveland (Ohio)) (arrivé en 1975) et Timothy Schmit (né le 30 Octobre 1947 à Sacramento (Californie)) (arrivé en 1977). Le groupe s'est séparé en 1982.

With five number one singles and four number one albums, the Eagles were among the most successful recording artists of the 1970s; at the end of the 20th century, two of those albums, Their Greatest Hits (1971-1975) and Hotel California, ranked among the ten best-selling albums ever, according to the certifications of the Record Industry Association of America. Though most of its members came from outside California, the group was closely identified with a country- and folk-tinged sound that initially found favor in and around Los Angeles in the late '60s, as played by such bands as the Flying Burrito Brothers and Poco, both of which contributed members to the Eagles. But the band also drew upon traditional rock & roll styles and, in their later work, helped define the broadly popular rock sound eventually referred to as classic rock. That helped the Eagles to achieve a perennial appeal among generations of music fans who continued to buy their records many years after they had split up, which inspired the reunion they mounted in the mid-'90s.
The band was formed by four Los Angeles-based musicians who had come to the West Coast from other parts of the U.S. Singer/bassist Randy Meisner (born in Scottsbluff, NE, on March 8, 1946) moved to L.A. in 1964 as part of a band originally called the Soul Survivors (not to be confused with the East Coast-based Soul Survivors, who scored a Top Five hit with "Expressway to Your Heart" in 1967) and later renamed the Poor. In 1968, he was a founding member of Poco, but left the band prior to the release of its debut album, joining the Stone Canyon Band, the backup group for Rick Nelson. Singer/guitarist/banjoist/mandolinist Bernie Leadon (born in Minneapolis, MN, on July 19, 1947) arrived in L.A. in 1967 as a member of Hearts and Flowers before joining Dillard & Clark and then the Flying Burrito Brothers. Singer/drummer Don Henley (born in Gilmer, TX, on July 22, 1947) moved to L.A. in June 1970 with his band Shiloh, which made one self-titled album for Amos Records before breaking up. Glenn Frey (born in Detroit, MI, on November 6, 1948) performed in his hometown and served as a backup musician to Bob Seger before moving to L.A. in the summer of 1968. He formed the duo Longbranch Pennywhistle with J.D. Souther, and they signed to Amos Records, which released their self-titled album in 1969.
In the spring of 1971, Frey and Henley were hired to play in Linda Ronstadt's backup band. Meisner and Leadon also played backup to Ronstadt during her summer tour, though the four only did one gig together, at Disneyland in July. They did, however, all appear on Ronstadt's next album, Linda Ronstadt, released in early 1972. In September 1971, Frey, Henley, Leadon, and Meisner signed with manager David Geffen, agreeing to record for his soon-to-be-launched label, Asylum Records; soon after, they adopted the name the Eagles. In February 1972, they flew to England and spent two weeks recording their debut album, Eagles, with producer Glyn Johns. It was released in June, reaching the Top 20 and going gold in a little over a year and a half, following the release of two Top Ten hits, "Take It Easy" and "Witchy Woman," and one Top 20 hit, "Peaceful Easy Feeling."
The Eagles toured as an opening act throughout 1972 and into early 1973, when they returned to England and Glyn Johns to record their second LP, Desperado, a concept album about outlaws. Released in April 1973, it reached the Top 40 and went gold in a little less than a year and a half, spawning the Top 40 single "Tequila Sunrise." The title track, though never released as a single, became one of the band's better-known songs and was included on its first hits collection.
After touring to support Desperado, the Eagles again convened a recording session with Glyn Johns for their third album. But their desire to make harder rock music clashed with Johns' sense of them as a country-rock band, and they split from the producer after recording two tracks, "You Never Cry Like a Lover" and "The Best of My Love." After an early 1974 tour opened by singer/guitarist Joe Walsh, they hired Walsh's producer, Bill Szymczyk, who handled the rest of On the Border. Szymczyk brought in a session guitarist, Don Felder (born in Gainesville, FL, on September 21, 1947), an old friend of Bernie Leadon's who so impressed the rest of the band that he was recruited to join the group. On the Border was released in March 1974. It went gold and reached the Top Ten in June, the Eagles' fastest-selling album yet. The first single, "Already Gone," reached the Top 20 the same month. But the most successful song on the LP, the one that broke them through to a much larger audience, was "The Best of My Love," released as a single in November. It hit number one on the easy listening charts in February 1975 and topped the pop charts a month later.
The Eagles' fourth album, One of These Nights, was an out-of-the-box smash. Released in June 1975, it went gold the same month and hit number one in July. It featured three singles that hit the Top Five: the chart-topping title song, "Lyin' Eyes," and "Take It to the Limit." "Lyin' Eyes" won the 1975 Grammy Award for Best Pop Vocals Performance by a Duo, Group, or Chorus, and the Eagles also earned Grammy nominations for Album of the Year (One of These Nights) and Record of the Year ("Lyin' Eyes"). The group went on a headlining world tour, beginning with the U.S. and Europe. But on December 20, 1975, it was announced that Bernie Leadon had quit the band. Joe Walsh (born in Wichita, KS, on November 20, 1947) was brought in as his replacement. He immediately joined the tour, which continued to the Far East in early 1976.
The Eagles' extensive touring kept them out of the studio, and with no immediate plans for a new album, they agreed to the release of a compilation, Their Greatest Hits (1971-1975), in February 1976. The first album certified platinum for sales of one million copies, it topped the charts and became a phenomenal success, eventually selling upwards of 25,000,000 copies and dueling with Michael Jackson's Thriller for the title of the best-selling album of all time in the U.S.
It took the Eagles 18 months to follow One of These Nights with their fifth album, Hotel California. Released in December 1976, it was certified platinum in one week, hit number one in January 1977, and eventually sold over 10,000,000 copies. The singles "New Kid in Town" and "Hotel California" hit number one, and "Life in the Fast Lane" made the Top 20. "Hotel California" won the 1977 Grammy for Record of the Year and was nominated for Song of the Year; the album was nominated for Album of the Year and for Best Pop Vocals Performance by a Duo, Group, or Chorus. The Eagles embarked on a world tour in March 1977 that began with a month in the U.S., followed by a month in Europe and the Far East, then returned to the U.S. in May for stadium dates. At the end of the tour in September, Randy Meisner left the band; he was replaced by Timothy B. Schmit (born in Sacramento, CA, November 20, 1947), formerly of Poco, in which he also had replaced Meisner.
The Eagles began working on a new album in March 1978 and took nearly a year and a half to complete it. The Long Run was released in September 1979. It hit number one and was certified platinum after four months, eventually earning multi-platinum certifications. "Heartache Tonight," its lead-off single, hit number one, and "I Can't Tell You Why" and "The Long Run" became Top Ten hits. "Heartache Tonight" won the 1979 Grammy for Best Rock Performance by a Duo or Group with Vocals. The Eagles toured the U.S. in 1980, and at a week-long series of shows at the Santa Monica Civic Auditorium, they recorded Eagles Live. (Also included were some tracks recorded in 1976.) Released in November 1980, the double LP (since reissued as a single CD) reached the Top Five and went multi-platinum, with the single "Seven Bridges Road" reaching the Top 40.
The Eagles were inactive after the end of their 1980 tour, but their breakup was not officially announced until May 1982. All five released solo recordings. (Walsh, of course, maintained a solo career before, during, and after the Eagles.) During the rest of the 1980s, the bandmembers received several lucrative offers to reunite, but they declined. In 1990, Frey and Henley began writing together again, and they performed along with Schmit and Walsh at benefit concerts that spring. A full-scale reunion was rumored, but did not take place. Four years later, however, the Eagles did reunite. In the spring of 1994, they taped an MTV concert special and then launched a tour that ended up running through August 1996. The MTV show aired in October, followed in November by an audio version of it, the album Hell Freezes Over, which topped the charts and became a multi-million seller, spawning the Top 40 pop hit "Get Over It" and the number one adult contemporary hit "Love Will Keep Us Alive."
The Eagles next appeared together in January 1998 for their induction into the Rock and Roll Hall of Fame, when the five present members performed alongside past members Leadon and Meisner. On December 31, 1999, they played a millennium concert at the Staples Center in Los Angeles that was recorded and included on the box set retrospective Selected Works: 1972-1999 in November 2000. All was not well within the band, however, and Felder was expelled from the lineup in February 2001. A protracted legal battle ensued as the Eagles soldiered on as a quartet, releasing The Very Best of the Eagles in 2003 and achieving minor success with the single "Hole in the World." Felder's case was settled out of court in 2007; that same year, the Eagles returned with the band's seventh studio album, Long Road Out of Eden, a double-disc album that quickly went multi-platinum.
https://en.wikipedia.org/wiki/Eagles_(band)
Talents : Glenn Frey : Vocals, Guitar - Don Henley : Vocals, Drums - Bernie Leadon : Vocals, Guitar, Banjo - Randy Meisner : Vocals, Bass, Guitar - Don Felder : Vocals, Guitar - Joe Walsh : Vocals, Guitar - Timothy Schmit : Vocals, Bass
Style musical : Country Rock, Soft Rock, Pop-Rock

https://youtu.be/09839DpTctU
Years in activity :
| | | | | | | | | | | | |
| --- | --- | --- | --- | --- | --- | --- | --- | --- | --- | --- | --- |
| 1910 | 20 | 30 | 40 | 50 | 60 | 70 | 80 | 90 | 2000 | 10 | 20 |
DISCOGRAPHY
Singles, EP & Maxi
05/1972
SP ASYLUM AS-11005 (US)
.
Take It Easy / Get You In The Mood
05/1972
SP ASYLUM 5C 006-93507 (NL)
Take It Easy / Get You In The Mood
05/1972
SP ASYLUM 8E 006-93507 M (PORT)
Take It Easy / Get You In The Mood
08/1972
SP ASYLUM AS-11008 (US)
.
Witchy Woman / Early Bird
08/1972
SP ASYLUM 5C 006-93756 (NL)
Witchy Woman / Early Bird
12/1972
SP ASYLUM AS-11013 (US)
.
Peaceful Easy Feeling / Tryin'
12/1972
SP ASYLUM 5C 006-94145 (NL)
Peaceful Easy Feeling / Trying
01/1973
SP JUGOTON SA-88641 (YOU)
Witchy Woman / Early Bird
03/1973
SP ASYLUM 5C 006-94286 (NL)
Chug All Night / Tryin'
04/1973
SP ASYLUM AS-11017 (US)
.
Tequila Sunrise / Twenty-One
04/1973
SP ASYLUM 5C 006-94552 (NL)
Tequila Sunrise / Twenty-One
08/1973
SP ASYLUM AS-11025 (US)
.
Cartain Kinds Of Fool / Outlaw Man
11/1973
SP ASYLUM 5C 006-94814 (NL)
Cartain Kinds Of Fool / Outlaw Man
04/1974
SP ASYLUM AS-11036 (US)
.
Already Gone / Is It True?
04/1974
SP ASYLUM AS 13009 (NL)
Already Gone / Is It True?
04/1974
SP ASYLUM AS 13009 (GER)
Already Gone / Is It True?
04/1974
SP ASYLUM 45-1089 (S)

Ya Me He Ido (Already Gone) / ¿Es Verdad? (Is It True?)

08/1974
SP ASYLUM E 45202 (US)
.
James Dean / Good Day In Hell
08/1974
SP ASYLUM AS 13014 (NL)
James Dean / Good Day In Hell
11/1974
SP ASYLUM E 45218 (US)
.
Best Of My Love / Ol' 55
11/1974
SP ASYLUM AS 13018 (NL)
Best Of My Love / Ol' 55
05/1975
SP ASYLUM E 45257 (US)
.
One Of These Nights / Visions
06/1975
SP ASYLUM 13020 (F)
One Of These Nights / Visions
06/1975
SP ASYLUM AS 13020 (NL)
One Of These Nights / Visions
06/1975
SP ASYLUM 13020 (B)
One Of These Nights / Visions
06/1975
SP ASYLUM W 13020 (I)
One Of These Nights / Visions
06/1975
SP ASYLUM AS 13020 (GER)
One Of These Nights / Visions
09/1975
SP ASYLUM E 45279 (US)
.
Lyin' Eyes / Too Many Hands
09/1975
SP ASYLUM AS 13025 (NL)
Lyin' Eyes / Too Many Hands
09/1975
SP ASYLUM AS 13025 (GER)
Lyin' Eyes / Too Many Hands
1975
SP ASYLUM 13027 (F)
Lyin' Eyes / Take It To The Limit
11/1975
SP ASYLUM E 45293 (US)
.
Take It To The Limit / After The Thrill Is Gone
1975
SP ASYLUM 45-1193 (S)
Best Of My Love

/James Dean

1976
SP ASYLUM E 45071 (US)
.
Take It Easy / Witchy Woman
1976
SP ASYLUM E 45072 (US)
.
Already Gone / Tequila Sunrise
11/1976
SP ASYLUM P-148Y (JAP)
One Of These Nights / Visions
12/1976
SP ASYLUM E 45373 (US)
.
New Kid In Town / Victim Of Love
12/1976
SP ASYLUM AS 13069 (NL)
New Kid In Town / Victim Of Love
12/1976
SP ASYLUM 13069 (NL)
New Kid In Town / Victim Of Love
12/1976
SP ASYLUM 45-1438 (S)

New Kid In Town (Recien Llegado A La Ciudad) / Victim Of Love (Victima Del Amor)

01/1977
SP ASYLUM AS 13069 (GER)
New Kid In Town / Victim Of Love
1977
SP ASYLUM E 45077 (US)
.
Best Of My Love / One Of These Night
02/1977
SP ASYLUM E 45386 (US)
.
Hotel California / Pretty Maids All In A Row
02/1977
SP ASYLUM W 13070 (GER)
Hotel California /

Victim Of Love

02/1977
SP ASYLUM AS 13079 (NL)
Hotel California / Pretty Maids All In A Row
02/1977
SP ASYLUM P-167Y (JAP)
Hotel California /

Pretty Maids All In A Row

02/1977
SP ASYLUM 45-1469 (S)
Hotel California /

Pretty Maids All In A Row

03/1977
SP ASYLUM AS 13079 (GER)
Hotel California / Pretty Maids All In A Row
05/1977
SP ASYLUM E 45403 (US)
.
Life In The Fast Lane / The Last Resort
1977
SP HISPAVOX 45-1529 (S)
Life In The Fast Lane / The Last Resort
1977
SP ASYLUM 13084 (F)
Hotel California / New Kid In Town
1977
SP SUPRAPHON 1 43 2129 (CZ)
Hotel California / New Kid In Town
1977
SP ASYLUM 13089 (GER)

Life In The Fast Lane / Wasted Time

1978
SP ASYLUM E 45084 (US)
.
Take It To The Limit / Lyin' Eyes
1978
SP ASYLUM E 45085 (US)
.
Hotel California / New Kid In Town
1978
SP ASYLUM 969304-7 (F)

| | |
| --- | --- |
| | Hotel California / New Kid In Town |

1978
SP SUPRAPHON 1143 2129 (CZ)
Hotel California / New Kid In Town
1978
SP SUZY ASY 13084 (YOU)
Hotel California / New Kid In Town
1978
SP ASYLUM 13102 (GER)

Take It Easy / Desperado

11/1978
SP ASYLUM E 45555 (US)
Please Come Home To Christmas / Funky New Year
11/1978
SP ASYLUM 13145 (F) (vinyl blanc)
Please Come Home To Christmas / Funky New Year
09/1979
SP ASYLUM E 46545 (US)
Heartache Tonight / Teenage Jail
09/1979
SP ASYLUM 12394 (F)
Heartache Tonight / Teenage Jail
10/1979
SP ASYLUM AS 12394 (GER)
Heartache Tonight / Teenage Jail
11/1979
SP ASYLUM E 46569 (US)
.
The Long Run / The Disco Strangler
11/1979
SP ASYLUM K 12404 (UK)
The Long Run / The Disco Strangler
11/1979
SP ASYLUM AS 12404 (NL)
The Long Run / The Disco Strangler
11/1979
SP ASYLUM AS 12404 (GER)
The Long Run / The Disco Strangler
11/1979
SP ASYLUM 45-1921 (S)
The Long Run / The Disco Strangler
1979
SP ASYLUM AS 12410 (NL)

New Kid In Town / Hotel California

02/1980
SP ASYLUM E-46608 (US)
.
I Can't Tell You Why / The Greeks Don't Want No Freaks
02/1980
SP ASYLUM 12418 (F)
I Can't Tell You Why / The Greeks Don't Want No Freaks
03/1980
SP ASYLUM AS 12418 (NL)
I Can't Tell You Why / The Greeks Don't Want No Freaks
03/1980
SP ASYLUM AS 12418 (GER)
I Can't Tell You Why / The Greeks Don't Want No Freaks
03/1980
SP ASYLUM 45-1965 (S)
I Can't Tell You Why / The Greeks Don't Want No Freaks
05/1980
SP ASYLUM K 12440 (UK)
The Sad Café / Those Shoes
06/1980
SP ASYLUM AS 12440 (UK)
The Sad Café / Those Shoes
1980
SP ASYLUM E 45098 (US)
.
Life In The Fast Lane / Peaceful Easy Feeling
1980
SP ASYLUM E 47004 (US)

Lookin' For Love (Johnny LEE) / Lyin' Eyes

10/1980
SP FULL MOON / ASYLUM E 47073 (US)
Lyin' Eyes (EAGLES) / Hello Texas (Jimmy BUFFETT)
1980
SP ASYLUM E 45104 (US)
.
The Long Run / Heartache Tonight
12/1980
SP ASYLUM E 47100 (US)
.
Seven Bridges Road (live) / The Long Run (live)
12/1980
SP ASYLUM AS 12496 (NL)
Seven Bridges Road (live) / The Long Run (live)
12/1980
SP ASYLUM AS 12501 (NL)
Take It Easy / Saturday Night
12/1980
SP ASYLUM 12502 (F)
Seven Bridges Road / Life's Been Good
12/1980
SP ASYLUM 12503 (I)
Seven Bridges Road /

Wasted Time

1980
MAXI ASYLUM 22405 (GER)

The Long Run (live) / Hotel California (live)

02/1981
SP ASYLUM K 12504 (UK)
Take It To The Limit / Seven Bridges Road / Take It Easy
1981
SP ASYLUM E 47117 (US)
.
I Can't Tell You Why / James Dean
1982
SP ASYLUM E 47129 (US)
.
Desperado / Outlaw Man
1985
SP ASYLUM EKR 10 (UK)
Hotel California (edit) / Pretty Maids All In A Row
1985
SP ASYLUM EKR 10 (UK)

Hotel California (full length) / Pretty Maids All In A Row / The Sad Café

09/1985
SP OLD GOLD OG 9511 (UK)
Hotel California / Desperado
1988
SP ASYLUM AS 1379 (GER)
Hotel California / Pretty Maids All In A Row
1988
CD ASYLUM 966 757-2 (GER)

| | |
| --- | --- |
| | Hotel California (LP version) / Pretty Maids All In A Row / Hotel California (live) |

1988
SP ASYLUM EKR 10 (UK)

Hotel California (LP version) / Pretty Maids All In A Row / The Sad Cafe

1989
CD WEA 969 341 2 (GER)

Take It Easy / One Of Those Nights / Desperado / Lyin Eyes

09/1994
SP GEFFEN 7-19376 (US)
.
Get Over It / A:403:57
1994
CD GEFFEN PRO-CD-4679 (US) (promo)

Get Over It (LP version) / Get Over It (live version)

1995
SP GEFFEN 7-21980 (US)
.
Love Will Keep Us Alive (live) / New York Minute (live)
1995
CD GEFFEN GFSTD 21980 (UK)

LOVE WILL KEEP US ALIVE - Love Will Keep Us Alive (LP version) / New York Minute (LP version) / Help Me Through The Night

1995
SP GEFFEN 7-21966 (US)
.
Learn To Be Still (live) / Wasted Time (live)
1995
CD GEFFEN GED 21966 (EUR)

LEARN TO BE STILL - Learn To Be Still (LP version) / Hotel California (LP version) / Wasted Time (LP version)

2003
CD EAGLES RECORDING COMPANY 8122 74547 2 (EUR)

Hole In The World / Hole In The World (live version)

2007
SP EAGLES RECORDING COMPANY 69289 (EUR) (promo)
How Long / How Long
2007
CD EAGLES RECORDING COMPANY LONGCDP1 (EUR) (promo)
How Long
2007
CD EAGLES RECORDING COMPANY EBUSYCDP1 (EUR) (promo)

Busy Being Fabulous

2007
CD CD EAGLES RECORDING COMPANY EHEARTCDPr (EUR) (promo)

What Do I Do With My Heart
| | |
| --- | --- |
| | |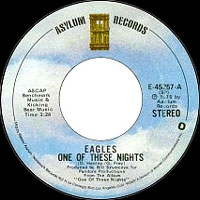 Albums
06/1972
LP 12" ASYLUM SD-5054 (US)
EAGLES - Take It Easy / Witchy Woman / Chug All Night / Most Of Us Are Sad / Nightingale / Train Leaves Here This Morning / Take The Devil / Earlybird / Peaceful Easy Feeling / Tryin'
04/1973
LP 12" ASYLUM SD-5068 (US)
DESPERADO - Doolin-Dalton / Twenty One / Out Of Control / Tequila Sunrise / Desperado / Certain Kind Of Fool / Doolin-Dalton (instr) / Outlaw Man / Saturday Night / Bitter Creek / Doolin-Dalton - Desperado (reprise)
03/1974
LP 12" ASYLUM 7E-1004 (US)
ON THE BORDER - Already Gone / You Never Cry Like A Lover / Midnight Flyer / My Man / On The Border / James Dean / Ol' 55 / Is It True / Good Day In Hell / Best Of My Love
06/1975
LP 12" ASYLUM 7E-1039 (US)
ONE OF THESE NIGHTS - One Of These Nights / Too Many Hands / Hollywood Waltz / Journey Of The Sorcerer / Lyin' Eyes / Take It To The Limit / Visions / After The Thrill Is Gone / I Wish You Peace
02/1976
LP 12" ASYLUM 7E-1052 (US)
THEIR GREATEST HITS 1971-1975 - Take It Easy / Witchy Woman / Lyin' Eyes / Already Gone / Desperado / One Of These Nights / Tequila Sunrise / Take It To The Limit / Peaceful Easy Feeling / Best Of My Love
12/1976
LP 12" ASYLUM 7E-1084 (US)
HOTEL CALIFORNIA - Hotel California / New Kid In Town / Life In The Fast Lane / Wasted Time (Reprise) / Victim Of Love / Pretty Maids All In A Raw / Try And Love Again / The Last Ressort
1978
LP 12" ASYLUM FCPA1036 (JAP)
EAGLES - Hotel California / Take It Easy / Witchy Woman / Desperado / New Kid In Town / One Of These Nights / Lyin' Eyes / Tequila Sunrise / Take It To The Limit / Best Of My Love
09/1979
LP 12" ASYLUM 5E-508 (US)
THE LONG RUN - The Long Run / I Can't Tell You Why / In The City / The Disco Strangler / King Of Hollywood / Heartache Tonight / Those Shoes / Teenage Jail / The Greeks Don't Want No Freaks / The Sad Café
11/1980
LP 12" ASYLUM BB-705 (US)
EAGLES LIVE - Hotel California / Heartache Tonight / I Can't Tell You Why / Long Run / New Kid In Town / Life's Been Good / Seven Bridges Road / Wasted Time / Take It To The Limit / Dollin-Dalton (reprise II) / Desperado / Saturday Night / All Night Long / Life In The Fast Lane / Take It Easy
10/1982
LP 12" ASYLUM 60205-1 (US)
GREATEST HITS VOLUME 2 - Hotel California / Heartache Tonigh / Seven Bridges Road / Victim Of Love / Sad Cafe / Life In The Fast Lane / I Can't Tell You Why / New Kid In Town / Long Run / After The Thrill Is Gone
1985
CD WEA CD 3968 (JAP)

THE BEST OF THE EAGLES -

Take It Easy / Peaceful Easy Feeling / Desperado / Tequila Sunrise / The Best Of My Love / Lyin' Eyes / Take It To The Limit / One Of These Nights / Hotel California / New Kid In Town / Life In The Fast Lane / Heartache Tonight / The Long Run
1988
LP 12" ASYLUM 241238-1 (F)
LA LEGENDE DES EAGLES - Take It Easy / Peaceful, Easy Feeling / Desperado / Tequila Sunrise / Best Of My Love / Lyin' Eyes / Take It To The Limit / The Long Run / One Of These Nights / Hotel California / New Kid In Town / Life In The Fast Lane / I Can't Tell You Why / Heartache Tonight
1988
LP 12" ASYLUM 241238-1 (GER)
THE LEGEND OF EAGLES - Take It Easy / Peaceful, Easy Feeling / Desperado / Tequila Sunrise / Best Of My Love / Lyin' Eyes / Take It To The Limit / The Long Run / One Of These Nights / Hotel California / New Kid In Town / Life In The Fast Lane / I Can't Tell You Why / Heartache Tonight
1988
LP 12" WEA 24 1487-1 (I)
THE SECOND COLLECTION - Witchy Woman / Witchy Woman / Saturday Night / Bitter Creek / Already Gone / My Man / Ol´55 / Midnight Flyer / After The Thrill Has Gone / Wasted Time / Victim Of Love / The Sad Cafe / In The City / Please Come Home For Christmas
06/1993
CD DCC 1039 (US)
THEIR GREATEST HITS - 1971-1975 - Take It Easy / Witchy Woman / Lyin' Eyes / Already Gone / Desperado / One Of These Nights / Tequila Sunrise / Take It To The Limit / Peaceful, Easy Feeling / Best Of My Love
1994
CD WEA 32375 (GER)
THE VERY BEST OF THE EAGLES - Take It Easy / Witchy Woman / Peaceful Easy Feeling / Doolin Dalton / Desperado / Tequila Sunrise / Best Of My Love / James Dean / I Can't Tell You Why / One Of These Nights / Lyin' Eyes / Take It To The Limit / Hotel California / New Kid In Town / Life In The Fast Lane / Heartache Tonight / The Long Run
11/1994
CD GEFFEN 24725-2 (US)
HELL FREEZES OVER - Get Over It / Love Will Keep Us Alive / Girl From Yesterday / Learn To Be Still / Tequila Sunrise / Hotel California / Wasted Time / Pretty Maids All In A Row / I Can't Tell You Why / New York Minute / Last Resort / Take It Easy / In The City / Life In The Fast Lane / Desperado
1996
CD ELEKTRA PCS-219 (JAP)
BEST 10 - Hotel California / Desperado / Take It Easy / New Kid In Town / I Can't Tell You Why / One Of These Nights / Best Of My Love / Take It To The Limit / Life In The Fast Lane / Tequila Sunrise
11/2000
4 CD ELEKTRA 62575-2 (US)
SELECTED WORKS 1972-1999 :

CD 1 : Take It Easy / Hollywood Waltz / Already Gone / Doolin-Dalton / Midnight Flyer / Tequila Sunrise / Witchy Woman / Train Leaves Here This Morning / Outlaw Man / Peaceful Easy Feeling / James Dean / Saturday Night / On The Border
CD 2 : Wasted Time / Wasted Time / I Can't Tell You Why / Lyin' Eyes / Pretty Maids All In A Row / Desperado / Try And Love Again / Best Of My Love / New Kid In Town / Love Will Keep Us Alive / Sad Cafe / Take It To The Limit / After The Thrill Is Gone
CD 3 : One Of These Nights / One Of These Nights / Disco Strangler / Heartache Tonight / Hotel California / Born To Boogie / In The City / Get Over It / King Of Hollywood / Too Many Hands / Life In The Fast Lane / Long Run / Long Run 2 / Last Resort / Random Victims 3
CD 4 : Hotel California / Victim Of Love / Peaceful Easy Feeling / Please Come Home For Christmas / Ol' 55 / Take It To The Limit / Those Shoes / Funky New Year / Dirty Laundry / Funk 49 / All She Wants To Do Is Dance / Best Of My Love

2000
CD ASYLUM ASCD-307 (US)

SELECTED SONGS FROM

SELECTED WORKS -

Hotel California [millennium live version] / Hotel California / Take It Easy / Witchy Woman / Peaceful Easy Feeling / I Can't Tell You Why / Desperado / New Kid In Town / Take It To The Limit / One Of These Nights / Heartache Tonight / Life In The Fast Lane / Ol'55 [millennium live version] / The Best Of My Love [millennium live version / Please Come Home For Christmas / Please Come Home For Christmas [millennium live version]
2001
CD WEA INT. 9 62680-2 (EUR)
THE VERY BEST OF THE EAGLES - One Of These Nights / Take It Easy / Hotel California / New Kid In Town / Heartache Tonight / Tequila Sunrise / Desperado / Best Of My Love / Lyin' Eyes / Take It To The Limit / I Can't Tell You Why / Peaceful Easy Feeling / James Dean / Doolin-Dalton / Witchy Woman / The Long Run / Life In The Fast Lane
10/2003
2 CD ELEKTRA R2 73971 (US)
THE VERY BEST OF EAGLES :

CD 1 : Take It Easy / Witchy Woman / Peaceful Easy Feeling / Desperado / Tequila Sunrise / Doolin-Dalton / Already Gone / Best Of My Love / James Dean / Ol' 55 / Midnight Flyer / On The Border / Lyin' Eyes / One Of These Nights / Take It To The Limit / After The Thrill Is Gone / Hotel California
CD 2 : Life In The Fast Lane / Wasted Time / Victim Of Love / Last Resort / New Kid In Town / Please Come Home For Christmas / Heartache Tonight / Sad Cafe / I Can't Tell You Why / Long Run / In The City / Those Shoes / Seven Bridges Road / Love Will Keep Us Alive / Get Over It / Hole In The World

03/2005
9 CD ELEKTRA 79681-2 (US)
EAGLES :

CD 1 : Take It Easy / Witchy Woman / Chug All Night / Most Of Us Are Sad / Nightingale / Train Leaves Here This Morning / Take The Devil / Earlybird / Peaceful Easy Feeling / Tryin'
CD 2 : Doolin-Dalton / Twenty-One / Out Of Control / Tequila Sunrise / Desperado / Certain Kind Of Fool / Doolin-Dalton [instr.] / Outlaw Man / Saturday Night / Bitter Creek / Doolin-Dalton - Desperado (reprise)
CD 3 : Already Gone / You Never Cry Like A Lover / Midnight Flyer / My Man / On The Border / James Dean / Ol '55 / Is It True / Good Day In Hell / Best Of My Love
CD 4 : One Of These Nights / Too Many Hands / Hollywood Waltz / Journey Of The Sorcerer / Lyin' Eyes / Take It To The Limit / Visions / After The Thrill Is Gone / I Wish You Peace
CD 5 : Hotel California / New Kid In Town / Life In The Fast Lane / Wasted Time / Wasted Time (reprise) / Victim Of Love / Pretty Maids All In A Row / Try And Love Again / Last Resort
CD 6 : Long Run / I Can't Tell You Why / In The City / Disco Strangler / King Of Hollywood / Heartache Tonight / Those Shoes / Teenage Jail / Greeks Don't Want No Freaks / Sad Café
CD 7 : Hotel California [live] / Heartache Tonight [live] / I Can't Tell You Why [live] / Long Run [live] / New Kid In Town [live] / Life's Been Good [live]
CD 8 : Seven Bridges Road [live] / Wasted Time [live] / Take It To The Limit [live] / Doolin-Dalton (reprise II) [live] / Desperado [live] / Saturday Night [live] / All Night Long [live] / life In The Fast Lane [live] / Take It Easy [live]
CD 9 : Please Come Home For Christmas / Funky New Year

10/2007
2 CD POLYDOR 1749406-2 (US)
LONG ROAD OUT OF EDEN :

CD 1 : No More Walks In The Wood / How Long / Busy Being Fabulous / What Do I Do With My Heart / Guilty Of The Crime / I Don't Want To Hear / Anymore / Waiting In The Weeds / No More Cloudy Days / Fast Company / Do Something / You Are Not Alone
CD 2 : Long Road Out Of Eden / I Dreamed There Was No War / Somebody / Frail Grasp On The Big Picture / Last Good Time In Town / I Love To Watch A Woman Dance / Business As Usual / Center Of The Universe / It's Your World Now

01/2009
2 CD IMMORTAL 00037027 (US)
NEW ZELAND CONCERT :

CD 1 : Hotel California / Victim Of Love / New Kid In Town / Wasted Time / Pretty Maids All In A Row / The Girl From Yesterday / I Can't Tell You Why / Ordinary Average Guy / Lyin' Eyes / One Of These Nights / Tequila Sunrise / Help Me Thru The Night / Love Will Keep Us Alive / The Heart Of The Matter
CD 2 : You Belong To The City / The Boys Of Summer / Funk 49 / Dirty Laundry / Smuggler's Blues / Life's Been Good / Heartache Tonight / Life In The Fast Lane / Already Gone / Rocky Mountain Way / Desperado / Take It Easy

2012
CD POLYDAN SOUND LABORATORY PSLCD01020889-MTGOLD (EUR)
EARLY BIRDS - Hotel California / One Of These Nights / Witchy Woman / New Kid In Town / The Long Run / Love Will Keep Us Alive / Life It The Last Lane / Tequila Sunrise / Best Of My Life / Lyin' Eyes / Doolin - Dalton / Try And Love Again / Learn To Be Still / I Can't Tell You Why / Hotel California (live) / P.S.L. Sampler Budget
04/2013
6 CD ELEKTRA / RHINO 8122796746 (US)
THE STUDIO ALBUMS 1972-1979 :

CD 1 :

Take It Easy / Witchy Woman / Chug All Night / Most Of Us Are Sad / Nightingale / Train Leaves Here This Morning / Take The Devil / Earlybird / Peaceful Easy Feeling /

Tryin'
CD 2 :

Doolin-Dalton / Twenty-One / Out Of Control / Tequila Sunrise / Desperado / Certain Kind Of Fool / Doolin-Dalton / Outlaw Man / Saturday Night / Bitter Creek / Doolin-Dalton - Desperado (reprise)

CD 3 :

Already Gone / You Never Cry Like A Lover / Midnight Flyer / My Man / On The Border / James Dean / Ol' 55 / Is It True? / Good Day In Hell / The Best Of My Love

CD 4 :

One Of These Nights / Too Many Hands / Hollywood Waltz / Journey Of The Sorcerer / Lyin' Eyes / Take It To The Limit / Visions / After The Thrill Is Gone / I Wish You Peace

CD 5 :

Hotel California / New Kid In Town / Life In The Fast Lane / Wasted Time / Wasted Time (reprise) / Victim Of Love / Pretty Maids All In A Row / Try And Love Again / The Last Resort

CD 6 :

The Long Run / I Can't Tell You Why / In The City / The Disco Strangler / King Of Hollywood / Heartache Tonight / Those Shoes / Teenage Jail / The Greeks Don't Want No Freaks /

The Sad Café

07/2017
2 CD Warner ‎R2 562253 (US)

Their Greatest Hits Volumes 1 & 2 :

CD1 :

Their Greatest Hits 1971-1975 :

Take It Easy / Witchy Woman / Lyin' Eyes / Already Gone / Desperado / One Of These Nights / Tequila Sunrise / Take It To The Limit / Peaceful, Easy Feeling / Best Of My Love
CD 2 :

Eagles Greatest Hits Volume 2 :

Hotel California / Heartache Tonight / Seven Bridges Road / Victim Of Love / The Sad Cafe / Life In The Fast Lane / I Can't Tell You Why / New Kid In Town / The Long Run / After The Thrill Is Gone

11/2018
12 CD + 2 DVD Warner R2 563613 (EUR)
EAGLES LEGACY :

CD 1 : EAGLES : Take It Easy / Witchy Woman / Chug All Night / Most Of Us Are Sad / Nightingale / Train Leaves Here This Morning / Morning / Take The Devil / Earlybird / Peaceful Easy Feeling / Tryin'
CD 2 : DESPERADO : Doolin-Dalton / Twenty-One / Out Of Control / Tequila Sunrise / Desperado / Certain Kind Of Fool / Doolin-Dalton (instrumental version) / Outlaw Man / Saturday Night / Bitter Creek / Doolin-Dalton/Desperado (reprise)
CD 3 : ON THE BORDER : Already Gone / You Never Cry Like A Lover / Midnight Flyer / My Man / On The Border / James Dean / Ol' 55 / Is It True? / Good Day In Hell / The Best Of My Love
CD 4 : ONE OF THESE NIGHTS : One Of These Nights / Too Many Hands / Hollywood Waltz / Journey Of The Sorcerer) / Lyin' Eyes / Take It To The Limit / Visions / After The Thrill Is Gone / I Wish You Peace
rCD 5 : HOTEL CALIFORNIA : Hotel California / New Kid In Town / Life In The Fast Lane / Wasted Time (reprise) / Victim Of Love / Pretty Maids All In A / Wasted Time / Row / Try And Love Again / The Last Resort
CD 6 : THE LONG RUN : The Long Run / I Can't Tell You Why / In The City / The Disco Strangler / King Of Hollywood / Heartache Tonight / Those Shoes / Teenage Jail / The Greeks Don't Want No Freaks / The Sad Cafe
CD 7 : LONG ROAD OUT OF EDEN : No More Walks In The Wood / How Long / Busy Being Fabulous / What Do I Do With My Heart / Guilty Of The Crime / I Don't Want To Hear Any More / Waiting In The Weeds / No More Cloudy Days / Fast Company / Do Something / You Are Not Alone
CD 8 : Long Road Out Of Eden / I Dreamed There Was No War / Someday / Frail Grasp On The Big Picture / Last Good Time In Town / I Love To Watch A Woman Dance / Business As Usual / Center Of The Universe / It's Your World Now
CD 9 : EAGLES LIVE : Hotel California (Live In Santa Monica, 7/29/1980) / Heartache Tonight (Live In Santa Monica, 7/29/1980) / I Can't Tell You Why (Live In Santa Monica, 7/29/1980) / The Long Run (Live In Santa Monica, 7/29/1980) / New Kid In Town (Live At The Forum, 10/22/1976) / Life's Been Good (Live At Santa Monica, 7/29/1980) / Seven Bridges Road (Live At Santa Monica, 7/27/1980) / Wasted Time (Live At Santa Monica, 7/27/1980) / Take It To The Limit (Live At Santa Monica, 7/27/1980) / Doolin'-Dalton (Reprise Ii) [Live At The Forum, 10/21/1976) / Desperado (Live At Santa Monica, 7/27/1980) / Saturday Night (Live At Santa Monica, 7/27/1980) / All Night Long ((Live At Santa Monica, 7/27/1980) / Life In The Fast Lane (Live At Santa Monica, 7/27/1980) / Take It Easy (Live At Santa Monica, 7/27/1980)
CD 10 : HELL FREEZES OVER : Get Over It / Love Will Keep Us Alive / The Girl From Yesterday / Learn To Be Still / Tequila Sunrise / Hotel California / Wasted Time / Pretty Maids All In A Row / I Can't Tell You Why / New York Minute / The Last Resort / Take It Easy / In The City / Life In The Fast Lane / Desperado
CD 11 : MILLENIUM CONCERT : Hotel California (Live At Staples Center, Los Angeles, Ca, 12/31/1999) / Victim Of Love (Live At Staples Center, Los Angeles, Ca, 12/31/1999) / Peaceful Easy Feeling (Live At Staples Center, Los Angeles, Ca, 12/31/1999) / Please Come Home For Christmas (Live At Staples Center, Los Angeles, Ca, 12/31/1999) / Ol' 55 (Live At Staples Center, Los Angeles, Ca, 12/31/1999) / Take It To The Limit (Live At Staples Center, Los Angeles, Ca, 12/31/1999) / Those Shoes (Live At Staples Center, Los Angeles, Ca, 12/31/1999) / Funky New Year (Live At Staples Center, Los Angeles, Ca, 12/31/1999) / Dirty Laundry (Live At Staples Center, Los Angeles, Ca, 12/31/1999) / Funk 49 (Live At Staples Center, Los Angeles, Ca, 12/31/1999) / All She Wants To Do Is Dance (Live At Staples Center, Los Angeles, Ca, 12/31/1999) / The Best Of My Love (Live At Staples Center, Los Angeles, Ca, 12/31/1999)
CD 12 : SINGLES AND B-SIDES : Take It Easy (single version) / Get You In The Mood / Outlaw Man (single version) / Best Of My Love (single edit) / One Of These Nights (single edit) / Lyin' Eyes (single edit) / Take It To The Limit (single edit) / Please Come Home For Christmas (single version) / Funky New Year / Hole In The World
DVD 1 : HELL FREEZES OVER : Hotel California / Tequila Sunrise / Help Me Through The Night / The Heart Of The Matter / Love Will Keep Us Alive / Learn To Be Still / Pretty Maids All In A Row / The Girl From Yesterday / Wasted Time / I Can't Tell You Why / New York Minute / The Last Resort / Take It Easy / Life In The Fast Lane / In The City / Get Over It / Desperado / BONUS DTS AUDIO ONLY : Seven Bridges Road
DVD 2 : FAREWELL TOUR : LIVE FROM MELBOURNE : The Long Run / New Kid In Town / Wasted Time / Peaceful Easy Feeling / I Can't Tell You Why / One Of These Nights / One Day At A Time / Lyin' Eyes / The Boys Of Summer / In The City / Already Gone / Silent Spring (intro) / Tequila Sunrise / Love Will Keep Us Alive / No More Cloudy Days / Hole In The World / Take It To The Limit / You Belong To The City / Walk Away / Sunset Grill / Life's Been Good / Dirty Laundry / Funk #49 / Heartache Tonight / Life In The Fast Lane / Hotel California / Rocky Mountain Way / All She Wants To Do Is Dance / Take It Easy / Desperado / BONUS FEATURE : Interviews With The Band

10/2020
2 CD RHINO 627584(US)

Live From the Forum MMXVIII :

CD 1 : Seven Bridges Road / Joe

Walsh

: "How Ya Doin'?" / Take It Easy / One Of These Nights / Don Henley: "Good Evening, Ladies and Gentlemen" / Take It To The Limit / Tequila Sunrise / In The City / Timothy B.

Schmit

: "Hey, Everybody, That's Joe Walsh" / I Can't Tell You Why / New Kid In Town / Don

Henley

: "Just Want To Thank All Of You..." / How Long / Deacon

Frey

: "Hello, Everybody..." / Peaceful Easy Feeling / Ol' 55 / Lyin' Eyes / Love Will Keep Us Alive / Vince

Gill

: "How's Everybody Doing?" / Don't Let Our Love Start Slippin' Away / Those Shoes
CD 2 : Already Gone / Walk Away / Joe

Walsh

: "Is Everybody OK?" / Life's Been Good / The Boys Of Summer / Heartache Tonight / Funk #49 / Life in the Fast Lane / Hotel California / Rocky Mountain Way / Desperado / The Long Run
© Rocky Productions 17/10/2020