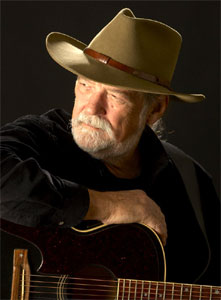 Chanteur Country / Folk né Richard James Joseph Dobson II, le 19 Mars 1942 à Tyler (Texas). Richard Dobson est décédé le 16 Décembre 2017 à Diessenhofen (Suisse).

Called the "Hemingway of country music," by Nanci Griffith, who covered his tune "The Ballad of Robin Wintersmith," Richard Dobson is one of Texas' most literate songsmiths. David Allan Coe recorded his song "Piece of Wood and Steel," while Guy Clark used the tune "Old Friends," written with Dobson and Suzanne Clark, as the title track of his 1988 album.
A native of Tyler, Texas, Dobson dreamed of becoming a novelist from earliest memory. Graduating from Georgetown University in 1966 with a Bachelor of Science degree in Spanish, he spent two years in the Peace Corps in Chile, writing two novels -- Seasons and Companions and The Gulf Coast Boys -- and several articles for the British fanzine Omaha Rainbow.
His dreams of becoming a novelist were curtailed, however, by music. Playing guitar and writing songs since the age of 19, he became a regular of the late-'60s and early-'70s Texas songwriter scene that included Townes Van Zandt, Guy Clark, Mickey Newbury, and honorary Texan Jerry Jeff Walker.
Dobson's debut album, In Texas Last December, financed with money earned by working on shrimp boats and oil riggers, in 1976, included the tune "Baby Ride Easy" which was later covered as a duet by Carlene Carter and Dave Edmunds.
Continuing to record without much commercial success, Dobson moved to Europe in the early '90s. He recorded his 1999 album, Global Village Garage, in Germany. In 2003, Swiss label Brambus reissued his early recordings, and Dobson's first novel, The Gulf Coast Boys, was published in 1998.
https://en.wikipedia.org/wiki/Richard_Dobson
Talents : Vocals, Guitar, Songwriter, Author
Style musical : Outkaw Country, Folk

https://www.youtube.com/watch?v=JEjvUX6G1lg
Years in activity :
| | | | | | | | | | | |
| --- | --- | --- | --- | --- | --- | --- | --- | --- | --- | --- |
| 1910 | 20 | 30 | 40 | 50 | 60 | 70 | 80 | 90 | 2000 | 10 |
DISCOGRAPHY
Albums
1977
SP Buttermilk

0077-3

(US)

.

Baby Ride Easy / Learning To Forget You

1978
SP Buttermilk

?

(US)

Rinconada Buttermilk Project - The Hard Way / Swamp Rat
Albums
1977
LP 12" Buttermilk 00197703 (US)

In Texas Last December -

In Texas Last December / Learning To Forget You / It's Not Long / Close But No Cigar / I Got Twenty Dollars / Baby Ride Easy / Piece Of Wood And Steel / Bus Stop Coffee / In The Name Of Love
1979
LP 12" Rinconada RCDR 2001 (US)

The Big Taste - Coyote Waltz / Walkin' Blues / Hard By The Highway / Never Say Never / Jesus Take Me Fishin' / Salty Kisses / The Stranger / Over All Over / Foolin' Around / Lookin' Out

1983
LP 12" RJD RJD 1003 (US)

Save The World - Roughneck Occupation (Redneck Way Of Life) / Loving Yolanda / I Love You / Ballad Of Robin Winter-Smith / Song For Richard Mock / Turn In The Barrel / But For Mama / Sailing / Between Husband And Wives / Save The World

1988
LP 12" RJD RJD-1005 (US)
RICHARD DOBSON / STATE OF THE HEART AT THE STATION IN -

1988 March 23 Wednesday -

Living With A Loaded Gun / Never Trust A Rounder / You Ain't Gonna Do It To Me / Baby Ride Easy / A Useful Girl / White Freight Liner Blues / There Ought To Be A Law / Piece Of Wood And Steel / Living And Dying For Love / Ballad Of Robin Winter-Smith
1990
CD Brambus 199014-2 (CH)

Hearts & Rivers - Richard Dobson & State Of The Heart - Big Two-Hearted River / Country Boy With A Rock & Roll Heart / Texas Rivers Song / No Rolling Stone / Down In Lafayette / Cost Me A Heart / Useful Girl / Highland Rim / Old Friends / Molly & Dan / Old Man Collecting Cans / Don't Know Why Blues / Heart Good As New / Living With A Loaded Gun / Rasputin / That's Right / Without You / Liars' Polka / Rock And A Soft Place / Love Train

1991
CD Brambus 199239-2 (CH)

Blue Collar Blues - Richard DOBSON & STATE OF THE HEART - Blue Collar Blues / Pony Ride / I Give Myself Away / Mexican Honeymoon / Whole Lotta Love / Heart Are Like Horses / Foley / Border Town / Movin On / A Rose Is A Rose / Hole In My Heart / Never Say Never / A Vibe / Uncertain Texas

1994
CD Sundown SD-CD-2120 (US)

Mankind - Mankind / Baby Ride Easy / Living & Dying For Love / Blackberry Blossom / The Blue In Susie's Eyes / That's Right / Old Friends / Foley / Down In Lafayette / Next Year Better / Piece Of Wood & Steel / '63 Mercury / Useful Girl / Ballad Of Robin Winter-Smith

1994
CD Brambus 199450-2 (CH)

Amigos - Richard Dobson Sings Townes Van Zandt - White Freightliner Blues / Buckskin Stallion / The Catfish Song / Pancho And Lefty / Come Tomorrow / No Place To Fall / Quicksilver Daydreams Of Maria / Loretta / If I Needed You / Snowing On Raton / Don't You Take It To Bad / Dollar Bill Blues / Two Girls / Turnstyled Junkpiled / Still Looking For You

1994
CD Brambus 199568-2 (CH)

One Bar Town - Long, Long Way / One Bar Town / You Can`t Love Nobody (If You Don't Love Yourself) / When Souls Collide / Money Talks / Bus Stop Coffee / Ballad Of Captain Blake / Incident In The Houston Post / Stranger / Doing The Same Old Thing / Burning That Candle / Faded Loves And Memories / I Want To Be Your Microphone / Big Red Sun / Que Se Yo? / Amsterdam

1996
CD Brambus 199681-2 (CH)

Love Only Love - So Afraid Of Love / Jack The Lad / Love Never Free / Low Rider Moon / I'm Not Afraid Of Forever Anymore / I Keep On Missing You / Ni La Vuelvo A Prestar / For Your Sweet Kiss / Rise To The Occasion / Love Only Love / Since I Met You Baby

1998
CD Brambus 199800-2 (CH)

Salty Songs - Coda 1 / I Believe / Bordertown / Talk Dirty To Me / Hard By The Highway / Coda 2 / Hit Me Like A Train / Living & Dying For Love / A Rock & A Soft Place / Coda 3 / Hello Blue Bird / Mankind / Without You / Between Husbands & Wives / Coda 4 / Since You've Been Gone / Molly & Dan / Let It Go / Coda 5

2001
CD Brambus 200148-2 (CH)

Hum Of The Wheels - Hum Of The Wheels / Trying To Keep My Feet On The Ground / Magic And Danger / The Fairest Outlaw / I Give Myself Away / Whoa Back / It's The Women Who Choose / Who Killed Jack Rabbit / Coyote Waltz / Ain't It Like A Circle / Sant'anna / Next Year Better

2002
CD Brambus 200265-2 (CH) (limited edition)

Doppelgaenger - Richard Dobson with Thomm Jutz - Woody Knows Nothing / Small Town Hero / Forever, For Always, For Certain / The Boll Weevil Song / I Ain't Got No Home / Uncertain Texas / No Blue Song / Woody Went Down In The Deep Hold / Jesus Take Me Fishing / Pastures Of Plenty / Across The Wide Missouri / So Have I / May You Glide Like A River - The Birthday Song

2003
CD Brambus 200384-2 (CH)

A River Will Do - A River Will Do / Nothing Holy In The Holy Land / Houston Town / Down On The Trinity River / The Hills Of Kosovo / A River Runs Through It / Tengo Que Volar / Million To One / Homemade Kites / Kathleen / At The End Of The Day / Texas Is One Song Away

2004
CD RJD 1006 (US)

Back Tracks : Save The World / True West - Save The World : Roughneck Occupation / Loving Yolanda / I Love You / Ballad Of Robin Winter-Smith / Song For Richard Mock / Turn In The Barrel / But For Mama / Sailing / Between Husbands And Wives / Save The World / True West : Always One More River / Forever, For Always, For Certain / So Have I / Lay It Down And Walk Away / Bless Your Heart / Too Young To Die Old / You Ain't Gonna Do It To Me / She Almost Reminds Me Of You / Where Do The Dreams Go? / Master Of Love / Have You Hugged Your Kid Today?

2006
CD Brambus 200614-2 (CH)

On Thistledown Wind -

Come On Baby, Let's Dance / The Ballad Of Harpoon Barry / She Was Just A Little Crazy / On Thistledown Wind / The Infidel / Red Headed Woman / Queen Of My Heart / Scissortrail Bird / Down Along The Reeperbahn / Month Of Mondays (A Song For The Muse) / Slave To The Restless Wind / New Morning Song (Om Mani Padme Hung)
09/2006
CD NOT ON LABEL ? (GER)

Global Village Garage - Just To Hold You Through The Night / Rocking To The Rhythm Of The World / Gator Bait / Going To The Roundhouse / Sweet Spot / A Place Called Idaho / Back To The Island / Lonesome Riding Shotgun / Ruester's Song / The Long Liner / Ballad Of Chipita And Karla Faye / String Along With You / Long Gone Love Song / Blues With No Reason / They Call It Music City

2007
CD Brambus 200722-2 (CH)

Back At The Red Shack - 63 Mercury / Aunt Betty's Lament / Aye Chihuahua / Baby Ride Easy / Suited Me / Living And Dying For Love / There Ought To Be A Law / Never Say Never / Close Calls / Over All Over Again / Salty Kisses / Hard By The Highway / Walking My Blues Away / Hard Work Talking Blues

04/2009
CD Brambus 200948-2 (CH)

From A Distant Shore - Long Haul Hard Traveling Man / The Old Wild Country / Windows Of The Soul / A Little Behind My Shoes / It's Been This Way Forever / Winners / Let Tomorrow Come / Let's Talk Trash / That Was Then And This Is Now / The Old Rhythm Rebel / From A Distant Shore

2013
CD Brambus 201372-2 (CH)

Here In The Garden - Here In The Garden / Black Crow / The Stage At Leipers Fork / The Moon Is For Lovers / It's About Time / Tequila And Chamomile Tea / Brave New World Out There / Tractor Supply / I Hear Singing / One To Run The River With / Bonus Track : GTT - Gone To Texas

2015
CD BEAR FAMILY BCD 17147 (GER)

Mankind Plus - Richard J. Dobson - Mankind : Mankind / Baby Ride Easy / Living And Dying For Love / Blackberry Bottom / The Blue In Susie's Eyes / That's Right / Old Friends / Foley / Down In Lafayette / Next Year Better / Piece Of Wood & Steel / '63 Mercury / A Useful Girl Who Could Sew / Ballad Of Robin Winter-Smith / Bonus : Money Talks / Never Say Never

2017 ?
CD Brambus 201685-2 (CH)

Plenty Good People - Richard Dobson & W. C. Jameson - Brother River / Hard Rock Arkansas / Plenty Good People / I'm Waitin' / Living With A Loaded Gun / I'm Just Free / A Matter Of Professional Pride / Woman Up In Dallas, Woman In New Orleans / A Step Away From Homeless / Me And Paul

2018
CD Brambus 201898-2 (CH)

I Hear Singing - A Better World For Love / Fisherman's Son / Sun Going Down Blues / Entre Ayer Y Mañana / Leave The Light On / Long Time, Long Time / I Will Fight No More Forever / Footprints (The Immense Journey) / Thirsty In The Rain / Song For Richard Mock / When I Get Home I Play My Martin / Less Of Me / Everything I Need / The Sky Is Falling / I Hear Singing / So Have I
© Rocky Productions 28/04/2021