| | |
| --- | --- |
| | |
| | |

Groupe Country US formé en 1987 à Atlanta (Georgie) et composé de Danny Shirley (né le 12 Août 1956 à Chattanooga (Tennessee)), Mark Dufresne, Wayne Secrest, Chris McDaniel (jusqu'en 1999), Michael Lamb, Gates Nichols, Jimmy Dormire, Cody McCarver (entré en 1999).

Often described as a cross between Alabama and Lynyrd Skynyrd, Confederate Railroad made their name with a party-ready hybrid of modern country and Southern rock, which also earned them comparisons to Charlie Daniels and Hank Williams, Jr. Their trashy, roughneck wardrobe was a good indicator of their rowdy, tongue-in-cheek sense of humor, but they were also able to balance that with a sincere sentimental streak. Singer/guitarist Danny Shirley, lead guitarist Michael Lamb, steel guitarist Gates Nichols, keyboardist Chris McDaniel, bassist Wayne Secrest, and drummer Mark Dufresne got together in the early '80s and spent years playing the Atlanta bar scene, eventually merging into a tight unit with original material. They served as the house band at Miss Kitty's in Marietta, GA, for several years and also worked as a backing band on the road behind Johnny Paycheck and David Allan Coe.
After around a decade of paying dues, Confederate Railroadfinally earned a shot with Atlantic, and released their self-titled debut album in 1992. Lead single "She Took It Like a Man" inched into the Top 40, but the record really took off with the next two singles; "Jesus and Mama" and "Queen of Memphis" both shot into the country Top Five. Fan favorite "Trashy Women" also made the Top Ten, and two additional singles -- "When You Leave That Way You Can Never Go Back" and "She Never Cried" -- hit the Top 40. With such a large store of hits, Confederate Railroad went double platinum. The band's 1994 follow-up, Notorious, also sold over a million copies and spawned another Top Ten hit with "Daddy Never Was the Cadillac Kind"; another concert favorite, "Elvis and Andy," made the Top 20.
The title track of 1995's When and Where proved to be their last significant hit for a while, and guitarist Lamb left the band, to be replaced by Jimmy Dormire. Arriving in 1998, Keep on Rockin'confirmed the band's downward commercial slide, and keyboardist McDaniel eventually left as well; his replacement was Cody McCarver. Confederate Railroad parted ways with Atlantic and signed with the smaller Audium label for their next album, 2001's Unleashed, which spawned the hit singles "That's What Brothers Do" and "She Treats Her Body Like a Temple." The band continued to perform live, but it would be nearly five years before Confederate Railroad would step back into the studio. The resulting Cheap Thrills, released via Shanachie, found the group tackling 11 cover songs, the majority of which were from Southern rock and country artists like Billie Joe Shaver, Alan Jackson, and Johnny Paycheck. The band moved to E1 Music in 2010 and released its very first concert album, Live: Back to the Barroom. Lucky to Be Alive, the group's seventh studio long-player and first album in nine years, dropped in 2016 via Sony Music.
http://www.confederaterailroad.net/
http://www.myspace.com/confederaterailroadmusic
https://en.wikipedia.org/wiki/Confederate_Railroad
Talents : Danny Shirley : Lead Vocals, Guitar - Mark Dufresne : Drums - Wayne Secrest : Bass Guitar - Chris McDaniel : Keyboards - Michael Lamb : Lead Guitar - Gates Nichols : Steel Guitar - Cody McCarver : Keyboards
Style musical : Contemporary Country, Country Rock, Southern Rock, Traditional Country

https://youtu.be/m8T0A8OYLlk
Years in activity :
| | | | | | | | | | | | |
| --- | --- | --- | --- | --- | --- | --- | --- | --- | --- | --- | --- |
| 1910 | 20 | 30 | 40 | 50 | 60 | 70 | 80 | 90 | 2000 | 10 | 20 |
DISCOGRAPHY
Singles
1982
SP CROSSROADS 10382 (US)
.
Danny SHIRLEY - Jack Daniels Haze / Local Legend
1984
SP AMOR DS 1001 (US)
.
Danny SHIRLEY - Time Off For Bad Behavior / Closing Time
06/1984
SP AMOR DS 1002 (US)
.
Danny SHIRLEY - Love And Let Love / Jack Daniels Daze
10/1984
SP AMOR DS 1004 (US)
.
Danny SHIRLEY - Love And Let Love / Jack Daniels Haze
1984
SP AMOR DS 1005 (US)
.
Danny SHIRLEY - Christmas Needs Love To Be Christmas (Danny

Shirley

& The

Lookout Mountain Presbyterian Church Youth Choir) /

Christmas Needs Love To Be Christmas
01/1985
SP AMOR DS 1006 (US) (promo)
.
Danny SHIRLEY & PIANO RED - Yo Yo (The Right String, But The Wrong Yo Yo) / Yo Yo (The Right String, But The Wrong Yo Yo)
1985
SP AMOR AS 1008 (US)
.
Danny SHIRLEY - The Ballad Of Whitwell Mine / The Ballad Of Whitwell Mine
1986
SP AMOR DS 1010 (US)
.
Danny SHIRLEY - One For The Gipper / ?
08/1987
SP AMOR DS45-2001 (US)
.
Danny SHIRLEY - Deep Down (Everybody Wants To Be From Dixie) / ?
11/1987
SP AMOR DS45-2002 (US)
.
Danny SHIRLEY - Going To California / ?
02/1988
SP AMOR DS45-2004 (US)
.
Danny SHIRLEY - I Make The Living (She Makes The Living Worthwhile) / ?
1989
SP AIRBORNE ABS 10018 (US)
.
Danny SHIRLEY - Sweet Lisa / ?
12/1992
CD ATLANTIC 7-87404 (US)

Queen Of Memphis / Jesus And Mama

1992
CD ATLANTIC

4469

(US)

She Took It Like A Man / ?

05/1993
CD ATLANTIC 7-87357 (US)
When You Leave That Way You Can Never Go Back / Trashy Women
1993
CD ATLANTIC

?

(US)
.

She Never Cried / ?

03/1994
CD ATLANTIC

7-87273

(US)
.
Daddy Never Was The Cadillac Kind / Jesus And Mama
06/1994
CD ATLANTIC

7-87229

(US)
.
Elvis And Andy / Three Verses
1994
CD ATLANTIC

82505

(US)
.

Summer In Dixie / ?

09/1995
CD ATLANTIC

7-87104

(US)
.

Bill's Laundromat, Bar And Grill /

When And Where
1995
CD ATLANTIC

?

(US)
.

When And Where / ?

1995
CD ATLANTIC

?

(US)
.

When He Was My Age / ?

1996
CD ATLANTIC

?

(US)
.

See Ya / ?

09/1998
CD ATLANTIC 7-84193 (US)
.
Keep On Rockin' / Tween Sunday Morning And Saturday Night
02/1999
CD ATLANTIC 7-84441 (US)

I Hate Rap / The Big One

04/1999
CD ATLANTIC 7-84464 (US)
.
Cowboy Cadillac (LP version) / Cowboy Cadillac [dance mix]
| | |
| --- | --- |
| | |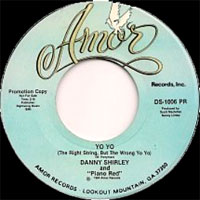 Albums
1984

LP 12"

AMOR

DS-1003 (US)

LOCAL LEGEND - Danny SHIRLEY - Time Off For Bad Behavior / Watching His Son Going Down / Love And Let Love / Whitwell Mine / Daddy's Honky Tonk / The Right String Baby, But The Wrong Yo-Yo (with William PERRYMAN)

/ Fractions / Jack Daniel's Daze / Closing Time / Fair To Partly Rowdy
1990

CD

AMOR

2912CD

(US)

I MAKE THE LIVING -

Danny SHIRLEY - Deep Down / I Make The Living / Going To California / Live To Ride / Time Off For Bad Behavior / Jack Daniels Daze / Watching His Son Going Down / Whitwell Mine
1990

CD

AMOR

2913CD

(US)

FAR FROM OVER -

Danny SHIRLEY - Sweet Lisa / Kankalee Line / I Don't Have The Heart / Redman / Pinball / Far From Over / Home To Mama / Southbound
04/1992
CD ATLANTIC

82335-2 (US)

CONFEDERATE RAILROAD - She Took It Like A Man / Long Gone / Jesus And Mama / Time Off For Bad Behavior / She Never Cried / Black Label, White Lies / When You Leave That Way You Can Never Go Back / Queen Of Memphis / You Don't Know What It's Like / Trashy Women
03/1994
CD ATLANTIC

82505-2 (US)

NOTORIOUS -

Daddy Never Was The Cadillac Kind / Summer In Dixie / I Am Just A Rebel / Elvis And Andy / Notorious / Redneck Romeo / Hunger Pains / Roll The Dice / Move Over Madonna / Three Verses
06/1995
CD ATLANTIC

82774-2 (US)

WHEN AND WHERE -

When And Where / Right Track Wrong Train / Toss A Little Bone / When He Was My Age / Bill's Laudromat, Bar And Grill / All I Want / See Ya / Sounds Of Home / Oh No / My Baby's Lovin'
06/1996
CD ATLANTIC

82911-2 (US)

GREATEST HITS - Queen Of Memphis / Daddy Never Was The Cadillac Kind / The One You Love The Most / See Ya / When And Where / Elvis & Andy / Jesus & Mama / Finish What You Started / When You Leave That Way You Can Never Go Back / Trashy Women
10/1998
CD ATLANTIC

83024 (US)

KEEP ON ROCKIN' -

Keep On Rockin' / I Hate Rap / Sunday Morning And Saturday Night / I Don't Want To Hang Out With Me / Bible And A Bus Ticket Home / Good Ol' Boy (Gettin' Tough) / Cowboy Cadillac / Big One / Momma Ain't Home Tonight / Simple Man
08/2000
CD WARNER BROS. / WEA 83207 (US)

ROCKIN' COUNTRY PARTY PACK -

I'm Just A Rebel / She Took It Like A Man / When And Where / When You Leave That Way You Can Never Go Back / Bill's Laundromat, Bar And Grill / Big One / Queen Of Memphis [club mix] / Toss A Little Bone [party mix] / I Hate Rap / Jesus And Mama / Elvis And Andy / Daddy Never Was The Cadillac Kind / Tonight Is Mine / She Never Cried / Trashy Women [club mix]
08/2001
CD AUDIUM 8137 (US)
UNLEASHED - Still One Outlaw Left / What Brothers Do / She Treats Her Body Like A Temple / I'm Diggin' It / White Trash With Money / Wasted Time / The "R" Word / Borrowed Time / Between The Rainbows And The Rain / Thick As Thieves
06/2002
CD RHINO 76062 (US)
THE ESSENTIALS - Queen Of Memphis / Jesus And Mama / Daddy Never Was The Cadillac Kind / Trashy Women / When You Leave That Way You Can Never Go Back / Elvis And Andy / When And Where / Bill's Laundromat, Bar And Grill / Summer In Dixie / See Ya / She Took It Like A Man / More Over Madonna
10/2003
CD RHINO 78401 (US)
COUNTRY CLASSICS - Queen Of Memphis / Daddy Never Was The Cadillac Kind / Elvis And Andy / Summer In Dixie / See Ya / She Never Cried / When And Where / Trashy Women / Move Over Madonna / Roll The Dice
2005
2 CD DANNY SHIRLEY 116005.07 (US)

DANNY SHIRLEY -

The Pyramid Collection / Time Off For Bad Behavior / Watching His Son Going Down / Love And Let Love / Whitwell Mine / Daddy's Honky Tonk / Yo-Yo (with William PERRYMAN) / Fractions / Jack Daniels Daze / Closing Time / Fair To Partly Rowdy / Crossroads / Local Legend / Deep Down / I Make The Living / Going To California / Live To Ride / Sweet Lisa / Kankalee Line / I Don't Have The Heart / Redman / Pinball / Far From Over / Home To Mama / Southbound
04/2007
CD SHANACHIE 6203 (US)
CHEAP THRILLS - 11 Months & 29 Days / Hard Livin' / Don't Rock The Jukebox / Whiskey On Ice / Cheap Thrills / Georgia On A Fast Train / Honky Tonk Heroes / Trudy / Please Come To Boston / New Way To Light Up An Old Flame / I Know A Little
05/2008
CD RHINO 451580 (US)
THE VERY BEST OF CONFEDERATE RAILROAD - Queen Of Memphis / Notorious / Daddy Never Was The Cadillac Kind / Elvis And Andy / Trashy Women / Jesus And Mama / She Never Cried / What Brothers Do / She Treats Her Body Like A Temple / Summer In Dixie / Bill's Laundromat, Bar And Grill / When And Where / See Ya / I Hate Rap / The Big One / She Took It Like A Man / When You Leave That Way You Can Never Go Back / White Trash With Money
06/2010
CD DANNY SHIRLEY / E1 MUSIC CD 2309 (US)

LIVE -

BACK TO THE BARROOM - Queen Of Memphis / Elvis And Andy / When You Leave That Way / When And Where / She Took It Like A Man / Jesus And Mama / Bill's Laundromat, Bar & Grill / Daddy Never Was The Cadillac Kind / White Trash With Money / That's What Brothers Do / B B Gun / Trashy Women
07/2016
CD BFD / Red River BFD 065 (US)

Lucky To Be Alive - Lucky To Be Alive / Played The Game / If I Ever Cross That Line / The Man I Am Today / Trashy Women (20th Anniversary) / Somebody Like You / Goodbye Song / Whiskey And Women / Fast Cars, Guitars And Fine Tuned Women / I'm Not Fallin' For That / Psycho Bitch From Hell / Don't Feel As Young As I Used To
© Rocky Productions 31/07/2018