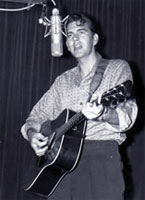 Chanteur Rock 'n' Roll US né le 24 octobre 1935 à Tulsa (Oklahoma). Sanford Clark fut remarqué par Lee Hazlewood en 1955. Il fait un premier enregistrement en 1956 chez MCI Records, puis il passe chez Dot ( 56-58) où Sanford enregistrera en tout sept singles. En 1958, il passe chez Jamie (58-60), Trey (61), Project puis à partir du milieu des années soixante, chez Project, Warner Bros, Trev, Project et Ramco Records.

Sanford Clark found fleeting fame with his rendition of the Lee Hazlewood song "The Fool." With a Vocals style that blended elements of Johnny Cash with Ricky Nelson, Clark released the song in 1956, and it eventually peaked in the Top Ten of the pop charts and in the Top 15 of the country charts -- his first and only hit.
Clark was born in Tulsa, Oklahoma, and raised in Phoenix, Arizona. A guitar player from childhood, he was influenced by both early rock & roll music and by country music. He got his start in the early '50s playing in Phoenix clubs. While stationed in the South Pacific during his stint in the Air Force, he formed a band and won a talent contest in Hawaii. Eventually, the Air Force stationed him back in Phoenix, where he met his old friend Al Casey, who introduced Clark to Hazlewood, who was still working as a local deejay and hadn't yet made his mark as a songwriter. Soon afterward, Clark recorded "The Fool" with Casey on guitar. The song was released on MCI and went nowhere until a Philadelphia deejay heard it and took the song to Dot Records' Randy Wood, who liked it and had Hazlewood license the song to his label. Afterward, Clark and Casey began a promotional tour opening for such stars as Ray Price and Roy Orbison. In 1957, Clark returned to the studio to record another Hazlewood song, "The Cheat." It only became a minor hit. At this time, Clark was having trouble with Wood who wanted him to become a virtual clone of Dot's most popular artist, Pat Boone. The label sent Clark to Hollywood to continue recording, but many of the songs were not released until much later. Those that were released did little or nothing on the charts.
In 1958, Clark signed to Jamie Records. Casey and Hazlewood joined him and began working with Duane Eddy. They also worked with Clark, who recorded "Still as the Night," featuring Eddy on guitar. Nothing happened on the charts and he began recording on other independent labels. He eventually landed in Hollywood where he hooked up with songwriter/aspiring performer Roger Miller, who was playing the Palomino Club. Miller wanted him to record a few of his songs, but Clark wasn't interested. Sanford almost had a hit in 1964 when he recorded Hazlewood's "Houston" for Warner. Unfortunately, Dean Martin also recorded it on Reprise and his version became the hit. The following year, Clark returned to Ramsey's label and created a new version of "The Fool" featuring Waylon Jennings on guitar. By this time Hazlewood had become a prominent producer and signed Clark to his LHI label. He made an album there, Return of the Fool, but it went nowhere and by the early '70s Clark had finally had enough and joined the construction industry, where he found success at last. He continues to record sometimes on his Desert Sun label.
http://www.rockabillyhall.com/sanfordclark.html
Talents : Singer, Songwriter, Guitar
Style musical : Rockabilly, Rock 'n' Roll, Traditional Country
Years in activity :
| | | | | | | | | | |
| --- | --- | --- | --- | --- | --- | --- | --- | --- | --- |
| 1910 | 20 | 30 | 40 | 50 | 60 | 70 | 80 | 90 | 2000 |
DISCOGRAPHY
Singles & EP
05/1956
SP MCI 1003 (US)
.
The Fool / Lonesome For A Letter
06/1956
SP DOT 45-15481 (US)
.
Sanford CLARK / Al CASEY, Guitar - The Fool / Lonesome For A Letter
11/1956
SP DOT 45-15516 (US)
.
Sanford CLARK / Al CASEY, Guitar - Usta Be My Baby / A Cheat
01/1957
SP DOT 45-15534 (US)
.
Sanford CLARK / Al CASEY, Guitar - Ooo Baby / 9 Lb. Hammer
03/1957
SP DOT 45-15556 (US)
.
Sanford CLARK / Al CASEY, Guitar - The Glory Of Love / Darling Dear
05/1957
SP DOT 45-15585 (US)
.
Sanford CLARK / Al CASEY, Guitar - Love Charms / Lou Be Doo
10/1957
SP DOT 45-15646 (US)
.
Sanford CLARK / Al CASEY, Guitar - The Man Who Made An Angel Cry / Swanee River Rock
04/1958
SP DOT 45-15738 (US)
.
Modern Romance / Travelin' Man
07/1958
SP JAMIE 1107 (US)
.
Still As The Night (Sanford CLARK / Al CASEY, Guitar) / Sing 'em Some Blues (Sanford CLARK / Duane EDDY, Guitar)
03/1959
SP JAMIE 1120 (US)
.
Bad Luck / My Jealousy
08/1959
SP JAMIE 1129(US)
.
New Kind Of Fool / Run Boy Run
11/1959
SPJAMIE 1139 (US)
.
I Can't Help It / Son Of A Gun
03/1960
SP JAMIE 1153 (US)
.
Go On Home / Pledging My Love (Sanford CLARK / Don COLE, Guitar)
1960
EP LONDON REW 10052 (F)
Run, Boy, Run / Pledging My Love / New Kind Of Fool / Go On Home
05/1961
SP 3 TREY 3016 (US)
.
Sanford CLARK / arranged & conducted by Lee HAZLEWOOD - It Hurts Me, Too / Guess It's Love
07/1961
EP LONDON REW 1256

LOWDOWN BLUES - Still As The Night / Sing 'em Some Blues / Bad Luck / My Jealousy

1961
SP PROJECT 5004 (US)
.
Tennessee Walk / Give The Boy Love
09/1964
SP WARNER BROS. 5473 (US)
.
She Taught Me / Just Bluesin'
1965
SP WARNER BROS. 5624 (US)
.
Houston / Hard Feelings
1966
SP RAMCO 1972 (US)
.

The Fool '66 / Step Aside

1966
SP RAMCO 1976 (US)
.

Shades / Once Upon A Time

1967
SP RAMCO 1979 (US)
.

They Call Me Country / Climbin' The Walls

1967
SP RAMCO 1987 (US)
.

It's Nothing To Me / Calling All Hearts

1967
SP RAMCO 1992 (US)
.

The Big Lie / Where's The Floor

1967
SP LHI 9 (US)
.

Footprints In Her Yard / Drowning In The Sea Of Tears

1968
SP LHI 45-1203 (US)
.

Son Of Hickory Holler's Tramp / Black Widow Spider

1968
SP LHI 45-1213 (US)
.

Love Me Till Then / Farmer Labor Camp No. 2

1982
SP DESERT SUN ? (US)
.
Kansas / Mother Texas
04/2014
SP Audio Recorders Archive

Vol

. 1 ZIA 1 (US)
My Baby Walks All Over Me (Waylon JENNINGS) / It's Nothing To Me (Sanford

Clark

)
Unissued Tracks
| | | |
| --- | --- | --- |
| 1956 | DOT unissued - (Bear Family LP 15198/99 (#13) / Bear Family CD 15549 (#6) / El Toro CD 1036 (#56)) | Ain't Nobody Here But Us Chickens |
| 1956 | DOT unissued - (Bear Family LP 15198/99 (#14) / Bear Family CD 15549 (#3) / El Toro CD 1036 (#51)) | Don't Care |
| 1956 | DOT unissued - (Bear Family LP 15198/99 (#36) / Bear Family CD 15549 (#7)) | Don't Cry |
| 1956 | DOT unissued - (Bear Family LP 15198/99 (#37) / Bear Family CD 15549 (#5)) | Why Did I Choose You |
| 1956 ? | DOT unissued - (Bear Family LP 15198/99 (#12) / Bear Family CD 15549 (#11) / El Toro CD 1036 (#41)) | Every Minute Of The Day |
| 1957 | DOT unissued - (Bear Family LP 15198/99 (#5) / Bear Family CD 15549 (#14) / El Toro CD 1036 (#30)) | A Cross Eyed Alley Cat |
| 1957 | DOT unissued - (Bear Family LP 15198/99 (#33) / Bear Family CD 15549 (#12)) | Promise Me Baby |
| 1957 | DOT unissued - (Bear Family LP 15198/99 (#6) / Bear Family CD 15549 (#16)) | Till My Baby Comes Back |
| 1958 | DOT unissued - (Bear Family LP 15198/99 (#2) / Bear Family CD 15549 (#22)) | That's The Way I Feel (Ooh Wee) |
Need Info
| | | |
| --- | --- | --- |
| 19?? | Need info | The Girl On Death Row |
Albums
1968
LP 12" LHI S 12003 (US)
THE RETURN OF THE FOOL -

Footprints In Her Yard / The Black Widow Spider / Bethany Ann / Love Me Till Then / The Son Of Hickory Holler's Tramp / Farm Labor Camp # 2 / A Woman's Disgrace / Drowning In A Sea Of Tears / Six Days Till Sunday / Georgia Dreaming

1968
LP 12" EMBER 131 (UK)
THEY CALL ME COUNTRY - The Fool / Shades / They Call Me Country / Climbin' The Walls / Step Aside / Once Upon A Time / It's Nothing To Me / Look Out Floor / The Big Lie / Callin' All Hearts / Big Big Day Tomorrow / Black Jack County Chain
1975
LP 12" DO-JA 18 11 43 (US)
MODERN ROMANCE -

The Fool

/

Lonesome For A Letter

/

A Cheat

/

Usta Be My Baby

/

9 Lb. Hammer

/

Ooo Baby

/

Lou Be Doo

/

Love Charms

/

The Man Who Made An Angel Cry

/

Travelin' Man

/

Modern Romance

/

Still As The Night

/

Sing 'Em Some Blues

/

Bad Luck

/

My Jealousy

/

Son-Of-A-Gun

/

I Can't Help It

/

Run, Boy Run

/

New Kind Of Fool

/

Go On Home

1983
LP 12" ACE CH 83 (UK)
THE FOOL - The Fool / Lonesome For A Letter / Usta Be My Baby / A Cheat / Nine Pound Hammer / Ooo Baby / Darling Dear / The Glory Of Love / Lou Be Doo / Love Charms / The Man Who Made An Angel Cry / Modern Romance / Travelin' Man
1987
LP 12" BEAR FAMILY BFX 15198 (GER)
ROCKIN' ROLLIN', VOL. 1 - Modern Romance / That's The Way I Feel / The Man Who Made An Angel Cry / Ooo Baby / A Cross Eyed Alley Cat / Till My Baby Comes Back / Lou Be Doo / Travelin' Man / Lonesome For A Letter / The Fool / Love Charms / Every Minute Of The Day / Ain't Nobody Here But Us Chicken / Don't Care / A Cheat / Usta Be My Baby / Nine Pound Hammer / Swanee River Rock
1987
LP 12" BEAR FAMILY BFX 15199 (GER)
ROCKIN' ROLLIN', VOL. 2 - Run Boy Run / I Can't Help It / Son Of A Gun / New Kind Of Fool / Sing 'Em Some Blues / Bad Luck / Go On Home / Pledging My Love / Still As The Night / My Jealousy / Promise Me Baby / Glory Of Love / Darling Dear / Don't Cry / Why Did I Choose You / Al Casey: Come What May / Fool's Blues / Juice / Guitar Man
1992
CD BEAR FAMILY BCD 15549 (GER)
THE FOOL - The Fool / Lonesome For A Letter / Don't Care / Usta Be My Baby / Nine Pound Hammer / Darling Dear / Ooo Baby / Ain't Nobody Here But Us Chicken / A Cheat (master) / Every Minute Of The Day / Promise Me Baby / A Cross Eyed Alley Cat / The Glory Of Love / Lou Be Doo / Love Charms / Don't Cry / Modern Romance / That's The Way I Feel / The Man Who Made An Angel Cry / Till My Baby Comes Home / Why Did I Choose You / Swanee River Rock / Travelin' Man / A Cheat (with snare overdub) / Son Of A Gun / I Can't Help It / Bad Luck / Run Boy Run / My Jealousy / New Kind Of Fool / Go On Home / Pledging My Love
07/1993
CD BEAR FAMILY BCD 15731 (GER)
SHADES - Oh Julie / Kung Fu U / Mother Texas / A Taste Of You / Movin' On / Movin' On / Wind Will Blow / Feathers / Now I Know I'm Not In Kansas / Nine Pound Hammer
© Rocky Productions 26/10/2010