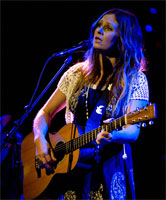 Chanteuse Country / Folk Australienne née le 4 Juin 1976 à Mount Gambier (South Australia).

A genre-defying singer and songwriter whose music encompasses the quietude of folk, the honesty of country, the edgy emotions of the blues, and the fearless spirit of rock & roll, Kasey Chambers has become one of the most popular and acclaimed artists of her generation in her native Australia while winning a devoted cult following in the rest of the world. Blessed with a voice that suggests an Antipodean cross between Emmylou Harris and Lucinda Williams (both of whom are fans), Chambers was born living off the land with her family on Southern Australia's Nullabor Plain, while making occasional stops at the fishing village of Southend. Chambers learned about country and folk music from her parents, who usually played and sang songs in the evening. When Kasey was ten years old, she joined the family band led by her father Bill Chambers, the Dead Ringer Band, which also featured her mother Diane and brother Nash. In the '90s, the Dead Ringer Band became one of Australia's leading country acts, but Kasey had an individual spirit and ideas of her own. When her parents' divorce split up the Dead Ringer Band, Kaseypoured her feelings into a set of songs that would become her solo debut, 1999's The Captain. Produced by Nash Chambers, the album was a critical and commercial success, winning the Australian Record Industry Association's Best Country Album prize in 2000. Her second LP, 2001's Barricades & Brickwalls, was another ARIA winner, taking prizes for Album of the Year, Best Country Album, and Best Female Artist. It also featured the song "Not Pretty Enough," which was a major hit in Australia and the U.K. and gained airplay in the United States. She explored more ambitious and rock-oriented sounds on 2006' Carnival before stripping her music down to its roots for 2008's Rattlin' Bones, a collaboration with her then-husband Shane Nicholson. (They would work together again on 2012's Wreck & Ruin.) Chambers explored spiritual themes on 2015's Bittersweet, duetted with Keith Urban on the ambitious 2017 double set Dragonfly, and followed it with her most austere acoustic album to date, 2018's Campfire.
Born on June 4, 1976 in Mount Gambier in South Australia, Kasey Chambers was the daughter of two musicians, Bill and Diane Chambers, who put their careers on hold that year to move to the Nullarbor Plain, a sparsely vegetated and generally flat plateau measuring 100,000 square miles. Supporting themselves by hunting fox, the family would spend seven or eight months of the year on the Nullarbor, resupplying themselves from the world's longest stretch of straight railroad track, 330 miles running through the Nullarbor. The family spent the rest of the year at Southend, a small South Australian fishing village. Each night out on the Nullarbor, after a day's hunting, the family would camp in a different spot, and Bill and Diane would sing, passing their love of country music to their children by the glow of the campfire, under the stars.
In 1986, the family returned to "civilization" so that Bill and Diane could return to their music careers. First, Kasey joined them as lead singer, then brother Nash, and they became known as the Dead Ringer Band. By 1992, they had become full-time musicians, playing to city audiences as well as heading back out into the countryside, and during the '90s, the Dead Ringer Band released seven CDs and collectively earned two ARIAs and seven Gold Guitars at the annual Australian Country Music Awards in Tamworth. Kasey was the face of a new generation in Australian country, sporting a nose ring, and posing nude for a country music magazine (walking down the streets of a deserted country town with brother Nash).
In 1998, Chambers' world was turned upside down with the separation of her parents, with her mother choosing to go and live on distant Norfolk Island, two-and-a-half hours by plane off the Australian coast. Chamber started putting her feelings into songs, and over a few weeks during July and August 1998, she recorded her first solo album, The Captain, on Norfolk Island. With brother Nash acting as producer, Kasey and her musicians set up in an old homestead on the island, cutting most of the material live. Father Bill was on hand to play guitar, and American country legends Buddy & Julie Miller added their voices and guitar to four tracks afterward in Nashville.
Released in May 1999, The Captain initially won Kasey the 1999 ARIA award for Best Country Album and, at the 2000 awards, earned her Best Female Artist. With double-platinum sales at home in Australia, Kasey spent the latter part of 2000 following up enthusiastic reviews for her album internationally. She also spent time touring the U.S. with Lucinda Williams and playing gigs in her native land with Emmylou Harris. She was in the studio as well; with her brother Nash at the production board once again, Chambers delivered another sonic beauty with 2002's Barricades & Brickwalls. The album was a multi-platinum success in Australia and significantly raised her profile in the United States, earning her enthusiastic reviews and much better sales than The Captain.
She released her third solo disc, Wayward Angel, in the fall of 2004. The 14-song set gave her her first number one album in Australia. Two years later, Chambers' song "The Hard Way" was featured in an episode of the ABC adventure drama Lost. Also around this time, Chambers married longtime boyfriend and musical partner Shane Nicholson. Carnival, released in September 2006, was a more rock-oriented set that included collaborations with Tim Rogers of You Am I and Powderfinger's Bernard Fanning. In 2008, Chambersreleased the sparse and heavily acoustic Rattlin' Bones, a collaboration with Nicholson. In 2009, she published her first book, a story for children called Little Kasey Chambers & the Lost Music. The same year, she released an album of music for youngsters with her father, titled Kasey Chambers, Poppa Bill, and the Little Hillbillies. Her sixth full-length album, Little Bird, followed in 2010.
In 2012, Chambers released Wreck & Ruin, her second album with Nicholson, as well as Storybook, a collection of covers in which she interpreted the songs of Steve Earle, John Prine, Gram Parsons, Lucinda Williams, and James McMurtry, among others. In 2013, Chambers and Shane Nicholsondivorced, and the following year she issued Bittersweet, her first solo effort in five years. It was also Chambers' first album not produced with the participation of her brother, with Kasey telling the press, "I wanted to have an experience making a record that I had never had before." In July 2015, Bittersweet received a belated U.S. release through Rounder Records, and in support, Chambers embarked on a rare American tour.
In early 2017, Chambers released her 11th studio album, Dragonfly. An ambitious double set, Dragonfly included material from sessions produced by iconic Australian singer/songwriter Paul Kelly, while other tracks were produced by Nash Chambers, accompanied by Kasey's road band. Other guests on the album included Keith Urban, Foy Vance, and Harry Hookey (the latter was romantically linked with Chambers at the time). For 2018's Campfire, Chambers recorded a set of acoustic numbers that ranked with her most spare performances to date; Emmylou Harris and Bill Chambers both guested on the sessions.
https://en.wikipedia.org/wiki/Kasey_Chambers
Talents : Vocals, Guitar, Songwriter
Style musical : Country Folk / Country Rock
Years in activity :
| | | | | | | | | | | | |
| --- | --- | --- | --- | --- | --- | --- | --- | --- | --- | --- | --- |
| 1910 | 20 | 30 | 40 | 50 | 60 | 70 | 80 | 90 | 2000 | 10 | 20 |
DISCOGRAPHY
Singles & EP
02/2000
CD EMI ? (AUS)
The Captain
07/2000
CD VIRGIN ? (AUS)
Cry Like A Baby
11/2001
CD EMI 879861 (AUS)
Runaway Train
11/2001
CD EMI 550002 (AUS)
On A Bad Day
01/2002
CD EMI 550410 (AUS)
Not Pretty Enough / These Days / Tear Stained Eyes / Too Long In The Wasteland
2002
CD WARNER BROS. PRO-CD-100750 (US) (promo)

Sampler - Not Pretty Enough (album version) / A Million Tears (album version)

03/2003
CD EMI 551521 (AUS)
If I Were You / Nullabor Song (Live) / Changed The Locks (Live) / Million Tears (Live)
04/2003
CD EMI / CAPITOL 552134 (AUS)
True Color
09/2004
CD EMI 861513 (AUS)
Hollywood / Top Of The World (Live) / Like A River (Live)
2004
CD WARNER BROS. / Essence PRO-CD-101423 (US) (promo)

Kasey Chambers / The Ditty Bops - Kasey CHAMBERS : Pony (album version) / Wayward Angel (album version) / DITTY BOPS : Wishful Thinking (album version) / Wake Up (album version)

03/2005
CD EMI 816859 (AUS)
Pony / Driving With The Brakes On / Hollywood (Live)
08/2005
CD EMI 330548 (AUS)
Saturated / Bluebird / Pony (Live At "The Max Sessions")
06/2006
CD EMI / CAPITOL 3644172 (AUS)
Nothing At All / Round Here / Circle
2009
CD Essence ? (AUS) (promo

)

Kasey Chambers, Poppa Bill & The Little Hillbillies - Christmas Time

08/2010
CD Liberation Music LMSP0112 (AUS)

Little Bird / Little Bird (acoustic)

2011
CD Sugar Hill SUG-7112 (US) (promo)
Little Bird
08/2016
2 CD Warner Music / Essence 5419731382 (AUS)

Ain't No Little Girl :

CD 1 : Ain't No Little Girl / Talkin' Baby Blues
CD 2 : If We Had A Child (featuring Keith

Urban

) / Only Child
Albums
1999
CD Asylum PRO-CD-100573 (US) (promo)

On The Road With Kasey Chambers - The Captain / Better Be Home Soon / Water In The Fuel / If I Could / Cow Cow Boogie / Tear Stained Eye / Changed The Locks / The Captain

06/2000
CD EMI 529281 (AUS)
THE CAPTAIN - Cry Like A Baby / The Captain / This Flower / You Got The Car / These Pines / Don't Talk Back / Southern Kind Of Life / Mr. Baylis / The Hard Way / Last Hard Bible / Don't Go / We're All Gonna Die Someday
02/2002
CD EMI 5353322 (AUS)

| | |
| --- | --- |
| | BARRICADES & BRICKWALLS - Barricades & Brickwalls / Not Pretty Enough / On A Bad Day / Runaway Train / A Little Bit Lonesome / Nullarbor Song / Million Tears / Still Feeling Blue / This Mountain / Crossfire / Falling Into You / If I Were You / I Still Pray |

09/2004
CD EMI 571398 (AUS)
WAYWARD ANGEL - Pony / Hollywood / Stronger / Bluebird / More Than Ordinary / Wayward Angel / Paper Aeroplane / Like A River / For Sale / Follow You Home / Mother / Guilty As Sin / Lost And Found / Saturated
2004
CD + DVD EMI / Essence CDRP718 (AUS)

Wayward Angel Introduction Pack :

CD : Hollywood (from Wayward Angel) / Like A River (from Wayward Angel) / Stronger (from Wayward Angel) / Pony (from Wayward Angel) / Not Pretty Enough (from Barricades & Brickwalls) / The Captain (from The Captain)
DVD : Hollywood (from Wayward Angel) / Like A River (from Wayward Angel) / Pony (from Music Max Sessions) / The Captain (from Behind The Barricades DVD) / Qantas EPK Special

08/2006
CD EMI 369506 (AUS)
CARNIVAL - Colour Of A Carnival / Sing On The Door / The Rain / Light Up A Candle / Hard Road / Nothing At All / Living On The Railroad / I Got You Now / Surrender / Dangerous / You Make Me Sing / Don't Look So Sad
04/2008
CD LIBERATION 0005 (AUS)
RATTLIN' BONES - KASEY CHAMBERS / SHANE NICHOLSON - Rattlin' Bones / Once In A While / Sweetest Waste Of Time / Monkey On A Wire / One More Year / The House That Never Was / Wildflower / No One Hurts Up Here / The Devil's Inside My Head / Sleeping Cold / Adeline / Jackson Hole / Your Day Will Come / Woe Is Mine
11/2009
CD LIBERATION / Essence LMCD0081 (AUS)
Kasey

Chambers

, Poppa

Bill

& The

Little Hillbillies

- The Lost Music Blues / The Ballad Of Poppa Bill / I Spy / Poppa Bill Says / Dad, Do You Remember? / Before You Came Along / Two Houses / Old Man Down On The Farm / My Oh My / When We Were Kids / Sometimes / Something In The Water / Imagination / Blue / Christmas Time / The Best Years
09/2010
CD LIBERATION 0400883 (AUS)
LITTLE BIRD - Someone Like Me / Beautiful Mess / Devil On Your Back / Little Bird / Georgia Brown / Somewhere / This Story / Love Like A Hurricane / Down Here On Earth / Nullarbor, The Biggest Backyard / Bring Back My Heart / Invisible Girl / Train Wreck / The Stupid Things I Do
2011
4 CD EMI 0918682 (AUS)

4 albums :

CD 1 :

The Captain :

Cry Like A Baby / The Captain / This Flower / You Got The Car / These Pines / Don't Talk Back / Southern Kind Of Life / Mr. Baylis / The Hard Way / Last Hard Bible / Don't Go / We're All Gonna Die / Someday
CD 2 :

Barricades & Brickwalls :

Barricades & Brickwalls / Not Pretty Enough / On A Bad Day / Runaway Train / A Little Bit Lonesome / Nullarbor Song / A Million Tears / Still Feeling Blue / This Mountain / Crossfire / Falling Into You / If I Were You / I Still Pray / Ignorance
CD 3 :

Wayward Angel :

Pony / Hollywood / Stronger / Bluebird / More Than Ordinary / Wayward Angel / Paper Aeroplane / Like A River / For Sale / Follow You Home / Mother / Guilty As Sin / Lost And Found / Saturated
CD 4 :

Carnival :

Colour Of A Carnival / Sign On The Door / The Rain / Light Up A Candle / Hard Road / Nothing At All / Railroad / I Got You Now / Dangerous / Surrender / You Make Me Sing / Don't Look So Sad

03/2012
CD LIBERATION LMCD0167 (AUS)
STORYBOOK - Happy Woman Blues / Return Of The Grievous Angel / If I Needed You / Luka / Nothing But A Child / Leave The Lights On / I'm So Lonseome I Could Cry / Guilty / Orphan Girl / True Colours / Water In The Fuel / I Wish It Would Rain / Everything's Turning To White / Too Long In The Wasteland / Top Of The World
09/2012
CD LIBERATION LMCD0178 (AUS)
WRECK & RUIN - KASEY CHAMBERS & SHANE NICHOLSON :

CD 1 : 'Til Death Do Us Part / Wreck And Ruin / Adam And Eve / The Quiet Life / Dustbowl / Familiar Strangers / Your Sweet Love / Rusted Shoes / Flat Nail Joe / Have Mercy On Me / Up Or Down / Sick As A Dog / Troubled Mind
CD 2 : Misdiagnosed / Misdiagnosed / Good Enough / Where No One Knows My Name / Lead Balloon / She Waits 'Till I'm Asleep

09/2014
CD Essence 2779149 (AUS)

Bittersweet -

Oh Grace / Is God Real? / Wheelbarrow / I Would Do / Hell Of A Way To Go / House On A Hill / Stalker / Heaven Or Hell / Bittersweet / Too Late To Save Me / Christmas Day / I'm Alive
06/2017
2 CD MGM 1 (AUS)

Dragonfly :

CD 1 : Pompeii / Ain't No Little Girl / Summer Pillow / Golden Rails / Jonestown / Romeo & Juliet / Talkin' Baby Blues / You Ain't Worth Suffering For / Behind The Eyes Of Henri Young / Hey / This Is Gonna Be A Long Year
CD 2 : Shackle & Chain / Dragonfly / If I Died / Satellite / No Ordinary Man / If We Had A Child / Annabelle / The Devil's Wheel / Ain't No Little Girl [FM lounge version]

05/2018
CD Essence 2 (AUS)

Campfire - Kasey Chambers & the Fireside Disciples - The Campfire Song / Go On Your Way / Orphan Heart / Goliath Is Dead / Abraham / Early Grave / The Harvest & The Seed / Big Fish / Junkyard Man / Now That You've Gone / This Little Chicken / Fox & The Bird / Happy
© Rocky Productions 15/05/2023