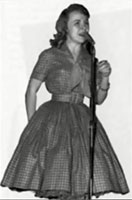 Chanteuse Country US née Nancy Louise Castleberry, le 2 Avril 1941 à Greenville, Texas. Nan Castle a enregistré chez RCA Records. Elle fut une chanteuse régulière sur les radios KSST (Sulphur Springs, Texas) et au Red River Jamboree (KFTV, Paris, Texas) en 1957.

Nancy Louise Castleberry was her real name when she was born to Paul and Georgia Mae Castleberry in Greenville, Texas in 1941. Her father was a musician, playing guitar, mandolin, banjo and even bass fiddle with various bands in northeast Texas. Early on, she began to sing to her dad's accompaniment.
A feature story in "The Paris News" in October 1956 told us that she began singing when she was just four years old. She won many a title in talent contests throughout the Texas, Oklahoma and Louisiana areas.
She began to appear wherever they asked her to in Texas, Oklahoma, Tennessee and Louisiana. She even appeared in Mexico once. She also won numerous talent shows that got her spots on larger shows, too. She appeared regularly on KFTV and KPLT in Paris, Texas. She had her own radio show on KSST in Sulphur Springs, Texas that had been on at least three years in 1957, called simply, the "Nan Castle Show" (the newspaper article said it was the "Nancy Castleberry Show").
She got noticed when she was appearing over KRLD-TV in Dallas with the Belew Twins, Bobby and Benny by John Harper and Ed Watt, who then signed her to appear regularly on the Big D Jamboree. She appeared in front of nationwide audiences on the CBS show, "Saturday Night Country Style".
Nan also appeared a couple of times on the "Video Varieties" show over KCMC-TV out of Texarkana, Texas with Haskell Jones.
Then, Nancy made her first trip to Nashville with her dad. They did this without any contacts in Nashville and against the wishes of others back in their home town. But Paul felt his daughter had talent. They somehow managed to meet Jim Denny who was manager of the WSM Artist Bureau at the time. He agreed to listen to her sing a few tunes. Mr. Denny must have liked her "big, unusual voice and impressive style of delivery" - he called Chet Atkins to come in and listen to her. Chet then told them, "We'd like to record your daughter, Mr. Castleberry".
She got a contract with RCA Victor records as well as an appearance on both the WSM Grand Ole Opry and Ernest Tubb's Midnight Jamboree. But they also decided to shorten her name then, so they named her Nan Castle, the name that appeared on her first release, Run Along, Junior" and "Take My Love". Her second session included "Starlight" and "Angel With Horns", "I'm So Ashamed" and "Flame In My Heart". On that last session, the Escorts, a Vocals group backed her up.
In 1957, as a young sixteen year old star, Nan was noted as the headliner on The Red River Jamboree as well as the two-hour remote "prevue" show out of Paris, Texas on KFTV radio. She had appeared on the Arthur Godfrey Talent Scout TV Show on June 24th of that year. She had a record back then that was being played, "Starlight, Starbright" and also "I'm Not Ashamed". The Red River Jamboree shows were being produced by Roy Glenn and Pee Wee Reid.
But although much of this was happening to Nan as a teenager, she still attended Cooper High School and was a part of the high school band. She was all of five-feet tall at the time. And when she had a spare moment or two, she would sometimes draw and design her costumes.
When you look at the photos of Nan performing, you can see that she had a stage presence of a veteran even though she was only a teenager at the time.
http://www.hillbilly-music.com/artists/story/index.php?id=12573
Talents : Vocals
Style musical : Traditional Country

https://youtu.be/vjuw3EUmE9c
Years in activity :
| | | | | | | | | | | | |
| --- | --- | --- | --- | --- | --- | --- | --- | --- | --- | --- | --- |
| 1910 | 20 | 30 | 40 | 50 | 60 | 70 | 80 | 90 | 2000 | 10 | 20 |
DISCOGRAPHY
Singles & EP
03/1957
SP RCA VICTOR 47-6845 (US)
Run Along, Junior / Take My Love
03/1957
EP RCA VICTOR DJ-87 (US) (promo)
Nan

Castle

: Run Along, Junior / Take My Love /

Carol Sisters :

Must I / I Couldn't Care More
06/1957
SP RCA VICTOR 47-6933 (US)
Star Light, Star Bright / I'm Not Ashamed
09/1957
SP RCA VICTOR 47-7042 (US)
A Steady Baby / Angel With Horns
© Rocky Productions 21/03/2023