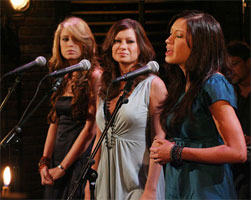 Trio Country US composť de Becky, Emma et Joanna Robertson.

Combining sisterly harmonies, photogenic looks, and a music-filled family background, the country trio Carter's Chord is comprised of singer/songwriters Becky, Emma, and Joanna Robertson. The siblings were born in Southern California, where parents Barny and Carter Robertson (both of whom had previously toured with Waylon Jennings as members of the Waylors) filled their household with country and Christian music. Inspired by such surroundings, the three sisters began staging shows at home, charging a quarter for admission and providing food during intermission. They also made their major-label debut when Jennings enlisted the girls to sing on Cowboys, Sisters, Rascals & Dirt, a country album aimed at children and produced by the girls' father.
The Robertsons soon relocated to Nashville, where their house saw its share of legendary visitors, from the Jennings family (including wife Jessi Colter and son Shooter Jennings) to members of the Crickets. Drawing on such surroundings for inspiration, the sisters began honing their three-part harmonies and songwriting skills, which eventually caught the ear of country star Toby Keith. Following a well-played showcase at a Nashville club on Valentine's Day 2006, Keith signed the sisters, who christened their group "Carter's Chord" in reference to a musical triad. Now signed to the Show Dog Nashville label, Carter's Chord entered the studio to record their self-titled debut with both Keith and Barny Robertson sharing production duties. "Young Love," the album's first single, was released to country radio stations in October 2007, and the full-length record followed in 2008. The six-song EP Wild Together was released in 2011.
https://en.wikipedia.org/wiki/Carter%27s_Chord
https://www.facebook.com/CartersChordMusic/
Style musical : Contemporary Country

http://youtu.be/hBeSMTNZw7Y
Years in activity :
| | | | | | | | | | | | |
| --- | --- | --- | --- | --- | --- | --- | --- | --- | --- | --- | --- |
| 1910 | 20 | 30 | 40 | 50 | 60 | 70 | 80 | 90 | 2000 | 10 | 20 |
DISCOGRAPHY
Singles & EP
2007
CD BONNIER MUSIC ? (US)
Young Love

[radio edit] /

Young Love

[radio edit] /

Young Love

[album version]

2007
CD SHOW DOG CC-001 (US)
SAMPLER - Young Love / When We Get There / Different Breed / Boys Like You (Give Love A Bad Name)
2007
CD SHOW DOG CC-002 (US) (promo)
CHRISTMAS CARD - O Come, O Come Emmanuel / Santa Baby / Young Love
2008
CD SHOW DOG CC-010 (US) (promo)
Different Breed / Different Breed / Different Breed
2009
CD SHOW DOG CC-011 (US) (promo)

You Knock Me Out / O Come, O Come Emannuel / Santa Baby

05/2011
CD SHOW DOG / UNIVERSAL B0015486-02 (US)

Wild Together - Wild Together / I Can Break Hearts Too / A Little Less Comfortable / Simple Little Screwed Up Life / We Ain't Makin' Love / Love A Little Bigger
Albums
| | | | |
| --- | --- | --- | --- |
| 06/2008 | CD SHOW DOG SDN-019 (US) | | CARTER'S CHORD - Boys Like You (Give Love A Bad Name) / Young Love / Summer Early 60's / When We Get There / Dear Baltimore / Different Breed / Over You / Song Of Blue / Can't Seem To Let You Go / Goodbye Song |
| 12/2008 | CD SHOW DOG SDN-21 (US) | | TOBY KEITH'S Show Dog Nashville Presents - Carter's Chord / Mica Roberts / Trailer Choir - Trailer Choir : Rockin' The Beer Gut / Rollin' Through The Sunshine / In My Next 5 Beers / Carter's Chord : Different Breed / Goodbye Song / When We Get There / Mica ROBERTS : Things A Mama Don't Know / Love In Everything / Tearing Down A Home |
© Rocky Productions 27/01/2023