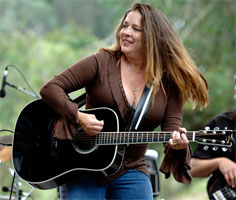 Chanteuse Country US née Rebecca Carlene Smith, le 26 Septembre 1955 à Nashville (Tennessee). Carlene Carter est la fille de June Carter et de Carl Smith et la demi soeur de Rosanne Cash.

Carlene Carter has always straddled the line between country and rock. Beginning her career as a rock singer in the mid-'70s, she became immersed in the new wave in the late '70s, before emerging as a new country singer in the late '80s, Throughout it all, her music has always infused roots music — whether country or rock & roll — with a nervy, edgy energy.
Carlene is the daughter of June Carter and Carl Smith, who divorced when their daughter was just two. June would frequently take her daughter on Carter Family tours, which meant that Carlene developed a musical interest at an early age. When she was 12, her mother married Johnny Cash. Following the marriage, Carlene and her stepsister, Rosanne Cash, became backup singers in the Carter/Cash touring show.
At the age of 15 she married Joe Simpkins and had a child; they were divorced within a few years. Carter enrolled in college as a piano major in her late teens, but she never graduated. At 19, she married Jack Routh and had another child; they were divorced within two years.
In 1978, she decided to pursue a musical career, heading to Los Angeles where she received a record contract with Warner Bros. Her debut album, Carlene Carter, was a rock & roll record recorded in London with Graham Parker's backing band, the Rumour. The following year, she released her second album, Two Sides to Every Woman, which featured support from the Doobie Brothers. That same year she married singer/songwriter/producer Nick Lowe, who was currently the co-leader of the new wave rock & roll revival band, Rockpile. Lowe helped Carter shape her musical direction in the early '80s, and her third album — the new wave-inflected country-rock record Musical Shapes (1980) — showed the influence of Lowe, Rockpile, and Dave Edmunds. Although the album was critically acclaimed, it was a commercial failure. She followed Musical Shapes in 1981 with Blue Nun, which continued to pursue a new wave-country direction; like its predecessor, it was ignored.
During the early '80s, Carter was shut off from the country community because she was living in England with Lowe. After Blue Nun, she stopped recording, choosing to perform solo shows instead; she also had a starring role in the theatrical production Pump Boys and Dinettes. Carter and Lowe's marriage collapsed in the mid-'80s and she returned to the States, where she became part of the touring Carter Family.
In 1989, she began working on a comeback record with Howie Epstein, the bassist for Tom Petty & the Heartbreakers. That same year, she performed a duo with Southern Pacific on the Top 40 hit "Time's Up." Reprise signed Carter in 1990 and she released her overdue fifth album, I Fell in Love, later that year. I Fell in Love still had rock influences, but it was a more straightforward country record than her previous albums, and country radio paid attention. The album became a hit and two singles, "I Fell in Love" and "Come on Back," climbed all the way to number three. Little Love Letters, her 1993 follow-up (which was released on Giant Records), was equally successful; its first single, "Every Little Thing," was another number three hit. Little Acts of Treason, her 1995 album, wasn't as big a hit as its two predecessors, but it still enjoyed moderate success on the country charts. A hits collection, Hindsight 20/20, appeared in the fall of 1996. A variety of personal and professional problems hit Carter at this point, and aside from a concert album, Live in London at the Marque Club, in 2005, no new studio material appeared from her until the reaffirming comback album Stronger in 2008.
https://en.wikipedia.org/wiki/Carlene_Carter
Talents : Singer, Songwriter, Guitar, Piano
Style musical : Contemporary Country, Country Rock, Traditional Country

https://www.youtube.com/watch?v=mqORyaNpiNk
Years in activity :
| | | | | | | | | | | | |
| --- | --- | --- | --- | --- | --- | --- | --- | --- | --- | --- | --- |
| 1910 | 20 | 30 | 40 | 50 | 60 | 70 | 80 | 90 | 2000 | 10 | 20 |
DISCOGRAPHY
Singles
04/1978
SP WARNER BROS. WBS 8576 (US)
Never Together But Close Sometimes / Who Needs Words
08/1978
SP WARNER BROS. WBS 8658 (US)
Love Is Gone / Smoke Dreams
10/1979
SP WARNER BROS. WBS 49083 (US)
Do It In A Heartbeat / Swap Meat Rag
02/1980
SP WARNER BROS. WBS 49155 (US)
Old Photographs / Two Sides To Every Woman (with Dave EDMUNDS)
10/1980
SP WARNER BROS. WBS 49572 (US)
Baby Ride Easy / Too Bad About Sandy (with Dave EDMUNDS)
06/1983
SP EPIC 34-03952 (US)
Heart To Heart / One Way Ticket
06/1983
SP EPIC A 3470 (US) (promo)

Heart To Heart / One Way Ticket

1983
SP EPIC A 3542 (US) (promo)

Love Like A Glove / I'm The Kinda Sugar Daddy Likes

1983
SP RCA

13431 (US)

Robert Ellis ORRALL with Carlene C

ARTER -

I Couldn't Say No /

Meant It For A Minute

10/1989
SP REPRISE 7-22714 (US)
Time's Up (with SOUTHERN PACIFIC) / + SOUTHERN PACIFIC
05/1990
SP REPRISE 7-19915 (US)
I Fell In Love / Guardian Angel
09/1990
SP REPRISE 7-19564 (US)
Come On Back / Leavin' Side
02/1991
SP REPRISE 7-19398 (US)
Sweetest Thing / Goodnight Dallas
06/1991
SP REPRISE 7-19255 (US)
One Love / Easy From Now On
05/1993
SP GIANT 7-18527 (US)
Every Little Thing / Long Hard Fall
09/1993
SP GIANT 7-18373 (US)
Unbreakable Heart / Wastin' Time With You
01/1994
SP GIANT 7-18265 (US)
I Love You 'Cause I Want To / Nowhere Train
11/1994
SP GIANT 7-18006 (US)
Rockin' Little Christmas / Workin' Elf Blues (Daron NORWOOD)
02/1995
SP GIANT 7-17962 (US)
Hurricane / One Tender Night
06/1995
SP GIANT 7-17853 (US)
Love Like This / One Tender Night
1998
SP GIANT 7-17144 (US)
Never Together But Close Sometimes / ?
Albums
1978
LP 12" WARNER BROS. BSK 3204 (US)
CARLENE CARTER - Love Is Gone / Smoke Dreams / Between You And Me / I Once Knew Love / I've Been There Before / Never Together But Close Sometimes / Mr Moon / Alabama Morning / Slow Dance / Who Needs Words
1979
LP 12" WARNER BROS. BSK 3375 (US)
TWO SIDES TO EVERY WOMAN - Do It In A Heartbeat / Lies / Sweap Meat Rag / Gold Hearted Lady / Two Sides To Every Woman / It's No Wonder / One Good Lover / Old Photographs / Radio Sweetheart
1980
LP 12" WARNER BROS. BSK 3465 (US)
MUSICAL SHAPES - Cry / Madness / Baby Ride Easy / Bandit Of Love / I'm So Cool / Appalachian Eyes / Ring Of Fire / Too Bad About Sandy / Foggy Mountain Top / That Very First Kiss / Too Drunk / Too Proud
1981
LP 12" WARNER BROS. BSK 5287 (US)
BLUE NUN - Oh How Happy / Love Is A Four Letter Word / That Boy / Boo Pounds Of Hongy / Tougher Stuff / I Need A Hit / Rockababy / When You Comin' Back / Me And My 38 / Do Me Lover / Too Many Teardrops / Billy / Born To Move / Think Dirty
1983
LP 12" EPIC BFE 38663 (US)
C'EST C BON - Meant It For A Minute / Heart To Heart / Third Time Charm / Heart's In Attraction / I'm The Kinda Sugar Daddy Likes / Breathless / Love Like A Glove / Cool Reaction / Don't Give My Heart A Break / That Boy / One Way Ticket / Patient Love
08/1990
LP 12" REPRISE 1 26139 (US)
I FELL IN LOVE - I Fell In Love / Come On Back / Sweetest Thing / My Dixie Darlin' / Goodnight Dallas / One Love / Leavin' Side / Guardian Angel / Me And The Wildwood Rose / You Are The One / Easy From Now On
1992
CD DEMOM 703 (US)
MUSICAL SHAPES / BLUE NUN - Cry / Madness / Baby Ride Easy / Bandit Of Love / I'm So Cool / Appalachian Eyes / Ring Of Fire / Too Bad About Sandy / Foggy Mountain Top / That Very First Kiss / Too Drunk / Too Proud / Oh How Happy / Love Is A Four Letter Word / That Boy / Boo Pounds Of Hongy / Tougher Stuff / I Need A Hit / Rockababy / Me And My 38 / Do Me Lover / Too Many Teardrops / Billy / C'non Feets / Think Dirty / If The Shoe Fits / Home Run Hitter / When You Comin' Back
06/1993
CD GIANT 2 24499 (US)
LITTLE LOVE LETTERS - Little Love Letter No 1 / Every Little Thing / Wastin' Time With You / Unbreakable Heart / Sweet Meant To Be / Nowhere Train / Long Hard Fall / Little Love Letter No 2 / I Love You Cause I Want To / World Of Miracles / First Kiss / Hallelujah In My Heart / Rain / Heart Is Right
1994
CD RSM 028 (US)
HURRICANE - I Knew The Bride / Come On Back / Love You Cause I Want To / Baby Ride Easy / Something Already Gone / Hurricane / Me And The Wildwood Rose / Unbreakable Heart / Get Rhythm / Cry / Every Little Thing / I Fell In Love
08/1995
CD GIANT 2 24989 (US)
LITTLE ACTS OF TREASON - Love Like This / Lucky Ones / Little Acts Of Treason / He Will Be Mine / Come Here You / Change / Hurricane / Go Wild / You'll Be The One / All Night Long / Come Here You
09/1996
CD GIANT 9 246552 (US)
HINDSIGHT 20/20 - Sweet Meant To Be / I Fell In Love / Every Little Thing / Unbreakable Heart / Come On Back / Me And The Wildwood Rose / Never Together But Close Sometimes / Cry / Sweet Thing / Baby Ride Easy / I Love You Cause I Want To / I'm So Cool / He Will Be Mine / Hurricane / Change / Trust Yourself / One Tender Night / It's No Wonder / Love Like This, Easy From Now On
10/2005
CD WOUNDED BIRD 3204 (US)
CARLENE CARTER / BLUE NUN - Love Is Gone / Smoke Dreams / Between You And Me / I Once Knew Love / I've Been There Before / Never Together But Close Sometimes / Mr Moon / Alabama Morning / Slow Dance / Who Needs Words / Oh How Happy / Love Is A Four Letter Word / That Boy / Boo Pounds Of Hongy / Tougher Stuff / I Need A Hit / Rockababy / When You Comin' Back / Me And My 38 / Do Me Lover / Too Many Teardrops / Billy / Born To Move / Think Dirty / When You Comin' Back
10/2005
CD WOUNDED BIRD 3375 (US)
TWO SIDES TO EVERY WOMAN / MUSICAL SHAPES - Do It In A Heartbeat / Lies / Sweap Meat Rag / Gold Hearted Lady / Two Sides To Every Woman / It's No Wonder / One Good Lover / Old Photographs / Radio Sweetheart / Cry / Madness / Baby Ride Easy / Bandit Of Love / I'm So Cool / Appalachian Eyes / Ring Of Fire / Too Bad About Sandy / Foggy Mountain Top / That Very First Kiss / Too Drunk / Too Proud
06/2007
CD WARNER PLATINIUM 8122799667 (US)
THE PLATINUM COLLECTION - Do It In A Heartbeat / Baby Ride Easy / I Fell In Love / Come On Back / The Sweetest Thing / One Love / My Dixie Darlin' / Goodnight Dallas / Me And The Wildwood Rose / The Leavin' Side / You Are The One / Every Little Thing / Unbreakable Heart / I Love You 'cause I Want To / Love Like This / Hurricane / Loose Talk (with Carl SMITH) / Go Wild / The Lucky Ones / All Night Long
03/2008
CD YEP ROC 2183 (US)
STRONGER - The Bitter End / Why Be Blue / To Change Your Heart / Bring Love / I'm So Cool / Spider Lace / On To You / Judgement Day / Break My Little Heart In Two / It Takes One To Know Me / Light Of Your Love / Stronger
04/2014
CD Rounder 619184 (US)

Carter Girl -

Little Black Train / Give Me The Roses / Me And The Wildwood Rose / Blackie's Gunman (Carlene CARTER feat: Elizabeth COOK) / I'll Be All Smiles Tonight / Poor Old Heartsick Me / Troublesome Waters (Carlene CARTER feat: Willie NELSON) / Lonesome Valley 2003 / Tall Lover Man / Gold Watch And Chain / Black Jack David (Carlene CARTER feat: Kris

Kristofferson

) / I Ain't Gonna Work Tomorrow (Carlene CARTER feat: Anita CARTER - Helen CARTER - Johnny CASH - June

Carter Cash

)
© Rocky Productions 11/04/2013