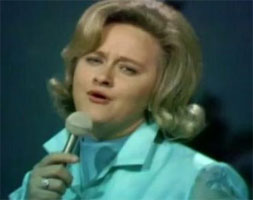 Chanteuse Country US née Wilma Charlene Burgess, le 11 Juin 1939 à Orlando (Floride). Wilma Burgess est décédée le 26 Août 2003 à Nashville (Tennessee).

US Country singer born Wilma Charlene Burgess, on June 11, 1939 in Orlando (Florida). Following high school graduation she proceeded to Stetson University in Deland, Florida studying physical education. She had no interest in a musical career - although she had displayed her natural talent performing as a Pop singer on local television - until hearing Eddy Arnold in concert awakened her passion for C&W music.
In 1960 a songwriter friend of Burgess persuaded her to go to Nashville to record some demos of his compositions. One of the publishers Burgess sang for asked to manage her singing career and Burgess cut her first single in the fall of 1962 for the United Artists label.
Eventually Burgess came to the attention of Owen Bradley who heard in Burgess' voice the potential for a successor to the recently deceased Patsy Cline who Bradley had produced.
Bradley arranged for Burgess' signing with Decca where she had her first session in June 1964.
After three unsuccessful single releases Bradley had Burgess record the Ray Griff song "Baby" on 24 September 1965: the track proved to be Burgess' breakout hit reaching #7 C&W.
Burgess' expertise with teary ballads was further exemplified with the follow-ups "Don't Touch Me" (#12 C&W) and "Misty Blue" (#4) and logically her successful versions of these C&W classic tunes would have consolidated Burgess' position as a major player on the Nashville scene.
However Burgess' versions of both "Don't Touch Me" and "Misty Blue" were both overshadowed, the first by the concurrent release of a more successful version of "Don't Touch Me" by Jeannie Seely - for whom Hank Cochran (then Seely's husband) had written the song.
Then "Misty Blue" - handed down to Burgess after being rejected by Brenda Lee - was shortly established as a trademark song for Burgess' prime influence Eddy Arnold whose version in the spring of 1967 not only reached #3 C&W but became a regional Pop hit reaching #57 nationally.
Continuing to record with Owen Bradley, Burgess placed seven more singles on the C&W chart but only the first two of these: "Fifteen Days" (#24) and "Tear Time" (#15) both 1967 reached the Top 40.
Burgess association with Bradley and Decca Records ended in 1971; that same year she signed with Shannon a label owned by Jim Reeves Enterprises (Burgess was a close friend of Reeves' widow Mary Reeves). Five of Burgess' single releases on Shannon appeared on the C&W chart with the 1973 duo with Bud Logan "Wake Me Into Love" providing a on-off return to the Top 40 at #14.
In 1975 Burgess left Shannon signing with RCA Records where her uneventful tenure lasted until 1978.
In 1982 she ended her recording career with the album Could I Have This Dance on 51West a Columbia Records label.
Later in the decade Burgess opened the Hitching Post - described as Nashville's first women-only bar - where she regularly performed.
Burgess also worked on and off with Mary Reeves running the Jim Reeves Museum in Nashville.
It has been noted by Jim Ed Brown that Burgess was also a decent poker player, having taken both Ernest Tubb and Tubb's bus driver's money while on tour together.
Burgess was openly a lesbian and preferred to record love songs with no gender-specific references. She did sometimes agree to record songs such as "Ain't Got No Man" on condition that her producer Owen Bradley let her record a song she liked but he didn't.
Wilma Burgess died unexpectedly Monday, August 26, 2003 at 4:05 a.m. at Centennial Medical Center in Nashville, after suffering a massive heart attack. She was 64, and had been hospitalized for a week for tests, and had seemed to be on the road to recovery.
https://en.wikipedia.org/wiki/Wilma_Burgess
Talents : Vocals
Style musical : Traditional Country

https://www.youtube.com/watch?v=zbiAlu2tpHI
| | |
| --- | --- |
| BABY (1965) | |
Years in activity :
| | | | | | | | | | | | |
| --- | --- | --- | --- | --- | --- | --- | --- | --- | --- | --- | --- |
| 1910 | 20 | 30 | 40 | 50 | 60 | 70 | 80 | 90 | 2000 | 10 | 20 |
DISCOGRAPHY
Singles & EP
11/1962
SP UNITED ARTISTS UA-523 (US)
.
Something Tells Me / Confused
08/1964
SP DECCA 31653 (US)
.
Raining In My Pillow / This Time Tomorrow
03/1965
SP DECCA 31759 (US)
.
You Can't Stop My Heart From Breaking / Happy Fool
08/1965
SP DECCA 31826 (US)
.
The Closest Thing To Love / Where You're Not Around
11/1965
SP DECCA 31862 (US)
.
Baby / Wait Till The Sun Comes Up
04/1966
SP DECCA 31941 (US)
.
Don't Touch Me / Turn Around Teardrops
10/1966
SP DECCA 32027 (US)
.
Misty Blue / Ain't Got No Man
1966
EP DECCA 7-34436 (US)

Don't Touch Me - Don't Touch Me / You Can't Stop My Heart From Breaking / I'm Living In Two Worlds / Baby / Think I'll Go Somewhere And Cry Myself To Sleep / Wait Till The Sun Comes Up

03/1967
SP DECCA 32105 (US)
.
Fifteen Days / Two Little Rivers Of Tears
07/1967
SP DECCA 32178 (US)
.
Tear Time / (How Can I Write On Paper) What I Feel In My Heart
02/1968
SP DECCA 32273 (US)
.
Watch The Roses Grow / Only A Fool Keeps Hangin' On
07/1968
SP DECCA 32359 (US)
.
Sweet Promises / Look At The Laughter
1968
EP DECCA 7-34553 (US)

The Tender Lovin' Country Sound - Here Comes The Rain Baby / Just As Much As Ever / If My Heart Had Windows / Only A Fool Keeps Hangin' On / A Legend In My Time / Watch The Roses Grow

01/1969
SP DECCA 32437 (US)
.
Parting (Is Such Sweet Sorrow) / Shine A Little Sun Of Me
06/1969
SP DECCA 32522 (US)
.
Happiness Is So Hard To Forget / Woman In Your Life
11/1969
SP DECCA 32593 (US)
.
Sun's Gotta Shine / Only Mama That'll Walk The Line
05/1970
SP DECCA 32684 (US)
.
Lonely For You / I Don't See Me In Your Eyes Anymore
04/1971
SP DECCA 32811 (US)
.
Until My Dreams Come True / Everything's Gonna Be Alright
08/1971
SP DECCA 32868 (US)
.
I See Her Love All Over You / Woman In Your Life
1973
SP SHANNON S-810 (US)
.
Feeling The Way A Woman Should / I'll Always Love The Days
08/1973
SP SHANNON S-813 (US)
.
I'll Be Your Bridge (Just Lay Me Down) / I'll Always Love The Days
11/1973
SP SHANNON S 816 (US)
.
Bud LOGAN & Wilma BURGESS -

Wake Me Into Love / Here Together

05/1974
SP SHANNON S-820 (US)
.
Bud LOGAN & Wilma BURGESS - Best Day Of The Rest Of Our Love / It Ain't Nothing But Love
08/1974
SP SHANNON S-821 (US)
.
Love Is Here / Sweet Lovin' Baby
01/1975
SP SHANNON S-826 (US)
.
Bud LOGAN & Wilma BURGESS - Love Is The Foundation / I'm In Love With Everything
06/1975
SP SHANNON SH-835 (US)
.
Baby's Not Forgotten / Just Because You Understand Your Woman
11/1975
SP SHANNON SH-839 (US)
.
Satisfied Man / I Will Think Of You
07/1977
SP RCA VICTOR PB-11057 (US)
.
Use Me / Darlin'
11/1977
SP RCA VICTOR PB-11179 (US)
.
Once You Were Mine / I'm Turnin' You Loose
1983
SP GUSTO GT4-2203 (US)
.
Misty Blue / Baby
Albums
1966
LP 12" DECCA DL 4788 (mono) / DL 74788 (stereo) (US)
DON'T TOUCH ME - Don't Touch Me / Wait Till The Sun Comes Up / Think I'll Go Somewhere And Cry Myself To Sleep / I Love You Drops / Welcome To My World / I'm So Lonesome I Could Cry / Baby / Turn Around Teardrops / Someone Before Me / You Can't Stop My Heart From Breaking / Closest Thing To Love / I'm Living In Two Worlds
1967
LP 12" DECCA DL 4852 (mono) / DL 74852 (stereo) (US)
WILMA BURGESS SINGS MISTY BLUE - Misty Blue / Two Little Rivers Of Tears / Tip Of My Fingers / Ain't Got No Man / Touch My Heart / Four Walls / Making Plans / Is It Really Over / If The Whole World Stopped Lovin' / When You're Not Around / Fifteen Days / There Goes My Everything
1967
LP 12" DECCA DL 4935 (mono) / DL 74935 (stereo) (US)
TEAR TIME - Tear Time / Am I That Easy To Forget / Too Much Of You / My Sunshine's Gone / This Is It / Yesterday / I'm Still Not Over You / How Can I Write On Paper (What I Feel In My Heart) / Storm / Release Me (And Let Me Love Again) / I'll Never Find Another You / My Mind Is A Bridge For Your Memory
1968
LP 12" DECCA DL 5024 (mono) / DL 75024 (stereo) (US)
THE TENDER LOVING COUNTRY SOUND - Watch The Roses Grow / Here Comes The Rain Baby / Sunshine Of My World / Take Me As I Am (Or Let Me Go) / As Usual / Just As Much As Ever / Only A Fool Keeps Hangin' On / Legend In My Time / If My Heart Had Windows / Petal From A Faded Rose / You've Still Got A Place In My Heart
1969
LP 12" DECCA DL 75090 (US)
PARTING IS SUCH SWEET SORROW - Parting Is Such Sweet Sorrow / Walk Through This World With Me / Until My Dreams Come True / Look At The Laughter / Love Takes Care Of Me / Only Mama That'll Walk The Line / Shine A Little Sun On Me / Today I Started Loving You Again / Sweet Promises / I Don't See Me In Your Eyes Anymore / When You Are Gone
1971
LP 12" The Veterans Administration 37612 (US)

Here's To Veterans 99 - Imperials, Wilma Burgess - Program No. 1276 - The Gospel Sound Of The Imperials / Program No. 1277 - The Wilma Burgess Show

1973
LP 12" MCA

Coral

CB-20006 (US)

Misty Blue - Don't Touch Me / There Goes My Everything / Tear Time / Release Me / Welcome To My World / Misty Blue / Am I That Easy To Forget / Baby / I'm Living In Two Worlds / Fifteen Days

1974
LP 12" SHANNON SHA-1002 (US)

WAKE ME INTO LOVE - BUD LOGAN & WILMA BURGESS - Wake Me Into Love / We're Gonna Hold On / I Love / I'm In Love With Everything / Let Me Be There / It Ain't Nothing But Love / The Best Day Of The Rest Of Our Love / Just One More Song / I'll Always Love The Days / We Should Be Together / Loving Arms

1982
LP 12" 51-WEST Q-16245 (US)
COULD I HAVE THIS DANCE ? - Could I Have This Dance / Back On My Mind / There Won't Be Anymore / Everybody's Had The Blues / I Don't Know Why / Since I Fell For You / Satin Sheets / You Can't Be A Beacon / When Will I Be Loved / In No Time At All
© Rocky Productions 27/06/2022