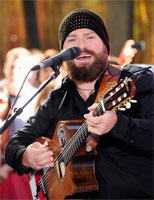 Chanteur Country US né à Cumming (Georgie), le 31 Juillet 1978.



Zac Brown is a country singer, songwriter, and bandleader, one of the brightest stars in a generation of performers set on changing the paradigm of the country music business. He's also a record producer, record label head, and philanthropist set on making the world a better place for as many people as possible. With his winning combination of country, bluegrass, reggae, and Caribbean music, he appeals to country fans and jam band hippies, and could well cross over to lovers of world music and pop. He sold over 30,000 copies of the first two self-produced albums he made for his own Southern Ground label, and "Chicken Fried," The Zac Brown Band's first single to get national distribution, went platinum with over a million downloads. His first nationally distributed album, The Foundation, sold 300,000 copies within weeks of its release in late 2008.
Brown was born in 1978 in Atlanta, Georgia, and grew up in Dahlonega, Georgia, a small town in the north Georgia mountains. He was the 11th child in a family of 12 kids, and grew up in a split family. His father worked for Coca-Cola and ran health clubs, his mom sold insurance, his stepdad was a dentist, and his stepmom was an office manager. Brown's oldest brother was 21 years his senior, so he was exposed to a wide variety of music growing up. His siblings' record collections included country, pop, bluegrass, reggae, folk, and singer/songwriter albums by Cat Stevens, James Taylor, the Eagles, Bob Marley, Willie Nelson, and Waylon Jennings. His brother Wynn played bluegrass guitar and banjo, his mother liked old pop singers like Sinatra, and his dad played folk guitar and led the family in campfire singalongs. Brown sang as soon as he could talk, and started classical guitar lessons at age seven, which helped his fingerpicking skills when he switched to bluegrass and country in middle school. Seeing Shawn Mullins at a local coffeehouse made Brown realize he wanted to be a performer. He started playing solo gigs while he was in high school, doing covers of pop and country songs as well as his few original tunes. Attending a summer camp and working with mentally and physically challenged kids made him aware of how lucky he was. He vowed he'd open his own camp someday.
Brown went to college on a Vocals scholarship and studied classical voice, but shifted his major several times to biology, then business, and finally psychology. He had a band in college and alternated between band gigs and solo restaurant dates to pay his way through school. His college band, Far from Einstyne, made an eponymous CD to sell at gigs in 1998. When the band fell apart during the recording sessions, Brown and the drummer continued on as a duo. When 9/11 occurred, Brown reevaluated his life. For years he'd been playing solo and full-band gigs at night and going to classes during the day. He decided life was too short to do things he wasn't interested in, and left school to perform full-time.
He toured for a few years in a two-piece -- acoustic guitar and drums -- as Far from Einstyne. In 2002, he put together the first Zac Brown Band, looking for players with a high level of musicianship who wanted to be equal partners in a band with a communal vibe. They played about 200 gigs their first year, a pace the band keeps up to this day. In 2003, he started his own Home Grown label -- today called Southern Ground for legal reasons -- and released Home Grown in 2003 and Live from the Rock Bus Tour in 2005. The albums have moved over 30,000 units, an impressive showing for an unsigned band. Brown runs the label, manages and books the band, and produces its albums with the help of bass player John Hopkins. In 2004, he opened a music club and restaurant with his father to serve gourmet Southern-style food. The Zac Brown Band played weekends and Brown played solo on Tuesday nights, and when he wasn't in the kitchen overseeing the staff, he was on the road with the band doing other gigs.
When a developer bought the restaurant, Brown and the band got a tour bus and hit the road full-time, playing country and rock clubs and folk and jam band festivals. With the personnel settled down to the cohesive unit of bassist Hopkins, fiddler Jimmy De Martini, guitarist/organist Coy Bowles, and drummer Chris Fryar, the band cut The Foundation with producer Keith Stegall in 2006. The songs had been road-tested and were laid down live in the studio with minimal fuss. The album came out first on Southern Ground and was picked up by Live Nation, the giant concert promoter, for their new record label in 2007. When Live Nation folded, Atlantic stepped up and released The Foundation nationally in November of 2008. "Chicken Fried," the first single, was a cross-genre platinum-selling hit. Multi-instrumentalist and songwriter Clay Cook joined the band in January of 2009.
With the album doing well, Brown expanded Southern Ground Records and signed the Sonia Leigh Band, fronted by country singer/songwriter Leigh a cross between Joan Jett and Johnny Cash; Levi Lowrey, an Americana singer/songwriter and multi-instrumentalist; and Nic Cowan, a pop singer/songwriter with a Ben Harper-meets-Chris Robinson vibe. Brown toured with his labelmates in support of The Foundation during 2009, the same year in which the Zac Brown Band cut 20 tunes for their next project, and Brown bought land for his own summer camp, a venture he planned to run in cooperation with Brain Balance, an organization that works with kids with autism and ADD. He also used the recipes he developed at his restaurant for a line of barbecue sauces and other food products. In 2010, Brown and his band were awarded the Grammy for Best New Artist. Also in 2010, the live Pass the Jar, recorded at a performance at Atlanta's Fox Theatre, was released. The studio follow-up to The Foundation, You Get What You Give, which featured new songs that the band honed on the road, appeared later that same year.
The group's third major-label studio album, 2012's Uncaged -- the first with new member/percussionist Daniel de los Reyes and featuring guest spots from Amos Lee and Trombone Shorty, as well as songs co-written with Jason Mraz and fellow Southern Ground artists Nic Cowan and Sonia Leigh -- was conceived and recorded as a whole, not just as a collection of songs. Uncaged performed well, debuting at number one on the Billboard 200 on its way to earning a platinum certification; it also generated the Top Ten country hits "Goodbye in Her Eyes," "Sweet Annie," and "Jump Right In." While the Zac Brown Band worked on their fourth album, they released Greatest Hits So Far... in time for the 2014 holiday season. In early 2015, the band dropped the chart-topping single "Homegrown" in anticipation of the full-length genre-bending Jekyll + Hyde, released in April. It too debuted at the top of the Billboard 200 and generated two other Top Ten country hits in "Loving You Easy" and "Beautiful Drug." Two years after Jekyll + Hyde, the Zac Brown Band returned to their trademark mellow sound on Welcome Home. In early 2017, Brown teamed up with songwriter Nico Moon and producer Ben Simonetti (under the moniker Sir Rosevelt), and dropped an eponymous debut album. The following year saw the trio release the single "It Goes On," which appeared in the Chris Hemsworth-starring war drama 12 Strong. Returning in 2018, Brown and his band issued the single "Someone I Used to Know," which mixed country tones with bright electronica.
https://en.wikipedia.org/wiki/Zac_Brown
Talents : Singer, Guitar, Songwriter
Style musical : Contemporary Country, Pop Rock

http://www.youtube.com/watch?v=yBfcBVt6Etk
Years in activity :
| | | | | | | | | | | | |
| --- | --- | --- | --- | --- | --- | --- | --- | --- | --- | --- | --- |
| 1910 | 20 | 30 | 40 | 50 | 60 | 70 | 80 | 90 | 2000 | 10 | 20 |
DISCOGRAPHY
Single & EP
2009
CD HOME GROWN 522085-2 (US)

Live From Bonnaroo - Toes / Free - Into The Mystic / The Devil Went Down To Georgia / Who Know

2010
CD Southern Ground ‎525560-2 (US)
As She's Walking Away (with Alan JACKSON) / Colder Weather
2012
CD Southern Ground ‎? (US) (promo)
.

Island Song

2013
CD Southern Ground ‎? (US)

The Grohl Sessions Vol. 1 - All Alright / Let It Rain / The Muse / Day For The Dead

2014
CD + DVD Southern Ground SGA022 (US)

CD :

The Grohl Sessions Vol. 1 :

All Alright / Let It Rain / The Muse / Day For The Dead
DVD :

Making Of The Grohl Sessions Vol. 1 :

Beginnings / Behind The Song: The Muse / The Muse / Behind The Song: All Alright / All Alright / Dinner Is Served / Behind The Song: Day For The Dead / Day For The Dead / Behind The Song: Let It Rain / Let It Rain / Final Thoughts

2014
CD Southern Ground ‎? (US) (promo)

All Alright (radio edit)
Albums
03/2005
CD MIDNIGHT RAMBLING ? (US)
Hurricane Wind / Cigarette In High Heels / Waltzheimers / Always Laughing / Waitress / Water Ski / Hasta Luego / So Long
12/2005
CD ZAC BROWN ? (US)
HOME GROWN - Zac BROWN BAND - Every Little Bit / Whatever It Is / Chicken Fried / On This Train / Better Day / Valentines / Curse Me / Heather / Junkyard / These Days / Tax Man Shoes
01/2007
CD HOME GROWN MUSIC ? (US)
LIVE FROM THE ROCK BUS TOUR - Zac BROWN BAND - Intro / A Different Kind Of Fine (Live - Antone's, Austin TX) / Every Little Bit (Live - Workplay Theatre, Birmingham Al) / Where The Boat Leaves From (Live - Wise Fool's Pub, Chicago Il) / Mary (Live - Birdy's, Indianapolis In) / Whatever It Is (Live - Jack Rabbit's, Jacksonville FL) / Toes (Live - Amos' Southend, Charlotte NC) / Better Day (Live - Antone's, Austin TX) / It's Not OK (Live - The Gig, Los Angeles, CA) / Chicken Fried (Live - East Andrews, Atlanta GA) / On This Train (Live, I/O, Miami FL) / Human (Live - State Theater, Tampa FL) / Junkyard (Live - Launch Pad, Albequerque NM) / Heather (Live - 3rd & Lindsley, Nashville TN) / D.J. (Live - I/O, Miami FL) / Sic 'Em On A Chicken (Live - The Rhythm Room, Phoenix Ar)
10/2007
CD ? (US)
RIDE THE SICK HORSE - Better Off In Houston / Birds Of Prey / Daiser / A Hard One / A Long One / Mary Wants To / Not One Iota / Old Folks / One Question / Solo / Squadron 8 / Float / Sunny Day / Warning Shadow / Kings Highway / Youth
11/2008
CD HOME GROWN MUSIC / ATLANTIC 516931 (US)
THE FOUNDATION - Zac BROWN BAND - Toes / Whatever It Is / Where The Boat Leaves From / Violin Intro To Free / Free / Chicken Fried / Mary / Different Kind Of Fine / Highway 20 Ride / It's Not OK / Jolene / Sic 'Em On A Chicken
01/2009
CD ? (US)

DO WHAT YOU'RE SUPPOSED TO DO -

Ganesha / Clean Robes / Blood Pudding / 500 / Dug / Too Late / Dac / Circulation / I Am Long / Preposterous / Sell You
05/2010
2 CD + 1 DVD SOUTHERN GROUND 523726 (US)

PASS THE JAR - LIVE FROM THE FABULOUS FOX THEATRE IN ATLANTA -

Zac BROWN BAND

:

CD 1 : Whatever It Is / Let It Go / It's Not OK / Jolene / Who Knows / The Night They Drove Old Dixie Down / Sic 'Em On A Chicken / Where The Boat Leaves From - One Love / Trying To Drive / Alabama Jubilee / Blackbird / The Devil Went Down To Georgia
CD 2 : Can't You See / Highway 20 Ride / Whiskey's Gone / Colder Weather / Junkyard / Free - Into The Mystic / America The Beautiful / Chicken Fried / I Shall Be Released / Bar / Toes / We're Gonna Make This Day
DVD : Intro / Whatever It Is / It's Not OK / Jolene / Who Knows / The Night They Drove Old Dixie Down / Sic 'Em On A Chicken / Junkyard / The Devil Went Down To Georgia / Trying To Drive / Alabama Jubilee / Can't You See / Highway 20 Ride / Colder Weather / Free - Into The Mystic / Toes / America The Beautiful / Chicken Fried / We're Gonna Make This Day / Cheater Cheater / All American / My Name Is Money / Money Don't Make You Happy / Say What?

09/2010
CD SOUTHERN GROUND 524722 (US)
YOU GET WHAT YOU GIVE - Zac BROWN BAND - Let It Go / Knee Deep / No Hurry / I Play The Road / Cold Hearted / Whiskey's Gone / Quiet Your Mind / Colder Weather / Settle Me Down / As She's Walking Away / Keep Me In Mind / Who Knows / Martin / Make This Day
2010
CD Southern Ground ‎? (UK) (promo)

You Get What You Give - Free / Settle Me Down / Colder Weather / Keep Me In Mind / Cold Hearted / Who Knows

07/2012
CD ATLANTIC/ SOUTHERN GROUND 7567876688 (US)
UNCAGED -

Jump Right In / Uncaged / Goodbye In Her Eyes / The Wind / Island Song / Sweet Annie / Natural Disaster / Overnight / Lance's Song / Day That I Die / Last But Not Least

11/2014
CD ATLANTIC 7567867108 (US)

Greatest Hits So Far... -

Zac BROWN BAND - Chicken Fried / Whatever It Is / Toes / Free / Highway 20 Ride / As She's Walking Away (

Zac Brown Band

/ Zac

Brown

feat: Alan

Jackson

) /

Colder Weather / Knee Deep (

Zac Brown Band

/ Zac

Brown

feat: Jimmy

Buffett

) /

Keep Me In Mind / No Hurry / The Wind / Jump Right In / Goodbye In Her Eyes / Sweet Annie
04/2015
CD Republic 002296202 (US)

Jekyll + Hyde -

Beautiful Drug / Loving You Easy / Remedy / Homegrown / Mango Tree (Zac

Brown Band

feat: Sara

Bareilles

) / Heavy Is The Head (Zac

Brown Band

feat: Chris

Cornell

) / Bittersweet / Castaway / Tomorrow Never Comes / One Day / Dress Blues / Young And Wild / Junkyard / I'll Be Your Man (Song For A Daughter) / Wildfire / Tomorrow Never Comes [acoustic version]
05/2017
CD Atlantic 7567866203 (US)

Welcome Home -

Zac BROWN BAND - Roots / Real Thing / Long Haul / 2 Places At 1 Time / Family Table / My Old Man / Start Over / Your Majesty / Trying To Drive / All The Best
09/2019
CD BMG 77559 (US)

The Owl - Zac BROWN BAND - The Woods / Need This / OMW / Someone I Used To Know / Me And The Boys In The Band / Finish What We Started / God Given / Warrior / Shoofly Pie / Already On Fire / Leaving Love Behind

10/2021
CD Warner Music 671178 (US)

The Comeback - Zac BROWN BAND - Slow Burn / Out In The Middle / Wild Palomino / Us Against The World / Same Boat / Stubborn Pride / Fun Having Fun / The Comeback / Old Love Song / Any Day Now / Paradise Lost On Me / GA Clay / Love And Sunsets / Closer To Heaven / Don't Let Your Heart
© Rocky Productions 21/09/2019