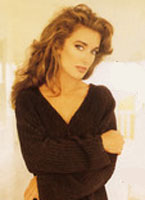 Chanteuse Country US née Kippi Binkley en 1966 à Nashville (Tennessee).

Although she had a brief flirtation with stardom as a teenager in the early '80s, Kippi Brannon didn't launch a full-fledged career as a contemporary country vocalist until she was 30 years old, when she released her debut album I'd Be With You in the spring of 1994.
Born in Nashville but raised in the small town of Goodlettsville, Kippi Brannon (b. Kippi Binkley) learned how to play piano and guitar as child. She began performing in her preteens, and when she was 12, she was discovered by a music industry executive while singing at a Nashville shopping mall. Producer Chuck Howard Jr. worked on her demo tape, which led to a contract with MCA Records at the age of 14. MCA had her change her last name from Binkley to Brannon because it sounded less "bubblegum"; she chose her stage name after seeing a Brannon Auto Parts sign.
Between 1981 and 1982, she had three minor country hits — "Slowly," "If I Could See You Tonight," "He Don't Make Me Cry" — that helped her earn a nomination for New Female vocalist of the Year from the Academy of Country Music Awards. All three singles earned Brannon slots on national television shows, as well as opening slots for Conway Twitty, George Strait, Ronnie Milsap and the Oak Ridge Boys, among others. Her fourth single, "In My Dreams," was produced by Buddy Killen, and even though it failed to make the charts, the excitement surrounding Brannon was still high. Despite her success, Brannon decided that it was too much too soon and that she wanted a normal life. She pulled out of the music business and attended college.
For five years, Brannon was retired from the music industry. She married and divorced, gave birth to a daughter in 1987, and took various jobs, including work as a secretary and an accounting assistant. In 1988, she began to sing again, launching another round of excitement within Nashville. She signed to Curb and released a version of "I Ain't Never," which didn't hit the charts. Following its release, she began working with producers James Stroud and Matt Rollings, searching for songs and sounds. Just as she was getting back into the swing of things, her career hit a pair of obstacles in 1992, when she had her second divorce and cared for her father, who was afflicted with heart disease. Everything had settled by 1994, when she began working on with producer Mark Bright. Three years later, she completed the album; I'd Be With You was released in the spring of 1997.
https://en.wikipedia.org/wiki/Kippi_Brannon
Talents : Vocals, Piano, Guitar
Style musical : Contemporary Country
Years in activity :
| | | | | | | | | | | | |
| --- | --- | --- | --- | --- | --- | --- | --- | --- | --- | --- | --- |
| 1910 | 20 | 30 | 40 | 50 | 60 | 70 | 80 | 90 | 2000 | 10 | 20 |
DISCOGRAPHY
Singles
| | | | |
| --- | --- | --- | --- |
| 1981 | SP MCA MCA-51166 (US) | . | Slowly / Dreamin' |
| 1982 | SP MCA MCA-52096 (US) | . | He Don't Make Me Cry / Country Girl |
| 1983 | SP MCA MCA-52202 (US) | . | In My Dreams / ? |
| 1997 | CD UPTOWN / UNIVERSAL 56092 (US) | | I'd Be With You / Daddy's Little Girl |
Album
| | | | |
| --- | --- | --- | --- |
| 04/1997 | CD UPTOWN / UNIVERSAL 53092 (US) | | I'D BE WITH YOU - I'd Be With You / The Greatest Love I've Ever Known / Daddy's Little Girl / Your Leavin' Sure Opened Up Some Doors / Two More To Drive Away / Touch My Heart / The Trouble With Love / Everybody's Been To L.A. / Sam Loves Joann / I Ain't Never |
© Rocky Productions 26/10/2007