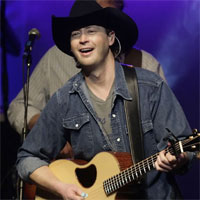 Chanteur Country Canadien né Paul Renee Belobersycky, le 21 Juillet 1972 à Calgary (Alberta).

Paul Brandt (born Paul Rennee Belobersycky, July 21, 1972) was one of the Canadian country singers able to take advantage of the massive success of Shania Twain and parlay a successful career for himself in America.
Brandt was born and raised Calgary, Alberta, where he sang gospel music and learned to play guitar as a child. During high school, he began playing local talent contests, singing his own songs. Most of his original material was directly inspired by neo-traditionalists like Dwight Yoakam and George Strait. Instead of pursuing country music as a full-time career, he decided to attend college and study nursing. For two years, Brandt went to college and practised as a pediatric nurse at Alberta's Children's Hospital. However, he continued to enter local talent contests and to place well in each event.
The turning point in Brandt's musical career came when he entered a national contest sponsored by the Canadian performance organization, SOCAN. At the contest, Brandt won first prize for Best Original Canadian Country Song with "Calm Before the Storm," and placed as the runner-up for Best Performance. The SOCAN competition was monitored by several insiders in the Nashville music community, and Warner Bros. expressed interest in signing the singer. A demo tape of Brandt's songs made its way to Reprise's Nashville office. Reprise arranged to see a showcase concert by Brandt and, following the show, the label signed the young singer.
After signing the record contract, Brandt moved to Nashville, where he recorded his debut album with producer Josh Leo, who had previously worked with Kathy Mattea and Alabama. Brandt's debut, "Calm Before the Storm," was released in June to critical acclaim and strong sales. Outside the Frame was released the next year, followed by both That's the Truth and A Paul Brandt Christmas: Shall I Play for You in 1999. The live album Small Towns & Big Dreams arrived in 2001, followed by This Time Around in 2004 and Gift in 2006.
https://en.wikipedia.org/wiki/Paul_Brandt
Talents : Vocals, Songwriter, Guitar
Style musical : Contemporary Country

http://youtu.be/K4WIvKDlIdY
Years in activity :
| | | | | | | | | | | | |
| --- | --- | --- | --- | --- | --- | --- | --- | --- | --- | --- | --- |
| 1910 | 20 | 30 | 40 | 50 | 60 | 70 | 80 | 90 | 2000 | 10 | 20 |
DISCOGRAPHY
Singles & EP
| | | | |
| --- | --- | --- | --- |
| 1995 | CD REPRISE EPCD 8003 (US) | . | My Heart Has A History / Take It From Me / I Do / 12 Step Recovery |
| 03/1996 | CD REPRISE 17683 (US) | . | My Heart Has A History / Calm Before A Storm |
| 07/1996 | CD REPRISE 17616 (US) | . | I Do / One And Only One |
| 12/1996 | SP REPRISE 17493 (US) | . | I Meant To Do That / All Over Me |
| 12/1996 | CD REPRISE 17493 (US) | . | I Meant To Do That / All Over Me |
| 03/1997 | CD REPRISE 17381 (US) | . | Take It From Me / 12 Step Recovery |
| 1997 | CD REPRISE ? (US) | . | A Little In Love / ? |
| 1998 | CD REPRISE ? (US) | . | What's Come Over You / ? |
| 04/1999 | CD REPRISE 16985 (US) | | That's The Truth / Live It Up |
| 09/1999 | CD REPRISE PRO-CD-9899 (US) | | It's A Beautiful Thing (single edit) / It's A Beautiful Thing (single mix) |
| 09/1999 | CD REPRISE 16926 (US) | . | It's A Beautiful Thing / Add Them All |
| 06/2011 | DI BRAND T ? (CAN) | | Give It Away [single version] |
Albums
06/1996
CD REPRISE. 46180 (US)
CALM BEFORE THE STORM - My Heart Has A History / Take It From Me / I Do / Twelve Step Recovery / I Meant To Do That / One And Only One / All Over Me / Calm Before The Storm / On The Inside / Pass Me By (If You're Only Passing Through)
11/1997
CD REPRISE 46635 (US)
OUTSIDE THE FRAME - Chain Reaction / Little In Love / What's Come Over You / One / I Believe You / Yeah / We Are The One / Start Forever Over Again / Dry Eye / Outside The Frame
04/1999
CD REPRISE. 47264 (US)
CHRISTMAS - SHALL I PLAY FOR YOU - Little Drummer Boy / Santa Looked A Lot Like Daddy / What Child Is This / Run Run Rudolph / Star Is Born / Way In A Manger / Jingle Bells / Silent Night / Six Tons Of Toys / O Holy Night
07/1999
CD REPRISE. 47319 (US)
THAT'S THE TRUTH - That's The Truth / It's A Beautiful Thing / That Hurts / There's A World Out There / Sycamore Tree / Love That Strong / Add 'em All Up / Scrap Piece Of Paper / Really And Truly / Let's Live It Up
11/2000
CD REPRISE ? (US)
WHAT I WANT TO BE REMEMBERED FOR -

My Heart Has A History

/

It's A Beautiful Thing

/

I Do

/

That's The Truth

/

I Meant To Do That

/

Take It From Me

/

Yeah!

/

A Little In Love

/

The Sycamore Tree

/

Outside The Frame

/

There's ... Wouldn't Do

/ I Want To Be Remembered For
11/2001
CD BRAND T / BMG ? (US)
SMALL TOWNS & BIG DREAMS -

Small Towns Big Dreams

/

I'm Gonna Fly

/

Take It Off

/

Warm Sunny Beaches

/

Cry If You Want To

/

If This Isn't Love

/

When You Call My Name

/

It's All Good

/

Virgil And The Holy Ghost

/

The Longest Way

/

Canadian Man

06/2004
CD UNIVERSAL 2070548 (US)
THIS TIME AROUND - Convoy / Leavin' / Home / Alberta Bound / Run To Me / The King / Live Now / Rich Man / I Still Do / This Time Around / That's What I Love About Jesus
11/2006
CD BRAND T 42480 (CAN)
A GIFT - Let It Snow / A Gift / White Christmas / Christmas Convoy / Hands / Go Tell It On The Mountain / I'll Be Home For Christmas / Winter Wonderland / Mary Did You Know / We Three Kings / [Untitled Track]
09/2007
CD BRAND T 2518 (CAN)
RISK - Didn't Even See The Dust / Come On & Get Some / Virtual Life / That's Worth Fighting For / Risk / Country Girl / Hold On (Love Will Find You) / Learning How To Let It Go / Scars Are Beautiful / A Friend Like This / The Little Space Between / Out Here On My Own
© Rocky Productions 17/09/2011