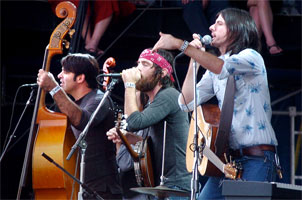 Groupe Folk et Country US de Caroline du Nord composť de Scott et Seth Avett et Bob Crawford.

While the Avett Brothers' music has roots in traditional folk and bluegrass, it also captures the high spirits and no-boundaries attitude of rock & roll -- which is appropriate, since rock is where Scott Avett and Seth Avett first cut their teeth as musicians. After releasing a self-titled debut in 2000, what was originally an acoustic side project quickly became their primary focus, and they expanded the lineup while developing a reputation for exuberant live shows. The band's first of many live albums, Live at the Double Door Inn, saw release in 2002. They were incorporating electric guitar and more prominent drums by 2007ís Emotionalism, their fifth studio LP and first to crack the Billboard 200. A leap into the Top 20 came with their major-label debut, 2009's I and Love and You. The Avett Brothersí ninth studio full-length, 2016ís True Sadness, reached a career-high number three as the band continued to win fans with their demanding concert schedule.
Although siblings Scott (vocals, banjo) and Seth (vocals, guitar) began making music together as children, their group's genesis began when they were members of Nemo, a rock band that gigged regularly in Greenville, North Carolina. Looking for another outlet for their musical ideas, the Avetts began getting together with like-minded friends (most notably Nemo guitarist John Twomey) on Tuesdays for acoustic guitar pulls, where they'd share a few drinks and swap songs. As time passed, the weekly get-together (which was called "the Back Door Project" or "Nemo Downstairs") became a semi-public event, with the pickers busking for the enjoyment of passers-by, and Seth and Scott decided the new acoustic music they were making was as fun and satisfying as their rock band.
Twomey and the Avetts decided to document their side project in 2000, and "the Back Door Project" was renamed the Avett Brothers with the release of a self-titled album that same year. Nemo broke up before 2000 came to a close, and Seth and Scott decided to make the Avett Brothers their new priority. They amicably parted ways with Twomey and added upright bassist and vocalist Bob Crawford to the combo. After a few months of playing live shows, the new trio recorded its second album, 2002's Country Was. The Avett Brothers hit the road upon the album's release that summer, and used the opportunity to break in material for their next studio project, A Carolina Jubilee, which was released in 2003. (A live disc, Live at the Double Door Inn, was sandwiched between the two studio sets.)
Over the next several years, the Avett Brothers maintained a busy and prolific schedule. They released a lengthy and ambitious studio album, Mignonette, in 2004, another live disc in 2005, and both a full-length album (Four Thieves Gone: The Robinsville Sessions) and an EP (The Gleam) in 2006, all recorded during breaks in the group's heavy touring calendar. As if this weren't enough to keep the three men occupied, Crawford also recorded and performed with his side project New Jersey Transient, Seth Avett released albums under the moniker Darling, and Seth and Scott occasionally played shows with their electric band Oh What a Nightmare. In 2007, with cellist Joe Kwon added to the lineup, the Avett Brothers reached a new level of popularity with Emotionalism, their first album to make a dent on the Billboard charts. Rick Rubin took notice and signed the band to American Recordings, his own division of Sony BMG/Columbia, midway through following year.
The Gleam II, issued just several months later, was the Avett Brothers' last release on the Ramseur label, while 2009's I and Love and You served as their major-label debut. The album peaked at number 16, and the international tour that followed was partially documented on the 2010 concert album Live, Vol. 3. In 2011 the Avett Brothers received an invitation to perform alongside Bob Dylan and Mumford & Sons at the Grammy Awards, and in 2012 they released The Carpenter, their second studio album under the tutelage of Rubin. The Carpenter was greeted with good reviews and debuted at number four on the Billboard Top 200 on its way to a Grammy nomination for Best Americana Album. In 2013, the Avett Brothers released Magpie and the Dandelion, which consisted of material recorded with Rubin during the sessions for The Carpenter, and it charted at number five.
The following year, they continued to tour extensively and began recording another album with Rubin. Meanwhile, in early 2015, Seth Avett partnered with folk-influenced indie rocker Jessica Lea Mayfield to release a collection of Elliott Smith covers titled Seth Avett & Jessica Lea Mayfield Sing Elliott Smith, and that April, the band appeared on the final season of the long-running Late Show with David Letterman, joined by Brandi Carlile. Late in the year, they issued Live, Vol. 4. Their ninth studio long-player, True Sadness, arrived in June 2016, and reached a career-high number three on the Billboard 200. Though the brothers publicly denied they would make a political album, the days' current events seeped into 2019ís Closer Than Together, their fifth studio album for American Recordings/Universal. The following year saw the brothers and bass player Crawford issue the stripped-down Third Gleam, an eight-song EP that touched on themes of mortality and political and social injustices.
http://www.theavettbrothers.com/
http://www.myspace.com/theavettbrothers
https://en.wikipedia.org/wiki/The_Avett_Brothers
Talents : Scott Avett : Vocals, Banjo, Kick Drum, Drum - Seth Avett : Vocals, Guitar, High-Hat, Keys, Drum - Bob Crawford : Vocals, Bass
Style musical : Progressive Folk, Alternative Folk, Progressive Country, Alternative Country

http://www.youtube.com/watch?v=wlSZzKcoFp0
Years in activity :
| | | | | | | | | | | | |
| --- | --- | --- | --- | --- | --- | --- | --- | --- | --- | --- | --- |
| 1910 | 20 | 30 | 40 | 50 | 60 | 70 | 80 | 90 | 2000 | 10 | 20 |
DISCOGRAPHY
Singles & EP
2000
EP ? (US)
Kind Of In Love / My Lady And The Mountain / Those Green Eyes / Feb. 20, 2000 / Let Myself Live / I Love You Still
2004
SP ? (US)
Swept Away / The Traveling Song

[live]

/ November Blue

[live]

09/2006
CD RAMSEUR 207433 (US)
Sanguine / When I Drink / Yardsale / Backwards With Time / If It's The Beaches / Find My Love
07/2008
CD RAMSEUR 27242 (US)
Tear Down The House / Murder In The City / Bella Donna / The Greatest Sum / St. Joseph's / Souls Like The Wheels
Albums
2002
CD ? (US)
COUNTRY WAS - Pretty Girl From Matthews / Jenny And The Summer Day / A Lot Of Moving / November Blue / My Losing Bet / Beside The Yellow Line / Old Wyom / Closing Night
2002
CD ? (US)
LIVE AT THE DOUBLE DOOR INN - A Lot Of Moving / Diamond Joe / Sorry Man / Will The Circle Be Unbroken / Jenny And The Summer Day / Pretty Girl From Matthews / Avett Brothers Monologue / I'll Fly Away / Let Myself Live / November Blue / My Losing Bet - Going Down The Road Feelin` Bad - Walkin` Down The Line / Gamblin' Man / Cripple Creek / Kind Of In Love / Beside The Yellow Line
08/2003
CD RAMSEUR 9288 (US)
A CAROLINA JUBILEE - The Traveling Song / Love Like The Movies / Sorry Man / Me And God / Pretty Girl From Raleigh / Do You Love Him / I Killed Sally's Lover / Pretty Girl From Locust / My Last Song To Jenny / Walking For You / The D Bag Rag / Pretty Girl From Annapolis / Smoke In Our Lights / Offering
07/2004
CD RAMSEUR 828102 (US)
MIGNONETTE - Swept Away

[sentimental version]

/ Nothing Short Of Thankful / The New Love Song / At The Beach / Signs (with Scott MANNERING) / Hard Worker / Letter To A Pretty Girl / Please Pardon Yourself / Pretty Girl At The Airport / Pretty Girl From Cedar Lane / Causey Commentary / One Line Wonder / The Day That Marvin Gaye Died / Swept Away / A Gift For Melody Anne / Complainted D'Un Matelot Mourant / Salvation Song
05/2005
CD RAMSEUR 591625 (US)
LIVE, VOL. 2 - Pretty Girl From Annapolis / Love Like The Movies / Walking For You / Do You Love Him / I Killed Sally's Lover / Smoke In Our Lights / A Lot Of Movin' / November Blue / Wanted Man / Old Joe Clark / My Last Song To Jenny / The Traveling Song / Offering / A Gift For Melody Anne / Complainted D'Un Matelot Mourant / Pretty Girl From Raleigh / Please Pardon Yourself
02/2006
CD RAMSEUR 594705 (US)

FOUR THIEVES GONE - THE ROBBINSVILLE SESSIONS -

Talk On Indolence / Pretty Girl From Feltre / Colorshow / Distraction #74 / Sixteen In July / Left On Laura, Left On Lisa / A Lover Like You / Pretend Love / Matrimony / The Lowering (A Sad Day In Greenvilletown) / The Fall / Dancing Daze / Famous Flower Of Manhattan / 40 East / Gimmeakiss / Denouncing November Blue (Uneasy Writer) / Four Thieves Gone
03/2007
CD RAMSEUR 2716 (US)
EMOTIONALISM - Die Die Die / Shame / Paranoia In B-Flat Major / The Weight Of Lies / Will You Return? / The Ballad Of Love And Hate / Salina / Pretty Girl From Chile / All My Mistakes / Living Of Love / I Would Be Sad / Pretty Girl From San Diego / Go To Sleep / Hand-Me-Down Time
09/2009
CD AMERICAN 735099 (US)
I AND LOVE AND YOU - I And Love And You / January Wedding / Head Full Of Doubt - Road Full Of Promise / And It Spread / The Perfect Space / Ten Thousand Words / Kick Drum Heart / Laundry Room / I'll With Want / Tin Man / Slight Figure Of Speech / It Goes On And On / Incomplete And Insecure
08/2010
CD COLUMBIA 58775 (US)
LIVE, VOLUME 3 - Pretty Girl From Matthews / Talk On Indolence / Ballad False Start / The Ballad Of Love And Hate / Colorshow / I And Love And You / Shame / When I Drink / Murder In The City / I Killed Sally's Lover / Head Full Of Doubt - Road Full Of Promise / The Perfect Space / Paranoia In Bb Major / Distraction #74 / Kick Drum Heart / Salvation Song
09/2012
CD ISLAND 3712786 (US)
THE CARPENTER -

The Once And Future Carpenter / Live And Die / Winter In My Heart / Pretty Girl From Michigan / I Never Knew You / February Seven / Through My Prayers / Down With The Shine / A Fathers First Spring / Geraldine / Paul Newman vs. The Demons /

Life
10/2013
CD American Recordings B 001922202 (US)

Magpie & The Dandelion -

Open-Ended Life / Morning Song / Never Been Alive / Another Is Waiting / Bring Your Love To Me / Good To You / Part From Me / Skin And Bones / Souls Like The Wheels / Vanity / The Clearness Is Gone
10/2013
CD American Recordings B 001922302 (US) (deluxe edition)

Magpie & The Dandelion - Open-Ended Life / Morning Song / Never Been Alive / Another Is Waiting / Bring Your Love To Me / Good To You / Part From Me / Skin And Bones / Souls Like The Wheels / Vanity / The Clearness Is Gone / Vanity [demo] / Every Morning Song [demo] / Another Is Waiting [demo] / Bring Your Love [demo]

12/2015
CD + DVD Republic AVT400-CD (US)

Live - Vol. 4 :

CD : Feeling Good (intro) / Satan Pulls The Strings / Laundry Room / Another Is Waiting / Shame / Kick Drum Heart / Rejects In The Attic / Ten Thousand Words / Talk On Indolence / The Auld Lang Syne / The Boys Are Back In Town / I And Love And You / Slight Figure Of Speech / Happy Trails
DVD :

The Avett Brothers

06/2016
CD Republic 002503102 (US)

True Sadness - Ain't No Man / Mama I Don't Believe / No Hard Feelings / Smithsonian / You Are Mine / Satan Pulls The Strings / True Sadness / I Wish I Was / Fisher Road To Hollywood / Victims Of Life / Divorce Separation Blues / May It Last

10/2019
CD Republic / Universal 7583933 (US)

Closer Than Together - Bleeding White / Tell The Truth / We Americans / Long Story Short / C Sections And Railway Trestles / High Steppin' / When You Learn / Bang Bang / Better Here / New Woman's World / Who Will I Hold / Locked Up / It's Raining Today

08/2020
CD Loma Vista 1338 (US)

The Gleam III - Victory / I Should've Spent The Day With My Family / Prison To Heaven / Back Into The Light / Women Like You / Untitled No. 4 / I Go to My Heart / The Fire
© Rocky Productions 5/09/2020