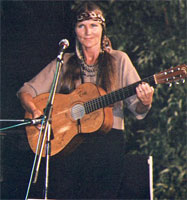 Chanteuse Country US née Rose Ann Gallimore le 26 Décembre 1941 à Puryear (Tennessee). Rattlesnake Annie vit depuis une vingtaine d'années dans le sud de l'Espagne.

Rattlesnake Annie was born Rosan Gallimore and raised on her family's cotton and tobacco farm near Puryear, Tennessee. Her father was a renowned blues and country singer, and in her spare time Annie began writing poetry and learning to play the guitar. When she was about 12, she and two cousins formed the Gallimore Sisters and performed professionally at local churches and political rallies, as well as funerals. In 1953, the Gallimores appeared on TV in Paris, Tennessee and won first prize and a chance to appear on the Grand Ole Opry in a statewide talent contest. After high school, the girls went their separate ways.
At age 16, Annie set out alone for Memphis and then to Huntsville, Alabama, where she regularly performed at the Carriage House. She moved to Texas near the end of the '60s and married the man who would become her manager, Max McGowan. She met Willie Nelson in 1969 and they became friends, sometimes trading songs. She earned the nickname "Rattlesnake" from her refusal to allow the killing the snakes on her ranch as per her Cherokee descent, where the rattler is a healing symbol, and released her first single, "Texas Lullabye," in 1974. She later released her critically acclaimed debut Rattlesnakes & Rusty Water; the album did nothing in the U.S. but enjoyed popularity in Europe. She recorded with Nelson in 1982 and subsequently toured the U.S. with Floyd Tillman.
In the mid-'80s Annie returned from a stay in England and recorded Country Livin'. She returned to Europe and became the first female country singer to play the Eastern Bloc countries. While in East Germany, she appeared on television, and in Czechoslovakia made an album with Czech country singer Michael Tcny, Rattlesnake Annie & the Last Cowboy. In 1987, she finally won recognition in the U.S. when she and Rick Blackmon produced her self-titled album. One of the cuts, "Goodbye to a River," became the anthem of the West German chapter of Greenpeace, while two other cuts became minor chart hits in the U.S. In 1991, Rattlesnake Annie became the first American country performer to sign to Sony Music Japan and recorded several albums for the label, including Painted Bird (1993).
http://www.rattlesnakeannie.com/
https://www.facebook.com/Rattlesnake-Annie-151594058250909/
https://en.wikipedia.org/wiki/Rattlesnake_Annie
Talents : Vocals, Guitar
Style musical : Progressive Country, Outlaw Country, Country-Folk

http://www.youtube.com/watch?v=qUFW1SLcw_Y
Years in activity :
| | | | | | | | | | | | |
| --- | --- | --- | --- | --- | --- | --- | --- | --- | --- | --- | --- |
| 1910 | 20 | 30 | 40 | 50 | 60 | 70 | 80 | 90 | 2000 | 10 | 20 |
DISCOGRAPHY
Singles
1974
SP RATTLESNAKE ? (US)
.

Texas Lullabye / ?

1982
SP RATTLESNAKE RS 4000 (US)
Long Black Limousine (with Willie NELSON) / ?
1983
SP CHEW 82

(UK)

Tennessee Waltz / ?

1985
SP RATTLESNAKE RS-5000 (US)
Funky Country Living / Country Music Hall Of Pain
1987
SP COLUMBIA

18-07024 (US)

.

Callin' Your Bluff / ?

1987
SP COLUMBIA

18-07634 (US)

.

Somewhere South Of Macon / ?

1987
SP COLUMBIA

? (US)

.

Funky Country Livin' / ?
Albums
1976
LP 12" RATTLESNAKE RR-1010 (US)
RATTLESNAKES AND RUSTY WATER - Good Ole Country Music / Carolina Blue / Rattlesnake Mama / Goodbye To A River / Gypsy Lady / Lay Me A Rail For The Road / Blue Flame Cafe / Tellico Plains / My Mothers Name Is Victory / Rattlesnakes And Rusty Water
1981
LP 12" RATTLESNAKE RR-2020 (US)
COUNTRY LIVIN' - Living On The Outskirts Of Town / Country Music Hall Of Pain / Jimmie Rodgers / How Much Can You See / Mountain Man (with Peter ROWAN) / Long Black Limousine (with Willie NELSON) / Funky Country Living / Tennessee Lullaby / Sister's Comin' Home / Dancing John / Comanche Tears
1982
LP 12" SUPRAPHON 1113-3274 (CZ)
RATTLESNAKE ANNIE AND THE LAST COWBOY - (Rattlesnake ANNIE with

Michal

TUCNY) - Tellico Plains / Tennessee Lullaby / Good Hearted Woman / Last Cowboy / Stray Dog Leather Boots / Heavens Door / Good Ole Country Music / Rattlesnake Mama / I Saw The Light / Hang Her Higher / Goodbye To A River / Ballad Of Rattlesnake Annie - The Last Cowboy And Smokey Sid
1987
LP 12" COLUMBIA B6C-40678 (US)
RATTLESNAKE ANNIE - Funky Country Livin' / Sixteen Tons / Country Music Hall Of Pain / Somewhere South Of Macon / Goodbye To A River / Outskirts Of Town / Callin' Your Bluff / Long Black Limousine / Been Waitin' That Long / Lonesome On'ry And Mean
1988
CD MONTANA COUNTRY CD-310012 (US)
RATTLESNAKE ANNIE SINGS HANK WILLIAMS - Low Down Blues / I'm So Lonesome I Could Cry / Sundown And Sorrow / Old Home / Crying In Your Sleep / Wedding Bells / My Bucket's Got A Hole In It / Rock My Cradle / House Without Love / Pale Horse And Its Rider / Tennessee Border / Waltz Of The Wind
1991
LP 12" RATTLESNAKE RR-3030 (US)
INDIAN DREAM - Indian Dream / Geronimo / Bugles On The Prairie / Buckskin Charlie / Indian Love Song / Ghost Dance / Cherokee Lullaby / Medicine Woman / Ride On Red Man / Mother Mountain
1991
CD RATTLESNAKE RCD-4040 (US)
CROSSROADS - Night Life / Friend In California / My Old Man / You Belongs To Me / Texas And Oklahoma / I Always Get Lucky / Blue Moon Of Kentucky / If I Needed You / I've Gotta Have My Baby Back / St James Infirmary
1993
CD SONY ? (US)
CROSSROADS - Night Life / Friend In California / My Old Man / You Belong To Me / Texas & Oklahoma / I Always Get Lucky With You / Blue Moon Of Kentucky (Bill MONROE playing mandolin) / If I Needed You / I've Gotta Have My Baby Back / St. James Infirmary
1994
CD RATTLESNAKE RS-5050 (US)
PAINTED BIRD - Aztec Fields / Bury My Heart At Wounded Knee / Rain Dance / Trail Of Tears / Cherokee Eyes / Iron Horse / Hang Her Higher / Painted Bird / Reservation Blues / Waltz Of The Last Buffalo
1995
CD SONY / COLUMBIA ? (US)
ADIOS LAST COWBOY - Adios Last Cowboy / Red River Valley / Geronimo / Goodbye To A River / Iron Horse / Blue Texas Christmas / Ghost Dance / Hang Her Higher / Heavens Door / Buckskin Charlie / Mother Mountain / Will The Circle Be Unbroken
1996
CD SONY ? (US)
TROUBADOUR - Adios Last Cowboy / Kunitachi / Ole Uli / Mexican Wedding Song / Okinawa Moon / Caroline And Rachel / Revolution (with Tokiko KATO) / Comanche Tears / Great Hanshin Earthquake / Yuki Ga Fulu Hi Ni
1997
CD SONY ? (US)
SOME STORIES NEVER END - Cowboys Sweetheart (with Patsy MONTANA) / Tennessee Waltz / Tennessee Stud / Smiling Through My Tears / Walkin' (with Willie NELSON) / Bloody Mary Morning / You Don't Love Me Anymore / Letter To Olga / You Are My Sunshine / Some Stories Never End
2002
CD RATTLESNAKE ? (US)
I RIDE ALONE - I Ride Alone / Woman Of Waltzes / City Lights (with Bill ANDERSON) / Vaya Con Dios / I'll Be Here / Face Of The Rider / Blues Stay Away From Me (with Tomi FUJIYAMA) / Memories / Stay All Night / Rebel Child / Yard Sale (with Lonnie MACK) / Prayer In The Early Morning
2002
CD RATTLESNAKE ? (US)
SOUTHERN DISCOMFORT - They Say (with Dan PENN) / House Of The Rising Sun / Nihon Blues / Blues Get Off My Shoulder / Diamond Back Blues / Motherless Child / Blues Horses / Free The Children / Stop / Southern Discomfort / Trouble In Mind (with Bill MONROE)
2004
CD RATTLESNAKE ? (US)
RATTLESNAKE ANNIE SINGS WILLIE NELSON - Time Of The Preacher - It's Not Suppose To Be That Way / My Own Peculiar Way / Shotgun Willie / So Much To Do / I'm Falling In Love / Yesterday's Wine / On The Road Again / Family Bible / Jimmy's Road / Healing Hands Of Time /

Long Black Limousine

2006
CD RATTLESNAKE ? (US)

THE BEST OF RATTLESNAKE ANNIE -

Hokkaido Wind / The Old Guitar / Geronimo / Sixteen Tons / Somewhere South Of Macon / Calling Your Bluff / Lonesome O'nry And Mean / Been Waitin' That Long / Rain Dance / I Ride Alone / Caroline And Rachel / Blue Flame Café / Diamond Back Blues
2009
CD RATTLESNAKE ? (US)
INTERNATIONAL FUSION PROJECT - Where Have All The Flowers Gone / La Vie En Rose / Drumurile Noastre / How Can We Live Without Horses / Lili Marleen / Wdaret / Stranger On The Shore / Down By The River Side / Bailerina / Cao Yuan Qing Ge / Krishna With Lenin Zurita / Hava Nagila / Shaantih
© Rocky Productions 22/12/2010