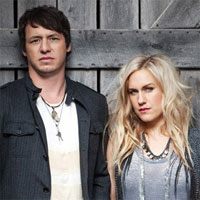 Duo Country US composé de Kristy Osmunson et Jon Stone. Osmunson a été membre du groupe Bomshel et Jon Stone a écrit des chansons enregistrées par Rascal Flatts, Kenny Chesney, Blake Shelton et d'autres encore.

American Young is the country singer/songwriter duo of Kristy Osmunson and Jon Stone, both of whom had some success as Nashville songwriters before joining forces in 2013. Osmunson, a fiddle player, had been a member of the group Bomshel and had her songs recorded by Jory + Rory, among others, while Stone was an in-demand producer who had written songs recorded by Rascal Flatts, Kenny Chesney, Blake Shelton, and others. Initially the pair were looking to write some songs together, but their chemistry when they sang made it obvious they had to give the performing end a try. Their debut self-titled EP appeared in 2014 from Curb Records, led by the singles "Love Is War" and "Wasn't Gonna Drink Tonight." A full-length album, called AY, appeared in 2016.
American Young returned to action in 2019 with the EP Soundtrack of Your Life.
https://www.americanyoung.com/
https://en.wikipedia.org/wiki/American_Young
Style musical : Contemporary Country, Country-Pop

https://youtu.be/WNwg8EVHSAY
Years in activity :
| | | | | | | | | | | | |
| --- | --- | --- | --- | --- | --- | --- | --- | --- | --- | --- | --- |
| 1910 | 20 | 30 | 40 | 50 | 60 | 70 | 80 | 90 | 2000 | 10 | 20 |
DISCOGRAPHY
EP
| | | | |
| --- | --- | --- | --- |
| 2013 | CD Curb D2-73618 (US) | | Love Is War / Ain't Looking For Love / God Sends A Train / Soldier's Wife (Don't Want You To Go) / Saturday Night |
| 2013 | CD Curb D-223- (510630) (US) (promo) | | Love Is War / Love Is War [Callout Hook] |
| 08/2014 | CD Curb D2-73916 (US) | | Wasn't Gonna Drink Tonight / Ain't Lookin' For Love / God Sends A Train / Love Is War / Soldier's Wife (Don't Want You To Go) / The Thunder Rolls |
| 2014 | CD Curb D-2244 (510644) (US) (promo) | | Wasn't Gonna Drink Tonight / Wasn't Gonna Drink Tonight [Callout Hook] |
| 2019 | CD Curb D2-79525 (US) | | Gonna Be You / Die Another Day / Soundtrack Of Your Life / Falling Star / Seminole Wind |
Album
| | | | |
| --- | --- | --- | --- |
| 08/2016 | CD Curb D2-79362 (US) | | AY - Be Here / American Dream / Love In War / Point Of View / Party In The Dark / Better On You / Eighteen / God Sends A Train / Slow Ride / Soldier's Wife (Don't Want You To Go) / Hometown Girl / Something To You |
© Rocky Productions 25/02/2021