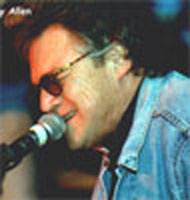 Chanteur Country US né le 7 Mai 1943 à Wichita (Kansas).

There may be no greater maverick than Terry Allen in all of country music from the mid-'70s onward. Along with Jimmie Dale Gilmore, Joe Ely, and Butch Hancock — all of whom he's known and collaborated with — Allen is a standard-bearer of the Lubbock, TX, country scene. Though not widely heralded, this is perhaps the most progressive movement in all of contemporary country, digging into modern-day concerns with a gutsy, liberal perspective, while maintaining a firm musical grounding in regional country and folk traditions. Allen is perhaps the most ambitious of them all, writing complex song cycles that have been performed with the help of fellow eclectics ranging from Lowell George to David Byrne.
Allen's audience, like those of the other Lubbock pioneers, is not the country mainstream. Indeed, his principal appeal may not lie with the country audience at all (though his music definitely is country), but with open-minded alternative folk and rock listeners. Unlike most current country artists, his words aim to question and confront hard day-to-day realities, rather than offer conservative clichés or maudlin comforts to shield listeners from those very day-to-day realities. He does so with a humor and irreverence that will also find little sympathy in Nashville or Middle America.
Country music is just one of Allen's artistic pursuits, perhaps accounting to some degree for his wide perspective. The renaissance man is also an internationally recognized artist with three NEA grants and a Guggenheim Fellowship to his credit. He's also a true multimedia performer, having done work in the mediums of painting, sculpture, film, video, installation, theater, and poetry. Just a few of his more interesting projects, for instance, were writing the music for Amerasia, a film about American servicemen living in Thailand after the Vietnam War; writing a new national anthem (with Ely, Hancock, and Gilmore) in conjunction with a book about Vietnam; and collaborating with his wife, Jo Harvey Allen, as well as Ely and Hancock, on the production of the acclaimed stage play Chippy.
But Allen is not a country music dilettante, having written songs for Bobby Bare and Robert Earl Keen. Outside of the strict country sphere, he wrote "New Delhi Freight Train" for Little Feat, and contributed a few songs to the soundtrack of David Byrne's True Stories film. The cinema has always been an inspiration or influence upon Allen's work. His first album, Juarez (from the mid-'70s), was a conceptual work that originated as a soundtrack to an imaginary film, evolving in performance to a set of songs inspired by Mexican imagery.
Released in 1979, Lubbock (On Everything) is considered his most significant album. Inspired by his experiences growing up in the Texas town, it won praise for observing the details of regional life and characters with a sensitivity and wit more akin to rock and folk singer/songwriters than country ones. Allen's music (if not his lyrical content), however, remains very much in the Texan country tradition.
With many artistic projects always in the works, Allen has never had the need to record frequently. His singing and songwriting prowess remained undimmed, though, on 1996's Human Remains. He also expanded his musical horizons significantly with support from such noted stars and cult figures as David Byrne, Lucinda Williams, Ponty Bone, Lloyd Maines, and Joe Ely. Salivation followed in 1999.
http://www.terryallenartmusic.com/
https://en.wikipedia.org/wiki/Terry_Allen_(artist)
Talents : Vocals, Keyboards
Style musical : Country-Rock, Alternative Country

https://youtu.be/JGxPhx0yrf0
Years in activity :
| | | | | | | | | | | | |
| --- | --- | --- | --- | --- | --- | --- | --- | --- | --- | --- | --- |
| 1910 | 20 | 30 | 40 | 50 | 60 | 70 | 80 | 90 | 2000 | 10 | 20 |
DISCOGRAPHY
Singles
| | | | |
| --- | --- | --- | --- |
| 1969 | SP Bale Creek 101 (US) | . | Gonna California / Color Book |
| 1980 | SP FATE FRSS-1001 (US) | | Terry Allen & The Panhandle Mystery Band - Cajun Roll / Whatever Happened To Jesus (And Maybeline)? |
| 1999 | CD SUGAR HILL SUG-CD-1061 (US) | | Terry Allen & Guy Clark - Merry Xmas On The Isthmus - Xmas On The Isthmus |
Albums
1975
LP 12" Landfall 1394 (US)

JUAREZ - The Juarez Device / Dialogue : The Characters - A Simple Story / Cortez Sail / Border Palace / Dogwood / Writing On Rocks Across The Sea / The Radio....And Real Life / There Oughta Be A Law Against Sunny Southern California / What Of Alicia / Honeymoon In Cortez / Four Corners / Dialogue : The Run South / Jabo - Street Walkin Women / Cantina Carlotta / The Despedida (The Parting)

1978
2 LP 12" FATE 33996 (US)
LUBBOCK (ON EVERYTHING) - Amarillo Highway (For Dave Hickey) / Highplains Jamboree / Great Joe Bob (A Regional Tragedy) / Wolfman Of Del Rio / Lubbock Woman / Girl Who Danced Oklahoma / Truckload Of Art / Collector (And The Art Mob) / Oui (A French Song) / Rendezvous USA / Cocktails For Three / Beautiful Waitress / Blue Asian Reds (For Roadrunner) / New Delhi Freight Train / FFA / Flatland Farmer / My Amigo / Pink And Black Song / Thirty Years Waltz (For Jo Harvey) / I Just Left Myself
1980
LP 12" FATE 38121 (US)

Smokin' The Dummy - Terry Allen & The Panhandle Mystery Band - The Heart Of California (For Lowell George) / Cocaine Cowboy / Whatever Happened To Jesus (And Maybeline)? / Helena Montana / Texas Tears / Cajun Roll / Feelin Easy / The Night Cafe / Roll Truck Roll / Red Bird / The Lubbock Tornado (I Don't Know)

1981
LP 12" FATE 1394 (US)
JUAREZ - The Juarez Device / Dialogue : The Characters - A Simple Story / Cortez Sail / Border Palace / Dogwood / Writing On Rocks Across The Sea / The Radio....And Real Life / There Oughta Be A Law Against Sunny Southern California / What Of Alicia / Honeymoon In Cortez / Four Corners / Dialogue : The Run South / Jabo - Street Walkin Women / Cantina Carlotta / The Despedida (The Parting)
1983
LP 12" FATE 38122 (US)
BLOODLINES - Terry

Allen

& The

Panhandle Mystery Band

- Bloodlines / Gimme A Ride To Heaven Boy / Cantina Carlotta / Ourland / Oh Hally Lou / Oh What A Dangerous Life / Manhattan Bluebird / There Oughta Be A Law Against Sunny Southern California / Bloodlines (II)
1983
LP 12" FATE 38126 (US)
SMOKIN' THE DUMMY - Terry

Allen

& The

Panhandle Mystery Band

- Heart Of California / Cocaine Cowboy / Whatever Happened To Jesus (And Maybellene) / Helena Montana / Texas Tears / Cajun Roll / Feelin' Easy / Night Cafe / Roll Truck Roll / Red Bird / Lubbock Tornado (I Don't Know)
1987
LP 12" FATE 2637 (US)
AMERASIA - PANHANDLE MYSTERY BAND : Amerasia / My Country 'tis Of Thee / The Burden / Back Out Of The World / Surachai JANTIMATORN & CARAVAN : Swanlake / PANHANDLE MYSTERY BAND : Display Woman - Displaced Man / Lucy's Tiger Den / Chop Sticks - Thai Sticks / Nobody's Goin' Home (Friendship Highway) / Surachai JANTIMATORN & CARAVAN : Metrapab / PANHANDLE MYSTERY BAND : Church Walking / Food Stall / Canal / Sawahdi (Christmas Song) / Surachai JANTIMATORN & CARAVAN : Orphans / Pataya / Let Freedom Ring
1988
CD FATE 7655266 (US)

Pedal Steal / Rollback - Terry Allen & The Panhandle Mystery Band - Pedal Steel / Fenceline / Rodar Parar Atras / Rollback / Figure Ate / Home On The Range / Further Away / French Home

1991
CD FATE 5000.2 (US)
JUAREZ -

Introduction :

The Juarez Device / Dialogue : The Characters - A Simple Story /

The California Series :

Cortez Sail / Border Palace / Dogwood / Writing On Rocks Across The Sea / The Radio....And Real Life /

The Cortez Series :

There Oughta Be A Law Against Sunny Southern California / What Of Alicia / Honeymoon In Cortez / Four Corners /

The Juarez Series :

Dialogue : The Run South / Jabo - Street Walkin Women / Cantina Carlotta / The Despedida (The Parting)
1993
LP 12" FATE 7453266 (US)
THE SILENT MAJORITY -

Terry Allen's Greatest Missed Hits -

Advice To Children / Yo Ho Ho / Home On The Range / I Love Germany / The Burden / Big Ol White Boys / Arizona Spiritual / Oh Tired Feet / Rollback / Cocktail Desperado / 3 Finger Blues / Oh Mom / High Horse Momma / New Delhi Freight Train / Loneliness Rockin By Momma Lonesome Rose Lonely Road / Hearts Road
01/1996
CD SUGAR HILL 1050 (US)
HUMAN REMAINS - Gone To Texas / Room To Room / Back To Black / Wilderness Of This World / Little Sandy / Buck Naked / What Of Alicia / That Kind Of Girl / Galleria Dele Ami / Crisis Site 13 / Peggy Legg / After The Fall / Flatland Boogie
1997
CD SUGAR HILL 1057 (US)
SMOKIN' THE DUMMY / BLOODLINES - Terry

Allen

& The

Panhandle Mystery Band

- The Heart Of California / Whatever Happened To Jesus (And Maybellene) ? / Helena Montana / Texas Tears / Feelin Easy / The Night Café / Roll Truck Roll / Red Bird / The Lubbock Tornado (I Don't Know) / Bloodlines

[I] /

Gimme A Ride To Heaven Boy / Cantina Carlotta / Our Land / Oh Hally Lou / Oh What A Dangerous Life / Manhattan Bluebird / There Oughta Be A Law Against Sunny Southern California / Bloodlines

[II]

03/1999
CD SUGAR HILL SH-1061 (US)
SALIVATION - Salivation / Doll / Billy The Boy / Southern Comfort / Rio Ticino / Red Leg Boy / Cortez Sail / X-mas On The Isthmus / Ain't No Top 40 Song / Show / Give Me The Flowers
2004
CD SUGAR HILL SUG-CD-1076 (US)
AMERASIA - Amerasia / My Country 'Tis Of Thee / The Burden / Back Out Of The World / Swanlake / Displaced Man / Lucy's Tiger Den / Thai Sticks / Nobody's Goin' Home (Friendship Highway) / Metrapab / Church Walking / Food Stall / Canal / Sawahdi (Christmas Song) / Orphans / Pataya / Let Freedom Ring
2004
CD SUGAR HILL SUG-CD-1077 (US)
JUAREZ - The Juarez Device (AKA Texican Badman) / Dialogue : The Characters - A Simple Story / Cortez Sail / Border Palace / Dogwood / Writing On Rocks Across The Sea / The Radio....And Real Life / There Oughta Be A Law Against Sunny Southern California / What Of Alicia / Honeymoon In Cortez / Four Corners / The Run South / Jabo / Street Walkin Women / Cantina Carlotta / The Despedida (The Parting) / El Camino Instrumental / El Camino
2005
CD SUGAR HILL SUG-CD-1079 (US)
THE SILENT MAJORITY - TERRY ALLEN'S GREATEST MISSED HITS - Advice To Children / Yo Ho Ho / Home On The Range / I Love Germany / The Burden / Big Ol' White Boys / Arizona Spiritual / Oh Tired Feet / Rollback / Cocktail Desperado / 3 Finger Blues / Oh Mom / High Horse Momma / New Delhi Freight Train / Loneliness (Rockin' By MommaLonesome Rose Lonely Road) / Heart's Road
02/2006
CD SUGAR HILL SUG-CD-1078 (US)
PEDAL STEEL - Pedal Steel
07/2007
CD SUGAR HILL SUG-CD-4037 (US)
BEST OF THE SUGAR HILL YEARS - Amarillo Highway / What Of Alicia / Helena Montana / Gimme A Ride To Heaven Boy / Truckload Of Art / X-Mas On The Isthmus / New Delhi Freight Train / Flatland Boogie / The Doll / Red Bird / Peggy Legg / Wilderness Of This World / The Beautiful Waitress / Give Me The Flowers / Cortez Sail / Oh Hally Lou
2010
CD

Not On Label

? (US)

Ghost Ship Rodez - Intro : Ghost Ship / Storm / Borne / Momo I : Madhouse / Daughter Of The Heart / Headache / Mexique / Momo II : Heaven / Village Of Me / God Of Shit / Fire

2011
LP 12" Orion Read OR-1 (US) (limited edition)

Live At Al's Grand Hotel May 7th 1971 - Red Bird / Flipside : A Side - Baby How I Know, B Side - Together / Late 1961 (Or The 3701 28th St. Cowboy Blues) / Pink And Black Song / Cowboy And The Stranger / Maybe / Intro (Voice : Earl McGrath) / Juarez Device (AKA Texican Badman) / Border Palace / Dogwood / Writing On The Rocks (Across The USA) / The Radio...And Real Life / Off Malibu (For Mike Baylog) / Truckload Of Art

02/2012
CD

Not On Label

TLA-0044 (US)

Bottom Of The World - Four Corners / Queenie's Song / Hold On To The House / Do They Dream Of Hell In Heaven / Bottom Of The World / Angels Of The Wind / Emergency Human Blood Courier / Wake Of The Red Witch / The Gift / Sidekick Anthem / Covenant (For Jo Harvey)

05/2016
CD Paradise Of Bachelors PoB-26 (US)
JUAREZ - The Juarez Device (AKA Texican Badman) / Dialogue : The Characters (A Simple Story) / Cortez Sail / Border Palace / Dogwood / Writing On Rocks Across The USA / The Radio....And Real Life / There Oughta Be A Law Against Sunny Southern California (Jabo I, II, III) / What Of Alicia / Honeymoon In Cortez / Four Corners / Dialogue : The Run South / Parts : Jabo - Street Walkin Women / Cantina Carlotta / La Despedida (The Parting)
03/2019
LP 12" + 3 CD Paradise Of Bachelors PoB-045 (US)

Pedal Steal + Four Corners - Terry Allen & The Panhandle Mystery Band :

LP : Pedal Steal (Part 1) / Pedal Steal (Part 2)
CD 1 : Pedal Steal
CD 2 :

FOUR CORNERS : RADIO PLAYS, 1986-1993 : Torso Hell /

Bleeder
CD 3 :

Reunion (A Return To Juarez) /

Dugout

01/2020
CD Paradise Of Bachelors PoB-055 (US)

Just Like Moby Dick - Terry Allen & The Panhandle Mystery Band - Houdini Didn't Like The Spiritualists / Abandonitis / Death Of The Last Stripper / All That's Left Is Fare-Thee-Well / Pirate Jenny / American Childhood I : Civil Defense / American Childhood II : Bad Kiss / American Childhood III : Little Puppet Thing / All These Blues Go Walkin' By / City Of The Vampires / Harmony Two / Sailin' On Through
© Rocky Productions 14/02/2021