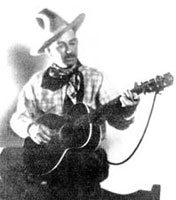 Chanteur Country US né le 1er Avril 1883 à Waxahachie (Texas), Jules Vern Allen est décédé le 10 Juillet 1945.

Jules Verne Allen was one of a handful of authentic and documented cowboy singers and writers -- along with Carl T. Sprague -- who lived the life that his songs dealt with. He also learned those songs before radio and records carried them to the world, when they were still part of an oral tradition. A cowboy from the age of ten, and a participant in cattle drives until the end of the first decade of the new century, Allen began singing as an amateur for the pleasure of his fellow cowboys.
After a stint in law enforcement, including a possible period as a Texas Ranger, and service in the army during World War I, he began working as a professional singer in the 1920s and was appearing on radio in Dallas, San Antonio, and Los Angeles by the end of the decade, sometimes under various pseudonyms, including Longhorn Luke. Allen began cutting music for Victor starting in 1928, and cut a total of a dozen sides for the company that year and the next. He cut what were among the earliest known versions of "The Cowboy's Dream," "Home on the Range," and "Days of Forty-Nine." His recording of "The Dying Cowboy," more familiar as "Oh Bury Me Not on the Lone Prairie," is one of the more notable authentic oral tradition-derived versions of a song dating, in that form, at least since the 1830s.
Allen was also a composer and writer in his own right, and published Cowboy Lore, a collection of three dozen songs accompanied by details about cowboy life, in 1933 -- it has been reprinted several times, most recently in 1971, some 26 years after his death.
https://en.wikipedia.org/wiki/Jules_Verne_Allen

http://www.hillbilly-music.com/artists/story/index.php?id=10240
Talents : Vocals, Guitar, Main Performer
Style musical : Cowboy, Old-Timey, Yodeling

http://youtu.be/dskndXzNox8
Years in activity :
| | | | | | | | | | | | |
| --- | --- | --- | --- | --- | --- | --- | --- | --- | --- | --- | --- |
| 1910 | 20 | 30 | 40 | 50 | 60 | 70 | 80 | 90 | 2000 | 10 | 20 |
DISCOGRAPHY
78 t.
1928
78 t. VICTOR 21470 (US)
Jules ALLEN - Little Joe The Wrangler / Jack O' Diamonds
1928
78 t. VICTOR 21627 (US)
Jules ALLEN - Home On The Range / Days Of 49
1928
78 t. VICTOR VI 40022 (US)
Jules ALLEN - Gal I Left Behind / Zebra Dun
1929
78 t. VICTOR VI 40068 (US)
Jules ALLEN - Texas Cowboy / Prisoner For Life
1929
78 t. VICTOR VI 40118 (US)
Jules ALLEN - Longside The Santa Fe Trail / Two Fragments
1929
78 t. VICTOR VI 40167 (US)
Jules ALLEN - Cowboy's Love Song / Chisholm Trail
1929
78 t. VICTOR VI 40178 (US)
Jules ALLEN - Cowboy's Dream / Cowboy's Lament
1930
78 t. VICTOR VI 40263 (US)
Jules ALLEN - Punching The Dough / When The Work's All Done This Fall
1932
78 t. Montgomery Ward ‎M 4099 (US)

Bury Me Not On The Lone Prairie (The Dying Cowboy) / (Carl T SPRAGUE) / The Cowboy's Lament (Jules ALLEN)

1932
78 t. MONTGOMERY WARD M 4343 (US)
Home On The Range (Jules ALLEN) / The Cowboy's Dream (Carl T SPRAGUE)
1932
78 t. MONTGOMERY WARD M 4344 (US)
Jules ALLEN - Long Side The Santa Fe Trail / Little Joe, The Wrangler
1934
78 t. MONTGOMERY WARD M 4463 (US)
Jules ALLEN - Chisholm Trail / Days Of 49
1934
78 t. MONTGOMERY WARD M 4464 (US)
Jules ALLEN - Zebra Dun / Jack O' Diamonds
1936
78 t. MONTGOMERY WARD M 4779 (US)
Jules ALLEN - Jack O' Diamonds / The Cowboy's Love Song
1936
78 t. MONTGOMERY WARD M-4101 (US)
On The Red River Shore (

Bud Billings Trio

((Frank LUTHER) with Carson

Robison

) / The Cowboy's Love Song (Jules

Allen

)
1936
78 t. MONTGOMERY WARD M 4780 (US)
Jules ALLEN - Longside The Santa Fe Trail / Little Joe The Wrangler
1936
78 t. MONTGOMERY WARD 4781 (US)
Jules ALLEN - Two Fragments / Texas Cowboy
| | |
| --- | --- |
| | |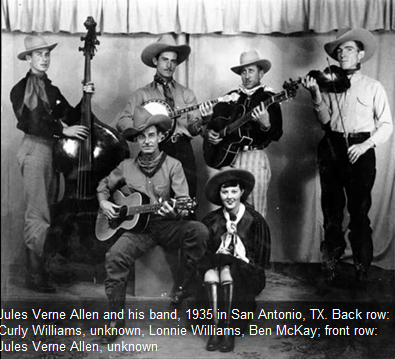 © Rocky Productions 19/09/2011