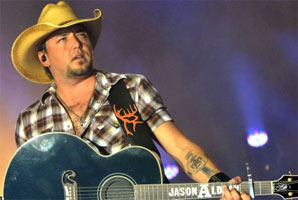 Chanteur Country né le 28 Février 1977 à Macon (Georgie).



Country singer and guitarist Jason Aldean was born in Macon, GA, in 1977. His parents separated when he was three years old, and he spent his childhood with his mother in Macon through the school year while spending the summers with his father in Homestead, FL. He fell early under the spell of country music and made his first public appearance as a singer at a VFW hall in Macon when he was 14 years old. Soon he was a regular at area talent contests, and a year later he joined the house band at Nashville South in Macon. Aldean began pursuing a music career on a full-time basis following his graduation from high school and, with his father as a booking agent, was soon gigging in college towns throughout the Southeast and up and down the Eastern Seaboard. Aldean privately financed an eight-song CD during this period to sell at shows, recording it in Nashville in 1996. Michael Knox spotted Aldean at an Atlanta showcase a year or two later, and signed the singer to a songwriting contract with Warner-Chapell Publishing, which allowed Aldean to move to Nashville in 1998. When a couple of recording deals fell through and his songwriting contract was about to expire, Aldean was on the verge of giving up on the music business when he attracted the attention of the independent label Broken Bow Records, which released his debut album, simply called Jason Aldean, in 2005. Aldean returned to the studio in January 2007 to work on his sophomore release, Relentless. The album, featuring the single "Johnny Cash," hit stores in May of that year.
Wide Open followed in 2009 and its success established Aldean as a major country star. It had three number one singles -- "She's Country," "The Truth," and "Big Green Tractor," which crossed over to the pop Top 20 -- and "Crazy Town" was nearly as big, peaking at number two. Aldean upped the ante with 2010's My Kinda Party, an album that was even bigger than its predecessor thanks to the number one singles "Don't You Wanna Stay," "Dirt Road Anthem," and "Fly Over States," plus "Tattoos on This Town" and "My Kinda Party," both of which peaked at number two.
All of this raised expectations for Night Train, Aldean's fifth album, which arrived in the fall of 2012. Featuring the hit singles "Take a Little Ride," "Night Train," and "When She Says Baby," Night Train was another number one hit for Aldean. He followed it up in 2014 with Old Boots, New Dirt, which also entered the Billboard Top 200 and country charts at number one, partially due to the momentum of the hit single "Burnin' It Down." Old Boots, New Dirt generated three other Top Ten hits -- "Just Gettin' Started," "Tonight Looks Good on You," and "Gonna Know We Were Here" -- that kept it on the charts into 2015. The next year, he delivered his seventh studio album, They Don't Know, whose September 2016 release was preceded by the singles "Lights Come On" and "A Little More Summertime."
In October 2017, while Aldean was on-stage performing at the Route 91 Harvest Festival on the Las Vegas Strip, a gunman began firing on the assembled crowd, resulting in the deadly mass shooting that took the lives of many of the singer's fans. Aldean managed to escape unharmed and appeared the following weekend on Saturday Night Live performing a cover of Tom Petty's "I Won't Back Down." In January 2018 he released "You Make It Easy," the lead single from his forthcoming Rearview Town album. Completed prior to the Vegas tragedy, Rearview Town appeared in April 2018. Rearview Town spawned four Country Airplay Number Ones—"You Make It Easy," the Miranda Lambert duet "Drowns the Whiskey," "Girl Like You" and its title track—that kept the album on the airwaves into 2019. In November of that year, Aldean returned with his ninth album, 9.
After "We Back" reached six prior to the release of 9, the album generated two Billboard Country Airplay number ones in 2020: "Got What I Got" and "Blame It on You.&quot Aldean returned in 2021 with "If I Didn't Love You," a ballad duet with Carrie Underwood.
http://www.myspace.com/jasonaldean
https://en.wikipedia.org/wiki/Jason_Aldean
Talents : Vocals, Guitar
Style musical : Contemporary Country
Years in activity :
| | | | | | | | | | | | |
| --- | --- | --- | --- | --- | --- | --- | --- | --- | --- | --- | --- |
| 1910 | 20 | 30 | 40 | 50 | 60 | 70 | 80 | 90 | 2000 | 10 | 20 |
DISCOGRAPHY
Singles
| | | | |
| --- | --- | --- | --- |
| 2007 | SP BROKEN BOW V-1011 (US) | . | Hicktown / Relentless |
| 2009 | SP BROKEN BOW ? (US) | . | Big Green Tractor / She's Country |
| 2010 | CD BROKEN BOW BB-70063 (US) (promo) | | My Kinda Party [radio edit] / My Kinda Party [album version] |
| 11/2010 | CD BROKEN BOW BB-70065 (US) | | Don't You Wanna Stay (radio edit) / Don't You Wanna Stay (album version) |
| 2011 | CD BROKEN BOW BB-70072 (US) (promo) | . | Tattoos On This Town |
| 2011 | CD BROKEN BOW BB-70076 (US) (promo) | . | Fly Over States |
| 2012 | CD BROKEN BOW BB-73772 (US) | | Take A Little Ride / See You When I See You |
Albums
07/2005
CD BROKEN BOW 7657 (US)
JASON ALDEAN - Hicktown / Amarillo Sky / Why / Even If I Wanted To / Lonesome USA / Asphalt Cowboy / I'm Just A Man / You're The Love I Wanna Be In / Good To Go / I Believe In Ghosts / She Loved Me
05/2007
CD BROKEN BOW 70472 (US)
RELENTLESS - Johnny Cash / Laughed Until We Cried / Do You Wish It Was Me / I Use What I Got / Who's Kissing You Tonight / Relentless / My Memory Ain't What It Used To Be / No / Back In This Cigarette / Grown Woman / I Break Everything I Touch / Not Every Man Lives
04/2009
CD BROKEN BOW 74372 (US)
WIDE OPEN - Wide Open / This I Gotta See / Fast / Crazy Town / Don't Give Up On Me / She's Country / On My Highway / Keep The Girl / Big Green Tractor / The Truth / Love Was Easy
11/2010
CD BROKEN BOW BB76972 (US)
MY KINDA PARTY - Tattoos On This Town / Dirt Road Anthem / Church Pew Or Bar Stool / Just Passing Through / Fly Over States / My Kinda Party / I Ain't Ready To Quit / It Ain't Easy / Country Boy's World / The Heartache That Don't Stop Hurting / Texas Was You / Don't You Wanna Stay / See You When I See You / If She Could See Me Now / Days Like These
10/2012
CD BROKEN BOW BB 76172 (US)
NIGHT TRAIN - This Nothin' Town / When She Says Baby / Feel That Again / Wheels Rollin' / Talk / The Only Way I Know / Take A Little Ride / I Don't Do Lonely Well / Night Train / 1994 / Staring At The Sun / Drink One For Me / Black Tears / Walking Away / Water Tower
10/2014
CD BROKEN BOW 71057 (US)

Old Boots, New Dirt -

Just Gettin' Started / Show You Off / Burnin' It Down / Tryin' To Love Me / Sweet Little Somethin' / Laid Back / Tonight Looks Good On You / Too Fast / If My Truck Could Talk / Old Boots, New Dirt / I Took It With Me / Don't Change Gone / Miss That Girl / Gonna Know We Were Here / Two Night Town
09/2016
CD BROKEN BOW 72227 (US)

They Don't Know -

Lights Come On / A Little More Summertime / This Plane Don't Go There / Comin' In Hot / First Time Again (Jason

Aldean

feat: Kelsea

Ballerini

) / Bad / They Don't Know / One We Won't Forget / Whiskey'd Up / In Case You Don't Remember / All Out Of Beer / Any Ol' Barstool / The Way A Night Should Feel / Reason To Love L.A. / When The Lights Go Out
04/2018
CD BROKEN BOW 37574 (US)

Rearview Town - Dirt To Dust / Set It Off / Girl Like You / You Make It Easy / Gettin' Warmed Up / Blacktop Gone / Drowns The Whiskey / Rearview Town / Love Me Or Don't / Like You Were Mine / Better At Being Who I Am / I'll Wait For You / Ride All Night / Up In Smoke / High Noon Neon

11/2019
CD BROKEN BOW 32944 (US)
9 - Tattoos And Tequila / Blame It On You / Champagne Town / Some Things You Don't Forget / Got What I Got / Keeping It Small Town / Camouflage Hat / Came Here To Drink / We Back / Dirt We Were Raised On / I Don't Drink Anymore / Cowboy Killer / One For The Road / Talk About Georgia / The Same Way / She Likes It
11/2021
CD BROKEN BOW 71687 (US)
MACON - After You / Over You Again / That's What Tequila Does / Small Town Small / If I Didn't Love You / Story For Another Glass / Heaven / This Bar Don't Work Anymore / The Sad Songs / Watching You Love Me / Amarillo Sky [live] / Johnny Cash [live] / She's Country [live] / Big Green Tractor [live] / My Kinda Party [live]
04/2022
CD BROKEN BOW 719130 (US)
GEORGIA - Whiskey Me Away / Trouble With A Heartbreak / The State I'm In / Midnight And Missin' You / Ain't Enough Cowboy / God Made Airplanes / My Weakness / Holy Water / Rock And Roll Cowboy / Your Mama / Take A Little Ride / Burnin' It Down / Any Ol' Barstool / Rearview Town / Blame It On You
04/2022
3 LP 12" Macon 4050538719208 (CAN) (limited edition)
MACON, GEORGIA :

DISC 1 : After You / Over You Again / That's What Tequila Does / Small Town Small / If I didn't Love You (with Carrie UNDERWOOD) / Story For Another Glass / Heaven / This Bar Don't Work Anymore / The Sad Songs / Watching You Love Me
DISC 2 : Whiskey Me Away / Trouble With A Heartbreak / The State I'm In / Midnight And Missin' You / Ain't Enough Cowboy / God Made Airplanes / My Weakness / Holy Water / Rock And Roll Cowboy / Your Mama
DISC 3 :

Amarillo Sky (Live from Nashville, TN) /

Johnny Cash (Live from Los Angles, CA) / She's Country (Live from Las Vegas, NV) / Big Green Tractor (Live from Dallas, TX) / My Kinda Party (Live from St. Louis, MO) / Take A Little Ride (Live from Las Vegas, NV) / Burnin' It Down (Live from St. Louis, MO) / Any Ol' Barstool (Live from Knoxvillie, TN) / Rearview Town (Live from St. Louis, MO) /

Blame It On You (Live from Manchester, TN

11/2023
CD BROKEN BOW 4050538951479 (US)

Highway Desperado - Tough Crowd / Let Your Boys Be Country / Knew You'd Come Around / Hungover In A Hotel / Try That In A Small Town / Whiskey Drink / Whose Rearview / I'm Over You / Rather Watch You / Breakup Breakdown / Get Away From You / Changing Bars / From This Beer / Highway Desperado
© Rocky Productions 4/11/2023