Chanteur Country US né Alvis Alan Owens, le 23 Mai 1948 à Mesa (Arizona). Buddy Alan est le fils de Buck et Bonnie Owens.

Singer, songwriter and guitarist Buddy Alan, born Alvis Alan Owens, is the son of country legends Buck and Bonnie Owens. While growing up in Bakersfield, California, he listened to country and rock & roll and formed his first rock band, the Chosen Few, at the age of 14. He switched to country music by his late teens and in 1965 moved to Arizona with his mother and her new husband Merle Haggard. That year he also sang for the first time at one of his father's Christmas concerts.
Buddy Alan's first single, a duo with Buck called "Let the World Keep on a Turnin'," was released by Capitol in 1968 and made it to the Top Ten. That same year, he also recorded his first solo single, "When I Turn Twenty One," written by stepfather Haggard; this one made it to the Top 60. By 1969, Alan had spent a summer touring with the Buck Owens Show and was working at a country music nightclub. That year he released two more singles and also recorded his first album, Wild, Free and Twenty One. He then joined his father's All American Show and continued touring the country. His popularity grew, and he starred in his own shows and made regular appearances as a soloist and musician on Hee Haw for the next seven years. Alan again made it to the charts in 1970 with the single "Santo Domingo." In late 1970, he and Buckaroo lead guitarist Don Rich recorded the popular "Cowboy Convention," and Alan was named Most Promising Male Artist by the ACM. From 1971-1975, Alan continued to release modestly successful singles. Alan was signed to Capitol Records for eight years, but despite his initial promise as a performer, he never made it to the big time. Alan left the music business in 1978 to attend college in Arizona. He then went back to radio as Buddy Alan Owens and became the music director at two local stations in Tempe, Arizona. He was voted Billboard's Music Director of the Year four years running during the late '80s and early '90s.
https://en.wikipedia.org/wiki/Buddy_Alan
Talents : Vocals, Songwriter, Guitar
Style musical : Contemporary Country, Country Pop, Bakersfield Sound

http://www.youtube.com/watch?v=KDOlwZGCnqE
Years in activity :
| | | | | | | | | | | | |
| --- | --- | --- | --- | --- | --- | --- | --- | --- | --- | --- | --- |
| 1910 | 20 | 30 | 40 | 50 | 60 | 70 | 80 | 90 | 2000 | 10 | 20 |
DISCOGRAPHY
Singles
1968
SP CAPITOL F2237 (US)
Buck OWENS & Buddy ALAN & The

Buckaroos

-

I'll Love You Forever & Ever / Let The World Keep On Turnin'

1968
SP CAPITOL 2305 (US)
.

Adios, Farewell, Goodbye, Good Luck, So Long / When I Turn Twenty-One

1969
SP CAPITOL 2580 (US)
.

Alabama, Louisiana Or Maybe Tennessee / You Can't Make Nothing Out Of That But Love

1969
SP CAPITOL 2653 (US)
.

Lodi / I Wanna Be Wild And Free

1970
SP CAPITOL 2715 (US)
.

Big Mama's Medicine Show / When A Man Can't Call His Home A Home

1970
SP CAPITOL 2784 (US)
.

Down In New Orleans / I've Never Had A Dream Come True Before

1970
SP CAPITOL 2852 (US)
.

Santa Domingo / That's Quite A Ride

1970
SP CAPITOL 2928 (US)
.
Buddy ALAN & Don RICH

- Cowboy Convention / We're All Gonna Get Together

1971
SP CAPITOL 3010 (US)
.

Lookin' Out My Back Door / Corn Liquor

1971
SP CAPITOL 3040 (US)
.

I'm On The Road To Memphis / I'll Be Swingin' Too

1971
SP CAPITOL 3110 (US)
.

(Fishin') On The Mississippi / If I Could Love You More

1971
SP CAPITOL 3146 (US)
.

I Will Drink Your Wine / Doin' The Best I Can

11/1971
SP CAPITOL 3215 (US)
Buck OWENS & Buddy ALAN - BUCK & BUDDY - Too Old To Cut The Mustard / Wham Bam
1972
SP CAPITOL 3266 (US)
.

White Line Fever / Another By Your Side

1972
SP CAPITOL 3346 (US)
.

I'm In Love / Happiness Song

1972
SP CAPITOL 3427 (US)
.

Things / One Good Woman

1972
SP CAPITOL 3485 (US)
.

Magic Moon / Move It On Over

1973
SP CAPITOL 3555 (US)
.

Why, Because I Love You / She's Been On My Mind For So Long

1973
SP CAPITOL 3598 (US)
.

Caribbean / Please, Friend, Take Me Home

1973
SP CAPITOL 3680 (US)
.

Summer Afternoons / Maybe Things Would Be Better That Way

1973
SP CAPITOL 3749 (US)
.

All Around Cowboy Of 1964 / You Are My Everything

1974
SP CAPITOL 3861 (US)
.

I Never Had It So Good / She Always Wears A Yellow Rose

1974
SP CAPITOL 3944 (US)
.

Call My Number, Call My Name / If I Hurt Her She'll Cry

1974
SP CAPITOL 4019 (US)
.

Chains / Whole Lot Of Something

1975
SP CAPITOL 4075 (US)
.

Another Saturday Night / Nickels, Dimes & Quarters

1975
SP CAPITOL 4144 (US)
.

Something She's Got / 1000 Miles
| | |
| --- | --- |
| | |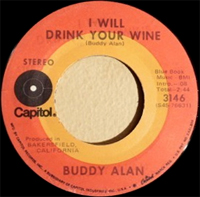 Albums
| | | | |
| --- | --- | --- | --- |
| 1970 | LP 12" CAPITOL ST-411 (US) | | WILD, FREE AND 21 |
| 1970 | LP 12" CAPITOL ST-592 (US) | | A WHOLE LOT OF SOMETHING - Santo Domingo / Everyday / I've Never Had A Dream Come True Before / That's Quite A Ride / Freeborn Man / A Whole Lot Of Somethin' / Down In New Orleans / We're All Gonna Get Together / One Good Woman / There's Gonna Be A Better Day |
| 1971 | LP 12" CAPITOL ST-769 (US) | | WE'RE REAL GOOD FRIENDS - Buddy ALAN & Don RICH |
| 01/1972 | LP 12" CAPITOL ST-874 (US) | | TO OLD TO CUT THE MUSTARD - Buck OWENS & Buddy ALAN - Too Old To Cut The Mustard / Pfft You Were Gone / Wham Bam / You're A Real Good Friend / Let The World Keep On A Turnin' / Tobacco White Lightning And Women Blues No 2 / I Won't Go Huntin' With You Jake / Cigareets Whuskey And Wild Wild Women / Beautiful Morning Glory / Forever And Ever |
| 1972 | LP 12" CAPITOL ST-11019 (US) | | THE BEST OF BUDDY ALAN |
| 1975 | LP 12" CAPITOL ST-11400 (US) | | CHAINS / ANOTHER SATURDAY NIGHT |
| 02/2007 | CD SUNDAZED 11189 (US) | | THE BEST OF BUDDY ALAN OWENS - Let The World Keep On A Turnin' (with Buck OWENS) / Lodi / Big Mama's Medicine Show / Down In New Orleans / Whole Lot Of Somethin' / Cowboy Convention / Lookin' Out My Back Door / I'm On The Road To Memphis / I Will Drink Your Wine / Too Old To Cut The Mustard (with Buck OWENS) / Things / Move It On Over / Summer Afternoons / All Around Cowboy Of 1964 / Chains / Here In Frisco / Another Saturday Night / Ride 'em Cowboy |
© Rocky Productions 28/11/2010