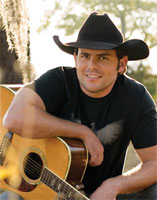 Chanteur Country US né Thomas Rhett Akins, le 13 Octobre 1969 à Valdosta (Georgie).

With his Top Five single "That Ain't My Truck," Rhett Akins became a sensation, however briefly, in the summer of 1995. Like many new country singers, he wasn't able to follow the record up with an equally successful second record, but he managed to cultivate a following of dedicated fans.
Aikins grew up in Valdosta, GA, learning to play guitar and forming his first band with his two younger brothers by the time he was 11. In 1992, he moved to Nashville, where he began singing on demos, as well as securing a publishing deal of his own. Eventually, Decca Records secured a demo of one of Akins' songs and the label offered him a contract.
A Thousand Memories, Akins' debut album, was released in 1994. After his first two singles — "What They're Talkin' About" and "I Brake for Brunettes" — cracked the Top 40, "That Ain't My Truck" became his breakthrough hit, rocketing to number three in the summer of 1995. "That Ain't My Truck" became his signature song and helped the album become a hit. For most of 1995, he toured as Reba McEntire's opening act, performing a few dates as a headliner as well.
In the summer of 1996, Akins released his second album, Somebody New. Although the record sold well initially, it quickly fell out of the Top 40. He returned in January 1998 with his third album, What Livin's All About. He signed with Audiom Records for 2002's Friday Night in Dixie and later with BNA Records for 2006's People Like Me.
https://en.wikipedia.org/wiki/Rhett_Akins
Talents : Guitar, Vocals, songwriter
Style musical : Country Pop, Contemporary Country

http://www.youtube.com/watch?v=DmkOAPiNHpw
Years in activity :
| | | | | | | | | | | | |
| --- | --- | --- | --- | --- | --- | --- | --- | --- | --- | --- | --- |
| 1910 | 20 | 30 | 40 | 50 | 60 | 70 | 80 | 90 | 2000 | 10 | 20 |
DISCOGRAPHY
Singles
| | | | |
| --- | --- | --- | --- |
| 09/1994 | SP DECCA DRNS7-54910 (US) | . | What They're Talking About / Heart To Heart |
| 01/1995 | SP DECCA DRNS7-54974 (US) | . | I Brake For Brunettes / I Brake For Brunettes [dance mix] |
| 1995 | CD DECCA DRN5P-55974 (US) (promo) | . | I Brake For Brunettes - I Brake For Brunettes / I Brake For Brunettes [dance edit] / I Brake For Brunettes [dance mix] |
| 05/1995 | SP DECCA DRNS7-55034 (US) | . | That Ain't My Truck / Same Old Story |
| 1995 | CD DECCA DRN5P-55034 (US) (promo) | | That Ain't My Truck [single version] |
| 09/1995 | SP DECCA DRNS7-55085 (US) | . | She Said Yes / Old Dirt Road |
| 03/1996 | SP DECCA DRNS7-55166 (US) | . | Don't Let Me Started / I Was Wrong |
| 08/1996 | SP DECCA DRNS7-55223 (US) | . | Love You Back / No Match |
| 11/1996 | SP DECCA DRNS7-55291 (US) | . | Every Cowboy's Dream / Carolina Line |
| 02/1997 | CD DECCA DRN5P-55322 (US) | . | Somebody Knew (single version) |
| 09/1997 | SP DECCA DRNS7-72022 (US) | . | More Than Everything / Better Than It Used To Be |
| 1997 | CD DECCA DRNDS-72022 (US) | | More Than Everything / Better Than It Used To Be |
| 1997 | CD DECCA DRNDS-72022 (US) (promo) | | More Than Everything |
| 01/1998 | SP DECCA DRNS7-72036 (US) | . | Better Than It Used To Be / I'm Finding Out |
| 03/1998 | SP DECCA DRNS7-72049 (US) | . | Drivin' My Life Away (Rhett AKINS) / A Man With 18 Wheels (Lee Ann WOMACK) |
| 1998 | CD DECCA DRN5P-72049 (US) (promo) | | Drivin' My Life Away |
| 2005 | CD BNA 82876-75712-2 (US) (promo) | | Kiss My Country Ass / Kiss My Country Ass [SFX] |
| 2006 | CD BNA 82876-80820-2RE (US) | | If Heaven Wasn't So Far Away |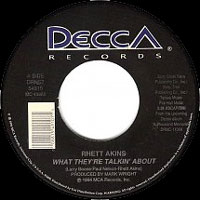 Albums
| | | | |
| --- | --- | --- | --- |
| 01/1995 | CD DECCA DRND-11098 (US) | | A THOUSAND MEMORIES - Heart To Heart / What They're Talkin' About / Old Dirt Road / She Said Yes / That Ain't My Truck / Katy Brought My Guitar Back Today / Thousand Memories / I Brake For Burnettes / Same Ol' Story / Those Hands |
| 06/1996 | CD DECCA DRND-11424 (US) | | SOMEBODY NEW - No Match (For That Old Flame) / Love You Back / Somebody Knew / K-I-S-S-I-N-G / Don't Get Me Started / Where Angels Live / Too Much Texas / Every Cowboy's Dream / Carolina Line / I Was Wrong |
| 01/1998 | CD DECCA DRND-70001 (US) | | WHAT LIVIN'S ALL ABOUT - Better Than It Used To Be / Happy As We Wanna Be / More Than Everything / I'll Be Right Here Lovin' You / Not In The Cards / What Livin's All About / She's Got Everything Money Can't Buy / Ain't That Just Like A Woman / Dream The Rest / Love Rules / I'm Finding Out / Rest Of Forever |
| 1998 | CD DECCA DRN3P-1028 (US) (promo) | | Career Sampler - I Brake For Brunettes / That Ain't My Truck / She Said Yes / Don't Get Me Started / More Than Everything / Better Than It Used To Be |
| 03/2002 | CD AUDIUM AUD-CD-8153 (US) | | FRIDAY NIGHT IN DIXIE - Highway Sunrise / That Girl / She Was / In Your Love / You Rock Me / Friday Night In Dixie / White Lies And Blue Eyes / Trouble With A Woman / Livin' Not Lovin' You / Right Back Atcha / I Wonder What You're Doin' Tonight / Must Be Livin' Right / Where The Blacktop Ends / That Ain't My Truck (Back Porch acoustic version) |
| 06/2006 | CD BNA 82876-75764-2 (US) | | PEOPLE LIKE ME - Kiss My Country Ass / I Love Women / If Heaven (Wasn't So Far Away) / Trouble With A Woman / People Like Me / Old Bird Dog / Must Be Livin' Right / Something I Gotta Have / If That Don't Get You / Something Gonna Kill Me / Friday Night In Dixie |
| 09/2010 | CD Georgia Boys Music ? (US) | | Michael Waddell's Bone Collector - The Brotherhood Album FEATURING Rhett AKINS & Dallas DAVIDSON - My Baby Looks Good In Camouflage / Weapons Of Bass Destruction / Yella Acorns / Granddaddy's Gun / Buck Fever / Hawgs; Duck Blind / Keepers / Hung Up / Openin' Day |
© Rocky Productions 17/09/2020