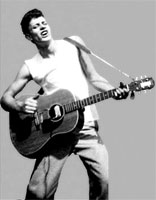 Chanteur Rock 'n' Roll et Country US né le 29 Avril 1937 à Madison (Virginie de l'Ouest). Hasil Atkins est mort le 26 Avril 2005 à Madison (Virginie de l'Ouest).

Hasil Adkins was a one of a kind rockabilly lunatic whose life and music were bizarre enough that if they had been a work of fiction, no one with any sense would have ever believed it. A frantic one-man band who bashed out ultra-crude rock & roll tunes about sex, chicken, and decapitation into a wheezing reel-to-reel tape machine in a West Virginia shack, Adkins spent most of his life making music in utter obscurity until he was discovered in the 1980s and became a cult favorite in the last two decades of his life.
Hasil Adkins was born to a poor family in Madison, WV, in 1937. Adkins developed a passion for music from listening to the radio as a boy; one day, after hearing a Hank Williams record, Adkins struck upon the notion that since no one else was credited, Williams must have played all the instruments himself, and while in time he learned that wasn't the case, he had already begun teaching himself to perform as a one-man band, using foot pedals to play the drums while using his hands to rock out on guitar. While Adkins' roots were in country music, when rock & roll hit in the mid-'50s, he took to it like a duck to water, and after putting together a primitive home-recording setup, he began committing his own rockabilly songs to tape.
However, it soon became obvious that Adkins' lyrical perspective wasn't what most folks were accustomed to -- he wrote a number of songs about a lascivious but nonexistent dance craze called "the Hunch," recorded another tune about eating peanut butter on the moon, and in one of his best-known songs, "She Said," he compared the woman of his affections to "a dying can of that commodity meat." While a few small regional labels released singles by Hasil in the late '50s and early '60s, and he headed to California in search of stardom, the world wasn't ready for his crazed vision, and Adkins ended up back in Madison, continuing to make his music in local honky tonks and for the benefit of his tape recorder.
As the '60s turned into the '70s, Adkins began to alternate rockabilly with country weepers, though even his more placid material still bore his emotionally charged trademark. Adkins self-released several country sides in the 1970s, and as was his habit he always mailed a copy of each record to the sitting president of the United States; as a result, Hasil actually received a thank-you letter from Richard M. Nixon.
In the late '70s, Billy Miller and Miriam Linna -- co-editors of Kicks magazine, members of the bands the Zantees and the A-Bones, and historians of various forms of raw, untamed music -- discovered a copy of Adkins' rare "She Said" single, and were immediately struck by its one of a kind sound and intensity. (Their enthusiasm was shared by Lux Interior and Poison Ivy of the Cramps, who cut "She Said" as the B-side of a single in 1981.) Miller and Linna tracked down Adkins, and discovered there was a lot more musical insanity where that 45 came from; they were enthusiastic enough to compile an album's worth of Hasil's home recordings from the 1950s and '60s, and 1986's Out to Hunch became the first album from their new record label, Norton Records. Featuring "She Said," "The Hunch," and three different songs about gals having their heads chopped off, Out to Hunch became an underground success, and a year later Miller and Linna brought Hasil to New York City to play a few live shows and record his first session in a proper studio, which became the album The Wild Man.
Adkins was a now a bona fide cult hero, and began touring regularly and releasing further albums, though his prodigious consumption of alcohol, coffee, and cigarettes (as well as his obsessive fondness for red meat) did little to make the middle-aged rocker a stable and reliable presence; stories of crazed shows, tossed guitars, and boozy antics loom large in the Adkins legend, as do tales of his primitive existence in West Virginia, where he was said to go fishing while watching Wheel of Fortune on TV through the magic of extension cords. In the early '90s, Adkins signed a deal with I.R.S. Records, but the label folded before they could release the album he made for them; Hasil had a more positive experience with the Mississippi blues label Fat Possum, which not only recorded and released 1999's What the Hell Was I Thinking?, but put Adkins on the road as part of a package tour with T-Model Ford and Elmo Williams.
In 2000, Hasil returned to Norton with the release of Poultry in Motion, which compiled six new recordings with eight vintage tracks, all of which concerned Hasil's favorite dish, chicken. Sadly, these proved to be the last new Hasil Adkins recordings released in his lifetime; the wild man was found dead in his Madison home on April 26, 2005. The compilation Best of the Haze followed in 2006.
https://en.wikipedia.org/wiki/Hasil_Adkins
Talents : Vocals, Guitar
Style musical : Rockabilly, Rock 'n' Roll, Honky-Tonk

http://www.youtube.com/watch?v=a2glQogrSnc
Years in activity :
| | | | | | | | | | | | |
| --- | --- | --- | --- | --- | --- | --- | --- | --- | --- | --- | --- |
| 1910 | 20 | 30 | 40 | 50 | 60 | 70 | 80 | 90 | 2000 | 10 | 20 |
DISCOGRAPHY
Singles & EP
02/1962
SP AIR 5045 / 1003 (US)
Hasil ADKINS & His HAPPY GUITAR - She's Mine / Chicken Walk
1964
SP JODY A-1000 (US)
.
She Said

/ Is This The End
1965 ?
SP ROXIE 5134 (US)
.
The Hunch

/ She's Gone
1966
SP AVENUE 102 (US)
.
Hasil ADKINS & His ONE MAN BAND - Get Out Of My Car / D.P.A. Blues
1966
SP AVENUE 103 (US)
.
She's Still Gone / The Slow Hunch
196?
SP AVENUE 106 (US)
.
Hasil ADKINS & His HAPPY GUITAR - Duncens / Jenny Lou
19??
SP HUB CWP-4561 (US)
.

My Blue Star (Hasil ADKINS & STUDIO BAND) / He's Just Telling You That (Hasil ADKINS "The ONE MAN BAND")

19??
SP FEASIBLE ? (US)
.
She's Gone / Is This The End
19??
SP ARC 25130 (US)
.
Hasil "Haze" ADKINS, The ONE MAN BAND - The Blues Walked In / Kathy
1980
SP JAN 45-030 (SWE)
.
She's Mine / The Chicken Walk
1985
SP DEE JAY JAMBOREE 45-126 (GER)
.
She Said / Truly Ruly
1986
EP NORTON LULU 45-001 (US)

HAZE'S HOUSE PARTY - Dot Tie Dottie / Sex-Crazy Baby / Do The Hot Pants With Me / She'll Be Comin' Round The Mountain

1987
SP NORTON 45-002 (US)
Big Red Satellite / Ellen Marie
1990
SP NORTON 45-005 (US)
Sally Wally Woody Waddy Weedy Wally / Miami Kiss
02/1991
SP NORTON 45-017 (US)
Boo Boo The Cat / Mathilda
1993
SP NORTON 45-022 (US)
Santa Claus Boogie / Blue Christmas
1994
SP NORTON 45-026 (US)
Chicken Shake / She's Mine #2 (1968 version)
1997
SP NORTON 45-062 (US)
Hasil "Haze" ADKINS - Seasick Cruise / Chocolate Milk Honeymoon
1997
EP¨JUNGLE NOISE HUNCH-69 (US)
SLOW HUNCH - The Girls Back Home / She Knows How To Rock Me / Slow Hunch / Rockin' Robin
2000
SP BALL BA-7761 (US)

Hasil ADKINS & His HAPPY GUITAR - 911 Bubblegum / Kim Hunching Rock
2003
SP 12" ROCKIN' BONES RON 013 (I)
Kim Rock / Baseball Bat Song
07/2015
SP Farewell FW R 45-01 (F)

Is That Right / Going Back To St. Louis
Acetate
Unissued Tracks
Need Information
Albums
| | | | |
| --- | --- | --- | --- |
| 1985 | LP 12" DEE-JAY JAMBOREE DJLP 2043 (GER) | | CHICKEN WALK - She Said / Shake That Thing / Ugly Women / Let's Slop Tonight / Chicken Walk / She's Mine / Tell Me Baby / If You Want To Be My Baby / Big Fat Mama / Get Out Of My Car / Donnie Boogie / Walk And Talk With Me / I Need Your Head / Roll Roll Train / I Don't Want Nobody The Way I Want You |
| 1985 | LP 12" DEE-JAY JAMBOREE DJLP 2044 (GER) | | ROCK 'N' ROLL TONIGHT - I Could Never Be Blue / I Want Some Lovin' / Jenny Lu / Let Me Go / Rock The Blues / I Don't Love You / Rock'n'Roll Tonight / Shake With Me / Miami Kiss / The Hunch / Duncens / No More Hot Dogs / Truly Ruly / Is That Right |
| 1985 | LP 12" BIG BEAT LP 34 (UK) | | HE SAID - She Said / My Baby Loves Me / D.P.A. On The Moon / Baby Rock / Let's Make It Up / Louise, Wait For Me / I'm In Misery. Part 1 / Comin' Home To You. No. 1 / We Got A Date / Reagan Blues / Chicken Twist / W.P.A. / The Fast Run / You're My Baby / Turn My Coat Tails Loose / Comin' Home To You. No. 2 |
| 1986 | LP 12" NORTON ED-201 (US) | | OUT TO HUNCH - She Said / Chicken Walk / I Need Your Head / No More Hot Dogs / Ha Ha Cat Walk Baby / Rockin' Robin / I'm Happy / Can't Help It Blues / We Got A Date / High School Confidential / Let Me Come In / The Hunch / Gee But I Love You / Memphis / Do It To Me Tonight / Truly Ruly |
| 1987 | LP 12" NORTON ED-203 (US) | | THE WILD MAN - Chicken Flop / The Wild Man / Big Red Satellite / Pond Fork River / Still Missing You / Punch Wunchy Wickey Wackey Woo / Foggy Mountain Top / I Don't Want Nobody / She'll See Me Again / Matchbox / Do The Scalp / Haunted House / Wild Wild Friday Night |
| 1990 | LP 12" NORTON ED-216 (US) | | PEANUT BUTTER ROCK AND ROLL - Blue Suede Shoes / I Wanna Kiss Kiss Kiss Your Lips / If You Wanna Be My Baby / Vivian Anne / Peanut Butter Rock & Roll / Banana Boat Song / Gimme Back My Ring / Come On Along / The Slop / Walk And Talk With Me Baby / Chicken Twist / Let It Rock / Stopwatch Baby / C'mon Little Jenny / Took My Baby Out / Has Anybody Walked Beside Me |
| 1990 | LP 12" NORTON ED-217 (US) | | MOON OVER MADISON - Lonely Wind / Help Me / By The Lonesome River / When I Saw You Last Night / Blue Velvet Band / Goin' Home Tomorrow / I Had A Dream About You / Have I Told You Lately That I Love You / Moon Over Madison / I'm Alone / Lonely Is My Name / Lonely Love / This A.D.C. / Love Taker / My Hometown |
| 1993 | LP 12" BUGHOUSE BH-001-2 (US) | | LIVE IN CHICAGO - Hazel Jean Rock / She Said / No More Hot Dogs / The Hunch / When I Saw You / Shake That Thing / DPA Blues / Reelin' And Rockin' / Dottie Dottie / Truley Ruley / My Special One / Maybellene / Roll Roll Train / I'm So Lonesome I Could Cry / Hey John / Sex Crazy Baby / "Bully Wooly" / Boo Boo The Cat / This Ain't No Rock And Roll Show / Foggy Mountain Top / She'll Be Comin' 'round The Mountain / Duncan / She Said / You Got Me Cryin' / She's Mine / Great Balls Of Fire |
| 1993 | LP 12" NORTON ED-232 / CD NORTON CED-232 (US) | | LOOK AT THAT CAVEMAN GO !! - Good Golly Miss Molly / Today I Started Loving You Again / Boo Boo The Cat / She Goes Like This / My Blue Star / Mean Woman Blues / Let's Do Like We Done / Shake That Thing / Hammer Hunch / (The Crusher) / Reelin' And Rockin' / Me And My Baby's Goin' Steady / In The Wind / Mean Mean Woman / Devonna Rock / Still Missing You / Chicken Walk / Walking The Dog |
| 10/1994 | LP 12" NORTON ED-239 / CD NORTON CED-239 (US) | | HASIL ADKINS & HIS HAPPY GUITAR - ACHY BREAKY HA HA HA - Put My Guitar Away Mommy / White Dove / Leaves In Autumn / I Still Miss Someone / Gonna Have Me A Yard Sale / Twenty Eight Years / River Of Jordan / It'll Be Me / Will You Miss Me / Song Of Death / Of Couse Not / She Thinks I Still Care / I Hear A Sweet Voice Calling / Tomorrow I'll Still Be Loving You / You Win Again / Turn Around / River Of Jordan / I Hear A Sweet Voice Calling |
| 1995 | CD DEE-JAY JAMBOREE DJCD 55025 (GER) | | CHICKEN WALK - She Said / Shake That Thing / Ugly Women / Let's Slop Tonight / Chicken Walk / She's Mine / Tell Me Baby / If You Want To Be My Baby / Big Fat Mama / Get Out Of My Car / Donnie Boogie / Walk And Talk With Me / I Need Your Head / Roll Roll Train / I Don't Want Nobody The Way I Want You / I Could Never Be Blue / I Want Some Lovin' / Jenny Lu / Let Me Go / Rock The Blues / I Don't Love You / Rock'n'Roll Tonight / Shake With Me / Miami Kiss / The Hunch / Duncens / No More Hot Dogs / Truly Ruly / Is That Right / Going Back To St. Louis |
| 1995 | CD PRAVDA / BUGHOUSE CD-0001 (US) | | LIVE IN CHICAGO - Hazel Jean Rock / She Said / No More Hot Dogs / The Hunch / When I Saw You / Shake That Thing / DPA Blues / Reelin' And Rockin' / Dottie Dottie / Truley Ruley / My Special One / Maybellene / Roll Roll Train / I'm So Lonesome I Could Cry / Hey John / Sex Crazy Baby / "Bully Wooly" / Boo Boo The Cat / This Ain't No Rock And Roll Show / Foggy Mountain Top / She'll Be Comin' 'round The Mountain / Duncan / She Said / You Got Me Cryin' / She's Mine / Great Balls Of Fire |
| 02/1998 | CD FAT POSSUM / EPITAPH 80314 (US) | | WHAT THE HELL WAS I THINKING ? - Your Memories / Ugly Woman / No Shoes / You're Gonna Miss Me / Beautiful Hills / Stay With Me / Somehow You'll Find Your Way / Gone, Gone, Gone / Up On Mars / Talkin' To My Lord |
| 1998 | CD SHAKE IT SH 516 (US) | | DRINKIN' MY LIFE AWAY - Missing You Baby / Chicken Wobble / Get Out Of My Car / Lonesome Road Blues / Madison Blues / Carry Your Books From School / Change Gears On That Thing / Everything Is Moving Too Fast / Chocolate Milk Honeymoon / Save Me Some Loving / You're Too Young For Me / Talking Yes & No / Drinkin' My Life Away |
| 2000 | LP 12" NORTON ED-281 / CD NORTON CED-281 (US) | | POULTRY IN MOTION : THE HASIL ADKINS CHICKEN COLLECTION - Chicken Walk (1956) / Chicken Hop (1958) / Chicken Twist (1962) / Chicken Flop (1986) / Chicken Shake (1991) / Chicken Wobble (1993) / Chicken Hunch (1999) / Chicken Run (1999) / Chicken Blues (1999) / Chicken On The Bone (1999) / Pick That Chicken (1999) / Cookin' Chicken (1999) / Chicken Hop (1958) / Chicken Walk (1955) |
| 07/2002 | CD NORTON CED 201 (US) | | OUT TO HUNCH - She Said / Chicken Walk / I Need Your Head / No More Hot Dogs / Ha Ha Cat Walk Baby / Rockin' Robin / I'm Happy / Can't Help It Blues / We Got A Date / High School Confidential / Let Me Come In / The Hunch / Gee But I Love You / Memphis / Do It To Me Tonight / Truly Ruly |
| 2006 | CD CREEPS ? (US) | | NIGHT LIFE |
| 11/2006 | CD CIA 102 (US) | | BEST OF THE HAZE - She Said / Wild Man / I'm In Misery / Change Them Gears / She'll Be Waiting / This Ain't No Rock n' Roll Show / Get Outta My Car / Teddy Bear / Wanna Walk You Home / Santa Claus Boogie / Jesse's Song / Sally, Wally, Hoody / Me & Jesus / I'm So Lonesome I Could Cry |
| 04/2009 | LP 12" HOG MAW 00037900 (US) | | NIGHT LIFE - HAZIL ADKINS AND HIS HAPPY GUITAR - C'mon Back Bay / Hunchin' The Town / Alien Talk / Go Go Go / Night Life Hunch / Walkin' In The Garden With Amy / Raw Meat / Hills Of West Virginia / Come To Me / KFC / So Blue / Night Life |
© Rocky Productions 5/11/2010