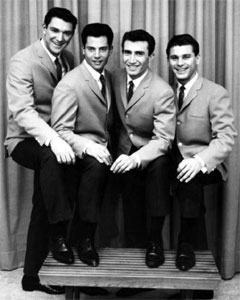 Groupe Doo Wop US originaire de Brooklyn (New York) formé en 1960. Les Accents étaient composés de Mike Lasman (Lead), Shelly Weiss (First Tenor), Alan Senzon (Second Tenor) et Ian kay (Baritone).

This doo wop quartet in this segment met on the boardwalk of Brighton Beach and formed a group in 1960. They were Shelly Weiss (first tenor), Ian Kaye (baritone), Allan Senzan (second tenor), and Mike Lasman (lead). They were students at Erasmus and Lincoln high schools. Ian Kay sang with several Doo Wop groups from 1957 - 1963. His first group was the Vocals Kings from Flatbush.
Lasman had previously recorded as lead singer of Mike and the Utopians on the Ceejay label. Weiss had recorded for JDS Records in early 1960 as a member of the Bobby Roy and the Chord-a-roys, who also backed Barry Mann on various demo records that reportedly included "Who Put the Bomp (In the Bomp Bomp Bomp)" The four boardwalk vocalists originally called themselves the Dreams and practiced regularly on the corner of Church and Flatbush Avenues. They met Jerry Halperin, owner of Halperin Music on Flatbush Avenue in Brooklyn, who liked their intricate pop harmonies and became their manager. Hence forth the group practiced right in Halperin's record store.
The boys' polished pop sound soon earned them a deal with Guaranteed Records of New York, a subsidiary of Carlton Records. The first release was the old standard "Canadian Sunset," but the bland production and lack of promotion doomed it almost from inception.
Dropped after only one release, the group changed its name to the Accents and its style to doo-wop, putting together a reworking of the old ballad "Rags to Riches." They also began practicing an old Jewish ballad entitled "Where Can I Go," complete with middle section sung in Hebrew, and it was this song they performed in an audition for Sultan Records. The audition was successful, and "Rags to Riches" backed with "Where Can I Go" became their first single release as the Accents. "Rags" became a Brooklyn favorite among doo-wop enthusiasts but never hit the charts. It did, however, give them enough exposure to land them a spot in an Allan Freed Show at the Ambassador Hotel in the Catskill Mountains.
Between the group's local engagements Kaye and Senzan sang backup with the Del Satins on Dion's hit "Ruby Baby" in late 1962. Weiss began singing with Jay and the Americans and became that group's road manager for a period in 1965.
The group's last effort was disappointing: they were forced to back up the inept Vocals of Scott English on a tune called "High on a Hill." The Accents broke up soon after.
These days, Weiss is a writer for Cashbox magazine in Los Angeles. Ian Kaye ia a teacher in Brooklyn, Alan Senzan is a plumber on Long Island, and Lasman is nowhere to be found, although rumor has it that he resides somewhere in South America.
Talents : Mike Lasman : Lead - Shelly Weiss : First Tenor - Alan Senzon : Second Tenor - Ian kay : Baritone
Style musical : Doo Wop
Years in activity :
| | | | | | | | | | | | |
| --- | --- | --- | --- | --- | --- | --- | --- | --- | --- | --- | --- |
| 1910 | 20 | 30 | 40 | 50 | 60 | 70 | 80 | 90 | 2000 | 10 | 20 |
Singles
Unissued Tracks
© Rocky Productions 9/11/2011