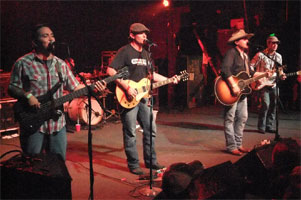 Groupe Country-Rock US composé de Josh Abbott, Preston Wait, Edward Villanueva, James Hertless et Caleb Keeter.

Favoring a style of country music that owes as much to the band's native Texas as the genre's Nashville headquarters, the Josh Abbott Band began taking shape in 2004. While studying communications at Texas Tech, frontman Josh Abbott began making trips to the Blue Light, a club in downtown Lubbock that helped launch the careers of regional luminaries like Cross Canadian Ragweed and Ryan Bingham. Inspired by the rough-and-tumble "Texas country" bands that regularly played the venue, he started writing his own songs and playing them at local bars, using members of his fraternity to form an early incarnation of the Josh Abbott Band. One of the group's first songs, "Taste," became a hit on local radio, prompting Abbott to drop out of school, shuffle the band's lineup, and record their debut album Scapegoat.
With Scapegoat still generating a good amount of local buzz, the Josh Abbott Band returned in 2010 with She's Like Texas, a strong sophomore album featuring Nashville Star finalist Kacey Musgraves on the lead single "Oh, Tonight." The song debuted at number 59 on the Hot Country Songs chart, earning some buzz outside of the Lone Star State and prompting the band to tour the country.
http://www.joshabbottband.com/
https://en.wikipedia.org/wiki/Josh_Abbott_Band
Talents : Josh Abbott : Vocals, Guitar - Preston Wait : Fiddle, Guitar - Edward Villanueva : Drums - James Hertless : Bass - Caleb Keeter : Guitar
Style musical : Alternative Country-Rock, Alt-Country, Country-Rock

https://youtu.be/yapf2QvFHfw
Years in activity :
| | | | | | | | | | | | |
| --- | --- | --- | --- | --- | --- | --- | --- | --- | --- | --- | --- |
| 1910 | 20 | 30 | 40 | 50 | 60 | 70 | 80 | 90 | 2000 | 10 | 20 |
DISCOGRAPHY
EP
| | | | |
| --- | --- | --- | --- |
| 01/2008 | CD JOSH ABBOTT BAND ? (US) | | Buried Me / Miss You Again / Taste / Electric Skies |
| 11/2009 | CD WINDING ROAD 211 (US) | | OLD MEETS NEW - JOSH ABBOTT BAND EP / BRUSHY CREEK EP |
Albums
09/2008
CD PRETTY DAMN TOUGH 116 (US)
SCAPEGOAT - Miss You Again / We're All In / Buried Me / Here I Stand / I'll Trust You / Good Night For Dancing / Scapegoat (Heart Of Stone) / Distant / On My Mind / Her Eyes Turn Green / If I See You Tonight / Evil Woman / I Guess It's Time

[acoustic]

2010
CD PRETTY DAMN TOUGH 02130 (US)
SHE'S LIKE TEXAS - Road Trippin / All Of A Sudden / The Walking Out / If You're Leaving (I'm Coming Too) / Fall In Love Again / She's Like Texas / Brushy Creek / Oh, Tonight / Hot Water / I Just Wanna Love You / End Of A Dirt Road / Let My Tears Be Still
04/2012
CD PRETTY DAMN TOUGH ? (US)

SMALL TOWN FAMILY DREAM - Idalou / I'll Sing About Mine / Touch / She Will Be Free / Hotty Toddy / Flatland Farmer / My Texas (feat.Pat GREEN) / Dallas Love / Hell's Gates On Fire / Rain Finally Coming Down / Small Town Family Dream
© Rocky Productions 30/11/2012