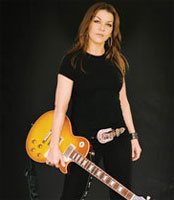 Chanteuse Country US nťe le 26 Juin 1973 ŗ Pocahontas (Illinois).

In late May 2004, Gretchen Wilson's debut single, "Redneck Woman," became the first by a solo female singer to top the Billboard country singles chart in over two years; it also reached number one faster than any single in the previous decade. At the same time, her debut album, Here for the Party, entered the country album chart at number one and the pop album chart at number two with sales of 227,000 copies, the biggest opening week for a new country artist on record. Given the overtly country style of her music at a time when much country had been leaning toward pop, Wilson was immediately hailed as the latest in a long line of country artists leading the music back to its roots.
Her own roots went back to the tiny town of Pocahontas, IL (36 miles east of St. Louis, MO), where she began singing as a child. Her mother was 16 when she was born on June 26, 1973; her father left when she was two. She grew up poor, living in a succession of trailer parks. She went to school only through the eighth grade, and at 14 was working as a cook and bartender in the same club where her mother worked. By the age of 20, she was singing in two different bands in the area. She moved to Nashville in 1996 and tended bar while singing on demos and in clubs for the next seven years. During this period, she became part of an informal group of singers and songwriters known as the Muzik Mafia who met once a week to try out new material. She and John Rich, another member of the group (and a former member of Lonestar), wrote "Redneck Woman," an autobiographical song in which she unabashedly celebrated her redneck, white-trash background.
In 2003, she auditioned for and was signed by Epic Records. "Redneck Woman" was released as a single in the late winter of 2004 and immediately began its march up the charts. Here for the Party, originally scheduled for release in July, was moved up to May 11 because of the quick success of the single. As it, too, became a hit, Wilson agreed to opening spots on tours with Brooks & Dunn and Montgomery Gentry in the summer of 2004. By this time "Redneck Woman" had become a classic country anthem and Wilson was a superstar. She coped with the instant celebrity, and continued to work as a musician, finding time to write a book, also called Redneck Woman, which hit shops in 2005, the same year her follow-up album, All Jacked Up, appeared. One of the Boys, a deeply personal album, and the first album in which Wilson had a hand in writing most of the songs, was released in 2007. Her parting album for Sony was a best-of in 2009. "Work Hard, Play Harder," her first independently released single on her own Redneck Records imprint, arrived in late 2009, followed by the I Got Your Country Right Here album in 2010. She released the impressive and diverse Right on Time on Redneck Records in 2013, along with an album of covers of '70s rock songs, Under the Covers, and the holiday album Christmas in My Heart. After a four-year hiatus, much of which she spent raising her family, Wilson returned with Ready to Get Rowdy in the summer of 2017.
http://www.gretchenwilson.com/
https://en.wikipedia.org/wiki/Gretchen_Wilson
Talents : Vocals, Guitar
Style musical : Contemporary Country, Country Pop, Pop-Rock

https://youtu.be/wI6iGiIHRKk
Years in activity :
| | | | | | | | | | | | |
| --- | --- | --- | --- | --- | --- | --- | --- | --- | --- | --- | --- |
| 1910 | 20 | 30 | 40 | 50 | 60 | 70 | 80 | 90 | 2000 | 10 | 20 |
DISCOGRAPHY
Singles & EP
02/2004
SP EPIC 34-76851 (US)
.

Redneck Woman / Here For The Party

2004
CD EPIC ESK 56185 (US)

Here For The Party (remix) / Here For The Party (album version) / Here For The Party (Suggested Call-Out Research Hook)

2004
CD EPIC SAMPCS 14544 1 (?) (promo)

Here For The Party (album version) / Here For The Party (Big Boi remix)

07/2004
CD EPIC 675173 (US)
Redneck Woman (album version) / Rebel Child / It Ain't Easy / Redneck Woman (video version)
2004
CD EPIC ESK 58340 (US) (promo)

Redneck Woman (album version) / Redneck Woman (with Crowd Noise) / Redneck Woman (Suggested Callout Research Hook)

2004
CD EPIC ? (UK) (promo)
Redneck Woman
2004
CD EPIC SAMPCS 14304 1 (EUR)

Redneck Woman (album version) / Redneck Woman (with Crowd Noise)

2004
CD EPIC 675035 2 (AUS)

Redneck Woman / Rebel Child / It Ain't Easy

10/2004
SP EPIC 34-71846 (US)
.

When I Think About Cheatin' / Homewrecker

2004
CD EPIC ESK 56942 (promo)

When I Think About Cheatin' / When I Think About Cheatin' (Suggested Callout Research Hook)

2004
CD NOT ON LABEL (AUS)

When I Think About Cheatin'

2005
CD Sony / BMG

Wilson

1 (IRE)

Redneck Woman (international mix) / Redneck Woman (album version)

07/2005
CD EPIC 34 K 80142 (US) (limited edition)

All Jacked Up / When It Rains

2005
CD EPIC ESK 51190 (US) (promo)

All Jacked Up (album version) / All Jacked Up (Suggested Callout Research Hook)

2005
CD EPIC EK 80139 (US)

5-Mo-Fo-Ya - Homewrecker (live) / Redneck Woman (live) / Here For The Party (live) / Salt On Your Glass / Our America

2005
CD EPIC ESK 51498 (US) (promo)

Homewrecker / Homewrecker (Suggested Callout Research Hook)

2005
CD EPIC ESK 17388 (US) (promo)

I Donít Feel Like Loving You Today / I Donít Feel Like Loving You Today (Suggested Callout Research Hook)

2005
CD Warner Bros. ? (US) (promo)
.

Gretchen Wilson, Big & Rich & Cowboy Troy ‎Ė Our America

2006
CD Columbia 88697-02363-2RE (US) (promo)

COME TO BED - Come To Bed / Come To Bed / Come To Bed / Come To Bed (Suggested Callout Research Hook)

2006
CD Columbia ? (US)
.

Gretchen Wilson featuring John Rich ‎- Come To Bed

2006
CD EPIC 82876 86933 2 (US) (promo)

California Girls / California Girls (Suggested Callout Research Hook)

2006
CD EPIC 82976 80462 2 (US) (promo)

Gretchen Wilson featuring Merle Haggard - Politically Uncorrect (radio mix) / Politically Uncorrect (Suggested Callout Research Hook)

2007
CD Columbia 88697-17433-2 (US) (promo)

You Donít Have To Go Home - You Donít Have To Go Home / You Donít Have To Go Home / You Donít Have To Go Home / You Donít Have To Go Home (Suggested Callout Research Hook)

2007
CD Columbia 88697-09796-2 (US) (promo)

One Of The Boys - One Of The Boys / One Of The Boys / One Of The Boys / One Of The Boys (Suggested Callout Research Hook)

2008
CD Columbia ? (US) (promo)
.

Donít Do Me No Good

2008
CD EPIC ? (US) (promo)
.

Here For The Party - Here For The Party (single edit-No Sirens) / Here For The Party (single edit-No Sirens) / Here For The Party (single edit-No Sirens)

2009
CD Redneck US-7WQ-09-00003 (US)

Merry Christmas From: Redneck Records - I Want A Hippopotamus For Christmas / Work Hard, Play Harder / Christmas Liner / Single Liner

2009
CD Columbia ? (US)
.

The Earrings Song

2009
CD Redneck ? (US) (promo)

Work Hard, Play Harder / Gretchen Liner / Work Hard, Play Harder (music video)

2010
CD Redneck ? (US) (promo)

I Got Your Country Right Here

2011
CD Redneck ? (US) (promo)

Iíd Love To Be Your Last (radio remix) / Iíd Love To Be Your Last (album version)

2013
CD Redneck ? (US) (promo)
.
Crazy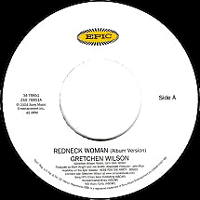 Albums
05/2004
CD EPIC 90903 (US)
HERE FOR THE PARTY - Here For The Party / Redneck Woman / When I Think About Cheatin' / Homewrecker / Holdin' You / Chariot / What Happened / When It Rains / The Bed / Pocahontas Proud
09/2005
CD EPIC 94169 (US)
ALL JACKED UP - All Jacked Up / California Girls / Full Time Job / Skoal Ring / He Ain't Even Cold Yet / One Bud Wiser / Politically Uncorrect / I Don't Feel Like Loving You Today / Rebel Child / Raining On Me / Not Bad For A Bartender
05/2007
CD SONY 89201 (US)
ONE OF THE BOYS - Girl I Am / Come To Bed (John RICH & Gretchen WILSON) / One Of The Boys / You Don't Have To Go Home / Heaven Help Me / There's A Place In The Whiskey / If You Want A Mother / Pain Killer / There Goes The Neighborhood / Good Ole Boy / To Tell You The Truth
01/2010
CD SONY 61894 (US)
GREATEST HITS - Redneck Woman / Here For The Party / Homewrecker / When I Think About Cheatin' / California Girls / Politically Uncorrect / I Don't Feel Like Loving You Today / One Of The Boys / Come To Bed / All Jacked Up / Barracuda

[live]

03/2010
CD REDNECK RDNK200 (US)

I GOT YOUR COUNTRY RIGHT HERE -

I Got Your Country Right Here / Work Hard, Play Harder / I'm Only Human / The Earrings Song / Trucker Man / Blue Collar Done Turn Red / Outlaws And Renegades / Walk On Water / Love On The Line / As Far As You Know / I'd Love To Be Your Last
01/2012
CD COLUMBIA 915272 (US)
PLAYLIST : THE VERY BEST OF GRETCHEN WILSON - Here For The Party / Redneck Woman / When I Think About Cheatin' / Homewrecker / All Jacked Up / I Don't Feel Like Loving You Today / Politically Uncorrect (Gretchen WILSON feat. Merle HAGGARD) / California Girls / Come to Bed (Gretchen WILSON feat. John RICH) / One Of The Boys (Gretchen WILSON feat. John RICH) / Barracuda [live] / Sunday Mornin' Comin' Down / Don't Do Me No Good / If I Could Do It All Again
08/2012
2 CD LEGACY / SONY 541032 (US)
HERE FOR THE PARTY / ALL JACKED UP :

CD 1 : Here For The Party / Redneck Woman / When I Think About Cheatin' / Homewrecker / Holdin' You / Chariot / What Happened / When It Rains / The Bed / Pocahontas Proud
CD 2 : All Jacked Up / California Girls / Full Time Job / Skoal Ring / He Ain't Even Cold Yet / One Bud Wiser / Politically Uncorrect / I Don't Feel Like Loving You Today / Rebel Child / Raining On Me / Not Bad For A Bartender /

(

untitled hidden track)

11/2012
CD BMG / SONY 194244 (US)
COUNTRY - Redneck Woman / Here For The Party / Homewrecker / When It Rains / I Don't Feel Like Loving You Today / California Girls / Skoal Ring / One Of The Boys / There's A Place In The Whiskey / You Don't Have To Go Home
04/2013
CD REDNECK RDNK 202 (US)
RIGHT ON TIME -

Get Outta My Yard / Still Rollin' / Grandma / Crazy / The Well Run Dry / The Gypsy In Me / Dust & Bone / Right On Time / My Truck (Gretchen WILSON

feat. Josh M

ALTER) /

One Good Friend

/

I've Been In Love / Hey Love / Birds Of A Feather

06/2013
CD REDNECK RDNK 203 (US)
UNDER THE COVERS - Stay With Me / Doctor My Eyes / Everybody Wants You / Bell Bottom Blues / Funk #49 / Hot Blooded / Over The Hills & Far Away / I Want You To Want Me / Lights / Her Strut / Bad Company / Into The Mystic
10/2013
CD REDNECK RDNK 207 (US)

Christmas in My Heart - Christmas In My Heart / Santa, I've Been Naughty / Have Yourself A Merry Little Christmas / If You See Rudolph / Nuttin' For Christmas / Silent Night / Have A Holly Jolly Christmas / The Christmas Song / I Want A Hippopotamus For Christmas / Blue Christmas

08/2014
CD REDNECK RDNK 205 (US)

Snapshot - Work Hard Play Harder / Still Rollin' / I'd Love To Be Your Last / Get Outta My Yard / Trucker Man / Grandma / I Got Your Country Right Here / One Good Friend / The Earrings Song / Right On Time

10/2014
CD REDNECK 211 (US)

Still Here for the Party - Live from St. Louis - Here For The Party / Homewrecker / When I Think About Cheatin' / When It Rains / Holding You / Chariot / What Happened / Pocahontas Proud / The Bed / Redneck Woman / All Jacked Up / Rock n Roll

06/2017
CD REDNECK 404 (US)

Ready to Get Rowdy - Stacy / Salt Mines / Summertme Town / Rowdy / Whiskey And My Bible / Bad Feeling / Letting Go Of Hanging On / I Ain't That Desperate Yet / Hard Earned Money / Mary Kay & Maybelline / A Little Loretta / Big Wood Deck
© Rocky Productions 30/08/2020