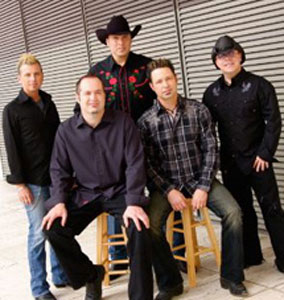 Groupe Country US formé en 1994 et comprenant Heath Wright, Junior Bryant, Jeff Bryant (parti 8/99), Greg Cook, Eddie Kilgallon, Teddy Carr, (parti 7/00), Tim Chewning (arrivé 8/99) & Shannon Farmer (arrivé 7/00).

Ricochet emerged in the spring of 1996 to become one of the most successful new country groups, spending the better part of the year in the Top 40 of the country charts. The band formed in 1993, when drummer Jeff Bryant invited singer/guitarist Heath Wright to join his group Lariat, which also featured Bryant's brother Junior (fiddle/mandolin). Lariat disbanded soon after Wright joined, but he and the Bryants decided to try again under the name Ricochet. They held auditions to complete the band, and several members floated through it in the ensuing months. By the beginning of 1994, the final lineup had fallen into place with the addition of Greg Cook (bass, backing Vocals), Teddy Carr (steel guitar), and Eddie Kilgallon (keyboards, rhythm guitar, saxophone, backing Vocals). For the next two years, Ricochet toured the South and the West Coast, building up a fan base and developing its energetic, edgy neo-traditional sound. They often spent their downtime rehearsing and writing songs.
The group's original manager was friends with record producer Ron Chancey, who was known for his work with the Oak Ridge Boys. Chancey heard the group and arranged for them to cut a demo. He directed the tape to his son Blake, A&R director for Columbia Records in Nashville. After hearing Ricochet live, Blake Chancey and a handful of other Columbia executives decided to sign the band to a development deal under the direction of producer Ed Seay (Martina McBride, Collin Raye). In early 1995, the deal turned into a full-fledged record contract, and during the spring, the group recorded their first album. For the rest year, they toured the country as a supporting act for Merle Haggard, Doug Stone, and Charlie Daniels.
Ricochet's eponymous debut album, produced by Ron Chancey and Ed Seay, was released in early 1996. Preceded by the Top Five hit single "What Do I Know," the album was a hit and stayed on the charts for more than a year as "Daddy's Money" hit number one and "Love Is Stronger Than Pride" reached the Top Ten. The follow-up album, Blink of an Eye, was released the very next year, but it was a commercial disappointment, even though it produced three minor chart singles. Ricochet charted modestly with another three songs in 1998-1999, tracks intended for an album to be called What a Ride that was not released. In the meantime, the band underwent personnel changes. Jeff Bryant, suffering from carpal tunnel syndrome, left the drum chair, succeeded by Tim Chewning in August 1999, and Shannon Farmer replaced Teddy Carr on steel guitar. Meanwhile, Richochet retooled its third album, finally releasing it in September 2000 as What You Leave Behind.
http://www.ricochetonline.com/
Talents : Heath Wright : Lead Singer, Lead Guitar - Junior Bryant : Fiddle, Mandolin, Guitar, High Tenor Vocals - Jeff Bryant : Drums - Greg Cook : Bass Guitar, Bass Vocals - Eddie Kilgallon : Keyboards, Guitar, Sax, Baritone Vocals - Teddy Carr : Steel Guitar - Tim Chewning : Drums - Shannon Farmer : Steel Guitar
Style musical : Contemporary Country

https://youtu.be/hV-1HehJzAQ
Years in activity :
| | | | | | | | | | | |
| --- | --- | --- | --- | --- | --- | --- | --- | --- | --- | --- |
| 1910 | 20 | 30 | 40 | 50 | 60 | 70 | 80 | 90 | 2000 | 10 |
DISCOGRAPHY
Singles
Albums
| | | | |
| --- | --- | --- | --- |
| 02/1996 | CD COLUMBIA CK 67223 (US) | | RICOCHET - Daddy's Money / What Do You Know / I Can't Dance / Love Is Stronger Than Pride / Ease My Troubled Mind / Little Bit Of Love / From Good To Bad To Worse To Gone / Truth Is I Lied / I Wasn't Ready For You / Rowdy |
| 06/1997 | CD COLUMBIA CK 67773 (US) | | BLINK OF AN EYE - Blink Of An Eye / He Left A Lot To Be Desired / What A Woman Can Do / Can't Be Good For Your Heart / Girl Formerly Known As Mine / Don't Forget To Feed The Jukebox (While I'm Gone) / Last Love In This Town / Connected At The Heart / You Can't Go By That / You Still Got It |
| 09/2000 | CD COLUMBIA CK 69168 (US) | | WHAT YOU LEAVE BEHIND - She's Gone / Do I Love You Enough / What You Leave Behind / I Can't Believe (You Let Her Go) / Baby Hold On / Seven Bridges Road / Why You Been Gone So Long / Fall Of The Year / Love Is A Serious Thing / You Beat All I've Ever Seen |
| 05/2004 | CD COWTOWN CT-1118 (US) | | THE LIVE ALBUM - Easy My Troubled Mind / You Still Got It / What Do I Know / When Will I Be Loved / Love Is Stronger Than Pride / He Left A Lot To Be Desired / Blink Of An Eye / Seven Bridges Road / I Can't Dance / Feel Like Fallin' / That's Love / Daddy's Money / Star Spangled Banner / Feel Like Fallin' / That's Love / I Knew / Feel Like Fallin' |
| 01/2008 | CD Ink 238106 (US) | | Ricochet Reloaded - Hits- Plus - Keep You Lovin' Me / I Had To Be Me / Beauty Of Who You Are / Gonna Be Something / Feel Like Fallin' / I Knew / Daddy's Money / What Do I Know / Love Is Stronger Than Pride / He Left A Lot To Be Desired / That's Love / The Star Spangled Banner |
© Rocky Productions 22/11/2017