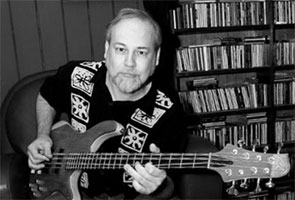 Bassiste Country US né le 26 Avril 1956.

Since arriving in Nashville in the late '70s, Dave Pomeroy has become one of the most sought out session bassists in the industry. His work with the Irish folk group the Cheiftans, specifically, has gained him accolades for his ability to stretch the limits of his instrument. Yet, at the same time Pomeroy has also had to fight to prove himself to the conservative guard of Music City who have rarely looked upon novel musicianship as a blessing. Well versed in jazz as well as country, Pomeroy's early session work came at the hands of artists such as Larry Knechtal and Kathy Mattea, but it was not until he accepted a position as Don Williams' touring bassist that Pomeroy began gaining acceptance into the insular world of Nashville's top studios. Once inside, Pomeroy endeared himself to producers and musicians alike by playing a wide range of styles and tones with both upright and electric bass. Pomeroy also formed a jazz band, Tone Patrol, that was named band of the year by Metro magazine in 1991. Recently, Pomeroy has been producing artists as well as working on his own material.
En 2006, on le retrouve au sein du trio Three Ring Circle avec Rob Ickes et Andy Leftwich.
Talents : Bass
Style musical : Traditional Country, Bluegrass
Années en activité :
| | | | | | | | | | | |
| --- | --- | --- | --- | --- | --- | --- | --- | --- | --- | --- |
| 1910 | 20 | 30 | 40 | 50 | 60 | 70 | 80 | 90 | 2000 | 10 |
DISCOGRAPHY
Albums
| | | | |
| --- | --- | --- | --- |
| 200? | CD EARWAVE ? (US) | | BASSES LOADED - The Day The Bass Players Took Over The World / Not Forgotten / Workin' Against Resistance / You Were Going Somewhere / Destination / Gravity / Mood Indigo / Buckle Up / Basses Loaded |
| 200? | CD EARWAVE ? (US) | | TOMORROW NEVER KNOWS - Tomorrow Never Knows / River / Stargazing / Old Friends / Daddy's On The Roof Again / Spoonful / You Are Not Alone / Ridin' Sideways / Skeleton / Breezy Point / Future Past / In The Dark |
| 200? | 2 CD EARWAVE ? (US) | | THE TAPROOM TAPES - DAVE POMEROY & FRIENDS - Funky Business / Snake Charmer / Brews Cruise / Boarhoggin' / Testify / Passing Through / InYourFace / Space Debris / What The Funk / Spontaneous Combustion / Rice & Beans / Neelyfied / Flow Motion / Come Back / Wayback Machine / Son Of A Son / Over The Top / Joe Gibbs / Break It Up / Chillin' / Y'all Too |
© Rocky Productions 13/08/2010