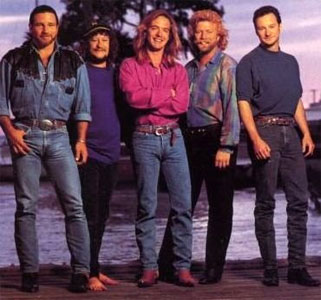 Groupe Country US formé en 1987 composé de Bill McCorvey, Rich Alves, Dean Townson, Jimmy Lowe et Pat Severs.

A group of five session musicians who formed in 1987 in order to have a little fun, the Pirates of the Mississippi were one of a handful of country bands who emerged in the wake of the Kentucky Headhunters' success in the early '90s. The Pirates of the Mississippi didn't blend genres or joke around like the Kentucky Headhunters, yet they weren't smooth country-rock like Alabama. Instead, they were a straightforward country band, with hints of ragged enthusiasm and exceptional instrumental and vocal skills. Though the band wasn't able to capitalize on the success of their one big hit single, 1991's number 15 "Feed Jake," the group continued to record through the mid-'90s.
All five members of the Pirates of the Mississippi -- Bill McCorvey, Rich Alves, Dean Townson, Jimmy Lowe, and Pat Severs -- were Nashville session musicians during the '80s. In 1987, they began playing together regularly, usually in clubs around Nashville. Eventually, an A&R representative at Capitol Nashville signed the group to a deal. In the summer of 1990, their eponymous debut was released, as was their cover of Hank Williams' "Honky Tonk Blues." The single reached number 30, yet the follow-up, "Rollin' Home," stiffed.
Walk the Plank, the band's second album, appeared in 1991 and proved to be their breakthrough release, thanks to the single "Feed Jake." A sentimental song about the death of a childhood friend, "Feed Jake" and its video became a big hit, leading to the band being named the Top New Vocal Group by the Academy of Country Music. Though they had two other singles from the album -- "Speak of the Devil" and "Fighting for You" -- nothing else from the record was a hit. A Street Man Named Desire, the band's third album, also suffered from poor sales upon its 1992 release, as did their fourth record, 1993's Dream You.
Following the poor sales of Dream You, the compilation Best of the Pirates of the Mississippi appeared in 1994, and the band was dropped from Liberty and Capitol Nashville. Later that year, Pat Severs left the group and was replaced by Greg Trostle. In 1995, the Pirates of the Mississippi signed with Giant Records and released Sure Sign. Also appearing that year from Giant was Paradise. Heaven and a Dixie Night was released in 2006 by Evergreen Records.
Talents : Bill McCorvey : Lead Vocals, Guitar) - Rich Alves : Guitar - Dean Townson : Bass - Jimmy Lowe : Drums - Pat Severs : Steel Guitar
Style musical : Contemporary Country, Country Rock

https://youtu.be/4x266nX1iyU
Years in activity :
| | | | | | | | | | | |
| --- | --- | --- | --- | --- | --- | --- | --- | --- | --- | --- |
| 1910 | 20 | 30 | 40 | 50 | 60 | 70 | 80 | 90 | 2000 | 10 |
DISCOGRAPHY
Singles
| | | |
| --- | --- | --- |
| 06/1990 | SP CAPITOL NR-44579 (US) | Honky Tonk Blues / Anything Goes |
| 09/1991 | SP CAPITOL NR-44775 (US) | Fightin' For You / Talkin' Bout Love |
| 01/1992 | SP LIBERTY S7-57704 (US) (jukebox) | 'Til I'm Holding You Again / Feed Jake |
| 1992 | SP LIBERTY S7-57746 (US) (jukebox) | Honky Tonk Blues / Anything Goes |
| 05/1992 | SP LIBERTY S7-57767 (US) | Too Much / Speak Of The Devil |
| 09/1992 | SP LIBERTY S7-57995 (US) | A Street Man Named Desire / Mystery Ship |
| 1994 | CD GIANT PRO-CD-7275 (US) (promo) | You Could Do Better |
| 1995 | SP GIANT 7-17915 (US) | Paradise / Rodeo Queen |
| 1995 | SP COLLECTABLES COL 6291 (US) | We Just Disagree / Feed Jake |
Albums
| | | | |
| --- | --- | --- | --- |
| 06/1990 | CD CAPITOL CDP 7 9438994389 (US) | | PIRATES OF THE MISSISSIPPI - Honky Tonk Blues / I Take My Comfort In You / Rollin' Home / Speak Of The Devil / Feed Jake / Talkin' Bout Love / Jolly Roger - Pirates Of Mississippi / Down And Out In Birmingham / Anything Goes / Redneck Rock'n Roll |
| 09/1991 | CD CAPITOL CDP 0777 7-95798-2 (US) | | WALK THE PLANK - Too Much / I Wouldn't Have It Any Other Way / Till I'm Holding You Again / Georgia Peaches / Fighting For You / This Ain't The Denver I Remember / Nashville Nights- Redneck Blues / Storm / Uncommon Man / Honky Tonk Highway |
| 10/1992 | CD LIBERTY CDP 0777 7-98781-2 (US) | | A STREET MAN NAMED DESIRE - Don't Quit Your Day Job / Room At The Bottom / Ain't Got No Idea / All That Your Eyes See / Mystery Ship / My Kinda Woman / Some Things Never Change / Mississippi Homegrown / Street Man Named Desire / Hard Side Of Love / Just For You |
| 10/1993 | CD LIBERTY CDP 0777 7-80379-2 (US) | | DREAM YOU - Dream You / Quit Livin' In 1986 / Night They Rocked The Grand Ole Opry / Wild Side Of Life / I'm Here To Stay / People My Age / When Times Were Good / Save The Wild Life / What I Want And What I Get / Pop From The Top |
| 03/1994 | CD CAPITOL CDP-7-28089-2 (US) | | BEST OF THE PIRATES OF THE MISSISSIPPI - Honky Tonk Blues / Rollin' Home / Feed Jake / Speak Of The Devil / Fighting For You / Till I'm Holding You Again / Too Much / Street Man Named Desire / Dream You / Jolly Roger / Dream You / Pop From The Top |
| 04/1995 | CD GIANT 9 24603-2 (US) | | PARADISE - Paradise / Let The Joneses Win / 911 / Biggest Broken Heart In Tennessee / I Think Locally / Weakness For The Weekend / When Her Love Was Mine / Country / Rodeo Queen / Feed Jake |
| 06/1995 | CD EMI-CAPITOL 19822 (US) | | THE BEST OF PIRATES OF THE MISSISSIPPI - Honky Tonk Blues / Rollin' Home / Feed Jake / Speak Of The Devil / Fighting For You / Till I'm Holding You Again / Too Much / Street Man Named Desire / Dream You / Jolly Roger / Dream You / Pop From The Top |
| 11/2006 | CD Evergreen EV1004 (US) | | Heaven And A Dixie Night - Drinkin' Money / Kickin' Up Dust / Heaven And A Dixie Night / Fish Bait / Is That Country Or What? / When Love Is Meant to Be / A Nickel's Worth Of Your Love / Rollin' / I Wouldn't Change A Thing / Me / Gravy / A Snowman In Birmingham |
© Rocky Productions 22/02/2017