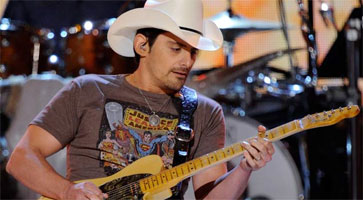 Chanteur Country US né le 28 Octobre 1972 à Glen Dale (Virginie de l'Ouest).

Contemporary country singer/songwriter Brad Paisley was born October 28, 1972, in Glen Dale, WV; given his first guitar at age eight, he delivered his first public performance at church two years later. With his 50-something guitar teacher Clarence "Hank" Goddard and two of the older man's seasoned musician buddies, the teenaged Paisley formed his first band, the C-Notes, and at age 12 began writing his own material. After performing in front of the local Rotary Club, he was invited to appear on Wheeling station WWVA's famed Saturday night broadcast Jamboree USA. Paisley's debut was so well received that he was invited to join the program full-time, and in the years to follow he opened for the likes of the Judds, Roy Clark, and Little Jimmy Dickens. He later attended Nashville's Belmont University, serving an internship with ASCAP; the contacts Paisley made there helped him land a songwriting deal with EMI, and he also appeared on countless demos. Signing to Arista, he issued his debut solo album, Who Needs Pictures, in 1999. The record produced two chart-topping singles in "He Didn't Have to Be," an ode to loving stepfathers, and "We Danced" and also earned generally positive reviews for its diversity of country styles. In the meantime, Paisley recorded a duo with Chely Wright, "Hard to Be a Husband, Hard to Be a Wife," for the Backstage at the Grand Ole Opry compilation; the two later collaborated on several songs for Wright's Never Love You Enough album. The sequel to Paisley's debut, Part II, was released in 2001 and promptly returned him to the Top Five with "Two People Fell in Love." "I'm Gonna Miss Her (The Fishin' Song)" gave Paisley his third chart-topper, and "Wrapped Around" fell one spot short of becoming his fourth. "I Wish You'd Stay" became the fourth Top Ten hit from the record in early 2003. At the beginning of August 2005, Paisley put together a short "director's commentary" preview of his next album for his fan base to download. The full album, Time Well Wasted, appeared two weeks later and narrowly missed the top of the album charts, though it did hit number one on the country charts. In 2006 Brad Paisley Christmas, a collection of both originals and covers, came out, followed by 5th Gear in 2007, which included the ubiquitous "Ticks," a sure future novelty classic. An album of mostly guitar instrumentals (Paisley's excellent guitar playing is a big part of his appeal), Play, followed in 2008, with the big country Vocals hit "Waitin' on a Woman" added in as a "bonus" track. By now poised at the very top of the commercial country world, Paisley released American Saturday Night in 2009. American Saturday Night was greeted by Paisley's strongest reviews yet and generated the hit singles "Then," "Welcome to the Future," and "Water." Paisley bought some time with the 2010 release Hits Alive -- a double-disc package divided into one live set and one collection of hits -- and then returned with his seventh collection of new songs, This Is Country Music, in May 2011. "Old Alabama," the second single pulled from This Is Country Music, became Paisley's 19th number one single, followed quickly by his 20th number one, the Carrie Underwood duet "Remind Me," but there were signs of a chart slowdown when "Camouflage" became his first single in 11 years to not reach the Top Ten (it topped out at 15); similarly, This Is Country Music and American Saturday Night both stalled at gold where their predecessors had gone platinum.
As he toured This Is Country Music, Paisley also busied himself in a variety of show biz cameos, including popping up on the Cars 2 soundtrack and guesting on South Park. He also published a music-focused memoir called Diary of a Player, which was co-written by music journalist David Wild. After the tour came to a conclusion, he set out to work on his ninth album, Wheelhouse. An ambitious, genre-hopping album, the record was preceded by the "Southern Comfort Zone" single in the fall of 2012 and "Beat This Summer," which appeared a month prior to Wheelhouse's April 2013 release. Wheelhouse debuted well -- once again, he took the number one slot on Billboard's Country Albums chart and number two on the Top 200 -- but it soon got swallowed up in a media controversy concerning its album track "Accidental Racist." A duet with rapper LL Cool J, the song attempted to tackle the lasting legacy of racism but earned attention for its clumsy lyrics from Paisley and LL Cool J. Paisley conducted interviews that eloquently explained the intentions behind the song but the damage had been done: his next single, "I Can't Change the World," barely cracked the U.S. Country Top 40 and its successor, "The Mona Lisa," did marginally better, peaking at 24, while the album itself failed to go gold.
Within a year of the release of Wheelhouse, Paisley was back with a new single, "River Bank," which hit number 12 on the country chart. Its accompanying album, Moonshine in the Trunk, was solidly a country record, and featured duets with Carrie Underwood and Emmylou Harris. It became his eighth straight album to top the country chart, and reached number two on the pop chart. The album's second single, "Perfect Storm," made it to four, but the subsequent "Crushin' It" and "Country Nation" didn't crack the country Top Ten. In the summer of 2016, Paisley returned with "Without a Fight," a duet with Demi Lovato that was intended as a teaser for his 11th album. When Love and War appeared in April 2017, preceded by the Top Ten single "Today," "Without a Fight" wasn't on the record but duets with Mick Jagger and John Fogerty were.
https://en.wikipedia.org/wiki/Brad_Paisley
Talents : Vocals, Guitar
Style musical : Traditional Country, Contemporary Country, Country-Pop, Western Swing

http://youtu.be/gJ0CuPxkT-I
Years in activity :
| | | | | | | | | | | | |
| --- | --- | --- | --- | --- | --- | --- | --- | --- | --- | --- | --- |
| 1910 | 20 | 30 | 40 | 50 | 60 | 70 | 80 | 90 | 2000 | 10 | 20 |
DISCOGRAPHY
Singles
02/1999
SP ARISTA 13156-7 (US)

Who Needs Pictures / It Never Woulda Worked Out Anyway

03/1999
CD ARISTA 13156 (US)
Who Needs Pictures
1999
CD ARISTA ASCD-3172 (US) (promo)
Me Neither
1999
SP ARISTA 13172-7 (US)
.

Me Neither / Don't Breathe

1999
CD ARISTA ASCD-3176-8 (US) (promo)
.

He Didn't Have To Be (radio version) / He Didn't Have To Be (album version) / He Didn't Have To Be (story version)

1999
CD ARISTA ASCD-3187 (US) (promo)

He Didn't Have To Be (acoustic)

08/1999
SP ARISTA 13176-7 (US)
.

He Didn't Have To Be / I've Been Better

06/2000
SP ARISTA 69009-7 (US)
.

We Danced / Me Neither

03/2001
SP ARISTA 69051-7 (US)
.

Two People Fell In Love / Me Neither

08/2001
SP ARISTA 69103-7 (US)
.

Wrapped Around / All You Really Need Is Love

02/2002
SP ARISTA 69125-7 (US)
.

I'm Gonna Miss Her / I Wish You'd Stay

05/2002
SP ARISTA 69152-7 (US)
.
I'm Gonna Miss Her / I Wish You'd Stay
10/2007
CD ARISTA 88697-17558-2 (US)
Online / Ode De Toilet (The Toilet Song)
10/2007
CD SBMG 8869717558 (US)
.
Online
2011
CD SONY 88697-91468-2 (US) (promo)
Remind Me (Brad PAISLEY & Carrie UNDERWOOD)
2011
CD SONY ‎? (UK) (promo)

Remind Me (Brad PAISLEY & Carrie UNDERWOOD)

2013
CD SONY ? (UK) (promo)

The Mona Lisa

2014
CD SONY ? (EUR) (promo)

Limes

2016
CD SONY ? (UK) (promo)
Brad

Paisley

featuring Demi

Lovato

‎–

Without A Fight

- Without A Fight (featuring Demi

Lovato

)
| | |
| --- | --- |
| | |
Albums
06/1999
CD ARISTA 07822-18871-2 (US)
WHO NEEDS PICTURES - Long Sermon / Me Neither / Who Needs Pictures / Don't Breathe / He Didn't Have To Be / It Never Woulda Worked Out Anyway / Holdin' On To You / I've Been Beeter / We Danced / Sleepin' On The Foldout / Cloud Of Dust / Nervous Breakdown / In The Garden
05/2001
CD ARISTA 07863-67008-2 (US)
PART II - Two Feet Of Topsoil / I'm Gonna Miss Her / Part Two / Wrapped Around / Two People Fell In Love / Come On Over Tonight / You'll Never Leave Harlan Alive / I Wish You'd Stay / All You Really Need Is Love / Munster Rag / You Have That Effect On Me / Too Country / Old Rugged Cross
07/2003
CD ARISTA 82876-50605-2 (US)
MUD ON THE TIRES - Mud On The Tires / Celebrity / Ain't Nothin' Like / Little Moments / That's Love / Somebody Knows You Now / Famous People / Hold Me In Your Arms (And Let Me Fall) / Whiskey Lullaby / Best Thing That I Had Goin' / Cigar Song / Make A Mistake / Make A Mistake With Me / Is It Raining At Your House / Spaghetti Western Swing / Farther Along
08/2005
CD ARISTA 82876-69642-2 (US)
TIME WELL WASTED - The World / Alcohol / Waitin' On A Woman / I'll Take You Back / She's Everything / You Need A Man Around Here / Out In The Parkin' Lot (with Alan JACKSON) / Rainin' You / Flowers / Love Is Never-Ending / The Uncloudy Day / When I Get Where I'm Going (with Dolly PARTON) / Easy Money / Time Warp

[instr.] /

Time Well Wasted / Cornography (with James BURTON)
10/2006
CD ARISTA 88697-00533-2 (US)
A BRAD PAISLEY CHRISTMAS - Winter Wonderland / Santa Looked A Lot Like Daddy / I'll Be Home For Christmas / Away In A Manger / Penguin, James Penguin / 364 Days To Go / Jingle Bells (instr.) / Silent Night / Born On Christmas Day / Silver Bells / Kung Pao Buckaroo Holiday / Outro
06/2007
CD ARISTA 88697-07171-2 (US)
5TH GEAR - All I Wanted Was A Car / Ticks / Online / Letter To Me / I'm Still A Guy / Some Mistakes / It Did / Mr. Policeman / If Love Was A Plane / Oh Love Featuring Carrie Underwood / Better Than This / With You, Without You (Previously Featuring Kung Pao Buckaroos (Little Jimmy DICKENS)/ Bigger Fish To Fry (Featuring Kung Pao Buckaroos (Little Jimmy DICKENS) / When We All Get To Heaven / Throttleneck
09/2008
CD SONY / LEGACY 736846 (US)
WHO NEEDS PICTURES / PART II - Long Sermon / Me Neither / Who Needs Pictures / Don't Breathe / He Didn't Have To Be / It Never Woulda Worked Out Anyway / Holdin' On To You / I've Been Beeter / We Danced / Sleepin' On The Foldout / Cloud Of Dust / Nervous Breakdown / In The Garden / Two Feet Of Topsoil / I'm Gonna Miss Her / Part Two / Wrapped Around / Two People Fell In Love / Come On Over Tonight / You'll Never Leave Harlan Alive / I Wish You'd Stay / All You Really Need Is Love / Munster Rag / You Have That Effect On Me / Too Country / Old Rugged Cross
11/2008
CD SONY / BMG 88697-26908-2 (US)
PLAY - THE GUITAR ALBUM - Huckleberry Jam / Turf's Up / Start A Band (with Keith URBAN) / Kim / Departure / Come On In (with Buck OWENS) / Kentucky Jelly / Playing With Fire / More Than Just This Song (with Steve WARINER) / Les Is More / Pre-Cluster Cluster Pluck Prequel (Prelude) / Cluster Pluck (with James BURTON & Vince GILL) / Cliffs Of Rock City / Let The Good Times Roll (with B.B. KING) / What A Friend We Have In Jesus / Waitin' On A Woman (with Andy GRIFFITH)
03/2009
CD ARISTA / LEGACY 88697-49926-2 (US)
PLAYLIST - THE VERY BEST OF BRAD PAISLEY - Me Neither / Wrapped Around / New Again (with Sara EVANS) / Sharp Dressed Man / The Cigar Song / He Didn't Have To Be / Chicken Chet

[instr.]

/ Ode De Toilet (The Toilet Song) / Two Feet Of Top Soil / Who Needs Pictures / Two People Fell In Love / Keep On The Sunny Side / We Danced / Time Warp

[instr.]

06/2009
CD ARISTA 88697-47352-2 (US)
AMERICAN SATURDAY NIGHT - American Saturday Night / Everybody's Here / Welcome To The Future / Then / Water / She's Her Own Woman / Welcome To The Future (reprise) / Anything Like Me / You Do The Math / No / Catch All The Fish / Oh Yeah, You're Gone / The Pants / I Hope That's Me
11/2010
CD + DVD SONY / LEGACY 778848 (US)
DOUBLE PLAY :

CD 1 : Me Neither / Wrapped Around / New Again / Sharp Dressed Man / The Cigar Song / He Didn't Have To Be / Ode De Toilet (The Toilet Song) / Two Feet Of Topsoil / Who Needs Pictures / Two People Fell In Love / Keep On The Sunny Side / We Danced / Time Warp
DVD : Two People Fell In Love / Wrapped Around / I'm Gonna Miss Her / I Wish You'd Stay / Celebrity / Little Moments / Whiskey Lullaby / Mud On The Tires / Alcohol / When I Get Where I'm Going / The World

11/2010
2 CD ARISTA 88697-75878-2 (US)
HITS ALIVE :

CD 1 : Mud On The Tires / Ticks / Anything Like Me / The World / Little Moments / When I Get Where I'm Going / Celebrity / Then [piano mix] / I'm Still A Guy / He Didn't Have To Be / Alcohol / Whiskey Lullaby / We Danced / Online /
CD 2 : Water / American Saturday Night / Waitin' On A Woman / I'm Gonna Miss Her / Mud On The Tires / She's Everything / Time Warp / Letter To Me / Then / Alcohol / Online (Reprise)

11/2010
CD SONY 769831-2 (NW)

Norwegian Favorites - Ticks / Celebrity / American Saturday Night / Me Neither / Water / I'm Gonna Miss Her / Alcohol / Welcome To The Future / Online / Waitin' On A Woman / I'm Still A Guy / He Didn't Have To Be / Wrapped Around / Little Moments / Mud On The Tires / Come On Over Tonight / World / Then

05/2011
CD RCA 88697-83274-2 (US)
THIS IS COUNTRY MUSIC - This Is Country Music / Old Alabama / A Man Don't Have To Die / Camouflage / Remind Me / Working On A Tan / Love Her Like She's Leavin' / One Of Those Lives / Toothbrush / Be The Lake / Eastwood / New Favorite Memory / Don't Drink The Water / I Do Now / Life's Railway To Heaven
08/2012
2 CD LEGACY / SONY 541021 (US)
MUD ON THE TIRES / 5TH GEAR :

CD 1 : Mud On The Tires / Celebrity / Ain't Nothin' Like / Little Moments / That's Love / Somebody Knows You Now / Famous People / Hold Me In Your Arms (And Let Me Fall) / Whiskey Lullaby / Best Thing That I Had Goin' / Cigar Song / Make A Mistake / Make A Mistake With Me / Is It Raining At Your House / Spaghetti Western Swing / Farther Along / [Untitled]
CD 2 : All I Wanted Was A Car / Ticks / Online / Letter To Me / I'm Still A Guy / Some Mistakes / It Did / Mr. Policeman / If Love Was A Plane / Oh Love Featuring Carrie Underwood / Better Than This / With You, Without You (Previously Featuring Kung Pao Buckaroos (Little Jimmy DICKENS)/ Bigger Fish To Fry (Featuring Kung Pao Buckaroos (Little Jimmy DICKENS) / When We All Get To Heaven / Throttleneck / Waitin' On A Woman / [Untitled] / [Untitled]

04/2013
5 CD ARISTA 88883701542 (US)
ORIGINAL ALBUM CLASSICS :

CD 1 : WHO NEEDS PICTURES - Long Sermon / Me Neither / Who Needs Pictures / Don't Breathe / He Didn't Have To Be / It Never Woulda Worked Out Anyway / Holdin' On To You / I've Been Beeter / We Danced / Sleepin' On The Foldout / Cloud Of Dust / Nervous Breakdown / In The Garden
CD 2 : PART II - Two Feet Of Topsoil / I'm Gonna Miss Her / Part Two / Wrapped Around / Two People Fell In Love / Come On Over Tonight / You'll Never Leave Harlan Alive / I Wish You'd Stay / All You Really Need Is Love / Munster Rag / You Have That Effect On Me / Too Country / Old Rugged Cross
CD 3 : MUD ON THE TIRES - Mud On The Tires / Celebrity / Ain't Nothin' Like / Little Moments / That's Love / Somebody Knows You Now / Famous People / Hold Me In Your Arms (And Let Me Fall) / Whiskey Lullaby / Best Thing That I Had Goin' / Cigar Song / Make A Mistake / Make A Mistake With Me / Is It Raining At Your House / Spaghetti Western Swing / Farther Along / Kung Pao
CD 4 : TIME WELL WASTED - The World / Alcohol / Waitin' On A Woman / I'll Take You Back / She's Everything / You Need A Man Around Here / Out In The Parkin' Lot (with Alan JACKSON) / Rainin' You / Flowers / Love Is Never-Ending / The Uncloudy Day / When I Get Where I'm Going (with Dolly PARTON) / Easy Money / Time Warp

[instr.] /

Time Well Wasted / Cornography (with James BURTON) /

Outtake #1 / Outtake #2 / Outtake #3 / Outtake #4 / Shatner Says Goodbye

CD 5 : 5TH GEAR - All I Wanted Was A Car / Ticks / Online / Letter To Me / I'm Still A Guy / Some Mistakes / It Did / Mr. Policeman / If Love Was A Plane / Oh Love Featuring Carrie Underwood / Better Than This / With You, Without You (Previously Featuring Kung Pao Buckaroos (Little Jimmy DICKENS)/ Bigger Fish To Fry (Featuring Kung Pao Buckaroos (Little Jimmy DICKENS) / When We All Get To Heaven / Throttleneck /

Outtake #1 / Outtake #2

04/2013
CD ARISTA 88725-45539-2-2 (US)
WHEELHOUSE - Bon Voyage / Southern Comfort Zone /

Beat This Summer

/

Outstanding In Our Field (Brad PAISLEY

feat. Dierks BENTLEY, Hunter HAYES, Roger MILLER) /

Pressing On A Bruise (Brad PAISLEY

feat. Mat KEARNEY) /

I Can't Change The World / [Untranslated] / Karate (Brad PAISLEY

feat. Charlie DANIELS) /

Death Of A Married Man (Brad PAISLEY

feat. Eric I

DLE) /

Harvey Bodine

/

Tin Can On A String / Death Of A Single Man / The Mona Lisa / Accidental Racist (Brad PAISLEY

feat. L.L. COOL J.)

/ Runaway Train

/

Those Crazy Christians

/

Officially Alive
04/2013
CD ARISTA 88765-46196-2-4 (US) (deluxe edition)
WHEELHOUSE - Bon Voyage / Southern Comfort Zone /

Beat This Summer

/

Outstanding In Our Field (Brad PAISLEY

feat. Dierks BENTLEY, Hunter HAYES, Roger MILLER) /

Pressing On A Bruise (Brad PAISLEY

feat. Mat KEARNEY) /

I Can't Change The World / [Untranslated] / Karate (Brad PAISLEY

feat. Charlie DANIELS) /

Death Of A Married Man (Brad PAISLEY

feat. Eric I

DLE) /

Harvey Bodine

/

Tin Can On A String / Death Of A Single Man / The Mona Lisa / Accidental Racist (Brad PAISLEY

feat. L.L. COOL J.)

/ Runaway Train

/

Those Crazy Christians

/

Officially Alive /

Yankee Doodle Dixie / Facebook Friends / Get Even / Southern Comfort Zone [acoustic version]

08/2014
CD ARISTA 8884-305528-2 (US)

Moonshine in the Trunk -

Crushin' It / River Bank / Perfect Storm / High Life / Moonshine In The Trunk / Shattered Glass / Limes / You Shouldn't Have To / 4WP / Cover Girl / Gone Green / JFK 1962 / American Flag On The Moon / Country Nation / Me And Jesus
12/2016
CD + DVD City Drive MVD 9638D (US)

Life Amplified World Tour : Live From WVU :

CD : Opening / Crushin' It / American Saturday Night / Perfect Storm / Country Nation / Old Alabama / Then / Beat This Summer / I'm Gonna Miss Her / River Bank / Take Me Home, Country Roads / Southern Comfort Zone / Mud On The Tires
DVD : Crushin' It / American Saturday Night / Water / Online / Perfect Storm / Letter To Me / This is Country Music / I'm Still A Guy (ft. Chris

Young

) / She's Everything / Ticks / Country Nation / Old Alabama / Then / Beat This Summer / I'm Gonna Miss Her / River Bank / Take Me Home, Country Roads / Southern Comfort Zone / Mud On The Tires / Alcohol

04/2017
CD ARISTA 88985332872 (US)

Love and War -

Heaven South / Last Time For Everything / One Beer Can / Go To Bed Early / Drive Of Shame / Contact High / Love And War / Today / selfie#theinternetisforever / Grey Goose Chase / Gold All Over The Ground / Dying To See Her / Solar Power Girl / The Devil Is Alive And Well / Meaning Again / Heaven South (reprise)
© Rocky Productions 23/04/2017