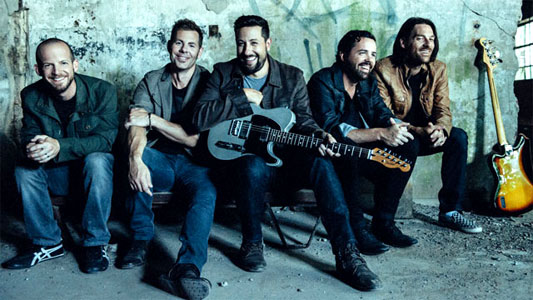 Groupe Country US formé à Nashville et composé de Matthew Ramsey, Geoff Sprung, Whit Sellers, Brad Tursi et Trevor Rosen.

Old Dominion arose during the waning days of bro-country, a genre the group's five members were partially responsible for as authors of hits for Luke Bryan, Cole Swindell, and Tyler Farr. As a band, Old Dominion were much softer and sweeter than the party-hearty legions of bro-country, straddling the line between contemporary pop and classic soft rock on their initial hits, 2015's "Break Up with Him" and 2016's "Snapback." Working with producer/songwriter Shane McAnally helped the quintet stay hip and fresh, leading to a series of Country Airplay number one singles in the last few years of the 2010s, including "Song for Another Time," "No Such Thing as a Broken Heart," "Written in the Sand," "Make It Sweet," and "One Man Band."
Comprising four Virginians -- Matt Ramsey (lead singer, guitar), Geoff Sprung (bass, vocals), Whit Sellers (drums), Brad Tursi (guitar, vocals) -- and Detroit's Trevor Rosen (guitar, keyboards, vocals), the band formed in Nashville. Boasting top-flight modern country songwriters in Ramsey, Rosen, and Tursi (the Band Perry, Keith Urban, Luke Bryan, Dierks Bentley, Chris Young, and Craig Morgan have all tracked Old Dominion songs), the group soon attracted a lot of attention. Working in the studio with Shane McAnally and Ilya Toshinsky, Old Dominion released a self-titled debut EP in the fall of 2014. The single "Break Up with Him" earned notice early the following year, due in part to the band's Back to the Future-referencing video. In the summer of 2015, "Break Up with Him" went to number one on Billboard's Country Airplay charts, setting the stage for the November release of their debut album, Meat & Candy, also produced by McAnally.
In March 2017, Old Dominion issued the single "No Such Thing as a Broken Heart," the first song from their sophomore album. Produced by McAnally, Happy Endings appeared in August 2017 and included the hit "Written in the Sand," their fifth consecutive platinum-certified single. The set topped the country charts and rose into the Top Ten of the Billboard 200. The following year, they issued the single "Make It Sweet" and embarked on a tour in anticipation of their eponymous third full-length album, which appeared in October 2019. As with their previous LP, Old Dominion occupied the top spot on the Country Albums chart and yielded another modest hit in "One Man Band." The following year saw the release of the breezy "Everything to Lose," and in 2021 the group issued another summertime anthem, "I Was on a Boat That Day," which was the first single from their fourth album. Titled Time, Tequila & Therapy, the record was released as a surprise in October 2021.
https://www.weareolddominion.com/
https://www.facebook.com/olddominionband/
https://en.wikipedia.org/wiki/Old_Dominion_(band)
Talents : Matt Ramsey : Lead Singer, Guitar - Geoff Sprung : Bass, Vocals - Whit Sellers : Drums - Brad Tursi : Guitar, Vocals - Trevor Rosen : Guitar, Keyboards, Vocals.
Style musical : Contemporary Country, Country-Rock

https://youtu.be/FLQATzCyxfE
Years in activity :
| | | | | | | | | | | | |
| --- | --- | --- | --- | --- | --- | --- | --- | --- | --- | --- | --- |
| 1910 | 20 | 30 | 40 | 50 | 60 | 70 | 80 | 90 | 2000 | 10 | 20 |
DISCOGRAPHY
Single & EP
201?
CD ? (US) (promo)

Wake Up Loving You / Chainsaw

10/2014
CD ReeSmack 25533 (US)

Old Dominion -

Shut Me Up / Break Up With Him / Nowhere Fast / Beer Can In A Truck Bed / Wrong Turns
2014
CD ReeSmack ? (US) (promo)

Shut Me Up

10/2014
CD RCA 88875-09345-2 (US)

Old Dominion -

Shut Me Up / Break Up With Him / Nowhere Fast / Beer Can In A Truck Bed / Wrong Turns
2015
CD SONY ? (US) (promo)

Songs For Another...Singer - Save It For A Rainy Day / Sangria / Chainsaw / Wake Up Loving You
Albums
11/2015
CD RCA / Sony 88875134962 (US)

Meat and Candy -

Snapback / Half Empty / Wrong Turns / Said Nobody / Crazy Beautiful Sexy / Nowhere Fast / Beer Can In A Truck Bed / Break Up With Him / Song For Another Time / Til It's Over / We Got It Right
08/2017
CD RCA 88985-42939-2 (US)

Happy Endings - No Such Thing As A Broken Heart / Shoe Shopping / Not Everything's About You / Hotel Key / Be With Me / Written In The Sand / So You Go / Stars In The City (featuring Little Big Town) / New York At Night / A Girl Is A Gun / Still Writing Songs About You / Can't Get You (live)

10/2019
CD RCA 589183 (US)

Old Dominion - Make It Sweet / Smooth Sailing / One Man Band / Never Be Sorry / My Heart Is A Bar / Midnight Mess Around / Do It With Me / Hear You Now / I'll Roll / American Style / Paint The Grass Green / Some People Do

10/2021
CD Arista 1943993785-2 (US)

Time Tequila & Therapy - Why Are You Still Here / Hawaii / Walk On Whiskey / All I Know About Girls / Blue Jeans / No Hard Feelings / Lonely Side Of Town (featuring - Gladys Knight) / I Was On A Boat That Day / Drinking My Feelings / Something's The Same About You / I Wanna Live In A House With You Forever / Don't Forget Me / Ain't Nothing Wrong With Love
© Rocky Productions 17/11/2021