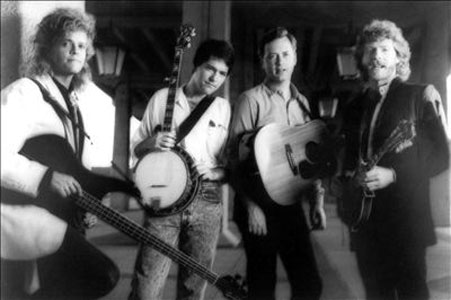 Groupe Bluegrass US formé en 1972 au Kentucky par 4 membres des Bluegrass Alliance. New Grass Allaince est composé de Sam Bush, Courtney Johnson, Ebo Walker, Lonnie Peerce, Curtis Burch. Le groupes'est séparé en 1990.

New Grass Revival, formed in 1972 by four former members of the Bluegrass Alliance, flourished in a decade when numerous groups took traditional bluegrass and changed it to varying degrees. The group was successful enough to have the group's name become a generic label: "newgrass." The band's image, with long hair and occasionally electrified instruments, as well as its musical material contrasted greatly with standard (traditional) bluegrass like that played by Bill Monroe, Ralph Stanley, the Lilly Brothers, and Lester Flatt's band. In terms of longevity, popularity, and exposure, the Revival, with its hip reputation, was perhaps the most successful in competition against II Generation, Seldom Scene, the Country Gentlemen, and others.
The origins of New Grass Revival lay in the Bluegrass Alliance, which Sam Bush (Vocals, fiddle, guitar, mandolin) and Courtney Johnson (banjo, Vocals) joined in 1970. At the time, the Alliance also featured bassist Ebo Walker and fiddler Lonnie Peerce. Within a year after Bush's and Johnson's arrival, Curtis Burch (dobro, guitar, Vocals) joined the band. In 1972, Peerce left the band, and the remaining members decided to continue under a new name — New Grass Revival. The band released their eponymous debut, Arrival of the New Grass Revival, later that year on Starday Records.
After the release of their debut, Walker parted ways with the band, and the group replaced him with Butch Robbins, who was only with the band for a short time. He was replaced by John Cowan, an Evansville, IN, native. This lineup was stable throughout the '70s, recording a number of albums for Flying Fish Records. As their name suggested, New Grass Revival never played traditional bluegrass — all of the members brought elements of rock & roll, jazz, and blues to the group's sound. Consequently, certain portions of the bluegrass community scorned them, but they also gained a devoted following of listeners who believed they were moving the genre in a new, fresh direction.
In 1981, Johnson and Burch left the band, claiming they were tired of touring. Bush and Cowan continued the group, replacing them with banjoist Béla Fleck and mandolinist/guitarist Pat Flynn. New Grass Revival moved to Sugar Hill Records in 1984 and released their first album featuring the new lineup, On the Boulevard. Two years later, the band signed with EMI Records and released an eponymous album, which proved to be their breakthrough into the mainstream. Two of the singles from the album — "What You Do to Me" and "Ain't That Peculiar" — were minor hits on the country charts, and Fleck's showcase "Seven by Seven" was nominated for a Grammy for Best Country Instrumental. Hold to a Dream, released in 1987, was just as successful as its predecessor, featuring the hits "Unconditional Love" and "Can't Stop Now," which both nearly made the Top 40.
In 1989, New Grass Revival released their third major-label album, Friday Night in America, which was yet another commercial success. "Callin' Baton Rouge" became their first Top 40 single, followed by the number 58 hit "You Plant Your Fields." Even though the band was more popular than ever, Bush decided to pull the plug on the group after the release of Friday Night in America. Bush became a session musician, and Fleck went onto a very successful and respected solo career.
Talents : Sam Bush : Vocals, Fiddle, Guitar, Mandolin - Courtney Johnson : Banjo, Vocals - Ebo Walker : Bass - Lonnie Peerce : Fiddle - Curtis Burch : Dobro, Guitar, Vocals
Style musical : Progressive Bluegrass, Bluegrass, Folk, New Acoustic

http://www.youtube.com/watch?v=uk-jn9AMlCE
Years in activity :
| | | | | | | | | | | |
| --- | --- | --- | --- | --- | --- | --- | --- | --- | --- | --- |
| 1910 | 20 | 30 | 40 | 50 | 60 | 70 | 80 | 90 | 2000 | 10 |
DISCOGRAPHY
Singles
02/1973
SP STARDAY 45-965 (US)
.

I Wish I Said (I Love You More Than One Time)

/

Great Balls Of Fire

06/1973
SP STARDAY 45-974 (US)
.

Prince Of Peace Part 1

/

Prince Of Peace Part 2

01/1981
SP PARADISE PDS49662 (US)
.
Leon

Russell

&

New Grass Revival

- I've Just Seen A Face / Over The Rainbow
05/1986
SP EMI 8329 (US)
.

What You Do To Me / Sweet Release

09/1986
SP EMI 8347 (US)
.

Ain't That Peculiar

/

Ain't That Peculiar

09/1987
SP CAPITOL B-44078 (US)
.

Unconditional Love / I Can Talk To You

1987
SP CAPITOL CL 499 (UK)

Can't Stop Now /

Unconditional Love

02/1988
SP CAPITOL B-44128 (US)
.

Can't Stop Now / I Can Talk To You

05/1989
SP CAPITOL B-44357 (US)
.

Callin' Batton Rouge / Let Me Be Your Man

09/1989
SP CAPITOL B-44451 (US)
.

You Plant Your Fields / Friday Night In America
Albums
06/1973
LP 12" STARDAY S-SLP 482 (US)
THE ARRIVAL OF THE NEW GRASS REVIVAL -

Great Balls Of Fire

/

Ginseng Sullivan

/

Body And Soul

/

Whisper My Name

/

Lonesome Fiddle Blues

/

Pennies In My Pocket

/

Cold Sailor

/

With Care From Someone

/

I Wish I Said (I Love You One More Time)

/

Prince Of Peace

12/1976
LP 12" FLYING FISH FF-016 (US)
FLY TROUGH THE COUNTRY - Skippin' In The Mississippi Dew /

Good Woman's Love

/

Glory

/

All Night Train

/

Fly Through The Country

/

This Heart Of Mine

/

The Dancer

/

When She Made Laughter Easy

/

Doin' My Time

/

These Days

08/1977
LP 12" FLYING FISH FF-032 (US)
WHEN THE STORM IS OVER -

Four Days Of Rain

/

White Freightliner Blues

/

Sail To Australia

/

When The Storm Is Over

/

And He Says "I Love You"

/

Vamp In The Middle

/

Like A Child In The Rain

/

Tennessee Wagoner

/

Colly Davis

/

Crooked Smile

06/1978
LP 12" FLYING FISH FF-050 (US)
TOO LATE TO TURN BACK NOW -

Lonesome And A Long Way From Home

/

With Care From Someone

/

High Lonesome Sound

/

Rainbow Ridge

/

Watermelon Man

/

Fly Through The Country

/

Red Man Blues

09/1979
LP 12" FLYING FISH FF-083 (US)
BARREN COUNTY - Dancin' With The Angels / In The Plan / How About You / Crazy In The Night / Don't Look Back / Spring Peepers / Souvenir Bottles / Goin' To The Fair / Lee Highway Blues
1979
LP 12" PARADISE PAK 3532 (US)
THE LIVE ALBUM - LEON RUSSELL & NEW GRASS REVIVAL - Caribbean / Georgia Blues / I Believe To My Soul / I've Just Seen A Face / I Want To Be At The Meeting / Jambalaya (On The Bayou) / Jumpin' Jack Flash / One More Love Song / Over The Rainbow / Prince Of Peace / Roll In My Sweet Baby's Arms / Stranger In A Strange Land / Wild Horses
09/1982
LP 12" FLYING FISH FF-254 (US)
COMMONWEALTH - Reach / Steam Powered Aereo Plane / One Day I'll Walk / Nothing Wasted, Nothing Gained / Pack Of Fools / Nothing Without You / Deeper And Deeper / Wicked Path Of Sin / Sapporo
1983
LP 12" ADA 1010 (F)

Live - TOULOUSE BLUEGRASS FESTIVAL - White Freight Liner Blues / Good Woman's Love / One More Love Song / Walk In Jerusalem / Watermelon Man / Reach / Sapporo

1984
LP 12" ROUNDER 0196 (US)
DEVIATION -

Béla

FLECK & The NEW GRASS REVIVAL - Deviation / Reverie / Nuns For Nixon / Malone / Moontides / Ambrose / Omac / Jalmon With Salmon / Mbanza / Places
03/1985
LP 12" SUGAR HILL 3745 (US)
ON THE BOULEVARD - On The Boulevard / Earth, Water, Wind And Fire / You're The Best Friend That I've Known / Just Is / County Clare / One More Love Song / You Don't Knock / One Of These Trains / Get In The Wind / Indian Hills / One Love - People Get Ready / Where Do I Go From Here? / Walking In Jerusalem
03/1987
LP 12" CAPITOL 17216 (US)
NEW GRASS REVIVAL -

What You Do To Me

/ A-2.

Love Someone Like Me

/

Lonely Rider

/

Sweet Release

/

How Many Hearts

/

In

The Middle Of The Night

/

Saw You Runnin'

/

Ain't That Peculiar

/

Seven By Seven

/

Revival

07/1988
LP 12" CAPITOL CLT 46962 (US)
HOLD TO A DREAM -

Hold To A Dream

/

One Way Street

/

Can't Stop Now

/

I'll Take Tomorrow

/

Before The Heartache Rolls In

/

Looking Past You

/

How About You

/

Metric Lips

/

I Can Talk To You

/

Unconditional love

1989
LP 12" CAPITOL C 1-90739 (US)
FRIDAY NIGHT IN AMERICA -

Friday Night In America

/

You Plant Your Fields

/

Let's Make A Baby King

/

Do What You Gotta Do

/

Let Me Be Your Man

/

Lila

/

Callin' Baton Rouge

/

Whatever Way The Wind Blows

/

Big Foot

/

Angel Eyes

/

I'm Down

01/1990
LP 12" SUGAR HILL SH-3771 (US)
LIVE - TOULOUSE BLUEGRASS FESTIVAL - White Freight Liner Blues / Good Woman's Love / One More Love Song / Walking In Jerusalem / Watermelon Man / Reach / Sapporo
1990
CD CAPITOL CDP 7 94624 2 (US)

Anthology - Can't Stop Now / Ain't That Peculiar / Angel Eyes / Revival / Metric Lips / Reach [live] / You Plant Your Fields / Callin' Batton Rouge / Hold To A Dream / Friday Night In America

1991
CD FLYING FISH FF-70032 (US)
FLY TROUGH THE COUNTRY - Skippin' In The Mississippi Dew /

Good Woman's Love

/

Glory

/

All Night Train

/

Fly Through The Country

/

This Heart Of Mine

/

The Dancer

/

When She Made Laughter Easy

/

Doin' My Time

/

These Days /

Four Days Of Rain

/

White Freightliner Blues

/

Sail To Australia

/

When The Storm Is Over

/

And He Says "I Love You"

/

Vamp In The Middle

/

Like A Child In The Rain

/

Tennessee Wagoner

/

Colly Davis

/

Crooked Smile

1992
CD HOLLYWOOD HCD 307 (US)
TODAY'S BLUEGRASS - Pennies In My Pocket / Cold Sailor / I Wish I Said / Prince Of Peace / Ginseng Sulivan / Whisper My Name / Great Balls Of Fire / Lonesome Fiddle Blues / Body And Soul / With Care From Someone
03/1994
CD LIBERTY CDP 7243-8-28090-2 (US)
BEST OF NEW GRASS REVIVAL - Love Someone Like Me / Sweet Release / In The Middle Of The Night / Saw You Runnin' / Revival / Hold To A Dream / Can't Stop Now / Metric Lips / Unconditional Love / Friday Night In America / You Plant Your Fields / Let's Make A Baby King / Do What You Gotta Do / Let Me Be Your Man / Callin' Baton Rouge / Big Foot / Angel Eyes / I'm Down
2001
CD Leon Russell (US)

Rhythm & Bluegrass -

Leon Russell with The

New Grass Revival -

Hank Wilson Vol. 4 -

I've Just Seen A Face / Footprints In The Snow / Columbus Stockade Blues / I Believe My Soul / Rough And Rocky Road / Mystery Train / When My Blue Moon Turns To Gold / In The Pines / Open Up The Door / Bluebirds Are Singing For Me / Rhythm And Bluegrass / Pilgrim Land
06/2005
2 CD LIBERTY 72438-63425-2-2 (US)
GRASS ROOTS - THE BEST OF THE BLUE GRASS REVIVAL :

CD 1 : Great Balls Of Fire / Prince Of Peace / Casey Jones / The Dancer / Doin' My Time / All Night Train / Vamp In The Middle / Spring Peepers / Lee Highway Blues / Souvenir Bottles / Sapporo / Steam Powered Aero Plane / When The Storm Is Over / You Don't Knock / White Freight Liner Blues / Good Woman's Love / Reach
CD 2 : One More Love Song / On The Boulevard / One Love - People Get Ready / Seven By Seven / In The Middle Of The Night / Sweet Release / Metric Lips / Unconditional Love / Looking Past You / Revival / Ain't That Peculiar / Callin' Baton Rouge / I'm Down / Angel Eyes / Don't You Hear Jerusalem Moan (NITTY GRITTYDIRT BAND) / Do What You Gotta Do / Singing The Blues / Can't Stop Now

11/2015
CD Forced Exposure / Hotspur HSCD 1022 (UK)
Live in Illinois 1978 - New Grass Revival with Sam Bush - Dancing With The Angels (intro) / When The Storm Is Over / This Heart Of Mine / With Care From Someone / Doin' My Time / That High Lonesome Sound / Instrumental / Sail To Australia / Skippin' In The Mississippi Dew / Instrumental / White Freight Liner Blues / Norwegian Wood / WXRT (outro)
© Rocky Productions 23/06/2016