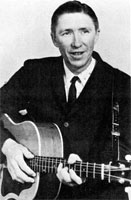 Chanteur Country US né le 1er Décembre 1931 à Bishopville (Caroline du Sud). Jim Nesbitt est décédé le 29 Novembre 2007.

US Country singer born on December 1, 1931 in Bishopville (South Carolina).
Jim Nesbitt was a South Carolina deejay who had a flair for tongue-in-cheek humor. This talent put his name on the Country charts thirteen times between 1961 and 1970. Many of his songs tended toward Talking Blues and recitations, but most displayed a clever wit-often directed to political satire-which delighted numerous radio and live audiences. Little detail is available on Nesbitt's life, but during his years on the charts, he worked as a deejay at WAGS radio in his hometown of Bishopville, which was some twenty-five miles west of the larger city of Florence. There he made television appearances with Slim Mims and his Dream Ranch Boys. Jim recorded initially for Dot and then for Chart, the same company that would later elevate Junior Samples to his first taste of fame. While Jim never got the national television exposure that raised Samples to star status, he did do much better on the record charts. His initial appearance in front of a national audience came in the spring of 1961 with Please Mr. Kennedy, which reached the Top 15. The song, based on The Ballad Of Davy Crockett, was initially released on Country Jubilee and Ace, becoming a hit on Dot. Two years later Livin' Offa Credit made a brief appearance. However, his biggest number came in 1964 on Chart with Looking for More In '64, which remained on the charts for nearly six months and reached the Top 10. Done in a Talking Blues style, the single satirized the level of rising expectations that resulted from the current presidential election. A North Carolina gubernatorial hopeful, Dan K. Moore, used it successfully for a campaign theme. It inspired a series of sequels: Still Alive In '65, Heck of a Fix In '66, Clear the State in '68 and Having Fun in '71, the first two of which also charted in the Top 40. In between these singles, Jim had other humorous ditties like Mother-in-Law (Top 20, 1964), A Tiger in My Tank (Top 15) and The Friendly Undertaker (Top 25) (both 1965), You Better Watch Your Friends (Top 50, 1966) and Runnin' Bare (Top 20, 1970). Other songs by Jim poked gentle fun at the problem of [Air] Pollution, Spiro [Agnew] and Social Security. His name vanished form the charts after 1970, but he came back with an album titled Phone Call From The Devil, in 1976 (undoubtedly a reaction to Jerry Jordan's Phone Call From God). After that, Nesbitt seemingly dropped from the national scene. Bruce Jones of the Jones Brothers, a popular Carolina Bluegrass band, reports that a few years ago Nesbitt was located in Florence, South Carolina engaged in the mobile home business.
Jim Nesbitt passed away on November 29, 2007.
https://en.wikipedia.org/wiki/Jim_Nesbitt
Talents : Vocals, Guitar
Style musical : Truck Driving, Contemporary Country, Country Comedy
Years in activity :
| | | | | | | | | | | | |
| --- | --- | --- | --- | --- | --- | --- | --- | --- | --- | --- | --- |
| 1910 | 20 | 30 | 40 | 50 | 60 | 70 | 80 | 90 | 2000 | 10 | 20 |
DISCOGRAPHY
Singles
1961
SP ACE 621 (US)
Please Mr. Kennedy / Horse Race
02/1961
SP DOT 45-16197 (US)
Please Mr. Kennedy / Horse Race
10/1961
SP RUSH R

ush

2003 (US)
Husband In Law / New Frontier
03/1962
SP SMASH S-1746 (US)
Husband In Law / New Frontier
12/1962
SP DOT 45-16424 (US)
Livin' Offa Credit / I'm A Married Man
03/1964
SP CHART 1065 (US)
Jim N

esbitt

with guitarist Bill

Moore

- Looking For More In '64 / (Go On And) Cry Me A River
08/1964
SP CHART 1100 (US)
Jim N

esbitt

with guitarist Bill

Moore

- Mother-In-Law / If You Don't Love Me (Tell Me Now)
12/1964
SP CHART 1165 (US)
Tiger In My Tank / I Can't Stand This Livin' Alone
04/1965
SP CHART 1200 (US)
Still Alive In '65 / I Laughed When You Said You Were Leaving
07/1965
SP CHART 1240 (US)
Friendly Undertaker / Crying And Waiting For You
11/1965
SP CHART 1290 (US)
You Better Watch Your Friends / You're No Good
03/1966
SP CHART 1320 (US)
She Didn't Come Home / Working All My Life
07/1966
SP CHART 1350 (US)
Heck Of A Fix In '66 / I'm From The Country
11/1966
SP CHART 1410 (US)
Stranded /se Modern Things
04/1967
SP CHART 1445 (US)
Husbands-In-Law / I Want To Have My Operation On TV
09/1967
SP CHART 59-1008 (US)
Quittin' Time / So Many Times
01/1968
SP CHART 59-1018 (US)
Truck Drivin' Cat With Nine Wives / Social Security
05/1968
SP CHART 59-1039 (US)
Clean The Slate In '68 / Husband Is The Last One To Know
1968
SP CHART 59-1043 (US)
Clean The Slate In '68 / Husband Is The Last One To Know
09/1968
SP CHART 59-1055 (US)
Six Broken Hearts / Living The Life Of Riley
04/1969
SP CHART 59-5004 (US)
If You See Me Brother / I'm Yeller
08/1969
SP CHART CH-5023 (US)
Intoxicated Frustrated Me / It's Great To Stay In The USA
01/1970
SP CHART CH-5052 (US)
Runnin' Bare / Good Woman Is Hard To Find
05/1970
SP CHART CH-5070 (US)
My Old Drinking Friends / When They Sent My Old Lady To The Moon
09/1970
SP CHART CH-5096 (US)
Pollution / Spiro
12/1970
SP CHART CH-5112 (US)
I Love Them Old Nasty Cigarettes / Nice Guys Always Finish Last
05/1971
SP CHART CH-5131 (US)
Havin' Fun In '71 / Here Today And Here Tomorrow
12/1971
SP CHART CH-5150 (US)
Going Home To Die / I Am A Married Man
05/1973
SP CHART CH-5193 (US)
Bars Put Me Behind Those Bars / Mr Jones (I Want To Merry Your Wife)
09/1973
SP CHART CH-5202 (US)
Whiskey Sampler / From The Moment You're Born
1975
SP CAPRICORN CPS-0236 (US)
Shaving Cream / Suck It Up Suds
01/1976
SP SCORPION SC-0500 (US)
Phone Call From Devil / Drop In The Bucket
05/1976
SP SCORPION SC-0505 (US)
Short Sheriff / Overseas By Rail
09/1976
SP SCORPION SC-0513 (US)
Run For A Life / Twenty Years And Holding
1988
SP TWO FOLD 8884 (US)
Lizard Man / Sexual Desire
19??
SP Rally 569 (US)
I'm A Married Man / Livin' Offa Credit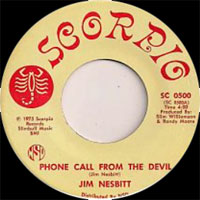 Albums
| | | | |
| --- | --- | --- | --- |
| 1964 | LP 12" CHART CLP-6500 (US) | | YOUR FAVORITE COMEDY AND HEART SONGS - Lookin' For More In '64 / Mother-In-Law / Right Around Home / These Modern Things / You Better Watch Your Friends / Baby You've Cleaned Me Out / Working All My Life / I Can't Make It By Myself / I Laughed When You Said You Were Leaving / Something About You That I Like / Ain't No Way To Get Around It / If You Don't Love Me (Tell Me Now) |
| 01/1968 | LP 12" CHART CHM-1005 (mono) / CHS-1005 (stereo) (US) | | TRUCK DRIVIN' CAT WITH NINE WIVES - Truck Drivin' Cat With Nine Wives / Living The Life Of Riley / I'm Yeller / She Didn't Come Home / So Many Times / Friendly Undertaker / Quittin' Time / Social Security / I Ain't Never Been Passed / Husband Is The Last One To Know / Intoxicated Frustrated Me / Tiger In My Tank |
| 04/1970 | LP 12" CHART CHS-1031 (US) | | RUNNIN' BARE - Runnin' Bare / Pollution / It's Great To Stay In The USA / My Old Drinking Friends / Good Woman Is So Hard To Find / When They Sent My Old Lady To The Moon / Nice Guys Always Finish Last / Stranded / If You See My Brother / Six Broken Hearts |
| 06/1971 | LP 12" CHART CHS-1044 (US) | | THE BEST OF JIM NESBITT - Havin' Fun In '71 / Truck Drivin' Cat With Nine Wives / I'm Yeller / Tiger In My Tank / It's Great To Stay In The USA / Social Security / Runnin' Bare / Stranded / Quittin' Time / Friendly Undertaker / Pollution / When They Sent My Old Lady To The Moon |
| 1976 | LP 12" SCORPION SCS-0001 (US) | | PHONE CALL FROM DEVIL - Phone Call From The Devil / Short Sheriff / Bull Tongue Sandwich / Overseas By Rail / etc... |
| 01/1999 | CD LOST GOLD LG-3208 (US) | | THE KING OF COUNTRY COMEDY - Runnin' Bare Nesbitt / Tiger In My Tank / Looking For More In 64 / Truck Drivin' Cat With Nine Wives / Shaving Cream / Phone Call From The Devil / It's Great To Stay In The USA / I'm Yeller, Stranded / Please Mr Kennedy / Husband In Law / You Better Watch Your Friends / These Modern Things / Friendly Undertake / Clean The Slate In '68 / I Love Those Old Nasty Cigarettes / Mother In Law / I'm A Married Man / Horse Race / Livin' Offa Credit |
© Rocky Productions 11/12/2004