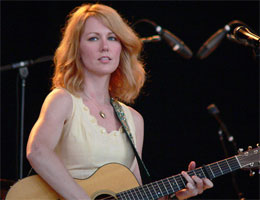 Chanteuse Country US née le 21 Juin 1972 à Mobile (Alabama). Allison Moorer est la soeur de Shelby Lynne.

Allison Moorer was born into a musical family and raised in the small southern Alabama town of Frankville; when Moorer's father shot her mother and then turned the gun on himself, older sister Shelby Lynne -- soon to become a country singer herself -- took charge of raising Allison. After attending the University of South Alabama, Moorer moved to Nashville, hoping to get her start as a studio backing vocalist. She struck up a songwriting partnership with musician and future husband Butch Primm, and soon signed a publishing deal.
Performances of Walter Hyatt's "Tell Me Baby" at benefit shows for the late singer's family landed Moorer a contract with MCA Nashville. Moorer's big break came when "A Soft Place to Fall," a track she had co-written with Gwil Owen, was tapped for inclusion on the soundtrack of The Horse Whisperer; it garnered rave reviews, as well as an appearance in the film itself for Moorer, and set the stage for the singer's 1998 debut album, Alabama Song.
She returned with another solo effort in 2000 with The Hardest Part. Two years later, Moorer had a new deal with Universal South and released a third album, Miss Fortune, later that summer. Show, which was recorded in January 2003 at Nashville's 12th & Porter, appeared in June. Her sister and Kid Rock joined Moorer for this first-time live recording. Not slowing down, Moorer found a new label home with Sugar Hill in early 2004. The Duel, recorded with a new studio band in less than two weeks, was released in April of 2004.
Moorer married singer/songwriter Steve Earle and moved to New York in 2005, and in 2006 released Getting Somewhere. She followed it with a long tour, opening for Earle and being a featured vocalist in the Dukes. Mockingbird, her next offering, was released in early 2008. In 2009, Moorer appeared in The People Speak, a documentary, directed by Anthony Arnove and Chris Moore, based on Howard Zinn's landmark text A People's History of the United States. She also performed on the BBC television program Transatlantic Sessions and began recording a new album.
In February of 2010 she released Crows on Rykodisc, and gave birth to a son in April and diagnosed with autism 23 months later. Moorer and Steve Earle separated in 2014. Her eighth studio album, Down to Believing, was issued by E1 in the spring of 2015, produced by Kenny Greenberg.
Back in 2010, Moorer and Lynne teamed for the Side by Side tour, and considered recording an album together. The plan was shelved until 2017 when they got together in Los Angeles with producer Teddy Thompson and a small group of invited guest musicians including Benmont Tench, Erik Deutsch, Doug Pettibone, and Val McCallum. The siblings chose to record a host of covers from the classic country canon, alongside contemporary fare by pop and Americana songwriters. Their lone co-written original was the set closer "Is It Too Much?" Titled Not Dark Yet, the album was released by Thirty Tigers in August.
https://en.wikipedia.org/wiki/Allison_Moorer
Talents : Vocals, Songwriter, Piano, Guitar
Style musical : Contemporary Country, Traditional Country, Americana, Progressive Country, Alternative Country Rock

https://youtu.be/RTMJe6R2vVw
Years in activity :
| | | | | | | | | | | | |
| --- | --- | --- | --- | --- | --- | --- | --- | --- | --- | --- | --- |
| 1910 | 20 | 30 | 40 | 50 | 60 | 70 | 80 | 90 | 2000 | 10 | 20 |
DISCOGRAPHY
Singles
01/1998
SP MCA MCAS7-72030 (US)
.

A Soft Place To Fall / Big Ball's In Cowtown

1998
CD MCA 72030 (US)
.
A Soft Place To Fall
08/1998
SP MCA MCAS7-72069 (US)
.

Set You Free / Easier To Forget

08/1998
CD MCA MCADS-72069 (US)
Set You Free (single version) / Easier To Forget
08/1998
CD MCA 72069 (US)
.
Set You Free
11/1998
SP MCA MCAS7-72077 (US)
.

Alabama Song / Call My Name

02/1999
SP MCA 088-172172-7 (US)
.

Pardon Me / Found A Letter

2000
CD MCA ANGELCD1 (UK)

Send Down An Angel / No Next Time / A Soft Place To Fall

12/2000
SP MCA 088-172192-7 (US)
.

Think It Over / The Hardest Part

03/2000
CD MCA 088-172265-2 (US)
.

Tumbling Down

2002
CD Universal South ‎MCSTD 40305 (UK)

Tumbling Down (radio edit) / Let Go / Going Down

2002
CD Universal South UNSR-30010-2 (promo) (US)

Cold In California

2002
CD Universal South ‎UNSR-02344-2 (US) (promo)

Three Song Sampler -

Tumbling Down / Cold In California / Hey Jezebel
11/2002
CD MCA 088-172 274-2 (US)
Allison

Moorer

& Kid ROCK - Picture (radio edit) / Picture (long version edit) / Picture (long version)
01/2003
CD UNIVERSAL 172265 (US)
Tumnling Down
2004
CD Sugar Hill SUG-CD-3984S6 (US)

All Aboard

2006
CD Sugar Hill SUG-CD-4012S4 (US)

Fairweather (radio edit) / Fairweather (album version)

2007
CD New Line ? (US) (promo)

I Want A Little Sugar In My Bowl

2008
CD New Line NLR39106 (UK) (promo)

Mockingbird

2009
CD RYKODISC PRCD 000060 (US)
.

The Broken Girl (radio edit) / The Broken Girl (acoustic version) / Liner (new singleThe Broken Girl) / Liner (track from new album Crows) / Liner (Happy 2010 Greeting) / Liner (Holiday Greeting) / Liner (Please Support Public radio) / Liner (About The Song The Broken Girl)

05/2010
CD RYKODISC RCD-11021 (US)

Crows Acoustic - When You Wake Up Feeling Bad / Sorrow / Easy In The Summertime / Should I Be Concerned / Crows / Broken Girl

2015
CD Proper PRPCD125RPI (US) (promo)

Like It Used To Be
Albums
09/1998
CD MCA 70028 (US)
ALABAMA SONG - Pardon Me / Long Black Train / Alabama Song / Call My Name / One That Got Away / I Found A Letter / Easier To Forget / Set You Free / Soft Place To Fall / Tell Me Baby / Is Heaven Good Enough For You
09/2000
CD MCA 170114 (US)
THE HARDEST PART - Hardest Part / Day You Said Goodbye / It's Time I Tried / Best That I Can Do / Think It Over / Bring Me All Your Lovin' / Is It Worth It / Send Me Down An Angel / No Next Time / Feeling That Feeling Again
08/2002
CD MCA 170295 (US)
MISS FORTUNE - Tumbling Down / Cold In California / Let Go, Ruby Jewel Was Here / Can't Get There From Here / Steal The Sun / Up This High / Hey Jezebel / Mark My Word / No Place For A Heart / Yessire / Going Down / Dying Bread
06/2003
CD UNIVERSAL 28236 (US)
SHOW - Day You Said Goodbye / Don't Cry No Tears / Alabama Song / Soft Place To Fall / Yessirree / I'll Break Before I Bend / Let Go / Steal The Sun / Bring Me All Your Lovin' / Is Heaven Good Enough For You / Going Down / Send Down An Angel / Dying Breed / No Next Time / Bully Jones
04/2004
CD SUGAR HILL 3984 (US)
THE DUEL - I Ain't Giving Up On You / Baby Dreamer / Melancholy Polly / Believe You Me / One On The House / All Aboard / Duel / When Will You Ever Come Down / Louise Is In The Blue Moon / Once Upon A Time She Said / Sing Me To Sleep
06/2005
CD MCA 4416 (US)
THE DEFINITIVE COLLECTION - A Soft Place To Fall / Long Black Train / Alabama Song / Set You Free / Easier To Forget / The Hardest Part / Is It Worth It? / Send Down An Angel / I Ain't The One / Moonshiner / Tumbling Down / Hey Jezebel / Steal The Sun / Dying Breed / Storms Never Last / Don't Cry No Tears

[live]

/ Let Go

[live]

/ I'll Break Before I Bend

[live]

/ Is Heaven Good Enough For You

[live]

06/2006
CD SUGAR HILL 4012 (US)
GETTING SOMEWHERE - Work To Do / You'll Never Know / Hallelujah / Fairweather / New Years Day / How She Does It / Where You Are / Take It So Hard / If It's Just For Today / Getting Somewhere
02/2008
CD HUMPHEAD 15 (UK)
THE ULTIMATE COLLECTION - Set You Free / A Soft Place To Fall / Alabama Song / The One That Got Away (Got Away With My Heart) / The Hardest Part / Send Down An Angel / Is It Worth It? / No Next Time / Day You Said Goodbye / Think It Over / Ruby Jewel Was Here / Tumbling Down / Dying Breed / Mark My Word / Let Go / Is Heaven Good Enough For You With Jessie / Feeling That Feeling Again / Cold Cold Earth
02/2008
CD NEW LINE 39106 (US)
MOCKINGBIRD - Mockingbird / Ring Of Fire / Dancing Barefoot / I Want A Little Sugar In My Bowl / Go, Leave / Revelator / Both Sides Now / Daddy Goodbye Blues / She Knows Where She Goes / Orphan Train / Where Is My Love / I'm Looking For Blue Eyes
02/2010
CD RYKODISC RCD-11004 (US)
CROWS - Abalone Sky / Goodbye To The Ground / Just Another Fool / The Broken Girl / Should I Be Concerned / When You Wake Up Feeling Bad / Easy In The Summertime / The Stars & I (Mama's Song) / Still This Side Of Gone / Like The Rain / Sorrow (Don't Come Around) / It's Gonna Feel Good (When It Stops Hurting) / Crows
02/2015
CD Entertainment One Music EOM-9428 (US)

Down to Believing -

Like It Used To Be / Thunderstorm - Hurricane / I Lost My Crystal Ball / Down To Believing / Tear Me Apart / If I Were Stronger / Wish I / Blood / Mama Let The Wolf In / I'm Doing Fine / Back Of My Mind / Have You Ever Seen The Rain? / Gonna Get It Wrong
11/2015
2 CD HUMPHEAD HUMP183 (UK)

The Essential Collection :

CD 1 : Call My Name / Long Black Train / Alabama Song / Pardon Me / Day You Said Goodbye / It's Time I Tried / Mark My Word / The One That Got Away (Got Away With My Heart) / I Found A Letter / Ruby Jewel Was Here / Is Heaven Good Enough For You / No Place For A Heart / Best That I Can Do / Bring Me All Your Lovin' / Is It Worth It / No Next Time / The Hardest Part
CD 2 : Think It Over / Tumbling Down / Cold In California / Hey Jezebel / Set You Free / Let Go / Steal The Sun / Up This High / Easier To Forget / Can't Get There From Here / Yessirree / A Soft Place To Fall / Dying Breed / Going Down / Send Me Down An Angel / Tell Me Baby / Feeling That Feeling Again - Cold Cold Earth

08/2017
CD Silver Cross SCR 001 (US)

Not Dark Yet - Shelby Lynne / Allison Moorer - My List / Every Time You Leave / Not Dark Yet / I'm Looking For Blue Eyes / Lungs / The Color Of A Cloudy Day / Silver Wings / Into My Arms / Lithium / Is It Too Much

10/2019
CD Autotelic ATR 001 (US)

Blood - Weather / Cold Cold Earth / Nightlight / The Rock And The Hill / I'm The One To Blame / Set My Soul Free / The Ties That Bind / All I Wanted (Thanks Anyway) / Blood
© Rocky Productions 26/10/2019