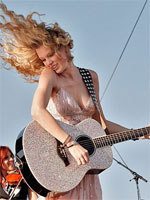 Chanteuse Country US née Shelby Lynne Moorer, le 22 Octobre 1968 à Quantico (Virginie). Elle est la soeur de Allison Moorer.

By the time Shelby Lynne won her Best New Artist Grammy, she'd already completed six albums, and had over a decade of recording experience under her belt. Yet in a way, the award was appropriate, since I Am Shelby Lynne was the album that finally found her taking control of her music, following years of casting about in search of an identity. Lynne's work ranged through country, blues, Southern soul, roots rock, Western swing, jazz, and adult contemporary pop; naturally, that eclecticism made her difficult to market, and it also resulted in pressure to record more commercial, radio-friendly material that didn't really suit her. Once Lynne put all the pieces together, she found herself embraced not by the country mainstream, but by rock critics, British audiences, and the alt-country/Americana crowd.
Lynne was born Shelby Lynne Moorer in Quantico, VA, in 1968, and grew up mostly in Jackson, AL. Her father was a local bandleader and her mother a harmony-singing teacher, and as children, she and her younger sister Allison — later a country recording artist in her own right — sometimes joined their parents on-stage to sing along. However, Lynne's father was a violent alcoholic who at one point had her thrown in jail; when Lynne was 17, he shot his wife dead in the family's driveway, then turned the gun on himself while his daughters looked on. Lynne took charge of raising her sister, and married her high school sweetheart (albeit briefly) prior to their move to Nashville. There, Lynne recorded some demo songs, which landed her an appearance on TNN's Nashville Now series. That in turn led to a duo with George Jones, 1988's Top 50 hit "If I Could Bottle This Up," and a record deal with Epic, where Lynne teamed with legendary producer Billy Sherrill for her 1989 debut album Sunrise. The follow-up, 1990's Tough All Over, took more of a Reba McEntire-esque direction, and 1991's Soft Talk found Lynne moving into slick country-pop.
Lynne placed several songs on the country charts during this period, but none managed to break into the Top 20. Critics generally regarded her as a promising talent, and she even won the CMA's Horizon Award (given to the year's top emerging artist) in 1991. However, she was tiring of the lack of control she was afforded over her image and musical direction. She split from Epic and signed with the smaller Morgan Creek label, debuting with 1993's Temptation, an exercise in Bob Wills-style Western swing and big band jazz. Unfortunately, the label folded not long after, and she moved on to Magnatone for 1995's Restless, which marked a return to contemporary-style country. Afterward, Lynne disappeared from recording for several years. During that time, she moved to Palm Springs, CA, and convinced producer Bill Bottrell — best known for his early work with Sheryl Crow — to work on her next album.
Lynne signed with Island Records and finally returned in 2000 with I Am Shelby Lynne. Effectively a roots rock album with Sheryl Crow overtones and strong hints of Lynne's eclecticism, the record was greeted enthusiastically in the U.K., and was released in the U.S. several months later. Positive word of mouth led to effusive critical praise, with many hailing I Am Shelby Lynne as a major statement of purpose as confident as its title's declaration. It won her a Grammy for Best New Artist in early 2001, and she began working on a follow-up with producer Glen Ballard, best known for his work with Alanis Morissette. Love, Shelby appeared later in 2001, but was received with confusion and disappointment by many reviewers, mainly because of its smoother, less country-infused production. Two years later, Lynne returned to form with Identity Crisis. Her debut release for Capitol, it was her most sensitive album yet. Suit Yourself appeared in spring 2005. In 2008 an homage to Dusty Springfield, Just a Little Lovin', produced by Phil Ramone, was released on Lost Highway.
Lynne appeared as Peter Wolf's duet partner on the single "Tragedy," the lead-off single from his 2010 album Midnight Souvenirs, and made a performing appearance on Jimmy Fallon's late-night show with him. More importantly, less than a month later, the Tears, Lies and Alibis album was released on her own Everso imprint, distributed by Fontana. Lynne wrote all ten songs on the recording, and cut it at home in Rancho Mirage, California, as well as at the Rendering Plant in Nashville. She co-produced the album with Brian Harrison, and was able to coax a few former Muscle Shoals sidemen (most notably Spooner Oldham) to accompany her. After recording for over 20 years, Tears, Lies and Alibis marked the first album over which she had complete freedom of creative control. Later that year, she issued her first holiday collection entitled Merry Christmas. Tears, Lies and Alibis eventually reached the Top Ten at Americana radio. She toured for a solid year behind it. In 2011, Lynne commenced writing, producing, and performing virtually all instruments and voices for her next release on Everso, Revelation Road. The album was advanced by the pre-release of its title track as a download single in August, and was released in October of 2011. In 2013, she returned with a five-track EP entitled Thanks. Co-produced by Ben Peeler, it featured influences such as blues and gospel. In 2014, I Am Shelby Lynne got the deluxe reissue treatment.
It was a year for returns and changes. Lynne, who has lived and worked on the West Coast since the late '90s, decided to return to recording in the Deep South. She and her band assembled at Dockside Studio in the village of Maurice, Louisiana in the fall and cut her next album live from the studio floor. Entitled I Can't Imagine and released in the spring of 2015, it was her first album for Rounder. The tour that followed included complete concert performances of the new recording and I Am Shelby Lynne in a single set.
In 2010, Lynne and sister Moorer teamed for the Side by Side tour, and considered recording an album together. The plan was shelved until 2017 when they got together in Los Angeles with producer Teddy Thompson and a small group of invited guest musicians including Benmont Tench, Erik Deutsch, Doug Pettibone, and Val McCallum. The sisters chose to record a host of covers from the classic country canon, alongside contemporary fare by pop and Americana songwriters. Their lone co-written original was the set closer "Is It Too Much?" Titled Not Dark Yet, the album was released by Thirty Tigers in August.
https://en.wikipedia.org/wiki/Shelby_Lynne
Talents : Vocals, Guitar, Fiddle
Style musical : Western Swing Revival, Contemporary Country, Adult Alternative Pop/Rock, Americana, Alternative Country Rock

https://youtu.be/9qCMmQvyEuc
Years in activity :
| | | | | | | | | | | | |
| --- | --- | --- | --- | --- | --- | --- | --- | --- | --- | --- | --- |
| 1910 | 20 | 30 | 40 | 50 | 60 | 70 | 80 | 90 | 2000 | 10 | 20 |
DISCOGRAPHY
Singles
| | | | |
| --- | --- | --- | --- |
| 08/1988 | SP EPIC 34-08011 (US) | . | If I Could Bottle This Up (with George JONES) / + George JONES |
| 02/1989 | SP EPIC 34-68584 (US) | . | Under Your Spell Again / Blue To The Bone |
| 05/1989 | SP EPIC 34-68942 (US) | . | If I Could Bottle This Up (with George JONES) / Hurtin' Side |
| 09/1989 | SP EPIC 34-73032 (US) | . | Little Bits And Pieces / Your Love Stays With Me |
| 05/1990 | SP EPIC 34-73319 (US) | . | I'll Lie Myself To Sleep / What About The Love We Made |
| 09/1990 | SP EPIC 34-73521 (US) | . | Things Are Tough All Over / I Walk The Line |
| 02/1991 | SP EPIC 34-73716 (US) | . | What About The Love We Made / I'll Lie Myself To Sleep |
| 06/1991 | SP EPIC 34-73904 (US) | . | Very First Lasting Love (with Les TAYLOR) / Lonely Weekends (with Les TAYLOR) |
| 10/1991 | SP EPIC 34-74062 (US) | . | Don't Cross Your Love / Stop Me |
| 06/1993 | SP MORGAN CREEK 23018-7 (US) | . | Feelin' Kind Of Lonely Tonight / Don't Cry For Me |
| 11/1993 | SP MORGAN CREEK 23019-7 (US) | . | Tell Me I'm Crazy / Rain Might Wash Your Love Away |
| 1994 | CD MAGNATONE 102 (US) | | Another Chance At Love |
| 06/1995 | SP MAGNATONE 1102 (US) | . | Slow Me Down / ? |
| 09/1995 | SP MAGNATONE 2102 (US) | . | I'm Not The One / ? |
| 2000 ? | SP ISLAND 923019 (US) | . | Tell Me I'm Crazy / Rain Might Wash Your Love Away |
| 05/2000 | SP ISLAND 562737-7 (US) | . | Leavin' / ? |
| 01/2002 | SP ISLAND 588715 (US) | . | Killin' Kind / ? |
| 2002 | SP ISLAND 588923 (US) | . | Wall In Your Heart / ? |
| 2007 | CD LOST HIGHWAY 028302 (US) | . | Anyone Who Had A Heart / Anyone Who Had A Heart / Anyone Who Had A Heart |
Albums
09/1989
LP 12" EPIC FE 44260 (US)
SUNRISE - Hurtin' Side / Little Bits And Pieces / Thinking About You Again / This Time I Almost Made It / What About This Girl / Till You Were Gone / I Love You So Much It Hurts / That's Where It Hurts / I'm Confessin' (That I Love You) / Your Love Stays With Me
08/1990
LP 12" EPIC FE 46006 (US)
TOUGH ALL OVER - I'll Lie Myself To Sleep / Don't Mind If I Do / Lonely Weekends / Things Are Tough All Over / Dog Day Afternoon / Baby's Gone Blues / Till A Better Memory Comes Along / I Walk The Line / What About The Love We Made / Don't Get Around Much Anymore
08/1991
CD EPIC EK 47388 (US)
SOFT TALK - Don't Cross Your Heart / I've Learned To Live / Alive And Well / Lighter Shade Of Blue / It Must Be You / You Can't Break A Broken Heart / Soft Talk / Very First Lasting Love / Stop Me / It Might Be Me
07/1993
CD MORGAN CREEK 20018 (US)
TEMPTATION - Temptation / Feelin' Kind Of Lonely Tonight / Tell Me I'm Crazy / Little Unlucky At Love / Some Of That True Love / Rain Might Wash Your Love Away / Don't Cry For Me / I Need A Heart To Come Home To / Come A Little Closer / Where We Go From Here
07/1995
CD MAGNATONE 102 (US)
RESTLESS - Slow Me Down / Another Chance At Love / Talkin' To Myself Again / Restless / Just For The Touch Of Your Hand / Hey Now Little Darlin' / I'm Not The One / Reach For To The Rhythm / Wish I Knew / Swingtown
01/2000
CD MERCURY 546177 (US)
I AM SHELBY LYNNE - Your Lies / Leavin' / Life Is Bad / Thought It Would Be Easier / Gotta Get Back / Why Can't You Be / Lookin' Up / Dream Some / Where I'm From / Black Light Blue
08/2000
CD SONY 497635 (US)
THIS IS SHELBY LYNNE - THE BEST OF THE EPIC YEARS - Stop Me, Things Are Tough All Over / I Walk The Line / Little Bits And Pieces / Hurtin' Side / Lonely Weekends / It Might Be Me / You Can't Break A Broken Heart / Your Love Stays With Me / If I Could Bottle This Up / Lighter Shade Of Blue / Under Your Spell Again / Dog Day Afternoon / Till A Better Memory Comes Along / Alive And Well / I'll Lie Myself To Sleep / Very First Lasting Love / Don't Get Around Much Anymore
09/2000
CD LUCKY DOG 61566 (US)
EPIC RECORDINGS - Don't Get Around Much Anymore / Till You Were Gone / Lonely Weekends / I'm Confessin' (That I Love You) / Don't Mind If I Do / Your Love Stays With Me / Lighter Shade Of Blue / Dog Day Afternoon / Soft Talk / I Walk The Line / I'll Lie Myself To Sleep / Thinking About You Again / You Can't Break A Broken Heart / I've Learned To Live / Stop Me / It Might Be Me
11/2001
CD ISLAND 586436 (US)
LOVE SHELBY - Trust Me / Bend / Mother / Ain't It The Truth / Star Broker / Wall In Your Heart / Killin' Kind / Tarpoleon Napoleon / Jesus On A Greyhound / I Can't Wait / Close To You / All Of A Sudden You Disappeared / Break Me Open
09/2003
CD CAPITOL 90508 (US)
IDENTITY CRISIS - Telephone / Ten Rocks / If I Were Smart / Gotta Be Better / I Don't Think So / I'm Alive / I Will Stay / Lonesome / Evil Man / Buttons And Beaus / Baby / One With The Sun
05/2005
CD CAPITOL 73464 (US)
SUIT YOURSELF - Go With It / Where Am I Now / I Cry Everyday / You're The Man / Old Times Sake / I Won't Die Alone / You And We / Johnny Met June / You Don't Have A Heart / Iced Tea / Sleep / Track 12
08/2006
CD HIP-O 07141 (US)
THE DEFINITIVE COLLECTION - The Hurtin' Side / I'll Lie Myself To Sleep / Things Are Tough All Over / It Might Be Me / Feelin' Kind Of Lonely Tonight / Your Lies / Leavin' / Life Is Bad / Thought It Would Be Easier / Gotta Get Back / Dreamsome / Where I'm From / Killin' Kind / Wall In Your Heart / Break Me Open / Jesus On A Greyhound / I Can't Wait / Telephone / Where Am I Now
01/2008
CD LOST HIGHWAY 1744825 (US)
JUST A LITTLE LOVIN' - Just A Little Lovin' / Anyone Who Had A Heart / You Don't Have To Say You Love Me / I Only Want To Be With You / The Look Of Love / Breakfast In Bed / Willie And Laura Mae Jones / I Don't Want To Hear It Anymore / Pretend / How Can I Be Sure
04/2010
CD EVERSO EVER150 (US)
TEARS, LIES AND ALIBIS - Rains Came / Why Didn't You Call Me / Like A Fool / Alibi / Something To Be Said About Airstreams / Family Tree / Loser Dreamer / Old #7 / Old Dog / Home Sweet Home
10/2011
CD EVERSO EVER 200 (US)
REVELATION ROAD - Revelation Road / I'll Hold Your Head / Even Angels / Lead Me Love / The Thief / Woebegone / I Want To Go Back / I Don't Need A Reason To Cry / Toss It All Aside / Heaven's Only Days Down The Road / I Won't Leave You
12/2012
CD + DVD EVERSO ? (?)
LIVE :

CD : LIVE AT McCABE'S - RECORDED MAY 19; 2012 - Revelation Road / Lead Me Love / I'll Hold Your Head / I Don't Need A Reason / Even Angels / Woebegone / The Thief / Heaven's Only Days... / Jesus On A Greyhound / Leavin' / Old Dog / Johnny Met June / 10 Rocks /Life Is Bad / Tarpoleon Napoleon / Your Lies / Where I'm From / Iced Tea
DVD : LIVE IN LONDON - FILMED FEB 25, 2012 - LIVE IN UNION CHAPEL, ENGLAND - Revelation Road / Lead Me Love / I'll Hold Your Head / I Don't Need A Reason / Even Angels / Lookin' Up / I Want To Go Back / Woebegone / Thief / Toss It All Aside / Heaven's Only Day... / Jesus On A Greyhound / Leavin' / Killin' Kind / Old Dog / 10 Rocks / Johnny Met June / Life Is Bad / Your Lies / Where I'm From / Black Light Blue / Pretend / Iced Tea

05/2015
CD Rounder 7235989 (US)

I Can't Imagine - Paper Van Gogh / Back Door Front Porch / Sold The Devil (Sunshine) / Son Of A Gun / Down Here / Love Is Strong / Better / Be In The Now / Following You / I Can't Imagine

08/2017
CD Silver Cross SCR 001 (US)

Not Dark Yet - Shelby Lynne / Allison Moorer - My List / Every Time You Leave / Not Dark Yet / I'm Looking For Blue Eyes / Lungs / The Color Of A Cloudy Day / Silver Wings / Into My Arms / Lithium / Is It Too Much

04/2020
CD EVERSO 72593CD (US)

Shelby Lynne - Strange Things / I Got You / Love Is Coming / Weather / Revolving Broken Heart / Off My Mind / Don't Even Believe In Love / My Mind's Riot / Here I Am / The Equation / Lovefear
© Rocky Productions 18/04/2020