| | |
| --- | --- |
| | |
| | |

Chanteur Country US né Walter LeRoy Moore, le 24 Septembre 1914 à Circleville (Ohio). Lee Moore est décédé le 17 Août 1997.

US Country Singer born Walter LeRoy Moore, September 24, 1914 in Circleville (Ohio). A traditionally oriented Country vocalist, Lee Moore attained a considerable following via radio from 1935. He often sang duos with his wife Juanita in the 40's and 50's. For some two decades from 1953, Lee also achieved fame as one of the pioneer all-night deejays from WWVA Wheeling. Moreover, Lee's origins, while rural, reflected neither a Southern nor a mountain heritage. As a youth in south central Ohio, Lee first gained an interest in music through hearing Hawaiian steel guitarists on network radio and early hillbilly broadcasts from WAIU, in nearby Columbus. He later made his first radio broadcast from that Ohio city. After completing high school in 1932, Lee joined a traveling show group known as Doc Schneider's Yodeling Texas Cowboys, journeying at least as far as Texas with them. After returning home, Lee landed a radio program at WPAY in the Ohio River city of Portsmouth. Later, he moved upstream to WCMI Ashland, Kentucky, where he served as a featured vocalist with a group known as the Mountain Melody Boys. In 1937, he went to WRHS Charleston where he served in a similar capacity with Buddy Starcher's Mountaineers. Lee also met a girl from Jackson County, Kentucky, who sang at the station, Juanita Picklesimer (b. 1917), known as the "Gal from the Hills." Lee and Juanita married on November 15, 1938, and formed a duo act. Lee and Juanita worked together as a radio team for some 20 years and won wide acceptance with their down-home-style harmonies, which included numerous older ballads and sacred songs. Lee continued to project a cowboy image on stage, even wearing two holstered pistols, while Juanita contributed some fine original sacred songs such as The Legend Of The Dogwood Tree and When Angels Rolled The Stone Away (popularized on record by Wilma Lee Cooper and Molly O'Day, respectively). For a dozen years, they followed the traditional lifestyle of Country radio entertainers of the time, moving to a new place every year or two. During this era they did daily broadcasts from such locales as WHIS Bluefield, West Virginia; WMMN Fairmont, West Virginia; WSVA Harrisonburg, Virginia; KFNF Shenandoah, Iowa; WROL Knoxville, Tennessee; WPAQ Mt. Airy, North Carolina and finally at the end of 1949, to WWVA Wheeling, West Virginia. On May 1, 1940, the couple had a son, Roger Lee Moore who became part of their act, even as a small child. The Moores found a more or less permanent home at the World's Original Jamboree, where they did both daily broadcasts and Saturday night shows as well. In 1953, Lee also took a late-night deejay position with the station gaining a near legendary status as the "Coffee Drinking Night Hawk," a job he filled with only a brief break until 1969. The duo never recorded until 1953, when they began making discs for the small New Jersey-based, Cross Country label. These consisted of some twenty sides nearly evenly divided between duos and solo Vocals by Lee. Some of these numbers later appeared in Canada on an album released by Point Records. The best known title, an old comic song from 1893, The Cat Came Back, has virtually become Moore's trademark. Lee and Juanita split in 1960, after which Lee continued as a solo performer, remaining with the Jamboree through 1974. In the early 60's Lee did some additional recording, primarily for such smaller companies as Wheeling, Mark, Essgee and Emperor. Somewhat later he did two albums each for the ARC label in Canada and Rural Rhythm in the U.S. The latter release had full Bluegrass band accompaniment furnished by Red Smiley's Bluegrass Cut-Ups. An unreleased album for the Texas-based Bluebonnett label eventually came to Germany on Cattle Records. In 1974, having remarried and settled in the Troy, New York, suburb of Wynantskill, Moore left the Jamboree after a quarter century. He continued working as a musician primarily in the Northeastern states. He made additional single recordings for such labels as Fontone, Tenn-Cann, and Revonah, as well as another album for Cattle.
As a recording artist, one might conclude that his influence has been minimal, but as a radio performer and deejay, Lee Moore has been a quite significant figure in the development of Country music. Shortly before his death in 1997, Lee was presented with both a U.S. flag and a New York state flag that had been flown over their respective Capitols in his honor. For more than a half century, he entertained audiences with his tasteful, straight-forward approach to traditional Country songs to the simple accompaniment of either his own guitar or Dobro. Lee Moore died on August 17, 1997.
Talents : Vocals, Guitar, Dobro, Deejay
Style musical : Traditional Country
Years in activity :
| | | | | | | | | | | | |
| --- | --- | --- | --- | --- | --- | --- | --- | --- | --- | --- | --- |
| 1910 | 20 | 30 | 40 | 50 | 60 | 70 | 80 | 90 | 2000 | 10 | 20 |
DISCOGRAPHY
Singles
1955
78 t. & SP Cross Country CX 506 (US)
.
Lee MOORE with Frank

Totter's Happy Rangers

- The Cat Came Back / Stop Crackin' Peanuts
1955
78 t. & SP Cross Country CX 512 (US)
.
Juke Box Banjo (Lee

Moore's Banjoliers

) / She Married The Wrong, Wrong Man (Lee MOORE & JUANITA)
1955
78 t. & SP Cross Country CX 516 (US)
.

Lee MOORE & JUANITA - Whispering Hope / New Wildwood Flower

1956
78 t. & SP Cross Country CX 522 (US)
.
Dark As A Dungeon / My Own Sweet Darling Wife
1956
78 t. & SP Cross Country CX 525 (US)
.
Lee MOORE & JUANITA - She Married The Wrong, Wrong Man / Where Idaho Potatoes Grow
1956
78 t. & SP Cross Country CX 526 (US)
.
Let's Say Goodbye Like We Say Hallo / Remember Me (Lee MOORE & JUANITA)
1956
78 t. & SP Cross Country CX 528 (US)
.
Lee MOORE & JUANITA - The love You Planted In My Heart / When My Blue Moon Turns To Gold
1957
78 t. & SP Cross Country CX 530 (US)
.
Lee MOORE & JUANITA - Paradise Valley / The Lord Is Is My Shepherd
1957
78 t. & SP Cross Country CX 532 (US)
.
Lee MOORE & JUANITA - Twilight Is Stealing / Going Down The Country
1958
78 t. & SP Cross Country CX 534 (US)
.
Lee MOORE & JUANITA - Don't This Road Look Rough And Rocky / Sweetheart Or Stranger
1958
SP APEX 76273 (CAN)
.

Lee MOORE & JUANITA - Where Idaho Potatoes Grow / She Married The Wrong Man

06/1958
SP MARK M 126 (US)
.

I'll Be Someone When You're Gone / Mansion On The Hill

1963
EP Wheeling EP 6001-1 (US)

The Coffee-Drinking Nighthawk - Treasures Untold / Evening Time / Oh So Many Years / Think Of Me

196?
EP 33 t. Ess-Gee EP 463 (US)

Coffee Drinking Night Hawk / Mother's Call / Vacant Cabin / Paul's Ministry / I Have Dusted Off The Bible / Legend Of The Dogwood Tree / Give Me You Love

197?
SP Tenn-Can TC 103 (US)
.

I Cried Again / Worried Man

197?
SP Tenn-Can TC 104 (US)
.

I Saw The Light / I Only Want A Buddy

1986
SP Revonah RS-710 (US)
.

The Cat Came Back / New Wildwood Flower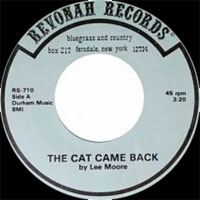 Albums
1962
LP 12' POINT P 211 (CAN)

Lee Moore's Country Hits - LEE MOORE & JUANITA - The Cat Came Back / When My Blue Moon Turns To Gold / Dark As A Dungeon / Remember Me / New Wildwood Flower / Whispering Hope / The Love You Planted In My Heart / My Own Sweet Darling Wife / Stop Crackin' Peanuts / Swingin' Daddy

1965
LP 12' ARC A 606 (CAN)

WWWA's Coffee-Drinking Nighthawk Lee Moore Plays And Sings The Cat Came Back And Other Favourites - The Cat Came Back / Somewhere Somebody's Waiting For You / My Little Cabin Home / Boll Weevil / Wildwood Flower / Red River Valley / Sing Me A Hillbilly Ballad / Give My Love To Nell / Seven Days And Seven Nights / Just A Strand Of Yellow Curl / Dark As A Dungeon / You Are My Love

1965
LP 12' ARC A 676 (mono) / AS 676 (stereo) (CAN)
MORE COFFEE DRINKING NIGHT HAWK - Cannonball #3 / Hello Vietnam / Before I Met You / Where The Idaho Potato Grows / Mansion On The Hill / I'll Be Lonesome When You're Gone / I'll Sail My Ship Alone / Truck Driver's Prayer / Come Pal With Me / Treasures Untold / Don't This Road Look Rough And Rocky / Lonely For You Blue Eyes
1966
LP 12" RURAL RHYTHM RR-

More 137

(US)
LEE MOORE SINGS RADIO FAVORITES OF COUNTRY MUSIC - Going Down The Country / An Old Log Cabin For Sale / Beach At Waikikia / Wildwood Flower / Will The Roses Bloom In Heaven / Old Joe Clark / Dreaming Of A Cabin / Royal Telephone / Remember Me / Keep On The Sunnyside / Vacant Cabin / Gathering Flowers From The Hillside / Mom Is Dying Tonight / Dobro Blues / Down Where The River Bends / I Love You Best Of All / Old Spinning Wheel / I Never Can Love You Again / Cannon Ball No. 3 / Write Mother / Double Eagle / Paul's Ministry
1967
LP 12" RURAL RHYTHM RRLM 202 (US)
EVERYBODY'S FAVORITE - Little Girl Dressed In Blue / Your Own Sweet Darling Wife / My Mother's Grave / Automobile Of Life / Answer To The Maple On The Hill / She's Some Daisy For 19 Years Old / You Are My Love / Heavenly Cannon Ball / Strand From A Yellow Curl / When Mother Played The Organ / The Cat Came Back / Streamlined Cannonball / Strawberry Roan / I Believe That Good Old Bible / The Deepening Snow / The Weary Traveler / When Father Hung The Paper On The Wall / I'm Going Home This Evening / Wreck Of The Happy Valley / Single Life Is Good Enough For Me
1983
LP 12" CATTLE LP-44 (GER)
WHEELING'S COFFEE DRINKING NIGHT HAWK - The Cat Came Back Wildwood Flower / I'll Sail My Ship Alone / No Letter Today / Where The Water Lillies Grow / This Song Is Just For You / He Is Coming To Us Dead / Seven Days And Seven Nights / Just A Message To The One I Love / Don't Write To Mother Too Late / Give Me Your Love And I'll Give You Mine (ca 1963) / An Old Log Cabin For Sale / My Saviour First Of All / Legend Of The Dogwood Tree
1984
LP 12" CATTLE LP-61 (GER)
A LIVING LEGEND IN COUNTRY MUSIC - Big Wheel Cannonball / Twilight Is Stealing / I'm Awfully Well / I'll Be All Smiles Tonight / Tis Sweet To Be Remembered / My Mother's Call / Put Me In Your Pocket / The Convict And The Rose / The Great Judgement Morning / You Are My Flower / Pins And Needles (In My Heart) / I Wonder Where You Are Tonight / Where The Idaho Potato Grows / Dreaming Of A Little Cabin
04/1998
CD RURAL RHYTHM 202 (US)

20 EARLY COUNTRY FAVORITES -

Little Girl Dressed In Blue / Your My Own Sweet Darling Wife / My Mother's Grave / Automobile Of Life / Answer To The Maple On The Hill / She's Some Daisy For 19 Years Old / You Are My Love / Heavenly Cannonball / Strand From A Yellow Curl / When My Mother Played The Organ / The Cat Came Back / Streamlined Cannonball / Strawberry Roan / I Believe That Good Old Bible / The Deepening Snow / The Weary Traveler / When Father Hung The Paper On The Wall / I'm Going Home This Evening / Wreck Of The Happy Valley / Single Life Is Good Enough For Me
© Rocky Productions 29/03/2016