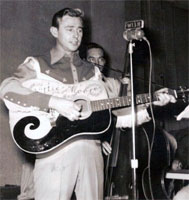 Chanteur US né Lattie Harrison Moore, le 16 Octobre 1924 à Scotsville (Kentucky). Lattie Moore a débuté en 1952 chez Speed Records de Nashville (Tennessee). Puis entre 1953 et 1960, il enregistre chez King, Arc et Starday Records. On le retrouvera en 1971 pour un album chez Derby Town Records. Lattie Moore est décédé le 13 Juin 2010 à Bowling Green (Kentucky).

Lattie Moore was a country and hillbilly singer/guitarist, an admirer of Gene Autry and Hank Williams whose early high-energy numbers anticipated rock & roll in everything but name. Lattie Harrison Moore was born in 1924 in Scottsville, Kentucky, to Dora and Homer Leo Moore — his father was a tobacco farmer-turned-preacher. The young Moore had an interest in music at an early age and, as a boy, learned to play the guitar, mandolin, and upright bass. His first job out of school was as a projectionist at the local movie theater in Scottsville. As a teenager, he was an especially big fan of Gene Autry and the latter's country & western songs, and he also admired the work of Roy Acuff, Hank Snow, and others he heard on the Grand Ole Opry — and a bit later, he added another name to that list who came ahead of all of the others: Hank Williams.At age 19, he headed to Indianapolis, hitchhiking his way to the city where he felt he had a shot at making a living as a musician. He was drafted into the United States Navy around this time but didn't stay in the service very long, and Moore was back in Indiana by the end of 1944, playing small clubs and other minor venues. He was also married around this time, and later hosted a local radio show as well as working on the musical side of an act put together by aging cowboy movie star Lash LaRue. In 1951, at age 26, Moore made his recording debut on the Arrow label with the single "Hideaway Heart" b/w "Married Troubles," which quickly disappeared without a trace. By then he was also broadcasting on the Mid-Western Jamboree on radio from WIBC in Indianapolis as the show's emcee, and he later performed a similar function on television from Bloomington, IN. Moore got another chance at recording in 1952, in Nashville, on the Speed label, where he cut "Juke Joint Johnny," reportedly after auditioning for the head of the label on the sidewalk outside of the Ernest Tubb Record Shop. That session, thrown together by producer Frank Innocenti with four musicians — piano, lead guitar, bass, and drums — accompanying Moore (who also played rhythm guitar), featured a very heavy drum sound, in part to cover up the fact that the musicians, apart from Moore and the lead guitarist, hadn't really learned the song. The result, wholly by accident, was the first rock & roll-style record ever to come out of Nashville, in the view of Innocenti, as quoted in a September 2000 essay by Bill Millar for a reissue of Moore's music. "Juke Box Johnny" was ahead of its time, so much so that it couldn't have more than local impact, but it was also covered by other artists, including Red Sovine. It did do well enough to justify Moore's cutting a second single on Speed, "Baby, I'll Soon Be Gone," which also did well locally and regionally, though this single was in a somewhat different, more familiar honky tonk style.Moore's recording career was jump-started in 1953 when he signed to Syd Nathan's King Records, for which he recorded some 25 songs in a three-year period, with a band that included Zeke Turner on lead guitar, Hank Williams alumnus Don Helms on steel guitar, and Tommy Jackson on fiddle. During this period, he also worked with Jimmie Logsdon, a good friend with whom he co-wrote one song, "Louisiana Man Blues." For all of this work, Moore didn't see any notable hits among the half-dozen singles he released on King, nor did he always see his name turn up on the writing credits of the songs he composed, a situation that made him fairly cynical about working for Nathan. By 1956 he was on the Arc label cutting an updated, rock & roll version of "Joint Joint Johnnie," as well as doing an EP containing some Hank Williams songs a little later. By 1958 he was signed to Starday Records, working out of Beaumont, TX, and moving between country and rock & roll, with no notable success. The following year, with the intervention of his friend Webb Pierce, he was re-signed to King Records, and he was writing songs steadily in addition to recording — among his other work was "Out of Control," which he co-authored with George Jones. But his most notable success came with the 1962 single "Drunk Again," which became a modest hit.During the 1960s, he shifted more toward straight country music, abandoning rock & roll and rockabilly. He showed up on bills supporting Johnny Cash, and cut his own songs as well as those by Ray Pennington and Jerry Reed, among others. His departure from King at the end of the 1960s marked the end of his work for a major label. He continued working in music until health problems caught up with him in the 1980s, including surgery for throat cancer in 1986 and a subsequent bypass operation. Moore's name re-emerged amid the explosion of interest in early-'50s rock & roll and country music. In 2000 Westside Records released a 29-song CD of his work on King and Starday.
Lattie Moore died on June 13, 2010 in Bowling Green, Kentucky.
Talents : Vocals, Guitar
Style musical : Honky Tonk, Rockabilly, Traditional Country
Years in activity :
| | | | | | | | | | | | |
| --- | --- | --- | --- | --- | --- | --- | --- | --- | --- | --- | --- |
| 1910 | 20 | 30 | 40 | 50 | 60 | 70 | 80 | 90 | 2000 | 10 | 20 |
DISCOGRAPHY
78 t., Singles & EP
| | | | |
| --- | --- | --- | --- |
| 1951 | SP ARROW ? (US) | . | Lattie MOORE & His ALLEN COUNTY BOYS - Hideaway Blues / Married Troubles |
| 02/1953 | 78 t. SPEED 101 (US) | . | Juke Joint Johnny / It's Good Enough For You |
| 02/1953 | SP SPEED 45-101 (US) | . | Juke Joint Johnny / It's Good Enough For You |
| 1953 | 78 t. SPEED 105 (US) | . | Baby l'll Soon Be Home / My First Love |
| 1953 | SP SPEED 45-105 (US) | . | Baby l'll Soon Be Home / My First Love |
| 03/1953 | 78 t. KING 1194 (US) | . | Foolish Castles / I'm Gonna Tell You Something |
| 03/1953 | SP KING 45-1194 (US) | . | Foolish Castles / I'm Gonna Tell You Something |
| 05/1953 | 78 t. KING 1228 (US) | . | I'm Not Broke But I'm Badly Bent / Don't Trade The Old For The New |
| 05/1953 | SP KING 45-1228 (US) | . | I'm Not Broke But I'm Badly Bent / Don't Trade The Old For The New |
| 08/1953 | 78 t. KING 1250 (US) | . | I Gotta Go Home (And Catch Up On My Sleep) / A Brand New Case Of Love |
| 08/1953 | SP KING 45-1250 (US) | . | I Gotta Go Home (And Catch Up On My Sleep) / A Brand New Case Of Love |
| 02/1954 | 78 t. KING 1327 (US) | . | They're Not Worth The Paper They're Written On / Under A Mexico Moon |
| 02/1954 | SP KING 45-1327 (US) | . | They're Not Worth The Paper They're Written On / Under A Mexico Moon |
| 05/1954 | 78 t. KING 1350 (US) | . | Pull Down The Blinds / What Am I Supposed To Do |
| 05/1954 | SP KING 45-1350 (US) | . | Pull Down The Blinds / What Am I Supposed To Do |
| 08/1956 | 78 t. KING 4955 (US) | . | 100,000 Women Cant Be Wrong / Lonesome Man Blues |
| 08/1956 | SP KING 45-4955 (US) | . | 100,000 Women Cant Be Wrong / Lonesome Man Blues |
| 12/1956 | SP ARC 8005 (US) | . | Juke Box Johnnie / Pretty Woman Blues |
| 10/1958 | SP STARDAY 45-403 (US) | . | Why Did You Lie To Me / You Never Looked Sweeter |
| 06/1959 | SP STARDAY 45-441 (US) | . | Too Hot To Handle / Just A Waitin' |
| 07/1960 | SP KING 45-5370 (US) | . | Mine Again / Cajun Doll |
| 10/1960 | SP KING 45-5413 (US) | . | Drunk Again / Driving Nails |
| 08/1961 | SP KING 45-5526 (US) | . | Sundown And Sorrow / If The Good Lord's Willing |
| 09/1962 | SP KING 45-5685 (US) | . | I Told You So / Heaven All Around Me |
| 03/1963 | SP KING 45-5723 (US) | . | Out Of Control / Just About Then |
| 06/1963 | SP KING 45-5762 (US) | . | Honky Tonk Heaven / Lonesome Man Blues |
| 1963 | EP KING KEP-482 (US) | | Lonesome Man Blues / Out Of Control / Honky Tonk Heaven / Just About Then |
| 1968 | SP DERBY TOWN DTR A38 (US) | . | Tall Man / You Can't Make Hay Pickin' Cotton |
| 1971 | SP WPL 1001 (US) | . | Lattie MOORE with The THREE SOUNDS - Old Ex Husbands / Best Year Of Your Life |
| 1973 ? | SP Quitz 3112-9 (US) | . | Mine Again / Here I Am Drunk Again |
Albums
1960
LP 12" AUDIO LAB AL-1555 (US)
THE BEST OF LATTIE MOORE - Under A Mexico Moon / Pull Down The Blinds / Foolish Castles / I'm Gonna Tell You Something / What Am I Supposed To Do / Lonesome Man Blues / I'm Not Broke But I'm Badly Bent / 100,000 Women Can't Be Wrong / They're Not Worth The Paper They're Written On / Don't Trade The Old One For A New
12/1962
LP 12" AUDIO LAB AL-1573 (US)
COUNTRY SIDE -

Here I Am Drunk Again / Mine Again / I Gotta Go Home (And Catch Up On My Sleep) / Cajun Doll / A Brand New Case Of Love / Driving Nails / Out Of Control / If The Good Lord's Willing And The Creek Don't Rise / Sundown And Sorrow / Don't Trade The Old For The New

1971
LP 12" DERBY TOWN LP-102 (US)
YOU CAN'T MAKE HAY PICKIN' COTTON - You Can't Make Hay Pickin' Cotton / Tall Man / A Doubt Appeared / Come Back And Be A Wife / A Sadness I Feel / Bottle By Bottle / Here I Am Drunk Again / Juke Box Johnny / Out Of control / Let's Be Sweethearts Again / This Is The Right Time / You Never Looked Better
1990
LP 12" REVIVAL 3015 (UK)
THE JUKE BOX JOHNNY - Juke Box Johnny / Pretty Woman Blues / I'm Not Broke I'm Badly Bent / 100,000 Women Can't Be Wrong / Don't Trade The Old For The New / Under A Mexico Moon / Pull Down The Blinds / I'm Gonna Tell You Something / Juke Joint Johnny / Baby I'll Be Gone / Here Am I Drunk Again / Cajun Doll / A Brand New Case Of Love / Driving Nails / The Creek Don't Rise / Sundown And Sorrow
12/2000
CD WESTSIDE WESF 109 (UK)
I'M NOT

BROKE BUT I'M BADLY BENT - THE BEST OF THE KING-STARDAY RECORDINGS 1953-63 -

Under A Mexico Moon / I'm Not Broke, But I'm Badly Bent / Foolish Castles / I'm Gonna Tell You Something / Don't Trade The Old For A New / A Brand New Case Of Love / I Gotta Go Home (And Catch Up On My Sleep) / They're Not Worth The Paper They're Written On / What Am I Supposed To Do / Pull Down The Blinds / 100, 000 Women Can't Be Wrong / Lonesome Man Blues / Why Did You Lie To Me / You Never Looked Sweeter / Too Hot To Handle / Just A-Waitin' / The Jukebox And The Phone / Rockabilly Joe's / No Money In This Deal / If the Good Lord's Willing

[1959 version]

/ Cajun Doll / Driving Nails (In My Coffin) / Drunk Again / If The Good Lord's Willing

[1961 version]

/ Sundown And Sorrow / I Told You So / Out Of Control / Just About Then / Honky Tonk Heaven
© Rocky Productions 29/03/2016