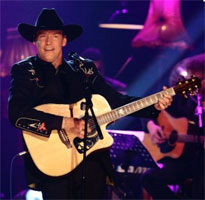 Chanteur Country US né le 21 juillet 1971 en Louisiane.



Robert Mizzell (born July 21, 1971), Born in Louisiana, the Bayou State, Robert has made his home in Ireland for almost a decade. He served his apprenticeship in Country Music since he first arrived here and is now one of the top Country artists in Ireland, his popularity spreading with extensive airplay in Europe and such distant territories as Australia. As anyone who ever attended a Robert Mizzell show will testify, Robert with his band The Country Kings put on an energy filled show. Brimming with Country flavour his shows appeal to audiences in Nashville and wherever Country Music is popular.
"Kick Ass Country" written by Tommy Swarbrigg was Robert's first major hit making him a household name in Ireland. "Say You Love Me" is a song synonymous with Robert and its immense popularity dictates that it's requested at all his shows.
Robert's first three albums were entitled "Hello Mr. DJ", "Louisiana Man", "Looking Lucky". His last recording "Waltzing With Me" included the hit single "Who's Gonna Dance With Sally Ann". "Looking Lucky" (the American release entitled "Place Beyond The Sun") was recorded in Nashville, Tennessee and contained all original country songs written by Irish and American songwriters.
Songs like "Dance With My Father" and "Home" exemplify Robert's talent as an interpreter of songs. They come from a different genre but Robert instinctively imbues them with a country feel making them appear native to the country genre.
Not merely content with recording his latest album and touring with his band, The Country Kings, Robert is in the process of recording his first DVD, due for release in 2008.
His song "Don't wake me up ('Till we touch down in Shannon)" peaked at # 5 on the European country charts the week of June 13th, 2007, according to the weekly charts from the European CMA covering all the European market. This song has been released by both the Hillcrest label (Canada) and Hotdisc (UK).
A promotional single entitled "A Friend In Need" was released in Ireland on 22nd October 2007. The single was written by UK Songwriter/Performer Dave Sheriff. It was the first single to be taken from Robert's upcoming new album. A second promotional single entitled "Next To Me, Next To You" was released to radio stations in the Europe and Australia on 15th January 2008. This was the second single to be taken from Robert's forthcoming album due for release mid-February 2008.
Talents : Singer
Style musical : Traditional Country

http://www.youtube.com/watch?v=eqESkUc5jdU
Années en activité :
| | | | | | | | | | |
| --- | --- | --- | --- | --- | --- | --- | --- | --- | --- |
| 1910 | 20 | 30 | 40 | 50 | 60 | 70 | 80 | 90 | 2000 |
DISCOGRAPHY
Albums
????
CD ? (US)
HELLO MR. DJ - Hello Mr D.J. / I'm No Stranger To The Rain / Mansion On The Hill / Kick Ass Country / I'm Hoping It's A Lie / Last Curtain Falls / Say You Love Me / Hey God / Are You Wasting My Time / Big Tom Tribute (I Love You Still, Broken Marriage Vows, Old Love Letters)
????
CD ? (US)
LOUISIANA MAN - Louisiana Man / Walk The Line Revisited / Stand By Your Woman Man / All You Really Need Is Love / Don't Wake Me Up Till We Touch Down In Shannon / The One That Got Away / Hurtin' Me / What's Forever For / Baby Don't Go / Remember Me / Old Rugged Cross / The Greatest Gift Of All
????
CD ? (US)
LOOKIN' LUCKY - Lookin' Lucky / When You Let Go Of Me / Mama's Rocking Chair / This Woman Of Mine / Some Things I Want To Sing About / My Dreams Just Came True / Them Old Hank Williams Songs / Ten Out Of Ten / Hard Working Hands / You Had Me By The Heart / You Really Hit The Spot / Mama Did Raise One Fool
200?
CD ? (US)
WALTZING WITH ME - Who's Gonna Dance With Sally Ann / Alcohol Of Fame / You're Waltzing With Me (withith Philomena BEGLEY) / You're Why God Made Me / Bed Of Roses / Louisiana Saturday Night / Granpa's Fiddle / You Look So Good In Love / Home / Dance With My Father / Stand Up
2008
CD ? (US)
THANKS A LOT - Thanks A Lot / Folsom Prison Blues / Rose Of My Heart / Next To You, Next To Me / The Race Is On / Must You Throw Dirt In My Face / Friend In Need / Today I Started Loving You Again (Featuring Lorraine McDONALD) / Long Black Train / White Lightnin' / Love Me / Nine To Five
2008 ?
CD ? (US)
THE LOUISIANA MAN - THE HITS - Thanks A Lot / Louisiana Man / Alcohol Of Fame / Walk The Line Revisted

(Feat Richard MIZZELL)

/ If It's Gonna Rain / Kick Ass Country / Must You Throw Dirt In My Face / Next To You, Next To Me / Home / Friend In Need / Rose Of My Heart / Who's Gonna Dance With Sally Ann / Louisiana Saturday Night / Say You Love Me / White Lightnin'
© Rocky Productions 26/02/2009