| | |
| --- | --- |
| | |
| | |
| | |
| | |

Chanteur Country US né le 9 Octobre 1917 à Luray (Virginie). Bud Messner est mort le 5 Mai 2001.

US country singer born on October 9, 1917 in Luray (Virginia). Bud Messner got his start in radio at a radio station in Alexander, Louisiana in 1938. He played at several other stations in the south before finding his way to WJEJ in Hagerstown, Maryland, where he stayed for nearly five years. From there, he moved to WCHA in Chambersburg, Pennsylvania and was still there by mid-1951.
Bud and his group, the Skyliners, along with his featured vocalist, Molly Darr, hosted a Saturday night barn dance in Chambersburg that was well-attended. Molly originally thought she was going to be a Grand Opera singer, but found she liked the hillbilly tunes better. She auditioned with Bud Messner and she got the job.
Bud and Molly also ran a music store on Main Street in Chambersburg, too where folks could get the latest hillbilly music records.
Bud Messner is deceased on May 5, 2001.
Talents : Vocals, Guitar, Leader
Style musical : Traditional Country
Years in activity :
| | | | | | | | | | | | |
| --- | --- | --- | --- | --- | --- | --- | --- | --- | --- | --- | --- |
| 1910 | 20 | 30 | 40 | 50 | 60 | 70 | 80 | 90 | 2000 | 10 | 20 |
78 t. & singles
1950
78 t. ABBEY 15001 (US)
Bud

Messner

& His

Sky line Boys

- Mommy Can I Take My Doll To Heaven / But I'll Go Chasin' Women
1950
SP ABBEY 15001-X45 (US)
Bud

Messner

& His

Sky line Boys

- Mommy Can I Take My Doll To Heaven / But I'll Go Chasin' Women
1950
78 t. ABBEY 15002 (US)

Alan Roberts - Dolly Darr (Bud Messner & His Sky line Boys) - We Were Married / Tell Her You Love Her Today

1950
SP ABBEY 15002-X45 (US)
Alan

Roberts

- Dolly D

arr

(Bud

Messner

& His

Sky line Boys

) - We Were Married / Tell Her You Love Her Today
1950
78 t. ABBEY 15004 (US)
Bud MESSNER & His SKY LINE BOYS - Vocals by Bill FRANKLIN - I Died All Over You / Slippin' Around With Jole Blon
1950
SP ABBEY 15004-X45 (US)
Bud MESSNER & His SKY LINE BOYS - Vocals by Bill FRANKLIN - I Died All Over You / Slippin' Around With Jole Blon
1950
78 t. ABBEY 15011 (US)
Bud

Messner

& His

Skyline Boys

- Big Blue Eyes / Head Member Of Our Family
1950
SP ABBEY 15011-X45 (US)
Bud

Messner

& His

Skyline Boys

- Big Blue Eyes / Head Member Of Our Family
1950
78 t. ABBEY 15019 (US)
Bud

Messner

& His

SkyLINERS

- Father Put The Cow Away (v. Molly D

arr

) / Leaping Heart (v. Don A

dams

)
1950
SP ABBEY 15019-X45 (US)
Bud

Messner

& His

SkyLINERS

- Father Put The Cow Away (v. Molly D

arr

) / Leaping Heart (v. Don A

dams

)
1951
78 t. ABBEY 15025 (US)
I Don't Care What You Used To Be (Molly D

arr

(Bill

Franklin orch

)) / Skyliners Boogie (Molly Darr (Bud M

essner orch

))
1951
SP ABBEY 15025-X45 (US)
I Don't Care What You Used To Be (Molly D

arr

(Bill

Franklin orch

)) / Skyliners Boogie (Molly Darr (Bud M

essner orch

))
1951
78 t. ABBEY 15027 (US)
Bud

Messner

& His

Sky line Boys

- Skyliner's Boogie / Steel Guitar Boogie
1951
SP ABBEY 15027-X45 (US)
Bud

Messner

& His

Sky line Boys

- Skyliner's Boogie / Steel Guitar Boogie
1951
78 t. ABBEY 15028 (US)
Are There Angels In Korea (Bud

Messner

& Don A

brams

) / It's Great To Be A Nephew Of Uncle Sam (Bud

Messner

& His

Sky line Boys)

1951
SP ABBEY 15028-X45 (US)
Are There Angels In Korea (Bud

Messner

& Don A

brams

) / It's Great To Be A Nephew Of Uncle Sam (Bud

Messner

& His

Sky line Boys)
| | |
| --- | --- |
| | |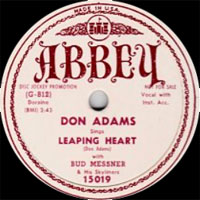 © Rocky Productions 20/01/2016